It's Time For The Federal Government To Show Real Leadership On Autism
As a parent of a child diagnosed with autism over a decade ago, I have watched the provincial and federal policy debates about autism with great interest -- and even greater disappointment.
Although I used to believe that one of the things that made Canada a great country was its publicly-funded health-care system, my son's diagnosis opened my eyes to discrimination under medicare. There is no cure for autism, but we've had solid peer-reviewed evidence for decades that Intensive Behaviour Intervention (IBI) based on the principles of Applied Behaviour Analysis (ABA) can have a dramatic impact on the development of kids with autism.
Unfortunately, the treatment is not covered by medicare across the country.
In most provinces, IBI/ABA is not offered by ministries of health to those who need it, when they need and for as long as they need it. Programs, when they are available, are typically offered by ministries of social services instead and are extremely limited in their scope. They are also plagued by unconscionable wait lists -- often years long.
My family spent over $40,000 on such therapy in the private sector in the first year while waiting for government provided treatment for our son. This was not sustainable for us nor is it for most Canadian families.
More recently, when I inquired about placing our son in a group home facility in Ontario, I was told that he could not be placed on a list until he's 18 -- and the average waiting period is a decade-long. Such dramatic waits for care facilities for adults with autism is replicated across the country.
The last thing autism families need is more bureaucracy.
So what kind of national leadership has the federal government demonstrated on this file? Not much so far. Recently they've been invited to embrace a new proposal.
In November, an expert working group on autism created by the previous federal government presented their final report to Health Minister Philpott. A proposed business plan for a Canadian Autism Partnership (CAP) and a request for support, to the tune of $19 million over five years, was put forth. Minister Philpott now has to determine whether to proceed with this "autism partnership model."
Unfortunately, CAP falls far short of offering autism families across the country any relief.
CAP gives an overview of their proposed structure (board of directors, national director, 11 employees, advisory council), a mission (address issues related to autism using a shared leadership approach), and a process (consultations, issue identification, agenda setting, problem-solving, mobilization, evaluation, measurement, monitoring) -- but that's about it. In other words, the CAP proposal involves the creation of another bureaucracy.
Those involved with the working group and their supporters may be excited about the prospects of a new bureaucracy, but many in the autism community -- myself included -- are shaking their heads in disbelief.
The last thing autism families need is more bureaucracy. What we need instead from the federal government is real leadership on autism -- and we need it now.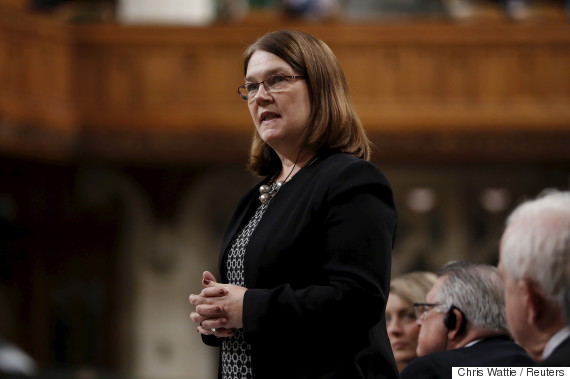 Canada's Health Minister Jane Philpott speaks during Question Period in the House of Commons on Parliament Hill in Ottawa, Canada. REUTERS/Chris Wattie
The CAP proposal raises numerous concerns and risks. First, the plan does not mention specific gaps in policy or issues that need to be addressed on a priority basis, and it does not give concrete examples of how such issues could be resolved with the new model or when.
Second, we already have a public health agency and a federal department of health. Are these institutions and their provincial counterparts not adequate enough to conduct consultations, collaboration, problem-identification and political decision-making? The creation of a new bureaucracy will likely render the possibility of any concrete action to resolve policy and program gaps across the country even more remote.
Third, the CAP model does not actually provide the partnership with any authority to make changes to public policy, and it certainly won't have the resources or legislative power to make meaningful decisions which will entail consequences on the ground.
Instead of a new bureaucratic structure, Minister Philpott should consider instead how the federal government can demonstrate leadership, exercise influence, and put some money on the table to negotiate an accord with the provinces that would address three recurring issues as priorities for autism families: the lack of health-care (medicare) coverage for autism treatment (ABA/IBI); the lack of ABI/IBI in the school systems and the lack of appropriate housing accommodation for autistic adults.
Where there is a political will to do something, there is a way.
Follow HuffPost Canada Blogs on Facebook
Also on HuffPost:
10 Things Parents Of Kids With Special Needs Wish You Would And Wouldn't Do
Say "hi," introduce yourself, ask questions... just be yourself. And don't be horrified if your child asks why our child looks different or "talks funny." Instead of shushing them and pulling them away use it as a teachable moment. You can even ask us to help. "You can tell if someone has good intentions," shares Louise Kinross, the mother of a young adult with a rare genetic condition and creator of the BLOOM blog.

Parents of children with special needs appreciate the help or will tell you if they don't need it (please don't automatically step in and start wheeling our kids around, though). And if you're the friend of someone who has a child with special needs offer a cooked meal, a coffee date or an hour of babysitting. Our stress levels are sky-high and we always appreciate an offer or real, specific help.

Staring is rude, but if you feel compelled to stare at least offer up a smile. But don't worry if you just happen to be staring in my kid's direction while in a sleep-deprived, zombie-like state -– we've been there and we won't hold it against you.

"A friendly smile and/or a hello is so much more welcome and goes a long way in breaking the ice," says Liza Sneyd, mom to two children with cerebral palsy. And teaching your child to smile is a lot easier if you're flashing us a grin yourself.

Invite us to playdates and to birthday parties. If you're not sure how to accommodate our child or how they can participate in activates, just ask us. We're usually experts in modifying or figuring out creative ways for our kids to enjoy the things that other kids like.

"Hold the door for my daughter instead of letting it slam shut on her and her wheelchair," says Lana Jones, who has a teenage daughter with cerebral palsy. "Don't step in front of my son's wheelchair so he can't see," shares Barb DeRoo, mom of a son with cerebral palsy and creator of Zach's List.

Despite the fact that I get asked to write articles like this, I am not a perfect parent. My kid can get on my very. Last. Nerve. She can also warm my heart like no other -– just like any kid. When you say: "I don't know how you do it," my answer will always be: "It's simple. I do it because this is my child and I love her. It is all I know."

More often than not parents of kids with special needs have a strong belief in the strength and resilience of their kids. Our kids face insurmountable odds, often with a smile on their face and a lot of strength in their hearts. They are super heroes, not victims. And while you're at it remember that our lives may have some extra challenges, but we still face the same difficulties you do. Treat us like parents -– it is what we have in common.

Don't use the word retard (replace it with ridiculous instead). Don't ask: What's "wrong" with a child? Initiate age-appropriate conversations and don't automatically use baby talk. Use "people-first" language that puts the person before the disability (e.g a child with autism, not an autistic child). It's not about being politically correct, it's about the fact that words matter. After all you are reading this, right?

Kindness isn't sympathy or pity –- it is being a good person. Teach your children the same. It really is that simple.