Top 10 Family-Oriented Features Every Car Should Have
Most good parents are keenly aware of the need for family cars, but what many may not understand is what actually constitutes a family car. Minivans and crossovers are usually spacious enough to be considered family-oriented, like the Honda Odyssey, but size is only half the equation since kids also require safety, care and entertainment. If they get all that, they are more likely to stop bugging you and let you focus on driving.
So, how do you keep your kids happy and protected when driving? Here are 10 features that might help:
10. Integrated Sunshades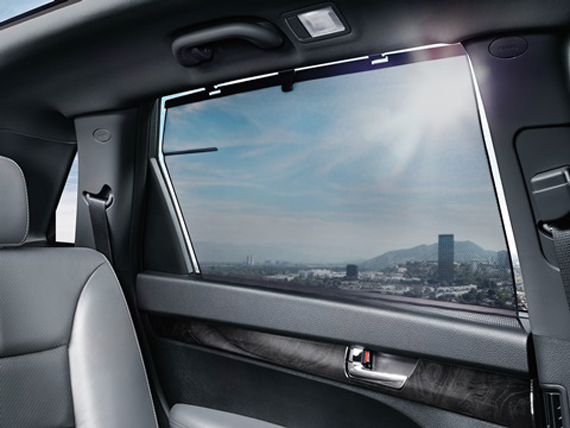 The younger the child, the more sleep they require. So, if your kid needs a nap, then they should be able to get it without the sun getting in the way. That's where integrated sunshades come in. And they absolutely have to be integrated, because there are far too many third-party offerings that don't cover the rear windows in their entirety.
9. Programmable Key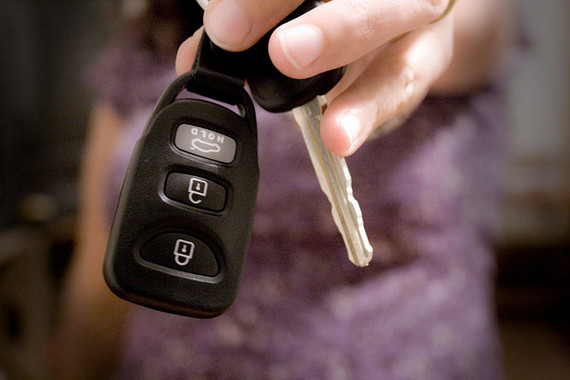 Let's assume that your kid is on the other end of the age spectrum -- in their mid or late teens. By this point, they may already drive themselves, but likely not well enough to do it safely (yet). That's when you can exert your power a little bit by utilizing something called a programmable key -- like Ford's MyKey -- to limit your car's top speed, radio volume and other capabilities.
8. Collision-Prevention Systems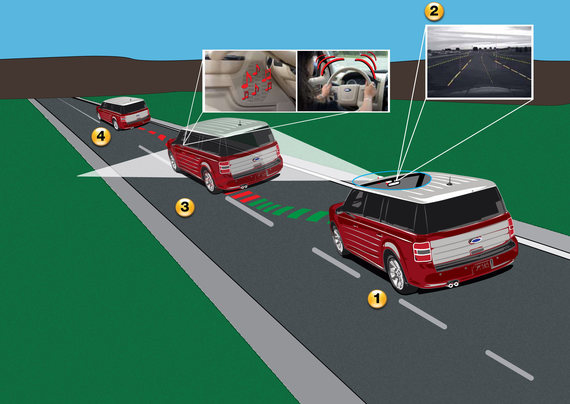 There are several safety systems that can prevent an unnecessary collision with another vehicle -- Forward Collision Warning (FCW) and Lane Departure Warning (LDW). LDW is essentially an alarm system that goes off every time you unintentionally drift out of your lane. Some LDW systems have the power to nudge your vehicle right back. FCW, on the other hand, is meant to alert you when you are too close to a vehicle in front of you. Most modern FCW systems have automatic braking, which lets them stop the car just in time before a collision. These systems are perfect for situations when your kid distracts you in some way.
7. Built-In Vacuum Cleaner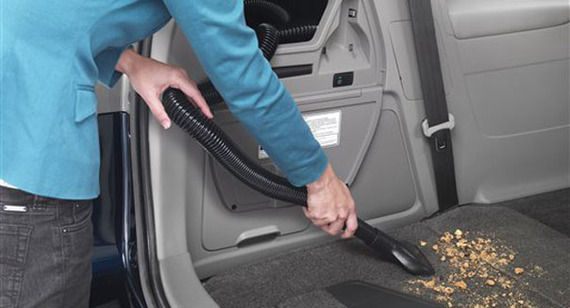 Kids are messy, which means that you either yell at them to stop being that way or you clean after them. Since the latter is likely to be the case, then you might want to consider getting a car with a built-in vacuum cleaner, like the one in the 2014 Honda Odyssey.
6. Built-In Refrigerator or Cooler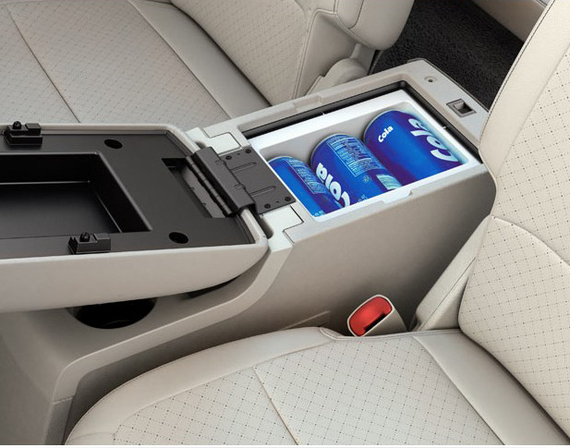 If you are planning to go on a long trip with your kids, you might need to stock up on some snacks. Of course, food is always better when refrigerated, which is why it makes sense to have a refrigerator in the car. While some cars come with mere coolers, others come with proper refrigerators. I recommend a refrigerator, but if you want something cheaper, a cooler would do just fine. Ford Flex, BMW 7-Series and Mercedes-Benz S-Class are known examples of vehicles to offer cold storage.
5. Backup Camera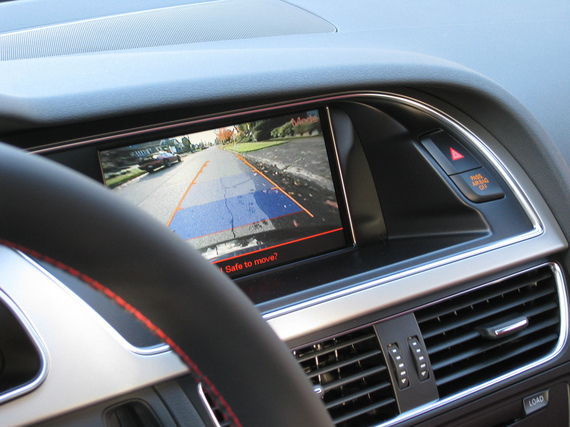 Backup cameras are a no-brainer when it comes to safety since they allow you to see directly behind you. In fact, the National Highway Traffic Safety Administration has estimated that between 58 and 69 lives could be saved in the U.S. if every car had a backup camera. In other words, backup cameras are essential no matter who accompanies you on your trips.
4. Sliding Middle Rear Seat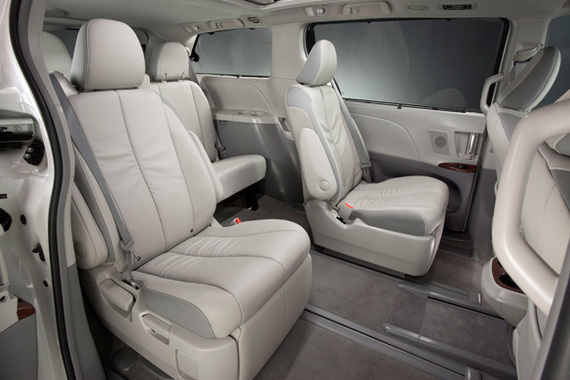 If you have a baby, you might want them to be a little closer to you during trips than a regular rear seat would allow. In this case, it would make sense to have a middle rear seat that slides forward to ensure that you can reach your little one at all times. One of the vehicles to offer such an option is the Volvo XC90.
3. Flat-Folding Third Row
When it comes to increasing cargo space, nothing does quite as well as a flat-folding third seating row. After all, there is nothing worse than a third row that either doesn't fold completely or fails to work at all. Chrysler's Stow 'n Go seats are particularly impressive since they drop down into special compartments in the floor, maximizing your cargo capacity. The best part about them is that they are extremely easy to use.
2. USB Connection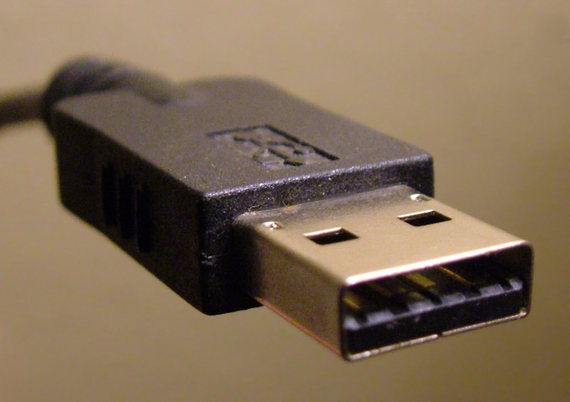 If you have a lot of gadgets on you, like a smartphone or tablet, having a USB connection is a must, especially on longer trips. What if your tablet device runs out of power before you reach your destination? Tears may follow and that's another problem you don't want on your hands.
1. Wi-Fi Connection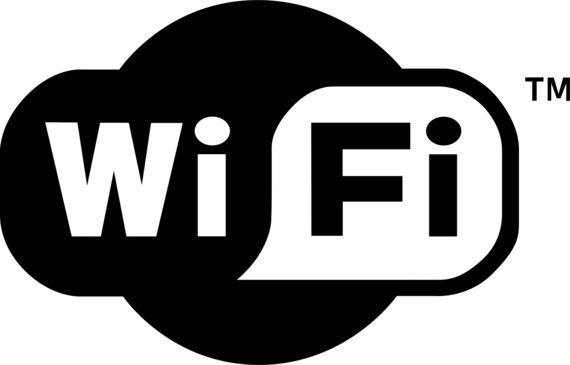 Kids love to be entertained and nothing provides as much entertainment to them as the Internet (with certain restrictions, of course). As such, having an in-car Wi-Fi connection is probably even more important than a USB connection, especially if your kids love their gadgets. Systems like Chrysler's Uconnect and General Motors' OnStar allow any device to be connected to the Internet -- as long as the device itself has the capability.
Image Sources: Kia, Caitlin Regan, Wikimedia Commons, interesting 6, PXDrive, Jeff Wilcox, Automotive Addicts, Dodge, Wikipedia
MORE ON HUFFPOST:
7 Things We Love About Our Cars
A July 2014 survey of UK motorists conducted by Auto Trader found that new cars are linked with attractiveness, with 1 in 3 people stating that a new automobile made a prospective partner more attractive and 1 in 5 saying they would be more likely to go on a second date with someone if they had a new car. When it came to traits that most impressed a person in a new encounter with someone, the type of car they drove followed intelligence, sense of humour, dress sense, job and where they lived in terms of importance. The type of car we drive (or want to!) is linked to our personality and reflects our tastes and how we want to be perceived, whether that's retro-loving, sexy, family-orientated, adventurous - the list goes on...

We all have a favourite big- or small-screen car, whether it's Scooby Doo's Mystery Machine or Chitty Chitty Bang Bang. An August 21, 2014 poll by Auto Trader found that the nation's favourite cars are Herbie from The Love Bug and K.I.T.T. from Knight Rider. "Some of the most loved movies and TV shows of all time have been so memorable because of the weird, wonderful and wacky cars featured on screen. Our poll shows that the oldies are often goodies with classics like Herbie, K.I.T.T. and Chitty Chitty Bang Bang coming out on top.," says Auto Trader's Jon Quirk.

Whether you used to help your dad clean his beloved car every weekend or remember the smell of Parma Violets in your Granny's backseat, cars can conjure up a lifetime of memories - their colour, style, smell, even the music you listened to. Cars are often at the centre of our family traditions, whether we drive down to our parents' every Christmas or explore campsites around the UK each summer. With every car journey comes a new adventure.

According to a July 2014 poll of over 1,000 people by Auto Trader, 70% of the nation's motorists said they see cars as status symbols, with Bond's Aston Martin coming top in the poll of cars that signify someone has "made it" (Bentley, Rolls Royce, BMW and Ferrari rounded out the top five).

There are some wheels we'll never forget: the ones that took us to our reception after we exchanged our wedding vows, the car that brought home our newborn baby, the ride we took on the most amazing holiday of our lives. And even for those less exciting (but also essential) journeys - the school run, the grocery shop, the weekly swim lessons - our cars reliably get us where we need to go and minimise our daily hassles.

There is a sense of the unknown, of escape and of self-discovery that comes from setting off somewhere in your car and exploring the "freedom of the open road." Even if you don't have the time to go on a cross-country tour, the potential is always there, and that's titillating enough. As Jack Kerouac wrote in his great road trip book, On The Road : "What is that feeling when you're driving away from people and they recede on the plain till you see their specks dispersing? - it's the too-huge world vaulting us, and it's good-bye. But we lean forward to the next crazy venture beneath the skies."

While driving in the summer can cause plenty of stresses, from higher weekend traffic to bugs on the windscreen, there's nothing more enjoyable than feeling the wind in your hair as you go for a drive on a warm summer's day. Stay hydrated with plenty of water, keep sunglasses handy to ensure the bright light doesn't impair your vision and set off early for a traffic-free experience and you have driving at its most idyllic.
Follow Andrew Tai on Twitter: www.twitter.com/unhaggle