Hey Weiner, Women in Power Don't Take Vagina Pics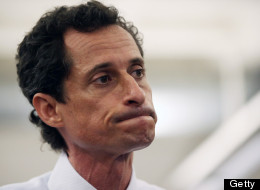 After a week consumed with New York mayoral hopeful Anthony Weiner's wiener pics, the relationship between male power and sex has once again been thrust into the spotlight.
And it seems these scandals always centre around men and their wieners.
Where are all the women, drunk off authority (and maybe a little wine) snapping vagina pics for young college students?
While it could be a mere numbers game -- the fewer women in power the less chances one of them will chronically be caught with her pants down -- I think the characteristics that often make men good leaders (narcissism, decisiveness, risk-taking) also embolden them sexually.
And even if women leaders possess these characteristics (because often they do), power in their jobs doesn't seem to extend to perceived power in their pants.
Green Party Leader Elizabeth May has never been caught in a sex scandal (neither, she points out, have any other female federal party leaders). "I take risks in terms of achieving goals politically," she says. "But, you know, thrills and chills and that kind of [personal] risk-taking doesn't interest me at all."
May always thinks about how her behaviour would look on YouTube or the front page of The Globe and Mail before acting.
That cautiousness should be celebrated, but we rarely focus on the accomplishments of powerful women. Instead the news is so often filled with the latest penis-driven scandal -- each new salacious detail reinforcing the correlation between the qualities that make men both sexually reckless and professionally powerful.
So while Weiner may have sabotaged his political career, he has also earned himself a lifetime membership to the bunga bunga club -- his portrait hung snugly besides the likes of Bill Clinton, Eliot Spitzer, Mark Sanford, David Petraeus and, most recently, Google's Eric Schmidt. Though nobody should not be fighting for wall space, the fact the club exists at all alienates women (and some men as well, no doubt), which carries a serious consequence. So long as women continue to equate positions of power with hyper-masculinity, they will be less likely to occupy them.
Women are still less engaged than men in the power worlds of business and politics.
A new study from D.C's American University interviewed politically-minded students and found 20 per cent fewer women than men had considered running for office. The headlines on another study earlier this month screamed some variation of "Women Know Less About Politics and Current Affairs." Canadian women answered one third of the political questions on the multiple-choice test correctly, while men got slightly less than half (the gender gap was consistent around the world).
The findings didn't surprise Caroline Criado-Perez, founder of a group that confronts gender imbalance in the media, who told The Independent: "There's a lot of research into the fact that women need to see themselves represented in order to feel part of the debate. Girls aren't born not interested in politics -- any more than boys are born engaged with it. Boys are shaped to be interested in it and feel they have a stake in it and people are listening to them."
Here's some proof: A 2001 study found women in the U.S. had an easier time naming a senator when a woman had been elected (or nominated) to that office in their state. In fact, women in such states scored better than men on the question.
If women need to see themselves reflected in positions of power to feel engaged, there still aren't a lot of places to look (the bunga bunga hall of fame coming in at dead last).
In Canada, the number of women in senior management positions dropped from 28 per cent in 2011 to 25 per cent in 2012 (globally, 21 per cent of senior management roles are held by women, barely higher than the percentage nine years ago) and women make up only 25 per cent of people working at "all levels of political representation."
With male leaders constantly making headlines for sexually lewd or aggressive behaviour, it's no wonder women don't feel attracted to the political life.
And we would all be better off if more women ran for office. Though female leaders can and do possess stereotypically male characteristics, they are also more inclined to be good communicators, collaborators and empathizers.
No one is more aware of gender dynamics and power than Kim Campbell, Canada's first and only female prime minister.
"All-male organizations can breed a hierarchical, testosterone-infused social dynamic that requires displays of machismo and the kind of risk-taking that helped fuel the financial collapse of a few years ago," she argued in a recent op-ed for The Globe and Mail. "Women are not better than men, but there is overwhelming evidence of the value they add in business and government when they have a chance to lead."
To get more women in positions of power we need to shift the focus from Weinergate to leaders who have used quintessentially female qualities to excel. Take Irene Rosenfeld, CEO of Kraft, who was characterized in a Guardian UK profile as someone who "does not fit the media archetype of the ball-busting American businesswoman. There are no dramatic power suits, no huge shoulder pads, expensive hairstyles or a personality so large and aggressive that it overcomes the testosterone levels of the male executives. Instead, Rosenfeld is the classic example of still waters running deep." She's also known for challenging Warren Buffet and currently holds the 20th spot on Forbes' "Most Powerful Women" list.
Some think more women in positions of power will mean more vagina pics. I think most women are just more inclined to think before pointing their camera-phone south. And that's a good thing.
Rep. Anthony Weiner (D-N.Y.) was forced to resign following a lengthy media investigation triggered after he accidentally sent his Twitter followers a picture of himself in his underwear. In the aftermath of the initial tweet, Weiner claimed that his account had been hacked, but subsequent developments showed that he had contacted a number of other women online, at times engaging in raunchy conversation.

In March 2008, a federal investigation revealed that Gov. Eliot Spitzer (D-N.Y.) had habitually patronized a high-priced prostitution agency, spending up to $80,000 on the service.

Revelations surfaced earlier this year that the former California governor and movie star had fathered a child with his maid during an affair that took place during the 1990s. The child is now in his teens. In a statement to the Los Angeles Times in May, Schwarzenegger confessed to the relationship: "After leaving the governor's office I told my wife about this event, which occurred over a decade ago," Schwarzenegger said Monday night in a statement issued to The Times in response to questions. "I understand and deserve the feelings of anger and disappointment among my friends and family. There are no excuses and I take full responsibility for the hurt I have caused. I have apologized to Maria, my children and my family. I am truly sorry."

When Governor Mark Sanford (R- S.C.) went missing for a few days in June 2009 he said he was hiking the Appalachian Trail. He later confessed he was actually in Argentina visiting his "soul mate." He and his wife have since gotten divorced.

Rep. Eric Massa (D-N.Y.) resigned in 2010 following mounting questions about his conduct that culminated in a House ethics investigation of harassment allegations brought forth by a male aide. Shortly after stepping down, Massa appeared on Glenn Beck's television show and described part of an incident that had triggered the charges. "Not only did I grope him, I tickled him until he couldn't breathe," he said. "I should have never allowed myself to be as familiar with my staff as I was... I own this misbehavior."

On July 26, Rep. David Wu (D-Ore.) announced that he would step down pending the conclusion of ongoing negotiations to raise the debt ceiling. Wu, who had fielded prior criticism for erratic behavior in the run up to his successful 2010 reelection -- he emailed staffers a picture showing him wearing a tiger costume -- is currently facing allegations that he engaged in an unwanted sexual encounter with an 18-year-old. Wu has claimed the action was consensual.

Rep. Chris Lee (R-N.Y.) took part in perhaps the shortest Washington scandal of all time earlier this year, when a report that he had sent shirtless pictures to a woman he contacted on Craigslist prompted his resignation mere hours later.

In June 2009, Sen. John Ensign (R-Nev.) admitted to having an affair with the wife of a close friend and top aide. In April of this year, he announced that he was resigning amid a high-profile ethics probe.

According to custody records, 2004 Illinois Republican Senate hopeful Jack Ryan brought his wife -- actress Jeri Ryan -- to sex clubs in various cities with the intent of having sex in public. Ryan was forced to drop out of the race amid the scandal that flared afterward.

In August 2008, Sen. John Edwards (D-N.C.) finally confessed that he'd had an affair with a former campaign worker after being exposed by the National Enquirer. He met Rielle Hunter, his future campaign videographer, in a bar. Edwards admitted fathering the child in early 2010.

Sen. Larry Craig (R-Idaho) was arrested in June 2007 for lewd conduct following an unusual interaction with another man in a bathroom stall at Minneapolis-St. Paul International Airport. Craig did not resign immediately, but he did not run again.

In September 2006, then chairman of the House Caucus on Missing and Exploited Children Rep. Mark Foley (R-Fla.) was forced to resign amid a scandal involving sexual IM and email conversations with male pages. Foley has since admitted that he is gay.

Sen. David Vitter (R-La.) was exposed as a former client of the "DC Madam" prostitution ring in 2007. She even called him during votes. The conservative senator was reportedly also a regular at a New Orleans brothel. Vitter ran for reelection and won in 2010.

In October 2008, it was reported that Rep. Tim Mahoney (D-Fla.) had paid a former staffer-turned-mistress $121,000 to keep her from filing a lawsuit. Mahoney later admitted to having more extramarital affairs.

In May 2008, Rep. Vito Fossella (R-N.Y.) was arrested for drunk driving, taken to jail, and bailed out by his mistress. After conflicting stories and poorly constructed lies, he finally admitted that he had been engaged in an affair with the woman and was the father of her 3-year old child.

In 2005, opponents of Rep. Don Sherwood (R-Pa.) released a D.C. police report from 2004 alleging that Sherwood had choked his mistress. The release of the report forced Sherwood to admit to a five-year affair with the woman.

After congressional intern Chandra Levy went missing in May 2001, Rep. Gary Condit (D-Calif.) became the center of a scandal that led to his admitting an affair with Levy. In 2009, Levy's murderer was determined to be a man already in prison for other murders.
Follow Angelina Chapin on Twitter: www.twitter.com/angelinachapin