Take it From a Widow: Friendship and Grief Don't Always Mix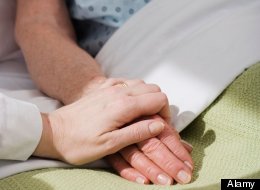 I am a widow. I suffered a tragic loss and my life changed forever. I went from married to widowed in the blink of an eye. My kids went from two parents to one parent in the blink of an eye. I became a widow, a single mom and a woman that lost her way. I joined a sisterhood that no one wants to belong to. I became a statistic that no one wants to be a part of. I lost a huge part of my identity and struggled to face each day. I lost friends that I assumed would be there to help me as I struggled to regain my life.
Friendships, I learned, are not immune to grief. Despite what you may think, some friends will leave you when you need them the most. Perhaps they don't know what to say or how to act. Maybe they are afraid to deal with your sadness and grief. Maybe they're afraid that widowhood is contagious and will happen to them. I do not know the answers. All I know is that I am surprised at how friendships changed when I needed them the most.
I decided to ask some widowed friends about their friendships. Did friendships change after their spouses died? Did people treat them different now that they were widows?
I quickly learned that I am not alone. The other widows faced unique but also similar circumstances with their friends. Following are quotes from a couple widows that I spoke to:
"...my friend admitted a feeling of guilt after my hubby died."

"...my cleaning lady lost her husband and now she will not talk to me."

"I've stopped telling people that I am a widow."

"You really find out who your friends are and aren't. Family too. It is quite the eye opener. Breaks a lot of trust."

"You remind your friends of what can happen. Also you are technically single now and they see you are a threat to their husbands."

"It is hurtful how people disappear."

"I have a friend that is afraid that her life will end up like mine."

The following comment came from a woman that lost her son:

"I did lose friends. I was told they 'couldn't handle it' and did not know how to act around me."
After speaking to people in similar situations, I now realize that in many cases, friendship and grief do not mix. Whether you have been friends for six months or 30 years, you do not know how your friendship will hold up during a crisis. Some friends step up and the bond becomes unbreakable while other simply disappear from your life.
18 Feel-Good Quotes To Get You Through Hard Times
"It is worth remembering that the time of greatest gain in terms of wisdom and inner strength is often that of greatest difficulty."

"You gain strength, courage and confidence by every experience in which you really stop to look fear in the face. You are able to say to yourself 'I have lived through this horror. I can take the next thing that comes along.' You must do the thing you think you cannot do."

"Scar tissue is stronger than regular tissue. Realize the strength; move on."

"Sadness flies away on the wings of time."

"Don't worry about losing. If it is right, it happens. The main thing is not to hurry. Nothing good gets away."

"No matter what your heartache may be, laughing helps you forget it for a few seconds."

"When one door closes another door opens; but we so often look so long and so regretfully upon the closed door, that we do not see the ones which open for us."

"Tis better to have loved and lost than never to have loved at all."

"Every adversity, every failure, every heartache carries with it the seed of an equal or greater benefit."

"In three words I can sum up everything I have learned about life: It goes on."

"If you're feeling low, don't despair. The sun has a sinking spell every night, but it comes back up every morning."

"If someone you love hurts you, cry a river, build a bridge, and get over it."

"Letting go has never been easy, but holding on can be as difficult. Yet strength is measured not by holding on, but by letting go."

"You are responsible for your life. You can't keep blaming somebody else for your dysfunction. Life is really about moving on."

"When the heart grieves over what is has lost, the spirit rejoices over what it has left."

"Don't cry because it's over, smile because it happened."

"Look at life through the windshield, not the rear view mirror."

"March on. Do not tarry. To go forward is to move toward perfection. March on, and fear not the thorns, or the sharp stones on life's path."

"Never regret. If it's good, it's wonderful. If it's bad, it's experience."

Kate Crisp:"The most difficult times for many of us are the ones we give ourselves." — Pema Chödrön (When Things Fall Apart: Heart Advice for Difficult Times)

oliverw:Come what come may, time and the hour run through the roughest day!

Pema:What we do for ourselves dies with us, what we do for another, remains eternal. Anon

Greg Popiel:The heart heals with the anticipation of meeting another soul.

Greg Popiel:Pure Bliss is living your dream: a life of purpose, contribution, service.

Bobby Warren:Life isn't about consistency its about change

Bobby Warren:Life isn't about consistency its about change

Bobby Warren:Life isn't about consistency its about change

Alexis Estenor:Soldier may fall, but Heroes will live forever.
Follow Ann Bacciaglia on Twitter: www.twitter.com/annbac9