Close The Global Gap Between LGBTQ Rights And HIV/AIDS Treatment
When Canadians think of LGBTQ rights, a few things may come to mind: same-sex marriage being legalized in 2005, the annual Pride parades across the country, and discrimination protections enacted to protect the human rights of LGBTQ citizens. They might even think of openly gay political leaders, such as Ontario Premier Kathleen Wynne or long-time Edmonton City councillor Michael Phair.
Recent events have acted as a reminder that Canada's tolerance should not be taken for granted. Around the world, LGBTQ citizens are suffering through horrific acts of abuse, being criminalized and jailed, and in Chechnya, even being sent to concentration camps.
Chechnya has made headlines around the world for their recent wave of violence toward LGBTQ citizens. The Independent has reported on LGBTQ Chechens being subjected to beatings and electroshock torture inside these camps, which Russian newspaper Novaya Gazeta claims are detaining more than 100 gay men.
But, while these reports are atrocious, it is important to remember they are not uncommon. Chechnya's violence does not occur in solitude, but operates within a state-sponsored homophobic framework still upheld by 74 states around the world. Anti-LGBTQ laws vary in severity from jail time for distributing LGBTQ "propaganda" to the death penalty for participating in LGBTQ relationships, and are especially prevalent across Africa, where homosexuality is outlawed in 34 countries. Across Africa particularly, it's easy to see the ripple effects of anti-LGBTQ legislation on society as a whole -- first and foremost, in the health of their population.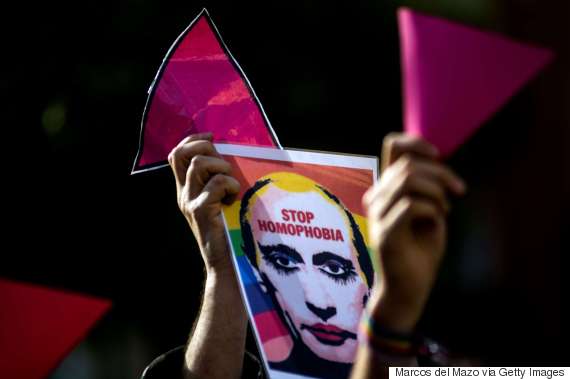 A picture of Vladimir Putting with the words 'Stop Homophobia' during a protest supporting LGTB in Chechnya. (Photo: Marcos del Mazo/LightRocket via Getty Images)
With LGBTQ relations being outlawed or heavily stigmatized across the continent, the HIV/AIDS epidemic has continued to thrive. Limited resources are poured into responses to human rights abuses, leaving critical HIV/AIDS services for vulnerable populations severely under-resourced. According to UNAIDS, sub-Saharan Africa maintains the highest HIV-positive population at approximately 24.7 million citizens. Due to stigma and harsh LGBTQ legal restrictions, those who may be HIV-positive live in fear of judgment and jail time, making it highly dangerous to disclose their status, or to get tested at all. As a result, this region also sees some of the lowest rates of treatment.
However, as more progress has been made in Canada for both LGBTQ and HIV/AIDS-positive citizens, more support has reached communities who have been crippled by HIV/AIDS. While state-sponsored homophobia still runs rampant in Africa, many communities are slowly receiving more access to life-saving programs battling the disease on both a physical and mental level.
Without eradicating the stigma surrounding LGBTQ citizens, the world's most vulnerable populations will have little hope.
Programs have included anti-stigma work, which is key in battling homophobia, and by extension, HIV and AIDS. According to the Centers for Disease Control and Prevention, negative beliefs and actions towards gay men can affect both their physical and mental health; not only are rejected gay men less likely to be tested, but they are three times more likely to both use illegal drugs and have risky sex than those who are accepted by their communities. Both behaviours put LGBTQ citizens at an increased risk of contracting HIV.
Access to testing and antiretroviral therapy is also slowly improving as higher-quality healthcare works its way around the globe. According to WHO, antiretroviral therapy increased over 1,600 per cent between 2005 and 2015, bringing the total treated population to 12.1 million. Unfortunately, antiretroviral therapy rates are still lowest amongst concentrated populations of sex workers, injecting drug users, and gay men.
This discrepancy between HIV/AIDS treatment and LGBTQ rights is a continued battle, and hope lies in education and acceptance. Without eradicating the stigma surrounding LGBTQ citizens, the world's most vulnerable populations will have little hope of eradicating HIV/AIDS on a global scale.
The Stephen Lewis Foundation recently launched the LGBTQ Initiative on May 12 at the sixth annual Dare to Wear Love fashion show and gala. The initiative aims to donate $1 million over two years to 25 LGBTQ communities across sub-Saharan Africa.
To learn more, visit www.stephenlewisfoundation.org/lgbtq-initiative.
Follow HuffPost Canada Blogs on Facebook
Also on HuffPost:
Stars Sound Off On Russia's Anti-Gay Law
"I think we should do more than just send gay Olympians there," the "Jack Ryan" star said in an interview. ''What's happening there in terms of gay rights or the lack of it is extraordinary and awful." Read the full story here.

The Russian dance legend and actor ("Sex and the City") sounded off on the controversial legislation in an exclusive statement for the No More Fear Foundation, an international LGBT advocacy organization. "My life has been immensely enriched by gay mentors, colleagues and friends and any discrimination and persecution of gay people is unacceptable," Baryshnikov, 65, said. "Equal treatment of people is a basic right and it is sad that we still have to even speak about this in [the] 21st century." Read the full story here.

The 52-year-old Grammy Award-winning rocker, who is openly gay, told the Washington Blade's Michael K. Lavers that she wouldn't hesitate to visit Russia if she were invited to attend the 2014 Winter Olympics. "I would be there with bells on," Etheridge said. "I would love to go offer support, offer visibility, stand there just as a known gay person." Read the full story here.

A photograph of the Academy Award-winning actress defending Russia's beleaguered lesbian, gay, bisexual and transgender (LGBT) community by holding a rainbow flag in front of Moscow's Kremlin was released with the following statement via her spokesperson: "In solidarity. From Russia with love." Read the full story here.

The Material Girl sparked controversy when she spoke out in defense of Russia's LGBT community during a St. Petersburg stop on her MDNA World Tour last year. Performing in black lingerie with the words "No Fear" scrawled on her bare back, Madonna urged the audience -- most wearing pink wrist bands distributed at the door -- to "show your love and appreciation to the gay community." "We want to fight for the right to be free," she said at the time, Reuters reported. Click here for the full story.

The U.S. figure skater (pictured on right, with husband Victor Voronov) has spoken out against a planned boycott of the 2014 Winter Olympics in Sochi, warning that those hurt most would be the athletes who have "dedicated their lives to possibly having their lone life-changing moment." "The Olympics are not a political statement, they are a place to let the world shine in peace and let them marvel at their youthful talents," he wrote. "I respect the LGBT community full heartedly, but I implore the world not to boycott the Olympic Games because of Russia's stance on LGBT rights or lack thereof." Click here for the full story. CORRECTION: The original version of this slideshow misidentified Johnny Weir as Victor Voronov.

The legendary singer-actress said she turned down the chance to perform at the 2014 Winter Olympics in Sochi because of Russia's anti-gay law. "I can't name names but my friend called who is a big oligarch over there, and asked me if I'd like to be an ambassador for the Olympics and open the show," Cher told Maclean's writer Elio Iannacci. "I immediately said no. I want to know why all of this gay hate just exploded over there." Click here for the full story.

In spite of Russia's anti-gay legislation, the Rocket Man has vowed not to cancel his forthcoming Moscow performance. "As a gay man, I can't leave those people on their own without going over there and supporting them," he said. "I don't know what's going to happen, but I've got to go." Read the full story here.

"The Russian government is criminal," the Mother Monster tweeted in August. "Oppression will be met with revolution. Russian LGBTs you are not alone. We will fight for your freedom." She also noted: "Sending bravery to LGBTs in Russia. The rise in government abuse is archaic. Hosing teenagers with pepper spray? Beatings? Mother Russia?" Click here for the full story.

The Olympic diving champion rejected the possibility of a boycott against the 2014 Winter Olympics in Russia in a Policymic editorial. "Boycotting sends the wrong message and will only harm the hard-working athletes set to compete in the 2014 Olympics, not the Russian government itself," he wrote. "I know from personal experience. My first Olympics I won Silver at age 16, and then in 1980, at the height of my diving career, President Jimmy Carter opted to boycott the 1980 Olympics in Moscow as a method of protesting the Soviet invasion in Afghanistan. The toll on fellow athletes and me was devastating." Click here for the full story.

"The human rights stuff that's going on, there's a potential for it to be an incredibly negatively-overshadowed Olympics," the two-time gold medal winning snowboarder told the Associated Press. Of his gay friends in snowboarding, he noted, "They're wonderful human beings, and I think for them to be discriminated against is a crime." Read the full story here.

The New Zealand speed skater, who is openly gay, told HuffPost Live's Josh Zepps that a boycott would hurt the athletes themselves more than Russia. "I don't support a boycott at all," he said. "I believe the greatest way to bring about change is to have a presence. Being present in Sochi is going to be greater for the cause than not being there at all." Click here for the full story.

After winning a silver medal at the World Track & Field Championships in Moscow on Aug. 13, the American middle distance runner openly dedicated the victory to his gay and lesbian friends in his home country. The act reportedly makes Symmonds the first athlete to critique and oppose Russia's anti-gay legislation while in Russia. Click here for the full story.

The controversy swirling around Russia's anti-gay policies should not overshadow the athletes at the Winter Olympics in Sochi next month, tennis legend Billie Jean King told the Today Show. "When we step off the plane, we are part of America. We are what America looks like," she said. "Visually, we're going to send a very strong message just by being there." Read the full story here.