The Real Reason Why British MP-Killer Is Not Being Called A Terrorist
British Labour MP Jo Cox was brutally assaulted and shot three times while being repeatedly stabbed to death in her home constituency late last week by Thomas Mair, also stylishly known as "death to traitors, freedom for Britain."
Mair is known to be associated with "Britain First," a far-right anti-Muslim, anti-immigrant, anti-multiculturalism, anti-[insert colour] party created by members of the now largely irrelevant British Nationalist Party. He also has an infatuation for Nazi swag, poring through neo-Nazi reading material and making homemade guns.
This is the same organization whose leader, Paul Golding, embarrassed himself on national TV earlier this year by turning his back to the newly elected Muslim mayor of London Sadiq Khan during his victory speech. This is the same organization that has announced a "direct action campaign against Muslim elected officials" targeting "where they live, work, pray." This is the same organization that "invades" mosques, halal butcheries and Muslim communities to provoke, instigate and inflame tensions against British Muslims.
Thomas Mair was inspired by the hatred of Britain's equivalent to ISIS.
Most notably, the organization referred to the Labour Party as "criminals" and "traitors." Even Britain First founder, Jim Dowson, quit the group over its racist and violent tendencies.
Let's be clear: this was a politically motivated, targeted, planned, calculated, conscious, deliberate, premeditated and intentional assassination of a sitting parliamentarian by a man who had extremist, white supremacist tendencies. Cox's consistently progressive voting record that fought for the sick and disabled, a multicultural society, a peaceful foreign policy and her most vile crime of all -- bringing Britain into disrepute by choosing to remain in the European Union -- had everything to do with why she was tragically murdered.
Unfortunately, Mair felt he had to "protect" Britain from being overrun by barbaric immigrants who bring with them cultural diversity that makes unemployed "loners" like him uncomfortable. He had to make a statement to demonstrate his commitment to preserving true English culture by taking the life of not just a politician, but a wife, a daughter and a mother of two young children. Thomas Mair was inspired by the hatred of Britain's equivalent to ISIS.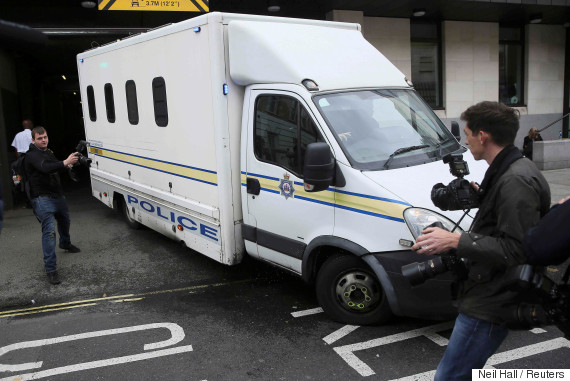 A prison van holding Thomas Mair leaves Westminster Magistrates' Court in London, Britain June 18, 2016. Mair appeared at court on Saturday charged with the murder of Labour MP Jo Cox. (Photo: Reuters/Neil Hall)
Yet given the overwhelming evidence of Mair's past activities, the term "terrorism" didn't even enter into the equation. British media quickly branded Mair as a quiet, peace-loving soul suffering from the mental anguish of obsessive compulsive disorder. To overcome this, Mair took an interest in following horticultural pursuits by tending his neighbours' gardens.
How very touching.
To be fair, the coverage did eventually begin discussing Mair's racist sympathies, but not before humanizing him as a community-minded, daffodil-planting individual suffering from mental illness. Still, any discussion of terrorism was notably absent. Such humanization and labelling restraint is rarely afforded to other ethnic and religious backgrounds who may commit acts of crime, but this is not surprising.
Thomas Mair isn't branded a terrorist because it's a label we only use for those who are different, who we are taught to fear, who may live amongst us, but aren't seen as one of us, who we use to deflect our social ills because it's convenient and politically expedient.
Thomas Mair is from West Yorkshire. He lived with his grandmother. His war cry was "Britain First," not "Allahu akbar." He does not come from a background or practices a faith that could be "otherized," made alien or feared.
Thomas Mair, the gardener, is one of us.
Follow HuffPost Canada Blogs on Facebook
MORE ON HUFFPOST:
The Ukip leader and MEP is the most famous 'outer'. After his party took over a 100 council seats in May's local election's Nigel Farage is hoping to win the 2014 European elections and then gain MPs in Westminster in 2015. He has confirmed he will seek a parliamentary seat himself.

Margaret Thatcher's former chancellor and a true 'Tory grandee' revealed in The Times that if and when there is a referendum "I shall be voting out". He also stuck the boot into the David Cameron by saying the prime minister's attempts to renegotiate the terms of the UK's relationship with the EU would be "inconsequential".

There are quite a few Conservative MPs who would like to wave goodbye to Brussels. Ken Clarke has said the figure is as low as 30 despite the strong eurosceptic feeling on the backbenches. However the exact number is not clear. Mid-Bedforshire MP Nadine Dorries, who remains suspended from the Conservative Party, is currently talk tof the eurosceptic town amid rumours she may defect to Ukip. Other backbench Brexiters include Bill Cash, Douglas Carswell, Peter Bone and Philip Davies and former defence minister Sir Gerald Howarth.

Most of the anti-EU focus is on the Tory benches. But there are more than a handful of Labour MPs would would like to quit Brussels as well. Eurosceptics include Frank Field, Kate Hoey, Austin Mitchell, and Gisela Stuart. Stuart has argued the status quo is "not sustainable" and Britain should leave.

Rupert Murdoch has warned that the EU will "sink" the UK. The News International and boss caused a stir when he met Nigel Farage for dinner in London recently and said the Ukip leader was "reflecting opinion" with his anti-EU views. In November 2010 Richard Desmond's Daily Express became the first UK newspaper actively to call for Britain to leave the EU, launching a 'Get Britain Out' campaign

Of course no campaign is complete without a bit of star power. The pro-EU camp have Eddie Izzard, who do the Brexiters have? Joan Collins, a 'patron' of Ukip, wants the UK to leave. "The EU, controlled from Brussels, cares only about itself," she said in March.

Most business leaders do indeed seem content with what Lawson called the "warm embrace of the European single market", but there are a few dissenters. Private equity guys Jon Moulton and Edmund Truell are two and Next boss and Tory peer Simon Wolfson has said: "Britain should stay in Europe, but only on the right terms".

There are a number of loud voices whinnying on the sidelines to say "neigh" to the EU notably Melanie Phillips, Richard Littlejohn, Tom Utley, Simon Heffer. Basically the Daily Mail stable.

Several high-profile politicians appear to be on the verge of calling for the UK to exit the EU - but just are not there yet. Former defence secretary Liam Fox - pictured here with a big gun - has said "life outside the EU holds no terror" should David Cameron's hopes of negotiating a new treaty fail. Education secretary Michael Gove is said to have told friends the UK has "nothing to be scared of" by leaving Europe. And many other eurosceptic cabinet ministers, including Iain Duncan Smith and Owen Paterson are likely to share that view.
Follow Aurangzeb Qureshi on Twitter: www.twitter.com/aqureshi80