Green Lantern, Hornet and Arrow: Canadians Make Great Super Heroes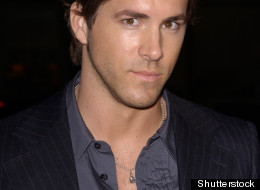 Canadian actors Ryan Reynolds, Seth Rogen, and Stephen Amell have much in common. The former Sexiest Man Alive, funny man and newcomer have each proven that they know how to fight off villains as the notorious super heroes the Green Lantern, Green Hornet, and Green Arrow.
In 2011, Vancouver-born Seth Rogen played the Green Hornet and in the same calendar year, B.C.-native; Ryan Reynolds gave it a go as the Green Lantern. This year, there is a new hero in town. Torontonian Stephen Amell won the lead role in the CW series Arrow and currently portrays billionaire playboy Oliver Queen.
A Hollywood Reporter article explains that Americans are no longer getting cast in super hero roles because, "The reality is that access to actors all over the world is greater because of the Internet," says Marcia Ross, Executive Vice President of casting at Walt Disney Studios Motion Pictures. Thanks to the 'net, Ross said, casting directors can now email sides (script pages) to the most remote of locales, then record auditions they will show directors and producers. Not only does that level the playing field, it also saves money on far-flung casting calls. "We as casting directors want to be thorough, and now we can," she said.
BLOG CONTINUES AFTER SLIDESHOW
Who Is Canada's Sweetheart?
The "True Blood" star was born in Winnipeg, Manitoba, and sizzles both on the big and small screen, but we may have to fight over Anna for the title of national sweetheart -- New Zealand has made some pretty strong claims over the actress's true ties.

Adorable actress Ellen Page grew up in Halifax, N.S., and charmed us as a quirky, pregnant teen in "Juno". She's gone on to star in critically-acclaimed films like "Whip It" and 'Inception." And though she's known as "The Tiny Canadian" -- she's only 5'1! -- Page's girl-next-door vibe melts our northern hearts in a big way.

While the pop-punk princess was Canada's darling when she first stepped on the scene in 2002, we've been in a love-hate relationship with Avril ever since she hooked up with Chad Kroeger.

Born in British Columbia, Pam was the original Canadian sexpot. Several tumultuous marriages and boob jobs later, the bubbly blond has fallen slightly off our radar.

British Columbian Carly Rae may be new on the scene, but the the "Call Me Maybe" singer is just as sweet as her sugary pop tunes. (And her style is much-coveted by teens and tweens.)

Recently dubbed the hottest woman on television by Maxim Magazine, Elisha got her start on "Popular Mechanics For Kids" with fellow Canadian star Jay Baruchel. She's stuck close to her roots since -- we've heard she has a thing for hockey players.

We fell in love with Canadian crooner Alanis Morissette for her in-your-face angst, but she's long ditched the grunge-rock and flannel shirts for a softer look. Truthfully, we kind of miss '90s Alanis, don't you?

"90120" actress Shenae Grimes got her start in the most Canadian way, with a role on the series "Degrassi: The Next Generation." Despite rumours she's been having a bit too much fun on the Hollywood party scene, we still think Grimes is cute as a button.

Hailing from Montreal, Que., the "Entourage" actress topped the AskMen.com list of the Top 99 Women in 2010, beating out both Americans and Brits (like Beyoncé and Kate Beckinsale) for the number one spot.

This "Lost" star is proud of her Canadian roots, and considers herself an activist in wilderness conservation. The beautiful actress spoke out against the tar sands in Alberta and the construction of new pipelines. She's also decried the mistreatment of First Nations people in Canada.

She's the original Canadian diva, with golden pipes that few other singers posses. The Québécois songstress may have relocated to Vegas, but as far as we're concerned, Celine is, and will always be, a national treasure.

Her Canadian status makes her the butt of many jokes on "How I Met Your Mother," but Cobie admits she grew up watching MuchMusic and dreaming of the day she'd become a stylish VJ. It doesn't get much cuter, or much more Canadian, than that.

Born in London Ontario, it's not hard to see why "The Vow" star is so well-liked: the 34-year-old actress is smart, beautiful, charming and incredibly talented (not to mention the fact she's the most uncelebrity-like celebrity we know.)
Casting directors take note. Green Lantern and Green Hornet both debuted in the top spot at the box-office during their opening weekends while Arrow has been off to a stellar start receiving the highest network ratings in three years and a second season order. Earlier this month, Director Bryan Singer announced that B.C.-native, Shawn Ashmore, will be suiting up in hero attire and reprising his role as Ice Man in the franchise film, X-Men: Days of Future Past.
It is never too late to recognize that not only do our Canadian super heroes look great in green, but they are proving to be box-office gold.