I've Got Experience. I've Got Degrees. I've Got No Job.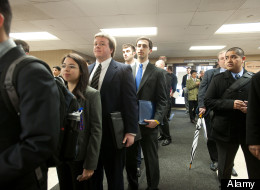 According to Statistics Canada, in November 2012, there were 243,000 job vacancies among Canadian businesses and 5.2 unemployed people for every job vacancy.
I live in Toronto, and have been looking for work since my contract ended in October 2012. For two years, I was employed as an Online Community Manager for a natural health company.
Since embarking on my quest for full-time employment, I have applied to over 100 jobs and received about 15 interviews and several call-backs. You might know job seekers who are experiencing similar situations. Unfortunately, this scenario seems to be commonplace in Canada.
With over five years of employment experience, a certificate in Media Foundation, a diploma in public relations from Humber College and certificate in web design from Seneca College, one would think it would be fairly easy for me to get hired, right? Wrong.
I am looking for positions in social media, public relations and customer service but have discovered that these fields have become so saturated that at almost every interview I attend, the hiring manager explains that over 80 applications for the position have been received. On LinkedIN, some social media and web design jobs have over 150 applications submitted per job within a three to five day period.
Usually, I receive the standard HR response saying, "Thank you for your interest in this position with our company. We have received a large number of inquiries from highly qualified candidates. At this time, we have decided to move forward with an individual who more closely matches the skills and qualifications required for this role." I begin to wonder if these companies actually end up hiring for the job altogether.
In a recent New York Times article, Cathrine Rampell spoke with a candidate who received eighth and ninth-round call-backs. Two of those companies ultimately decided not to hire anyone, and put the openings "on hold" because of budget pressures.
Early on in my search there was an instance in which I applied to a social media manager job and saw the position available again three months later. Both times I was granted an interview and on the second interview, I found out that the entire team I had originally met with had been let go or had quit. It is rare that one ends up hearing why someone else was hired but in this particular case I learned that the person who was hired originally (then fired) was related to someone in the company and did not have adequate skills. It is through these types of situations that one's job search is prolonged.
STORY CONTINUES BELOW SLIDESHOW
The Canadian Millennial: Survey Says
The Huffington Post Canada and Abacus Data surveyed 1,004 Canadian millennials from across the country on a variety of issues. Here's what we found:

We asked 1,004 Canadian millennials to rank the biggest challenges facing their generation.

2% rank the decriminalization of marijuana as No. 1 or 2.

5% of millennials rank internet regulation and online privacy as one of their top two issues.

7% rank bullying as the first or second biggest challenge.

8% of millennials rank retirement security No. 1 or 2.

11% of millennials say access to quality health care is one of the generation's top two challenges

20% of millennials rank pollution and environmental protection as No. 1 or 2 of the biggest challenges faced by this generation.

20% say affordable housing is in the top two.

24% of millennials peg the cost of education as their first or second choice for the generation's biggest challenge.

27% say the cost of food, gas and consumer goods are in the top two.

32% of millennials chose "student debt and personal debt" as the first or second biggest challenge.

We asked 1,004 millennials between the ages of 18-30 what it takes to be a good Canadian citizen.

15% of millennials say it takes being active in political parties...

28% of millennials say donating money to charity makes a good citizen..

35% of millennials say that being active in social organizations is important to citizenship..

63% of millennials say being informed about current events is important..

64% of millennials say being able to fluently speak one official language is important..

74% of millennials say a good citizen is someone who always votes in elections.

81% of millennials say good citizens honestly pay their taxes.

43% of millennials rank the availability of quality jobs as their first or second choice.

We asked 1,004 Canadian millennials what were their generation's biggest health challenges

3% say pollution

4% say sexually transmitted infections

7% say disease

11% say poor nutrition

16% say obesity

17% say addiction

19% say mental health

26% say lack of physical activity

Some views from 1,004 Canadian millennials on marriage and family..

18% of millennials are in a common law relationship

66% of millennials are single

15% of millennials are married

63% of unmarried millennials say yes 13% say no 24% say they are unsure

65% of unmarried women say yes 13% say no 22% say they are unsure

61% of unmarried men say yes 13% say no 26% say they are unsure

33% agree 67% disagree

12% of millennials surveyed have children 88% do not

64% of millennials say yes 12% say no 24% are unsure

Huffington Post Canada's series on millennials, Asking Y. Visit it here.
As young professionals, one of the key skills we are all taught to practice is networking, especially in PR. Some articles explain that an HR manager does not want to be "bothered" by potential applicants and he or she would much rather read a CV through the job portal system, while other articles suggest that it is important to take initiative and make personal contact first.
To further explore the relatively new area of online recruitment, I participated in a joint Twitter chat with Twitter recruiters and NPR hiring managers who answered questions on how to network through social media. The managers suggested connecting with recruiters on Twitter to demonstrate one's personality. One of the problems with this process is that not all the companies to whom one applies or with whom one is interested in working have HR managers online.
If one is considering applying for a job in the United States, the process is even more challenging. I had phone interviews with tech companies in California, but with the limited number of work visas issued annually, U.S. companies are only likely to sponsor Canadians in senior positions or someone with extremely advanced technical capabilities.
With the large unemployment statistics in Canada, a job seeker must look beyond the traditional job search. Volunteering at community events and finding connections through family and friends can also be helpful in finding a position.
I have been pulling all the strings, knocking on all the doors and searching for every loophole. At best, I have been able to secure a first interview but with such a competitive market, nothing is guaranteed.
Over the last month, I got accepted into three graduate certificate college programs for September 2013. With a co-op at the end of each program, there is, I hope, increased potential to get a job offer upon graduation. I am hoping that with additional education and more time, the opportunities will be greater in 2014.
Contact Aviva by visiting her website at www.webpr.ca