Pokemon Go's Success Promises Bright Future For AR Tech
Co-Authored By 5th Wall's Averie Hah and Alan Shekhtman
Pokemon Go is everywhere, all over the world, in the palms of all our hands. By now, everyone probably has googled "what is Pokemon Go," but to give a short answer, it is an augmented reality game created by Niantic and Nintendo in which the player -- you -- explore the real world in order to find mysterious digital creatures known as Pokemon, catch them and battle against other "trainers." As the slogan goes, you "Gotta catch 'em all!"
It has been about 10 days since its release in the United States, and already the game is making news all over the globe. Google searches for Pokemon Go has outstripped that of "porn," and Nintendo's stocks rose about 55 per cent this week. It has been installed on twice as many phones as Tinder, and the number of daily users is on the verge of surpassing Twitter. The game is estimated to be making $1.6 million daily, on U.S. iPhones alone.
So, what does this mean? Countries all over the world are seeing cultural, technological and financial spillover effects caused by this pure phenomenon, and Canada is one not to miss. What does Pokemon GO's success mean for augmented reality, and what does it mean for businesses?
People Are Welcoming Towards New Technology
Pokemon Go's wide popularity is a great indicator of how open people are to trying technology that is foreign to them. Players, especially millennials, are downloading the game and getting excited about this technology that allows them to catch Pokemon using their phone camera and nothing more -- the technology of augmented reality. AR has been around us for quite some time, but the general awareness of the name "augmented reality" has been quite low. Naturally, the general impression of foreign technology was that it was inaccessible, or that people wouldn't want to try out a new, complicated technology.
Now, because of Pokemon Go, people are realizing that in fact, AR simply starts with their phone cameras, defying previous impressions and allowing for maximum accessibility. It has proven that the adoption of AR can start right from the palm of your hands, from the billions of mobile devices we already have.
Ubisoft - Augmented Reality from Merchlar on Vimeo.
(See how Ubisoft and Merchlar created an augmented reality experience in gaming)
Pokemon Go Is The Prelude To AR's Success
The fact that Pokemon Go hasn't been officially released in Canada yet but still has millions of Canadian players is just a preview of AR's rate of adoption in Canada. It shows how natural the integration of digital and "real" is going to be for the general public.
It is true that many players of Pokemon Go are dormant Nintendo and Pokemon fans who are happy to see these companies recreate their '90s childhood. But another thing players are excited about is the technology itself. The fact that you can see these "hidden" Pokemon who exist in the digital world through technology is new, mysterious and captivating. It almost has an enchantment factor, making you feel like you're going on an adventure to discover these mythical creatures that only you can see with a special tool, in this case, your mobile phone.
The intricate relationship between real and digital is what's driving the current popularity of Pokemon Go, and it's setting the ground for a "mixed reality" world that we are going to live in. Snapchat's facial recognition filters, makeup apps that let you try out the products virtually all integrate AR technology, but people have been unaware of it. With Pokemon Go, people are truly seeing how a decades-old game concept can be renewed through technology, and that AR has so much to offer. With the popularity of Pokemon Go, it just became that much clearer that the integration of digital and "real" is easy and exciting. The wide popularity of the game is just a beginning for AR, hinting to the mixed reality world we are going to live in.
Pokemon Go Shows How To Do Business With AR
First, we've seen local businesses, especially retailers, profiting from AR by luring Pokemon and the players to their location. Businesses are using Pokemon Go as a tool to generate interest and drive foot traffic.
It's great to see local business owners leveraging the popularity of Pokemon Go, but bigger players need to look at the bigger picture. Use not just Pokemon Go as a tool, but use the AR technology as a whole.
Those with an ambitious mind or those who have been meaning to adopt a new technology to level up their business can learn from how Pokemon Go led to the wide adoption of their technology. The key takeaway from Nintendo and Niantic should be that the easiest way to dive into the files of a new technology, like AR, is to start with what you and everyone else already owns -- your mobile device.
The fear is that people aren't willing to adopt new technology because of how new or foreign it is. But the foreignness of technology does not matter as much if it can be accessible to everyone. And this is true for both users who want to try out AR and those who are trying to adopt this technology. The key to wide adoption of a new technology is that people have to view it as accessible.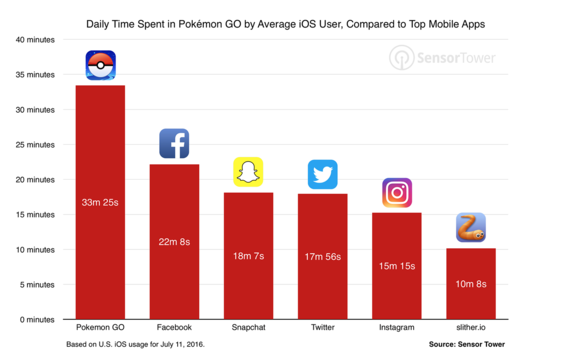 (Source: SensorTower)
Another takeaway is that digital doesn't necessarily replace "real". They complement each other. Local businesses have seen marketing success using different properties of this digital game. Their success proves the importance of having a digital presence as it generates real foot traffic and revenue. People can enjoy the same physical space in two layers (digital and real) and this creates an experience for them.
For future launches, businesses need to understand this complementary relationship. They should try to enhance users' digital experience with what they can offer in the real world, and vice versa. This will help businesses grow both their online and offline presence, further engage with customers, and offer a whole, end-to-end experience. In fact, the average U.S. iPhone user spends 33 minutes a day on Pokemon Go , which is 11 minutes more than Facebook, and 15 minutes more than Snapchat. Imagine 33 minutes a day for millions and millions of users. Pokemon Go's engagement rate is something that all marketers would drool over, and it should teach us a lesson about how the perfect triangle of mobile, digital, and real will help us achieve that dream engagement rate.
AR just got "mainstreamed" by Pokemon, and soon, users are going to demand natural, seamless integration of digital and real anywhere they go.
Follow HuffPost Canada Blogs on Facebook
MORE ON HUFFPOST:
Type: Ice Skill: Captures prey with chains of ice, freezing them at -148 degrees Fahrenheit. Here's what we know about Cryogonal: It's crystallized water, born in the clouds and turns to vapor when it gets warm. You know, sort of like snow. It doesn't evolve, which makes total sense, because what would weaponized snow become? Hail? Why it's weird: The only person who should control snow is Storm from the X-Men. Not some 10-year-old kid.

Type: Ghost, Fire Skill: Absorbing the life energy of people and Pokemon to burn as fuel. Litwick, the deceptively adorable candle thing you see above, is a lot like those terrifying fish that live in the depths of the ocean. You know, like the one that almost killed Marlin and Dory in "Finding Nemo"? That's basically what Litwick is. Don't be distracted by it's cuteness, because this is a monster that lures people into a false sense of security before it literally sucks the life force from them.

Type: Ghost, Fire Skill: Wandering cities, usually hanging out near hospitals, to steal the souls of the dying. Lampent is the equally terrifying evolution of Litwick. Actually, we're going to go ahead and say it amps up the creepiness factor. As its name and image suggest, it's a lamp. A lamp fueled by the souls of dead people -- which it gets by hanging around hospitals. This seems like a designer looked around the room, pick the first object he saw and made it the most horrible thing in the world. I can't stress enough that this is a game for children.

Type: Ghost, Fire Skill: Hypnotizes prey by waving its arms, then absorbing their spirit to burn as fuel. Why is Chandelure creepy? It's Lampent and Litwick, but bigger and badder, plus it reminds us of creepy old houses (aka ghost hangouts). As if that wasn't terrifying enough, it's got the added element of fire, which it uses to burn up spirits. From the Pokedex: "The spirits burned up in its ominous flame lose their way and wander this world forever." Shudder.

Type: Steel Skill: The two gears spin around each other to create energy. Ok, Pokemon. It's stuff like Klink that really makes it look like you're running out of ideas. This is a machine. No, scratch that. This is a piece of a machine. What do you expect us to do with this? Misty's comin' at us with a lizard that breathes fire, and you're like, "Here, throw this gear at it." Notice how Klink's facial expression (expressions?) suggests it's surprised that it's expected to fight. We feel you there, buddy. We're having a little trouble wrapping our heads around it, too.

Type: Steel Skill: Launches minigears at foes, boomerang-style. If a minigear doesn't come back, it dies. Making one of the gears bigger does not make this a more acceptable Pokemon. Try again. Try harder.

Type: Steel Skill: Energy is released through the spikes in the ring. Klingklang would be pretty impressive (proof that spikes make anything more fearsome), if it weren't for that one dopey face left from it's original evolution. Is there any way we can get it to stop looking so surprised?

Type: Ice Skill: Breathing freezing air at -58 degrees Fahrenheit. This … is an ice cream cone. Has anyone at Nintendo (or Game Freak, the company that creates Pokemon for Nintendo) ever had an ice cream cone before? Do they know how fragile ice cream cones are? How easily they melt? How do they expect this frozen treat to stand up against anything?

Type: Ice Skill: Freezes enemies and hides from them in ice particles it creates. You, uh, made the ice cream cone bigger. … I see.

Type: Ice Skill: Expels a blizzard at foes. "Hi, welcome to Dairy Queen, what can I get you today?" "Um, yes, hi. I'd like a small twist cone and a Vanilluxe, please. And can I have extra napkins with that?" Come on.

Type: Steel, Ghost Skill: Stealing the spirit of anyone who touches its hilt. Up next in inanimate objects that come to life when given the souls of the innocent: Honedge. This bundle of joy is a sentient sword that -- you guessed it -- is filled with souls. See that blue cloth? That sucker wraps around the arm of anyone stupid enough to grab the hilt, and away their life force goes.

Type: Steel, Ghost Skill: Complex attack patterns with its two swords. As per usual Pokemon logic: What does the one-bladed Honedge evolve into? Two-bladed Doublade. Double the damage, double the emotional scarring that comes from being terrified by random inanimate objects that will kill you.

Type: Steel, Ghost Skill: Can switch between offensive and defensive moves with the use of its shield. As an evolutionary measure (never mind the fact that inanimate objects are evolving), Aegislash has ditched the second sword and opted instead for a shield. It's a sword; its whole purpose is to hit objects like other swords. What does it need a shield for?

Type: Water Skill: Swimming after loving couples it spots in the waves. We're pretty sure Luvdisc is supposed to be some sort of fish. We're not scientists, but how does it swim with no fin-like apparatus or tail? And why is it spying on couples enjoying themselves in the ocean? Creepy. Let's call this what it is and say Pokemon's designers ran out of fish ideas, so someone just drew a heart.

Type: Steel, Psychic Skill: The patterns on their backs are said to contain a mysterious power The Pokedex says these bad boys were found in ancient tombs and are covered in strange markings. So, we're to believe that we should entrust these priceless artifacts of unknown origins to kids? Was all of Indiana Jones' hard work for nothing?

Type: Steel, Psychic Skill: Brings rain during times of drought by opening portals to another world. First things first: If this is the evolution of Bronzor, doesn't it seem like it skipped a few evolutionary steps? I mean, we went from a disk to a bell with arm-like appendages. It can open portals to other worlds? Seems like a jump. Now, about the portals. Again, we're giving this extraordinary power to children for what can be described only as exotic cockfighting. Think about it.

Type: Electric, Steel Skill: Born with the ability to defy gravity; magnetism. Another powerful Pokemon, Magnemite looks like a random assortment of junk that's been drawn together by magnetic force. It's almost like the Pokemon designers opened their junk drawers and thought, "Yeah, ok. This works."

Type: Electric, Steel Skill: Dries up moisture in the vicinity, disrupts radio waves, disrupts electricity, can set off a magnetic storm, stops TV sets from displaying properly. How is this an evolution? This is just three small Pokemon hanging out next to each other. This is something that shouldn't be allowed to happen. Look at all the horrible things it causes! No TV? What sort of sick, alternate universe is this?

Type: Electric, Steel Skill: Generates magnetism. Aside from a lackluster number of skills, Magnezone's description in the Pokedex says that it evolved because of exposure from a magnetic field, which altered its molecular composition, changing it from its prior molecule-like shape as Magneton to its more Jetson-esque spaceship shape.

Type: Steel, Fairy Skill: Threatens attackers by jingling its keys at them; hides from attackers Of all the weird Pokemon on this list, Klefki really takes the cake. It's a set of keys that hides from you. It takes ordinary people's daily struggles and turns them into a Pokemon. You've really outdone yourselves this time, guys.
Follow Awane Jones on Twitter: www.twitter.com/Awane