10 Cute Spring-Inspired Baby Names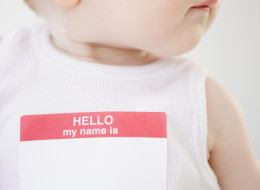 If your baby's due this spring, you may want to welcome him or her with a name that rings true to the season. Below we've rounded up some of our faves.
1. Apple
Apple blossoms (and cherry blossoms -- let's not forget those) begin their beautiful return come spring, so prove autumn wrong by adopting a name usually reserved for the cooler season.
2. Bradwell
"Brad" is hardly a new name, but this English form of the Americanized version means "from the broad spring" and is a direct tribute to the lively, fresh season. Besides, it can go the unisex way, too: a little girl named "Bradwell" seems very 2014, and follows in the footsteps of older names working for either gender.
3. Clare or Claire
You probably never thought of "Claire" (another traditional name) as a go-to spring tribute, but the fact that it means "bright and clear" (like a spring creek) might change your mind. Not to mention its timelessness: Saint Clare of Assisi lived throughout the medieval times, and is now the Patron Saint of Television. (Spring specials included, obviously.)
4. Daisy
Spring clearly evokes blooming plants and flowers, so what better to symbolize such a happy season than "Daisy" -- the flower Meg Ryan describes as "the happiest" in You've Got Mail. It's also got Great Gatsby ties: Daisy was the love of Gatsby's life, and while she turned out to be the worst, we'll consider her the exception. The name is still bright and cheerful, and there is a definite trend towards reclaiming and re-defining older names.
5. Kelby
And for more unisex baby name joy, there's "Kelby," the Gaelic name for "place by the fountain or spring." Absolutely, you were right to feel like you were in a spring meadow just now -- and don't forget to high-five your child for having one of the most unique names of the year.
Related: Our Five Favourite Baby Name Apps
6. Maxwell
Believe it or not, you can even find springtime meaning with this traditional Scottish boy's name which means "Magnus' spring." ("Magnus" also being another classic name that's making a comeback.) A subtle tribute that also works as its shortened form, "Max." (Aw.)
7. Aviv and/or Aviva
Whether as "Aviv" for a boy or as "Aviva" for a girl, the name still means "springtime" in Hebrew, which is the most literal way of paying tribute to the season -- while not being obvious in any way.
8. Weldon
Old English names associated with water are a great way of giving your son a spring-inspired name without naming him "Grass." (Though you could, and we would never judge you.) Enter: "Weldon," which means "hill near a spring," and will age along with your little guy.
9. Verdi
While technically a boy's name, "Verdi" -- the Italian translation for "green" -- is an interesting, literal take on the season, yet still doesn't seem too delicate or trendy. And easily works for little boys or girls.
10. Laverna
If you want to give your daughter a name that combines tradition and culture and the season (whew -- did you get all that?), "Laverna" may be a great way to go. This French name is perfect, meaning "born in the spring."
Did we miss your favorite spring-inspired baby name? Fill us in by commenting below!
Written by Anne Donahue for BabyPost.com
More from BabyPost.com:
Cool Old-Fashioned Baby Names
Unisex Baby Names
The 9 Worst Celebrity Baby Names
ALSO ON HUFFPOST:
70 Unusual Celebrity Baby Names
Kim Kardashian and Kanye West's daughter.

Kourtney Kardashian and Scott Disick's daughter.

Nicolas Cage and Alice Kim's son.

Mariah Carey and Nick Cannon's twins.

Slash's sons.

Gwyneth Paltrow and Chris Martin's daughter.

Rob Morrow's daughter.

Rachel Griffiths' son.

Jason Lee's son.

Beyonce and Jay-Z's daughter.

Gwen Stefani and Gavin Rossdale's son.

Bob Geldof and Paula Yates's daughters.

Paula Yates and Michael Hutchence's daughter.

Peaches Geldof's sons (yes, it runs in the family).

Sylvester Stallone's son.

Forest Whitaker and Keisha Nash's children.

Bono and Ali Hewson's daughter.

Not to be outdone: The Edge's daughter.

Katie Price's daughter.

Kevin Smith's daughter.

Robert Rodriguez's sons (we'll allow the daughter's name, Rhiannon).

Matt Bellamy and Kate Hudson's son.

Courtney Cox and David Arquette's clown daughter.

Steven Spielberg's daughter.

Nick Lachey's son.

Actress Shannyn Sossamon's son.

Footballer Tommy Williams and Nicola McLean's son.

Son of Jermaine Jackson

David Duchovny and Tea Leoni's son. We see what they did there.

Brue Willis and Demi Moore's daughters.

Song of Korn lead singer Jonathan Davis.

Geri Halliwell's daughter.

Erykah Badu's son and daughters.

Barbara Hershey's son (who then changed his name to Tom when he was nine).

Jamie and Jools Oliver's son and daughters.

Ashlee Simpson and Pete Wentz's son.

Toni Braxton's sons.

Frank Zappa's son and daughters.

Jermaine Jackson's son.

Penn Jilette's daughter.

David and Victoria Beckham's sons and daughter.

Sean Penn and Robin Wright's son.

Alec Baldwin and Kim Basinger's daughter.

Ryan Giggs and Stacey Cooke's daughter.

John Cougar Mellencamp's son.

Brad Pitt and Angelina Jolie's daughter.

Michael Jackson's third child (also known as 'Blanket', because Prince Michael II just isn't silly enough).
Follow BabyPost on Twitter: www.twitter.com/thebabypost