From Brain Tumour Patient to Cross-Country Runner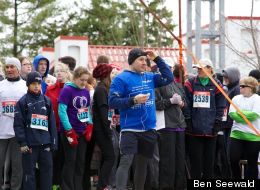 It has been almost 17 years since I heard the startling words that changed my life forever. "You have a brain tumour" -- those five little words had the power to turn my life upside down and set me on a completely different course in life. I was 18 when I was diagnosed, legally an adult but still a child in so many ways. Certainly still far too young to hear that my health was in serious jeopardy and I was going to have to relearn how to walk and talk.

I'll start at the beginning; it was in the summer between my grade 12 and OAC years when I started having double vision. I had just gotten a new pair of contacts and remember assuming that those little pieces of plastic I was adjusting to were the culprit behind the constant blur.

As the track and football captain, my teams relied on me to be in top shape, and when my double vision persisted, I brought it up to my doctor. He referred me for a CT scan which revealed a large mass on the lateral left ventricle of my brain. In retrospect, the double vision wasn't my only symptom -- intense headaches and personality changes at the time were chalked up to the stress of high school and my many extra-curricular activities. Dealing with a brain tumour was the last thing on my to-do list. In actuality I had a central neurocytoma, one of the over 120 different types of brain tumours. I underwent surgery to remove the tumour growing in my head -- an 8 hour operation that involved over 350 stitches and cutting through the grey matter in my brain, the impact of which affected my mobility and speech.
I quickly learned how a sense of humour and a positive outlook can be powerful coping mechanisms when others might turn to despair or devastation. I also learned the importance of a support system in times of crisis. This large-plumb-sized mass of abnormal cells didn't just affect me, it impacted my entire family. I saw support from friends and family from around the world pour in -- a support system that is still in place for me today. Despite all of this support, I still felt alone.

Yes, friends and family were there for me, but nobody really got it. What it was like to hear those five words. I ended up trying out a Brain Tumour Foundation of Canada support group in London, ON. Here I was able to connect with a community of people who had been through or were going through the same things as me.

It was this very support group that taught me the importance of giving back. The connections I made with those brave men and women, some of whom I still know today, helped me build an even larger connection with the brain tumour community. I wanted to help others in the ways that I was helped when I was first diagnosed, scared and looking for comfort.
How am I doing now?
After the surgery, there was a long road to recovery. Physiotherapy, medications to control swelling and a yearly CT scan to check for regrowth became my norm. Thankfully, after five years I was given a clean bill of health -- one that remains today. I am very fortunate to live largely without any permanent damage, but sometimes I can blame forgetting where I put my keys, or other minor details, on the now-sizeable hole in my grey matter.

I ended up working at the Brain Tumour Foundation of Canada for almost five years. In this time I travelled across Canada, meeting others affected by this devastating disease and became a founding member of the Kelly Society, a group of dedicated donors which recognizes people who have made contributions to the cause, named for Kelly Northey, the girl who inspired the creation of the Brain Tumour Foundation of Canada.

Why am I so invested in this organization?
I have had some of the best conversations and met some of the strongest and most inspiring people through the Brain Tumour Foundation of Canada. I truly believe we're all here to help each other and the world is one big community.

This sense of community is about to become much more apparent for me. This year I am lacing up and taking off cross-country to honour all of the friends (past and present) that are facing a battle with a brain tumour. Having re-learned how to walk and talk, I have maintained my love of running and am participating in 10 of the 20 Brain Tumour Foundation of Canada Spring Sprints happening from April to June. For me, it is the ultimate expression of my belief that having a brain tumour doesn't mean you have to lose the things you enjoy.

Attending Brain Tumour Foundation of Canada events has always helped me honour those who have or will struggle with a brain tumour diagnosis. The hope you feel in each city is incomparable, and when I find strength like that, I want to be close as a reminder of what this remarkable community is capable of.
Won't you join me in a Spring Sprint?

Learn more at www.springsprint.ca
Top 10 Canadian Cancer Society Research of 2012
Triple negative breast cancer is a difficult form of cancer to treat, but for the first time ever, an international team of scientists have decoded its genetic makeup. Knowing more about these genes could change the way the disease is diagnosed and change treatments for the next generation, creating more personalized care.

Dr. Michael Taylor, based in Toronto, was part of the international MAGIC (Medulloblastoma Advanced Genomics International Consortium) team of experts that identified abnormalities that lead to the development of the malignant brain tumour medulloblastama. This discovery has identified more effective treatments and may spare children the side effects of unnecessary radiation.

Though there are typically poor survival rates for those living with pancreatic cancer, new findings may improve these rates of survival. An NCIC Clinical Trials Group study found that patients with a rare form of pancreatic cancer – periampullary adenocarcinoma – live longer if they are treated with surgery as well as chemotherapy.

A trial led by the NCIC Clinical Trials Group found that patients with limited-stage Hodgkin lymphoma live longer when treated with standard chemotherapy, compared with those who are also receiving radiation. This will allow patients to avoid long-term side effects of radiation.

A study led by Dr. Camilla Zimmermann in Toronto found that Canadian oncologists refer terminally ill cancer patients to palliative care too late — sometimes not until the final few days. The availability and comprehensiveness of palliative care services were identified as key barriers. It was found that referring patients earlier allows care teams to relieve symptoms and distress, provide appropriate social services, and give advanced care advice to improve the quality of life for cancer patients.

Muscle wasting, also referred to as Cachexia, is the loss of weight or muscle often induced by cancer. Approximately 30 per cent of people with cancer die due to muscle wasting. Dr. Imed Gallouzi and his research team in Montreal found that a natural product from sea sponges prevents muscle wasting in mice. This study is the first to show a potential treatment option for those affected by muscle wasting.

Dr. Mick Bhatia, an international leader in cancer stem cell research, discovered that the drug thioridazine can successfully kill cancer stem cells responsible for initiating leukemias without causing any harm to normal stem cells. This is an important discovery, as cancer stem cells can sustain the growth of cancer and are also a common factor in cancer recurrence.

Dr.Torsten Nielsen and his Vancouver-based research team have unravelled how the genetic mutation which leads to the growth of a rare and often fatal form of cancer (synovial sarcoma) interacts with proteins to cause cancer. The researchers found that there are certain drugs used to suppress these proteins that can kill tumour cells.

Dr. John White and his research group in Montreal studied a protein called the cMYC protein, which is elevated in at least 50 per cent of cancers. Researchers found that vitamin D can block cMYC. This evidence will spark future studies to understand the role Vitamin D plays in stopping cancer development and growth.

Acute myeloid leukemia (AML) is a cancer of the blood and bone marrow that can become severe if not treated quickly. Dr. Aaron Schimmer and colleagues in Toronto tested several drugs to determine whether any of them could target AML cells. The researchers found that mefloquine, a medication generally used to treat malaria, specifically causes AML cancer cells to burst.
Follow Ben Seewald on Twitter: www.twitter.com/@bseewald