The Human Cost of the Iraq War Outweighs All Others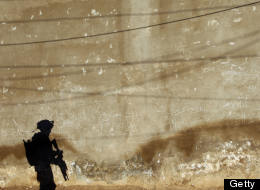 In the 10 years that have passed since the invasion of Iraq, an endless number of lessons have been drawn by military strategists, diplomats, politicians, and public relations analysts from what was, at almost every stage, a complete and utter fiasco. The continuing debates over what Iraq has taught us -- is intervention ever the right policy? Can the perils of "nation-building" ever be overcome? What does an effective counter-insurgency strategy involve? -- are important, but their value is diminished when they forget what drives them: the human cost of the war.
The Iraq War left behind five-million Iraqi orphans, took more than 100,000 Iraqi lives, forced four- to five-million Iraqis to flee heir homes and communities, displaced ancient Iraqi minority groups, and devastated much of Iraq's infrastructure and economy.
BLOG CONTINUES AFTER SLIDESHOW
Iconic Images of the Iraq War
U.S. Secertary of State Colin Powel holds up a vial that he said could contain anthrax during a meeting of the United Nations Security Council at the United Nations headquarters on Wednesday, Feb. 5, 2003. (AP Photo/Elise Amendola, File)

An Iraqi man looks at his mother in a bus as others load luggage on the top of the vehicle bound for neighboring Syria at a bus station in Baghdad, Iraq on Sunday, March 9, 2003. Bus lines increased their trips to Syria from 4 to 20 a day at this station, carrying passengers fleeing amid the threat of a US-led invasion as well as others headed to the holy Shiite Muslim shrine of Sayeda Zeinab in the Syrian capital. (AP Photo/David Guttenfelder, File)

Smoke rises from the Trade Ministry in Baghdad on March 20, 2003 after it was hit by a missile during US-led forces attacks. (AP Photo/Jerome Delay, File)

U.S. Army Bradley fighting vehicles travel in a convoy through the dust carrying infantrymen just after crossing the border into southern Iraq on Friday, March 21, 2003. (AP Photo/John Moore, File)

U.S. Marines with 3rd Battalion, 7th Marines, 1st Marine Division, take cover after a mortar attack during a sandstorm on a road south of Baghdad, Iraq on Wednesday, March 26, 2003. (AP Photo/Laura Rauch, File)

U.S. Army Stf. Sgt. Chad Touchett, center, relaxes with comrades from A Company, 3rd Battalion, 7th Infantry Regiment, after a search of one of Saddam Hussein's bomb-damaged palaces in Baghdad on Monday, April 7, 2003. (AP Photo/John Moore, File)

A looter rests on a fountain in the lobby of a smoke filled Sheraton hotel in Basra, Iraq on Monday, April 7, 2003. (AP Photo/David Guttenfelder, File)

A U.S. Marine watches a statue of Saddam Hussein being toppled in Firdaus Square in downtown Baghdad on April 9, 2003 file photo. (AP Photo/Jerome Delay, File)

Piles of torn and burned Iraqi currency bearing the portrait of Saddam Hussein lie in ashes on the floor of the burned Baghdad Central Bank on Friday, April 18, 2003. (AP Photo/David Guttenfelder, File)

U.S. President George W. Bush gives a thumbs up as he visits the aircraft carrier USS Abraham Lincoln off the California coast on Thursday, May 1, 2003. (AP Photo/J. Scott Applewhite, File)

Moments after the explosions, a youth runs past the victims and burning debris at the site of several bomb blasts in densely-occupied areas during the holy day of Ashoura, a Shiite festival, in the holy city of Karbala, Iraq on Tuesday, March 2, 2004. (AP Photo/Brennan Linsley, File)

An Iraqi man celebrates on top of a burning U.S. Army Humvee in the northern part of Baghdad, Iraq on Monday, April 26, 2004. (AP Photo/Muhammed Muheisen, File)

This late 2003 image obtained by The Associated Press shows an unidentified detainee standing on a box with a bag on his head and wires attached to him at the Abu Ghraib prison in Baghdad, Iraq. (AP Photo/File)

The mother of Samah Hussein cries over his body in a Baghdad, Iraq morgue on June 13, 2004 after he was killed when a suicide attacker detonated a car bomb outside the U.S. military camp Cuervo. (AP Photo/Samir Mizban, File)

A U.S. soldier aims his weapon at a man who a soldier had just shot in the neck as he attempted to flee down a narrow alley in a van, across the street from the scene of Tuesday's intense shootout on a house in Mosul, Iraq on Wednesday, July 23, 2003. (AP Photo/Wally Santana, File)

A U.S. soldier demonstrates access to a shaft used by former Iraqi leader Saddam Hussein before he was captured two days earlier, on a farm near Tikrit, northern Iraq on Monday, Dec. 15, 2003. (AP Photo/Laurent Rebours, File)

Captured former Iraqi leader Saddam Hussein undergoes a medical examination in Baghdad on Dec. 14, 2003 in this image made from video. (AP Photo/US Military via APTN, File)

This image made from video released by Iraqi state television shows Saddam Hussein's guards wearing ski masks and placing a noose around the deposed leader's neck moments before his execution on Saturday, Dec. 30, 2006. (AP Photo/Iraqi state television, File)

Relatives of Iraqi National Guard soldier Ryaad Khudayar grieve at the morgue in the Baqouba hospital, some 65 kilometers northeast of Baghdad, Iraq, after he was killed in a car blast on Tuesday, Aug. 3, 2004. (AP Photo/Khalid Mohammed, File)

Demonstrators chant anti-American slogans as charred and mutilated bodies of U.S. contractors hang from a bridge over the Euphrates River in Fallujah, west of Baghdad, on March 31, 2004. (AP Photo/Khalid Mohammed, File)

U.S. Army Nurse supervisor Patrick McAndrew tries to save the life of an American soldier by giving him CPR on a stretcher as he arrived at a military hospital in Baghdad, Iraq on Tuesday, Nov. 9, 2004. The soldier was fatally wounded in a Baghdad firefight with insurgents. (AP Photo/John Moore, File)

U.S. Marine Lance Cpl. Timothy Dupuis, of Dover, N.H., climbs the stairs at an outpost in Fallujah, Iraq, 65 kilometers (40 miles) west of Baghdad, on Tuesday, May 2, 2006. (AP Photo/Jacob Silberberg, File)

This image made from a video from a U.S. Army Apache helicopter gun sight, posted at Wikileaks.org and confirmed as authentic by a senior U.S. military official, shows two men in the streets of the New Baghdad district of eastern Baghdad after being fired upon by the helicopter on July 12, 2007. Among those killed in the attack was Reuters photographer Namir Noor-Eldeen, 22, and his driver Saeed Chmagh, 40. Two children also were wounded. According to U.S. officials, two helicopters arrived at the scene to find a group of men approaching the fight with what look to be AK-47s slung over their shoulders and at least one rocket-propelled grenade. A military investigation later concluded that what was thought to be an RPG was a telephoto lens and the AK-47 was a camera. (AP Photo/Wikileaks.org, File)

An Iraqi prisoner of war comforts his 4-year-old son at a regrouping center for POWs captured by the U.S. Army 101st Airborne Division near Najaf, Iraq on March 31, 2003. (AP Photo/Jean-Marc Bouju, File)

In this Dec. 14, 2008 file photo, Muntadhar al-Zeidi, an Iraqi journalist, throws a shoe at U.S. President George W. Bush during a news conference with Iraq Prime Minister Nouri al-Maliki in Baghdad, Iraq. (AP Photo/Evan Vucci, File)

A volunteer puts flowers next to a cross at the Arlington West Iraq war memorial display on the beach next to the Santa Monica Pier in Santa Monica, Calif. on Saturday May 27, 2006. (AP Photo/Stefano Paltera, File)
These are the human and material costs of an unwarranted war. And they are not one-time losses. These costs will continue to accrue year after year, generation after generation. For what will be the life story of an Iraqi orphan who lost everything in the war? How will the traumas of her childhood impact her future relationships -- to her spouse, her children, and her community? What will the refugee children who cannot remember a childhood in Iraq and have only the memories of extended family or strangers to use in building their own narrative, rely upon for a sense of identity and history? What will all the Iraqi Christians, Yazidis, and Mandaean parents tell their children when they ask about their homeland, knowing they will likely never return? These are not the costs and lessons of war that military strategists and political analysts emphasize, but they are painfully real to many Iraqis today.
There can be no question that the tragedy of Iraq did not end with the toppling of Saddam Hussein. Iraq is still plagued by political and social chaos. The country has been torn apart by inter-sectarian and inter-ethnic conflicts that erupted into the space created by flawed U.S. policies. The destruction of the central Iraqi government's authority made one sectarian group the boogeyman for all of Hussein's past atrocities, and the writing of ethnic and religious cleavages into the foreign-guided constitution entrenched political bargaining based on the lowest common denominator of Iraqi identity.

For those who may not remember, or have never known, this is not the Iraq that so many of its people knew before the war. As has been the case in so many other conflicts, 'pure' ethnic or religious identities were imposed on Iraqis to fit various political agendas. Many Iraqis were of mixed background before the war; having a Sunni mother, a Shiite father, and a Christian aunt by marriage was never 'out of the ordinary' before 2003, particularly in soon-to-become violence-ridden Baghdad. That this diversity has now been almost entirely obscured is a testament to the extent to which Iraq identity has been distorted by the war. Still, while many Iraqis lament the end of the intra-communal harmony that existed under dictatorship, they would not wish to return to the draconian ways of the Saddam Hussein regime.

Some apologists for the invasion of Iraq say that 2003 was an early chapter of the Arab Spring -- that the American-led regime change in Iraq encouraged many others in the region toward democratic revolutions. But this is a false comparison. Iraq was not like the other countries of the Arab Spring where the people rose up against dictatorship. Iraq did not experience a genuine uprising authored by the Iraqi people but a top-down, externally-driven political exercise. Now, imagine that the social and political revolution that swept the Arab countries in 2013 had transformed Iraq, instead of the U.S.-led invasion of 2003. How many lives could have been saved and changed for the better?

This anniversary will be taken by many as an opportunity to reflect on questions of "legitimate intervention." Comparisons will inevitably be made to the situation in Syria today, comparisons which make it all the more important to remember the real lessons of the 2003 war in Iraq: The costs of war are immense, and never just material, and only the people of a country have the right and power to initiate a legitimate revolution.
This article first appeared in OpenCanada.org.
Follow Bessma Momani on Twitter: www.twitter.com/b_momani