Busting Gender Stereotypes Can Benefit Men In Life And Career
The recently released film Arrival casts Amy Adams as Louise Banks, a linguistics expert who must translate sounds emanating from heptapods (seven-limbed aliens) who have landed on earth. Recruited by the American government, Banks is tasked with finding out what they are doing on Earth.
Unarmed, she bravely removes her hazmat protection and, through facial expression, the inflection in her voice and listening, she manages to communicate with the aliens, preventing war with the nations of Earth.
Demonstrating both empathy and fearlessness, Adams convincingly offers up a poignant view of the strengths and foibles of humanity. Her ability to establish a connection is a wonderful demonstration of the value of Feminine Energy, and with strategic courage, she heroically depicts the value of Masculine Energy. It's a great reminder of the importance of incorporating both energies into our repertoire.
They can embrace skills, talents and passions irrespective of gender, which benefits individuals, corporations and the world.
The case for shifting between energies (utilizing the positive characteristics of both genders) has made huge strides in the last few years. People are realizing that, without the weight of gendered expectations, they can embrace skills, talents and passions irrespective of gender, which benefits individuals, corporations and the world. Feminist, journalist and activist Gloria Steinem calls this "developing the full circle of ourselves".
It is a long way from where we once were, labelled "pink" or "blue" at birth and put into our gender-specific boxes with their predicted (and limiting) gender-specific behaviours.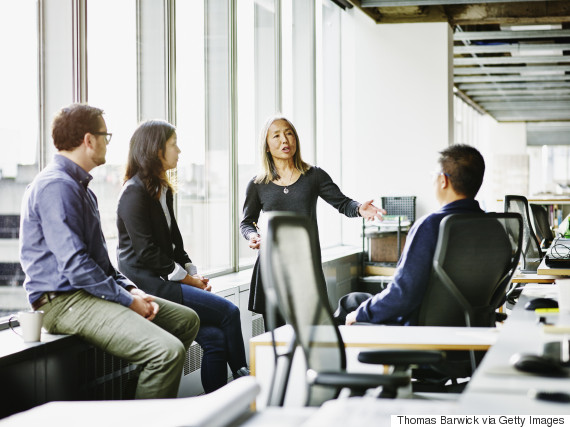 Women taught to avoid risk are reluctant to access their masculine traits and volunteer for stretch assignments, thus missing opportunities to be seen as leaders. Meanwhile, men discouraged from the display of feminine traits avoid feeling their own feelings and have difficulty relating to the emotions of others, the basis of all meaningful relationships.
Clearly, both lose.
Growing up, I realized that life was like a game of snakes and ladders -- rife with the cultural rules inflicted upon us. Due to socialization, girls are given more permission to shift between the gender energies, while the gender role transgressions of boys are viewed in a negative light.
Globalism requires innovation, service-orientation and communication skills, all stereotypical feminine qualities.
As a girl child, I quickly observed that I could be accepted, even encouraged, for being a tomboy; using masculine attributes elevated and helped me to climb the ladder in the game of life. Conversely, boy children were denigrated for exploring feminine pastimes; they were teased, ridiculed and punished by peers, parents,and teachers.
Adopting feminine attributes diminished their credibility. They rode a big snake downward. No wonder some boys become men who avoided all things feminine.
This early indoctrination continues to their detriment today. Globalism requires innovation, service-orientation and communication skills, all stereotypical feminine qualities which many men have been taught are weak and less-than. Overcoming their attachment to traditional masculinity will not only help their personal lives, it is critical for the advancement of their careers as well.
Follow HuffPost Canada Blogs on Facebook
Also on HuffPost:
9 Steps To Career Happiness
Randstad's 2013 research revealed a direct correlation between higher qualifications and increased levels of fulfillment. If you'd like to improve your prospects within your current company, speak to your manager or HR team about part-time course opportunities. Or look into local or Open University courses for a complete vocation change.

Over a quarter (26%) of UK workers feel their current career was not the best choice for them*, so making the right choice the first time around is paramount. Look into internships and speak to people already working in the industry to get an insider view of what the job is really like. *Randstad (2013) How I Became: 'Good Guidance For Career Fulfilment'

It's never too late to change your career path. In today's fast-paced, technology-driven world, it's about demonstrating your versatility and ability to deal with change – not sticking around for your long-service carriage clock. Take inspiration from these brave people who took a risk to pursue true career fulfillment.

Research suggests that autonomy (the need to have choice over our behaviour and actions) is one of three fundamental human needs that we need to be psychologically healthy. Think about a project you could undertake that would help the company - and pitch the idea to your boss with a clear plan and objectives. Take ownership of the project and prove you can be trusted with a greater degree of autonomy.

According to the Fulfilment@Work report, "a mix of tasks is important to psychological wellbeing in the workplace. Internal secondments can represent valuable opportunities to introduce more variety to an employee's career, as well as providing the opportunity to learn new skills." Although this advice was aimed at employers, there is nothing to stop you from taking the initiative. If you are interested in moving to another department, find out if there are any shadow schemes available which will enable you to get a deeper understanding of their role, before suggesting a secondment.

According to psychologists, mastery (the need to feel competent) is is a major contributing factor to our psychological wellbeing. Action For Happiness suggests playing to your strengths - on other words, those personal characteristics that allow you to perform at your personal best. To broaden your skill set inquire about internal training opportunities.

Help coworkers and act for the greater good of the team. According to a study at the University of Wisconsin-Madison, those who help others at work are happier than those who don't prioritise the needs of their coworkers.

With work/life balance being the key to job satisfaction, according to 47% of Brits, don't allow yourself to get sucked into an excessive overtime culture. If you're working late on a regular basis, try keeping a record of your productivity hour-by-hour for a week to prove to your boss that your job cannot be done in your scheduled hours. Alternatively, request to go on a time-management or delegation course.

According to Srikumar Rao, author of  Happiness at Work, a major contributor to feeling unhappy at work is beating yourself up when something goes wrong. A resilient attitude and the ability to move on and bounce back is essential. Likewise, Rao warns against bearing grudges about others' mistakes. "You spend much time in needless, fruitless self-recrimination and blaming others," he writes. "You go on pointless guilt trips and make excuses that you know are fatuous. If you're resilient, you recover and go on to do great things."
Follow Betty Ann Heggie on Twitter: www.twitter.com/@bettyannheggie