The Workout Diaries: Fad #11, Kickboxing & Muay Thai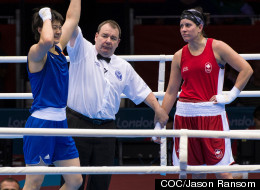 I recently re-watched my favourite Tom Hardy movie Warrior. In it, he plays an ex-soldier who takes part in a mixed martial arts competition to win money. The behind-the-scenes footage of what Hardy went through to achieve a fighting physique were crazy. I mention this because I spent my Monday night commiserating. Obviously, not to the same degree but I swear it was close.
After taking a month off from writing this column (Woohoo! No working out!) I decided to come back swinging...literally. Toronto Kickboxing & Muay Thai Academy (TKMT) was where I had to go if I wanted to take this challenge seriously. High-ranking cool dudes from Georges St-Pierre to Michael Pitt have stopped by this studio and that alone is enough to get me in it.
Back in 2004, TKMT owner Warren Lee started a part-time, one-man operation called Lee's Ultimate Thai Kickboxing. The Queen West location (where I went) was later opened in 2006 and in February of this year a third location will be open for business on the Danforth.
Confession: I was NOT in any way prepared for what happened. While I can honestly say that I had fun learning rudimentary kickboxing, this class seriously whupped my ass.
I went in worried that I was going to be taught by big burly men resembling Mad Dog (Warrior, seriously it rocks, watch it). It was a very pleasant and impressive surprise that TKMT has a comfortable ratio of women to men. The beginners class (because they had nothing lower for me) was almost completely female and was led by two ridiculously fit women. There were still insanely toned guys sparring and working a punching bag but who the hell had time to gawk?
The class started off with 30 minutes of a warm up. At least I think it did. I managed to eke out some jumps, pushups, crab-walks, lunges, skipping, jogging on the spot and more before I went to the change room to lie down because I was seeing spots.
Unfortunately, I couldn't stay there forever.
What you'll need: Comfy clothes and bare feet. Water, towels, gloves and pads can all be borrowed or purchased on site.
Between the warm up, learning the fighting stance and actually putting these puny fists to use, I almost didn't notice that the class stretched to two hours. OK, that's a lie. I noticed and was hoping someone would accidentally knock me out just so I could have a relaxing ambulance ride.
Here's a snipped of my inner thoughts:
6:30 pm -- Wait, there are no separate rooms? The muscle guys get to watch me make a fool of myself?! *grumble* Should have asked to see a picture of this place.
6:40 -- We have to do a 30-minute warm up? I feel like I can do it in under 10.
6:50 -- When...did...think...could...do...this...?! Horribly...wrong!
6:55 -- Wait...did that girl just say she's been here three times and it doesn't get easier?
7:00 -- I hope no one notices that I've been in the change room for a bit. It's so gloriously unathletic in here. This might be the best floor I've ever exhaustively lain on.
7:05 -- Warm ups with a partner aren't the worst. I like that we keep trading "save me" eyes.
7:15 -- Don't cry, don't cry, don't cry, don't you dare cry. Unless you can disguise it as sweat, then definitely cry.
7:30 -- What are we splitting up for? It's been an hour. Isn't this done? Hello?
7:35 -- Why am I the only person who looks like a giant loser doing the slow punches? Thank god I'm not in front of a mirror. LOOK AWAY BOXER DUDES!
7:40 -- YAY we get to wear boxing gloves! I wish I had worn a cooler outfit. Is that stupid to be thinking about. That girl is dressed way cute. Oh crap...everyone already grabbed gloves. Focus Bianca!
7:50 -- Punching my partner while he holds pads? Awesome. Getting open-palmed smacked on the shoulder by Warren because my form is off? Not so aweso...OWW. Dammit!
8:00 -- Okay, not to be THAT girl...but these gloves smell. Like bad. Like old, used gym sock bad.
8:15 -- Holding. The. Pads. SUUUUCKS. My partner has a crazy strong kick. I have to bear down all labour-style so I don't get punted to the wall!
8:20 -- No seriously, how long is this class?
8:25 -- Warren! You smack me one more time and...OK well I can't take you in any kind of fight but I have a glare that I have been told is WITHERING.
8:30 -- Yup. This is what a body giving out feels like.
8:34 -- I can't feel my legs! The maniacal part of me thinks hurling myself down these THREE FLIGHTS OF STAIRS would be less painful then actually walking.
In all seriousness, if you're on the lookout for a fitness regime that will push you and get you in top form, this is it. If you can stand rigorous repetition and like the physicality of it then you belong here. The instructors were great and completely hands on even though our class was huge. Warren was hilarious and is constantly available to push you into the most proper of stances. If you're looking to toughen up and stop being such a wuss, book a class and try not to hide in the change room.
End Result: Right after the class, I felt tired but accomplished. I was sweaty, stretched out and maybe even a bit powerful. I walked a bit after leaving and was surprised that my legs (while a little achey) weren't in any pain. Until the next day. Then they were ablaze with angry spitfire that made climbing, sitting and standing torturous.
Effort: Lots. More than lots. Think about a shit-ton of effort and add like 100 to it. So much effort in so many ways. Keeping up with the instructors, trying to mirror their moves, working at your own pace without falling behind, trying not to cry. Wait...that last one might have just been me.
Return Trip?: Is it weird that I kind of want to go back just to hang with Warren? Sure he slaps with an open palm and probably thinks I'm a class-A sissy but he seemed like a blast. The warm up and repetitions is what killed me but learning to punch and then actually punching with real gloves was a lot of fun. Plus, now I know how to throw a punch! I think...
First up on my fitness calendar was hot yoga. Regular yoga was out of the question since the prospect of searing heat makes my heart flutter. (No seriously...tropical temperatures are a dream). Setting out to find a yoga studio that offers the sweaty class was easy and I settled on Hot Yoga Toronto in the Annex. You have the option of taking either a verbally taught or silently lead class. Personally, I opted for the class with words...it was going to be hard enough to follow. Read the full story

This week I decided to sign up for a spin class at Quad on King Street West. While I had no illusions about being a yoga newbie, I always like to think that I'm an excellent cyclist. Every summer on schedule, I decide to use a bicycle as my mode of transportation and pout until my dad unhooks his from the garage ceiling and cleans it up for me. Newly pumped and shiny, it will sit in my hallway unused because cycling around the city is dangerous and it's so much more fun to walk. But somehow I still like to think I could cycle if I really wanted to. Read the full story

When I first heard about the Aerial Strength class offered by Brass Vixens on Queen West, I have to admit, I pictured something totally different. Read the full story

When I decided to start writing this column, pole dancing was the first and foremost workout that I wanted to try. I enjoy a good night out at a club and might have even won a dance-off or two. So, yea I like to think that I can dance. I always figured that placed in front of a pole, I'd do better than alright. Read the full story

I should point out that two years ago, I decided hula hooping was the best way to achieve abs so I bought one, set myself up outside, began to hoop and as soon as it dropped to the floor (which was almost immediately) I said "Nope, this sucks" and left the hoop outside. Luckily for me, Toronto has classes to turn me into my pretend alter-ego of a hippie hula girl. Read the full story.

I signed up for a Barreworks mixed level class and am told it's a good choice for a newbie like me. The instructor promises an hour of fun, serious core work and ballet-inspired barre stretches. Only opened since June of this year, the studio is the first of its kind in Canada. Developed from the super popular trend in the US, Barreworks promises a lean dancer's body through muscle sculpting, cardio training, core conditioning and deep stretching. Read the full story.

A few weeks into my quest for the best workout, a workout buddy mentioned a machine called The Reformer. While describing its uses, I could not get the picture of an 18th-century torture device out of my mind. This week I was excited to try out MisFit Studio after being recommended by a friend. The studio can be found in an alleyway in a stunning converted old coach house. I initially signed up for a "Kick Ass Mat" class with no expectations whatsoever. When I arrived I was taken for a tour of the studio (did I mention it's gorgeous?) and came face-to-face with The Reformer. Read the full story.

Zumba. Everyone is always talking about Zumba. Whenever I mention my workout quest to friends and family they practically unite in saying "Zumba! Have you tried Zumba yet? Why haven't you Zumba'd?!" Well, listen up you guys, I finally went out and tested Zumba. Read the full story.

If you haven't heard about Kangoo don't worry, you're in a huge group. Not one person I've told of my escapade knew what I was talking about. You've probably seen women at trade shows standing in a booth repping the new workout wearing boots that resemble ski shoes with oval springs attached to the bottom. If you haven't, go to more trade shows! Free swag! Anyway those ladies sell Kangoo Jumps boots to be used while you run, walk or generally work out. Read the full story.

Months and months ago, I attended a show in Toronto where Billy Blanks was appearing for a motivational speech as well as autograph signing. For those of you who don't follow the lifestyles of the fit and fabulous (of which I am not, nor do I follow) Billy Blanks invented the workout known as Tae Bo. A fusion of tae kwon do and boxing, the workout is done to a hip hop soundtrack for extra energetic movements. There's punching, kicking, stepping, crunching and a lot more. Since 1975, Blanks has touted the workout as the "future of fitness" and comes complete with an incredible backstory that made me tear up during his speech. So I bought the DVD. And got it autographed. Sometimes I hate me. Read the full story.
Follow Bianca Teixeira on Twitter: www.twitter.com/BeeLauraTee