We Can't Decide Which Brownie Or Blondie Recipe To Try First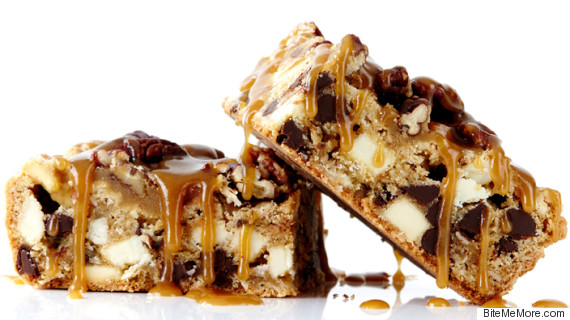 Over here at Bite Me More, we dig dessert, and satisfying our sweet teeth isn't hard to do with this collection of simply scrumptious brownie and blondie bar recipes. So get ready for the ultimate sugar rush (and good luck deciding what to make first!).
1. Peanut Butter Brownies
Feast your eyes (and mouths) on these unbelievably delicious peanut butter brownies. Not only does a creamy peanut butter layer sit atop a fudgy chocolate brownie, but it's also drizzled with a chocolate ganache.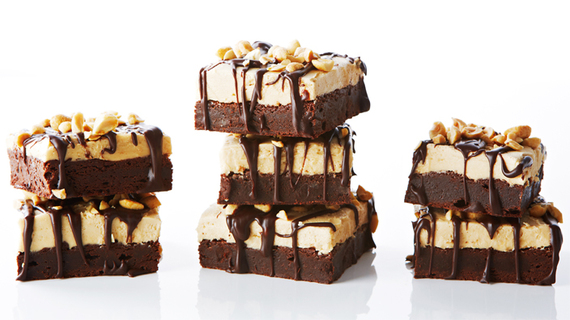 GET THE RECIPE HERE
2. Cookie Dough Fudge Brownies
Rich chocolate brownies that are topped with soft chocolate-chip cookie dough.
3. Triple Chocolate Coffee Brownies
It's mocha madness with these moist brownies chock full of brewed coffee, the trinity of chocolate (milk, semi-sweet and white chocolate) and chunks of chopped Oreo cookies.
4. Chunky Chewy Chocolate Brownies
Whip up a batch of these incredible blondies, chewy golden bars teeming with chocolate chunks.
5. Cowboy Blondies
Cowboy blondies loaded with chocolate chunks, oatmeal and coconut, and drizzled with a candied pecan topping.
6. Chocolate Chunk, Caramel and Pecan Blondies
Perfectly moist and chewy, these blondie beauties infused with creamy caramel, milk chocolate and crunchy toasted pecans will leave you blindsided.
7. Frosted Snickers Blondies
Chunks of the creamy caramel, fluffy nougat and crunchy peanut chocolate Snickers bars are folded in to our luscious blondie recipe and topped with a vanilla Snickers frosting.
8. White Chocolate Peppermint Bark Brownies
These easy-to-make chunky white chocolate blondies are elevated to new heights when topped with a creamy white chocolate frosting and crunchy homemade peppermint bark.
9. Peanut Butter and Brownie Milkshake
Not only is the thick, frosty and frothy shake a blend up of ice cream, brownies and peanut butter, but it's also topped with whipped cream chocolate syrup and chunks of brownies!
10. Fudgy Chocolate Mint Brownies
Moist and fudgy chocolate mint brownies covered in a creamy white chocolate frosting.
Follow HuffPost Canada Blogs on Facebook
Also on HuffPost:
Why Baking Is Amazing For You
Baking demands exact measurements and ingredients, and rushing through it will only result in a less delicious product. Doing things at a slower pace can help you feel calmer — especially during this time of year when you feel like you're constantly rushing.

So many of us are tied to screens for our jobs and leisure time that we forget how satisfying it can be to use our hands. According to psychologists Carrie and Alton Barron, half of our brain's cortex is mapped to the hands, so it's just as important to use them to create things to keep our brains healthy.

While it's lovely to have some quiet time to bake, if you have a friend or family member who wants to take part in the activity, all the better. Working with someone to achieve a goal — even something as small as a tin of muffins — can boost your mood instantly.

You've heard of aromatherapy, but have you ever thought about it as applied to the smell of baked goods? Whether it's because freshly a baked cake reminds you of happy childhood memories or the scent of vanilla is a throwback to your junior high perfume, these kinds of scents tend to boost positivity. Plus, according to Calm Clinic, if you start associating smells with relaxing, you can call them up anytime in the future to help you breathe a little easier.

Having a routine is something that is cited as a key tool to success for many CEOs, so why wouldn't that be the case for mental health too? Get into a regular baking (or cooking) routine can give a sense of discipline to your week.

Following a recipe is fantastic, but one of the best parts of baking comes with the decorating portion of the project where your creativity comes into play. The opportunity to express yourself (yes, even if it's just with icing) can improve your mood, as well as your ability to communicate.

It's something you hear a lot this time of year, but you should keep it in mind for all 12 months: giving to others will make you feel even better than receiving, making you feel more confident and like you belong, according to Mental Health Foundation. And really, who keeps all their baked goods for themselves?
Follow BiteMeMore.com on Twitter: www.twitter.com/bitememore