The Key To Work-Life Balance? Working While You Commute
How long does it take you to get to work in the morning? For me, it's a 20-minute drive. For our COO Erik Church, it's a five-hour flight. He lives in Toronto and works in Vancouver, putting 2,000 miles between home and the office.
Many people think this setup is insane -- living and working in different cities can be counterproductive for both employee and employer. When you consider it's been proven that commuting is a major time-waster, hiring local looks like the smart way to go.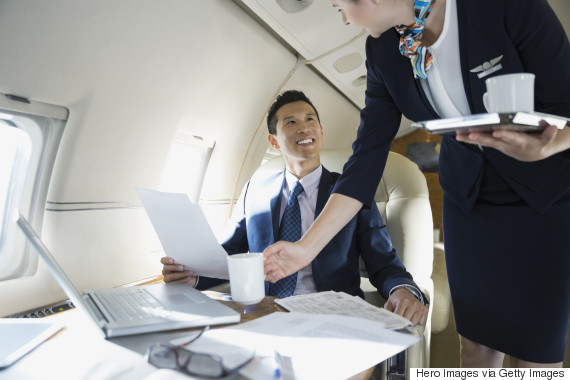 (Photo: Hero Images via Getty Images)
But the reality is companies often need to go beyond arm's reach to recruit top talent who may be unable to relocate. Technology has made it easier than ever to work remotely, so hiring from afar is becoming more and more common.
I'd take the right person over the right city, anytime. When we found Erik in 2010, we knew he'd be the one to achieve our strategic objections and we wanted him on the payroll -- no matter the distance. Since he joined our leadership team five years ago, he's proven that time spent in-transit is the best-kept secret to productivity.
Erik takes a no-nonsense approach to his commute. He schedules his time in-transit as though it were a workday to maximize every minute. He breaks tasks down into time blocks, and prints anything he'll need to work offline. From his perspective, his flights offer him a rare luxury he'd never find at the office: 10 hours a week of focused work, free from interruption. Since each flight is five hours, he calls this time his Hi-5.
He believes anyone can do the same.
But being hyper-vigilant about planning his commute isn't just about getting things done. Erik knows there's no substitute for face-to-face contact, so he uses his air time wisely to be a more engaged leader when he's in the office. Present leaders establish authenticity and build trust with their teams. By reserving travel days for admin and office days for facetime, Erik can truly connect in person.
Commuting and face-to-face meetings aren't always mutually exclusive, either. Erik often books flights to coordinate with his colleagues' schedules so they can meet on the go. One time, he and I both had to be in Montreal. Rather than flying direct from Toronto and meeting me there, Erik flew all the way to Vancouver first just so we'd have the five-hour flight back to collaborate without distraction. For Erik, a minute unused is a minute wasted; when there's an opportunity to be productive, he takes full advantage -- and he believes anyone can do the same.
In previous jobs, when he lived and worked in the same city, Erik says he had trouble separating work and home life. He would bring his work home with him, and vice versa, and was never fully present in either. Of course, being away from home from Monday to Thursday has its challenges, but Erik sets time aside twice daily to call his wife and daughter. When he's home, he turns work off completely so he can be present for his family.
So, although a 10-hour commute sounds like a huge waste of time, it's anything but for Erik. He says his it's made him more productive than ever, and it's even allowed him to find work-life balance that eludes many executives in the C-suite. Time is money, and if you plan ahead, your commute might become the most productive time of your day.
Follow HuffPost Canada Blogs on Facebook
Also on HuffPost:
10 Things To Do On Your Commute
It'll save you from turning up at Tesco Express after work and panic-buying EVERYTHING.

You'll feel so prepared when you walk into the office.

If you haven't had signal during your commute then don't worry, draft out your emails and hit send once you get to the office.

Throughout the week you've probably built up a fair few text messages that you just haven't had chance to reply to, right? Now's your chance! Draft our your text messages to friends and family and hit that 'send' button. No signal? Hit send once you get to the office.

Everybody has a bunch of things that they need to do but keep forgetting about. Morning commutes were made for writing these things down. Try using apps such as Reminders (on iPhone) or Any.Do. Failing that, get yourself a notebook and write it down.

Try the Our Groceries app or Grocery iQ. Organisation central.

Buy that newspaper, download that app or even pick up the Metro and catch up on the latest news. Worried about signal? If you use news apps then they should automatically update before you go underground, so you don't need to worry about lack of t'internet.

If you've been meaning to read that book for ages then seize your chance. Reading is actually very beneficial for brain function. Research carried out at Emory University in the US found that reading a good book may cause heightened connectivity in the brain and neurological changes that persist in a similar way to muscle memory.

It may seem super boring, but you're going to have to read it at some point. So why not now?

Download apps such as Lumosity or even Sudoku to get that brain of yours woken up.
Follow Brian Scudamore on Twitter: www.twitter.com/brianscudamore