Replacing Parliamentary Secretary A Gross Disservice To Veterans
Recently a blanket announcement was made about a shuffle within the Liberal cabinet as a new wave of appointments were made within the departments pertaining to the parliamentary secretary. One that I found interesting was replacing Veterans Affairs Parliamentary Secretary and retired lieutenant colonel Karen McCrimmon with Sherry Romanado.
Many in the community saw Karen McCrimmon as the only person within the department trying, a Canadian Forces pioneer that had showed up to more of my service excellence committee meetings than the actual minister.
While Veterans Affairs quietly and unceremoniously disposes of the only veteran working within the department, they will hold yet another ribbon-cutting to commemorate the opening of a VA office, this time in Thunder Bay -- flashbulbs and flickering smiles all around.
It is the dictionary definition of milking publicity. A total of nine offices are reopening, representing the easiest of the department's promises to make good on. Along with increasing the Earning Loss Benefit to provide injured veterans with 90 per cent of their pre-release salary, these are the only two things things the department has done in the year and a half it has had.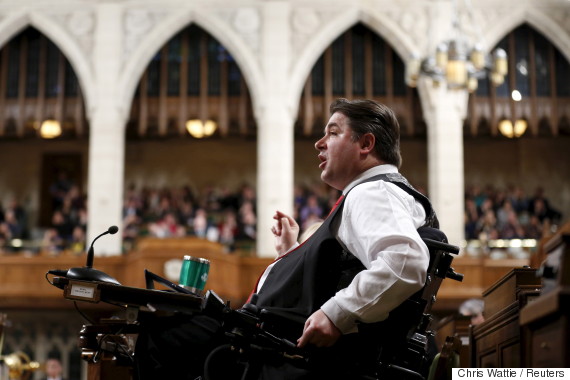 Canada's Veterans Affairs Minister Kent Hehr speaks during Question Period in the House of Commons on Parliament Hill in Ottawa, Canada, Jan. 25, 2016. (Photo: Chris Wattie/Reuters)
As veterans like me enter the 11th year without our life-long pensions, let me explain what you are supposed to do with that lump sum. The expectation is that you invest that money -- the maximum you can receive is $306,000. The average, though, is $26,000. In exchange for sacrificing five per cent of my brain in an attack, I initially received $22,000. It was only after nine years of fighting, bloggin, interviewing, and petitioning former MPs Joe Comartin, Peter Stoffer and Frank Valeriote (Liberal) that I could get my pension to where it rightfully should be. I did not get the bulk of my lump sum until after the great recession of 2008, meaning those who did had their pensions almost wiped out -- all despite assurances that the odds of that happening were slim to nil.
Then Prime Minister Justin Trudeau comes along and promises to fix all the problems (that his party created in the first place) -- the mandate letter, the appointment of a minister who overcame a disability, the unbridled optimism and smiles.
First it was "Give us a little while to figure things out, we just formed government." Then it was "Well, it's Christmas break. Wait until the first budget." Then it was "Well, the budget was not what you expected, so let's work together and with what we got. Oh, and we are reopening the court case fighting lump-sum pensions." Then it was summer break.
Between the inactivity on the file and the alternative facts presented not just to the veterans, the prime minister had no choice but to shuffle his cabinet.
The PMO's office, in its infinite wisdom, decided to replace the only person that was actually trying.
It was at this moment that many thought the Liberals would start taking their promises to veterans seriously. Alas, Minister Kent Hehr remained. This is a man whose social media profiles rarely mention veterans. It is very clear that veterans are not his priority. Instead, he has been dedicating days going door-knocking in his riding in anticipation of the next federal election in 2019. The people of Calgary Centre now have something in common with the people of Vaughn, Ontario -- their riding has become synonymous with the plight of the veteran.
Then the PMO's office, in its infinite wisdom, decided to replace the only person that was actually trying, a Canadian Hero, with a woman whose Wikipedia entry contains little more than her birthdate and the fact that she is a Canadian politician.
Electoral reform -- what a mess the Liberals made of that. So now you have a new parliamentary secretary and everyone is going to say "Just give her a little while to figure things out," and by then it will be summer break. Meanwhile, post-traumatic stress disorder does not give its sufferers a grace period, there is no summer break. Everyone says, "Just wait until the budget," only I know for a fact that our committee made no suggestions before the November deadline for the budget report, and even if it had (do I really need to finish this sentence)?
Here is the juxtaposition: the government has no intention of restoring life-long pensions, despite campaigning on such a vigorous platform. So, at the town hall when a tearful woman asks the prime minister when he will do right by the veterans, he rambles for five minutes without answering the question. A more perfect example on how to say something without saying anything could not be found.
Minister Hehr takes his marching orders very well, and to date the opposition and the press have not been putting any pressure on him. (That is, except the Globe's Gloria Galloway, she truly has been the lone voice and I thank her.)
If I were a member of the Liberal caucus who unceremoniously and quietly replaced a parliamentary secretary that cared about veterans with someone that helped ensure that 2015 would not be the last past-the-post election, I know I couldn't look myself in the mirror.
Follow HuffPost Canada Blogs on Facebook
Also on HuffPost:
Trudeau Cabinet's Order Of Precedence
Prime Minister Justin Trudeau's gender-balanced cabinet does not include a deputy prime minister or clear second-in-command. The official order of precedence is instead determined by length of time in the Privy Council, and the order by which ministers were sworn into the ministry. Here's the official order...

Minister of Public Safety and Emergency Preparedness The finance minister under Paul Martin's government, Goodale is the only Liberal elected from Saskatchewan.

Minister of Agriculture and Agri-Food An MP since 1988, MacAulay has served as solicitor general of Canada, minister of labour, secretary of state for veterans and secretary of state for the Atlantic Canada Opportunities Agency. In the last Parliament, MacAulay was the critic for fisheries and oceans.

Minister of Indigenous and Northern Affairs A family physician who has been an MP since 1997, Bennett was Canada's first minister of state for public health and oversaw the 2003 response to the SARS epidemic. In recent years, Bennett has served as the party's vocal critic on aboriginal affairs.

President of the Treasury Board An MP since 1997, Brison was the public works minister and receiver general of Canada in Paul Martin's government. He had been the Liberal spokesman on economic issues and the vice-chair of the Commons' committee on finance.

Minister of Fisheries, Oceans, and the Canadian Coast Guard LeBlanc served as the Government House leader until August 2016, when he was replaced by Bardish Chagger. LeBlanc was sworn in as a privy councillor in 2004 when, under Paul Martin, he served as parliamentary secretary to the leader of the government in the House and deputy government whip. He is a childhood friend of Trudeau's.

Minister of Innovation, Science, and Economic Development An MP from 2004 to 2011, Bains regained his seat this year. In addition to being a certified management accountant, holding an MBA, and teaching at Ryerson University, Bains was an important Trudeau organizer and also served on the Liberals' national election readiness committee.

Minister of Finance Morneau is the former executive chair of Morneau Shepell, one of Canada's largest human resources firms.

Minister of Justice and Attorney General of Canada Wilson-Raybould is a former Crown prosecutor and regional chief of the B.C. Assembly of First Nations.

Minister of Public Services and Procurement An MP since 2008 and the party whip, Foote previously held several cabinet portfolios in Brian Tobin's provincial government.

Minister of Foreign Affairs An MP since 2013, Freeland was courted by Trudeau's team when she was a senior editor at Thomson Reuters in New York City.A Rhodes scholar, she is a well-known author and journalist. She was part of Trudeau's team of economic advisers.

Minister of Health Philpott is a family physician, associate professor at the University of Toronto, and former chief of the department of family medicine at Markham Stouffville Hospital.

Minister of Families, Children, and Social Development Duclos is a renowned economist who taught at at Laval University.

Minister of Transport The former astronaut, navy engineer, president of the Canadian Space Agency and Liberal leadership contender was first elected in 2008. He has served as an industry and foreign affairs critic.

Minister of International Development and La Francophonie Bibeau worked for the Canadian International Development Agency (CIDA) in Ottawa, Montréal, Morocco and Benin, Africa, before settling and launching her own business in her riding.

Minister of Natural Resources Carr, a former Manitoba MLA and deputy leader of the Manitoba Liberal Party, served as president of the Business Council of Manitoba from 1998 to 2014.

Minister of Canadian Heritage Joly made a name for herself by finishing second to ex-Liberal cabinet minister Denis Coderre in the Montreal mayoral race in 2013. She's a lawyer and communications expert.

Minister of National Revenue A small business owner who has been an elected warden for the Regional County Municipality of Rocher Percé since 2010, Lebouthillier won a seat in Gaspé that the Liberals haven't held in more than a decade.

Minister of Veterans Affairs and Associate Minister of National Defence Hehr was an Alberta MLA from 2008 to 2015, was one of just two Liberals elected in Calgary. In 1991, he was the victim of a drive-by shooting that left him confined to a wheelchair.

Minister of the Environment and Climate Change McKenna was a former legal adviser for the United Nations peacekeeping mission in East Timor and founded Canadian Lawyers Abroad (now known as Level), a charity focused on global justice issues.

Minister of National Defence Sajjan is a retired lieutenant colonel who served in Afghanistan and was the first Sikh to command a Canadian Army regiment. He also served as a Vancouver police officer for 11 years.

Minister of Infrastructure and Communities An Edmonton city councillor since 2007, Sohi immigrated to Canada from India 35 years ago. He spent time as a political prisoner in India in the late 1980s.

Minister of Status of Women Monsef, a community organizer, fled the Taliban in Afghanistan and came to Canada as a refugee with her widowed mother and sisters in 1996. She was shuffled out of the democratic institutions portfolio in Jan. 2017.

Minister of Sport and Persons with Disabilities Qualtrough is a lawyer and former Paralympian. Legally blind, she won three Paralympic and four World Championship medals for Canada in swimming and was president of the Canadian Paralympic Committee.

Minister of Science Elected in 2008, Duncan taught meteorology, climatology, climate change, and medical geography at the university level.

Minister of Status of Women Hajdu was executive director of Shelter House, Thunder Bay's largest homeless shelter.

Leader of the Government in the House of Commons and Minister of Small Business and Tourism Chagger, 35, worked for the Kitchener-Waterloo Multicultural Centre. She also worked on Trudeau's leadership campaign.

Minister of International Trade Champagne had a hugely successful international business and law career, living in Europe for many years before running for office. The World Economic Forum dubbed him a "young global leader" in 2009.

Minister of Democratic Institutions Sworn in at 29, Gould is the youngest female Canadian cabinet minister in history. She previously worked as a trade and investment specialist for the Mexican Trade Commission.

Minister of Immigration, Refugees, and Citizenship The first Somali-Canadian elected to Parliament, Hussen came to Canada alone as a 16-year-old refugee from Mogadishu. He was a successful lawyer and president of the Canadian Somali Congress before running for office.
Follow Bruce Moncur on Twitter: www.twitter.com/tornadomoncur