Rudayna Bahubeshi: Non-Profit World Domination
Over the past few weeks, I have been introducing you to some trailblazing professionals in my ongoing effort to change the perception of the word "millennial." These six adventurers, ground breakers and revolutionaries are changing their industries with their unique views as young professionals. Last week, you met the man thinking "outside the pizza box," Drew Campbell, and this week, I have the pleasure to introduce...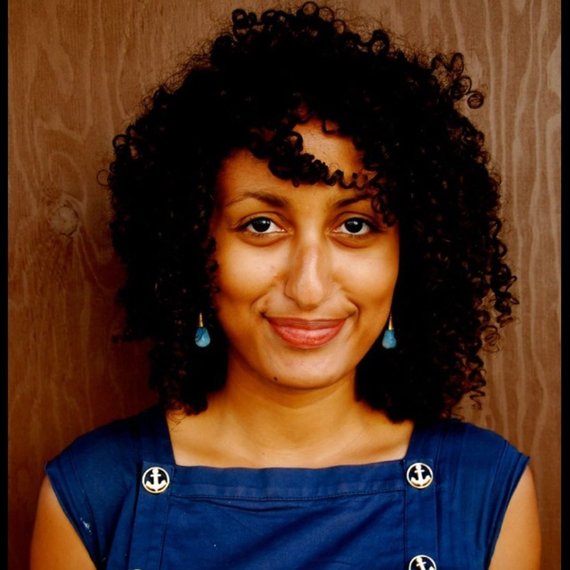 Meet Rudayna Bahubeshi
Community Mobilizer, The Natural Step Canada
Twitter: https://twitter.com/rudayna_b
Linkedin: https://www.linkedin.com/in/rudayna-bahubeshi-89664427
I had the pleasure of working with Rudayna during the two years she spent at Q Media on our non-profit venture. Now she's one of the busiest women I know and a real mover and shaker in the non-profit sector. She is literally changing the world with The Natural Step Canada, creating partnerships and developing communications for the environmental sustainability organization. And she's changing local politics through her role at Women in Toronto Politics by amplifying voices of women and marginalized population in municipal politics. In short, she encapsulates the polar opposite of a disengaged and over-privileged perception of a "millennial."

Caitie Drewery: So how did you end up in the non-profit world?
Rudayna Bahubeshi: I once thought journalism was my calling, but I quickly realized that advocacy and community building resonated with me more. I found myself in interesting roles in the non-profit/social innovation space, including working in volunteer management, co-working communities and now sustainability. My approach has been to seek challenging opportunities with organizations that inspire me.

CD: And once you made that decision, did you encounter any challenges?
RB: Moving from Ottawa to Toronto marked a shift in my career, from short-term contracts to longer-term career building. The competition was fierce here, I had no connections, and I felt like one of a million arts graduates with "exceptional writing and editing skills" on their resume.
I didn't wish to work in the private sector or pursue a job that didn't speak to my skills and interests, which sounds like a very selective attitude for a person with bills and school debt. I worked at a café for a few months while I pumped out applications, made cold calls and networked on evenings and days off.

CD: Why is the millennial perspective valuable in your industry?
RB: Young people are inheriting this world and we need to have a place at the table in discussing its future. We need systems that work for us, not just the generations before us. Policy makers, politicians, and other influencers have not generally reflected age diversity (or any diversity, let's be real). And if you're ignoring a major part of your population when tackling sustainability, civic engagement and other issues, you're hurting people and setting yourself up for failure.
Young people are bringing a lot of innovative, creative, social and technological solutions to these spaces. While many members of older generations embrace public engagement -- moving away from a traditional approach of discussing everything behind closed doors- and the change required to solve sustainability challenges, I see young people leading the charge in a lot of ways.
CD: OK, so let's say you've discovered the work you are passionate about -- how do you find a way to get into that industry?
RB: Volunteer. It's always been really important to me and I would encourage those who are able to do it. There have been times where I've been really interested in a certain skill or sector, but have had limited experience and no reason to convince someone to give me a job in that capacity. Volunteering has really helped me diversify my resume and meet extraordinary people that I've built great friendships with. I've had volunteer jobs where I've learned more than in a day job. My volunteer work has also helped me more deeply connect to this city and understand my place in it.
CD: You take on pretty much everything that comes your way that you are passionate about. How do you manage it all?
RB: The most important lesson I've ever learned is to make sure my ambition doesn't exceed my ability to take care of myself. I work really hard and have too often sacrificed health for my goals. Slowing down when you're burning out is the most important thing I've ever learned. I roll my eyes at the whole "here's your comfort zone and outside of it is where the magic happens." Yes, strive and push yourself, but ultimately we have limits to help us live healthy lives. Always functioning at 110 per cent is unsustainable.
CD: So how do you feel about this whole "millennial" perspective?
RB: "Milliennial" doesn't tell me much about a person beyond ball-parking when they were born.
Any language that generalizes a population is troubling and the way we characterize "millennials" (lazy, self-entitled, disengaged, etc.) is also flawed because it makes assumptions about class. It suggests we have privilege or wealth to feel entitled to -- what does entitlement look like when you're struggling to pay rent?
The job market is worse than ever and career trajectories are rarely as linear as they once were, so we're being highly adaptive. We're also arguably more engaged than ever, holding higher standards for places of work. I work really hard and so do my peers, so if someone wants to assume differently, I don't have time to waste trying to convince them not to be lazy and presumptuous.
CD: What does success look like for you?
RB: For me, success means doing work I believe to be meaningful and making a living from it. Last October I was invited to Berlin by the Friedrich Ebert Institute to join 25 young people from all over the world for a week to discuss and develop ideas for international cooperation to limit climate change. I learned a lot and worked with incredible social entrepreneurs, policy makers, community leaders, and scientists from countries including Madagascar, Iraq, Vietnam, Peru, and Portugal.

CD: Bonus -- favourite TV show you are binge watching right now.
RB: I don't watch much TV but I'm becoming a podcast junkie and lately can't get enough of The Allusionist, Reply All, Planet Money and Call Your Girlfriend.
The Rudayna Bahubeshi Crib Sheet -- My Top Takeaways
Rudayna is the living proof that hard work really does pay off. She's used her smarts, gumption and work ethic to discover unique and valuable career opportunities. But the true guiding light behind all of her career decisions? Following her passions. Because why work your butt off in a job you don't care about? Whatever inspires you in life, should dictate the path you follow for your career. And Rudayna's stance on volunteerism is awesome. From personal experience, volunteering is a great way to learn new skills and gain real career experience. Here are four quotes from our chat that stuck out most to me:
"I work really hard and so do my peers, so if someone wants to assume differently, I don't have time to waste trying to convince them not to be lazy and presumptuous."

"Millienial doesn't tell me much about a person beyond ball-parking when they were born."

"The most important lesson I've ever learned is to make sure my ambition doesn't exceed my ability to take care of myself."

"Young people are inheriting this world and we need to have a place at the table in discussing its future."
Coming up later this month, meet theatre's next big thing... Mitchell Cushman. He's directing his second production at Stratford this summer and is the brains behind the highly successful, highly original GTA-based theatre company, Outside the March.
Follow HuffPost Canada Blogs on Facebook
MORE ON HUFFPOST:
Overwhelming Potential: Life Advice, Tips, And Tricks That Every Millennial Needs To Hear
Find and foster different mentors for your varying skillsets. We're more connected than we've ever been before to various acquaintances, friends, and professionals through our various social networks, which can be a huge source of support in a sometimes formidable technological world. Seeking out the help of someone a little bit more seasoned is one of the best things a millennial can do (just make sure to stay in touch with them). Having some outside perspective can help you sort out what you'd like to do in your life.

Everyone who has something to learn also has something to offer. While millennials are often branded as being a tech-savvy generation, that is often a simplistic view. Millennials do offer that, but, in many cases, they offer a far more realistic answer to certain situations. That's why offering to mentor someone in the basics of your strong suit can be so useful for you and your mentorship student. By simply opening up your mind and thought process to another person, you'd be surprised how much both parties end up learning from it.

Despite widely reported issues surrounding our average student and personal debt, millennials aren't actually doomed to a life of financial ruin. In fact, nearly half of all people in their 20s have started saving their money in a dedicated account. It turns out that the biggest hurdle facing millennials and their money isn't a lack of ability when it comes to saving money, but a lack of trustworthy/good advice when it comes to money matters. To put it simply: we need to stop viewing our parents as the sole authorities on financial advice in our lives. Various studies show that millennials tend to struggle with finding a good source to provide financial guidance, and ultimately end up standing in place. We're not saying to cut out the opinions and advice of your folks; they probably have some great tips and tricks (and, you know, respect your elders and all that) for you. But that advice should be paired with firsthand financial knowledge, and that's on you to seek out and learn. You'll be thankful that you took the initiative to understand (and control) your financial future, and so will your family back home.

Do you like Netflix? Of course you do. Do you like sleeping? You don't even need to answer that. Are these in short supply sometimes? Now that's the most problematic bit. One of the things that people often overlook in their lives is scheduling a block of "Me Time." It seems like we stretch ourselves pretty thin in a lot of ways (work, relationships, home care, etc.) and when we crash, we crash hard. This makes dealing with the overwhelming nature of life and its endless possibilities extra tough. If your brain is in overdrive, how can you make a coherent choice about anything? It's not impossible, but it's still hard. That's why a diverse array of business leaders and industry thinkers have been examining how we live our lives, and they've all come to the same conclusion: the work-life balance needs to be rebooted, and we can start by severely limiting how much work and digital noise we bring home with us. This is why it's so important to budget out proper rest and relaxation time time for napping, relaxing, and binge-watching the shows in your Netflix queue. For every step you take towards realizing yourself and your dreams, make sure to take a moment to recharge and congratulate yourself for the forward momentum you've generated. You're not being a Lazy Millennial; you're ensuring that you're not headed towards a midlife crisis down the road. Maybe the older generations could stand to take some advice from you for a change. The road map to Being A Millennial is being written every day, and there's no right or wrong way to navigate this relatively unique point in history. But as long as you're pushing forward and keeping your dreams in sight (no matter what form those dreams may take), you're on the right path. Good luck!
Follow Caitie Drewery on Twitter: www.twitter.com/qmediasolutions