A Trip To Costco Sparked My Crusade To Reduce Food Waste
It is evident that there is a problem with food waste in North America. The simple fact that one out of nine people in this world are going hungry every day, and that 40 per cent of food (in Canada alone) is thrown in the garbage proves this to be true.
Even though I understand Costco alone is not to blame for this issue, the reason I started my petition against them was simply because this is where I was faced first hand with the substantial problem that exists regarding sustainable food waste management.
I was approached by many people regarding my petition asking me why I only targeted Costco when many other companies have the same throw-away policy. It's because I often shop at Costco because they do many great things (treat their employees well, fund organic farming, refuse to sell GMO salmon, etc.) and I figured that if they were willing to make a change, then other companies might be inspired to be more sustainable with their food. I also thought that I would make more progress by pressuring one company rather than putting a blanket statement over all super markets.
The fact that food is discarded because we "have too much" or because it doesn't look right goes to show that this food management program is not working right.
While shopping in Costco one day, I was approached by an employee who asked me if I wanted to add some ground beef to my shopping cart, as whatever was not sold by the end of the day would be thrown in the garbage.
My first reaction was an emphatic, "Wow, you guys are giving this away for free, that's awesome!" The employee responded that no, it was not free. So I asked what type of discount was being offered to encourage the meat to be sold by the end of the night. They replied that there was none, and the meat was full price.
I pressed the employee on the reason why this meat would be thrown out, seeing as the best before date was not until tomorrow. They stated that they simply produced too much -- they therefore did not have the space for it and it only had one day left until expiry.
I asked if this meat would be offered to any of the Costco employees, used in the Costco cafeteria or frozen meals, or donated to charity to feed hungry people, and the answer was no, apparently due to liability risks.
This made me very angry.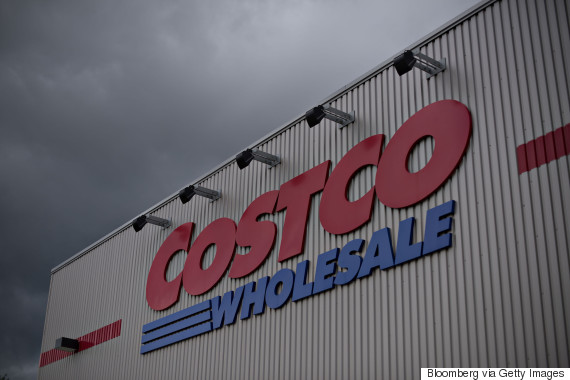 Not only because the meat could easily be used for hundreds of meals that night, the next day, or even frozen and used at a later date, but because I understand the horrors of factory farming. The fact is that poor cows were abused and given no respect before they were slaughtered for mass production to be sold at a cheap cost for people. Even though I am not a vegetarian, I do limit my meat consumption and I do my best to buy local and ethically raised meats, knowing the animals were not tortured their entire lives.
The fact that in North America food is discarded because we "have too much" or because it doesn't look right, or enough wasn't sold and it can be thrown away without a second thought goes to show that this food management program is not working right. Much of the food available to us in grocery stores is imported from other countries. We as a society need to learn the importance of eating locally and seasonally.
Following my conversation at Costco, my anger built up as I drove home and I realized that I couldn't just stand by and not do anything about this very important issue. Since I sign multiple petitions every day, I decided this was my opportunity to create my own in order to bring awareness to this tragic issue. I believe that if we all work together, there are so many good things that can happen: fewer animals being killed for no reason, and more people going to bed at night with a full stomach.
There is no reason that so much food should be thrown in the garbage because people do not want to deal with it or be liable for it. I am so happy to see that there is awareness being brought to this issue and I believe the next step is to pressure our government to follow in France's footsteps and make is illegal to throw away perfectly good food!
Follow HuffPost Canada Blogs on Facebook
MORE ON HUFFPOST:
Food Waste: What You Can Do
Hilary Benn, the former environment minister, said people should ignore "best before" labels and decide for themselves if food is still good. Benn said in 2009 that "best before" dates served little useful purpose and could be cheerfully ignored - they just mean when the food is at its freshest. He said: "There's 'use by' and that's very important because that's food safety; but when it comes to 'sell by' or 'best before', I think we as consumers [need to] understand better what those labels mean.|

The Mail commissioned the West Yorkshire-based FoodTest Laboratories to compare batches of Lion eggs, bought at Tesco. The company kept two batches of eggs for a fortnight, one at room temperature, the other at a typical fridge temperature of 6c. Samples from both batches were regularly tested eg. for E.coli, salmonella, listeria. There was no difference whatsoever between the two batches. Both remained bacteria-free and good to eat.

The US Department of Agriculture says as long as you scrub the mould off, then it's totally fine. "It is normal for products like this to acquire surface mould," the Safe Food Handling fact sheet says. Don't eat any mouldy cooked meat though, for god's sake.

For cheeses where mould isn't part of the processing, mold generally can't get deep into the product. For hard cheeses, such as Asiago, Pecorino, Parmesan and Cheddar, lop off at least 1 inch around and below the mold spot (to avoid cross-contamination, be careful not to touch the mold with the knife). Source: USDA

So think, cabbage, peppers, carrots. Like the cheeses, dense fruits and vegetables are not easily penetrated by mould. The same rule of thumb applies to firm produce: cut off at least an inch around and below the mould spot (again, not touching the mold with your knife) before using. Source USDA

As long as it smells OK and looks OK when you open it. There have been cases where canned food survived almost 100 years with no microbial growth whatsoever.

According to the experts at Still Tasty, butter lasts about 2 weeks after its expiration date. Frozen butter lasts up to 9 months longer.

Open jars of pickles stay good for a whole year in the refrigerator. The same goes for olives and capers, according to Still Tasty.

There's absolutely no need to throw them out before then, according to EatByDate.com

Why buy bag salads? OK, they are way more convenient, but more expensive and they spoil much quicker.Tesco found that two-thirds of produce grown for bagged salad is thrown out.

Get the Coq au Vin recipe from Simply Recipes Wine needed: two cups red (pinot noir, burgundy, or zinfandel).

Get the Baked Onion Soup with a Gruyère Cheese Bread Crust recipe Wine needed: 2/3 glass of dry red.

Get the Grilled Flank Steak with Sichuan Peppercorns recipe Wine needed: a couple of sips of a dry white. If you have just a tiny bit left in that bottle of white, save it and use it to enhance your flank steak. The flank steaks are seasoned with a simple but potent blend of peppercorns and black bean garlic paste (which you can find at any Chinese grocer).

Get the Southwest Seafood Chowder recipe Wine needed: One glass of a dry white. Do you love clam chowder, but refrain from making it knowing that it has a serious affect on your waistline? This southwest version of the New England classic is lighter and healthier, and still just as comforting as the original.

Get the Lentils with Red Wine and Herbs recipe Wine needed: quarter glass of a dry red. With herbs and a scattering of mâche (a sweet and tender green), this stewy lentil dish becomes a perfect combination of a soup and salad. French green lentils work best here because they hold their shape when cooked. If you can't get your hands on mache, arugula or spinach make fine substitutes.

Get the Braised Chicken all'Arrabbiata recipe Wine needed: a glass of a dry white. In chef Robert Holt's recipe, he braises the chicken with five kinds of peppers in a wood-fired oven. If you want to opt for an easier option, you can spice your chicken with poblano and chile flakes, then braise it. For extra kick, toss in some hot pickled cherry peppers.

Get the Chorizo Poached in Red Wine recipe Wine needed: two bottles of dry red.

Get the Chopped Lamb Steak with Garlicky Spinach recipe Wine needed: couple of sips of dry red wine. A chopped steak is really just a glorified hamburger. But substituting ground lamb for the traditional beef takes this diner out of the realm of just another burger and makes it a gourmet meal.

Get the Mahimahi with Herbed White-Wine Sauce recipe Wine needed: quarter glass of a dry white. This is an easy, yet elegant dish. Perfect for a weekend dinner when you would rather spend more time at the table with others than in the kitchen preparing your meal. The natural flavors of the fresh thyme and marjoram herbs really shine through when paired with this meaty fish.

Get the Orecchiette with Veal, Capers and White Wine recipe Wine Needed: half a glass of a dry white. The tender veal ragu is perfectly paired with the shape of the orecchiette -- the sauce just hangs onto the pasta. With each bite, you will be thankful that you had that half a glass of wine left over to help make this dish.

Get the Wild Mushroom-and-Red Wine Risotto recipe Wine needed: half a glass of a dry red. Risotto is the perfect comforting dish for a cold winter night. And regardless of what you may have heard, it is an easy dish to put together. Yes, there might be quite a bit of stirring, but that is as hard as it gets. This risotto dish stands out from others in that it uses red wine rather than white to give it that extra kick.

Get the White Wine Braised Clams recipe Wine needed: two glasses of white.

Get the Chicken Breasts with Potatoes and Mashed Peas recipe Wine needed: a little more than half a glass of a dry white. The classic chicken breast with a side of greens and potatoes gets a slight makeover with a few new tricks. While we all like the healthiness of chicken breast, let's be honest, sometimes it is lacking in flavor. A nice remedy for that is to quickly brown the breast in a bit of butter, and then finishing off in the oven.

Get the Penne Rigate with Spicy Braised Swordfish recipe Wine needed: half a glass of a dry white. Swordfish is a meatier white fish and holds up nicely in pasta dishes. Paired alongside tomato sauce makes this a warming, hearty dish; and the addition of jalapeño gives it a nice, fiery kick. Feel free to adjust the amount of jalapeño according to your spicy-food tolerance.

Get the Chicken Cutlets with Bacon, Onions and Red Wine recipe Wine needed: 2/3 glass dry red (preferably burgundy or pinot noir).

Get the Carrot Osso Buco recipe Wine needed: a glass of a dry red. Looking for a light winter meal? Carrot osso buco might just be it. A vegan take on the beloved veal shanks recipe, braised carrots take the place of the meat in this dish. Ground dried porcini mushrooms give the dish a rich, meaty flavor.

Get the Butcher's Ragù with Fusilli recipe Wine needed: a glass of a dry white. This ever-so-slightly creamy ragù made with ground beef, pancetta and ham, is flavored with tomato paste instead of canned tomatoes. A nice variation from you traditional tomato-based pasta sauce.

Get the Velvet Corn Soup with Crab and Ham recipe Wine needed: quarter of a glass of a dry white. A rich and hearty soup, this unusual recipe will warm your soul. Crab and ham make an unlikely pair, but their flavors complement each other harmoniously.

Get the Chicken with Red Wine and Prunes recipe Wine needed: 1 1/4 glasses red.

Get the Baked Potatoes with Wild Mushroom Ragù recipe Wine needed: a glass of a dry white. A simple dish of baked potatoes can easily become a vegetarian dinner with the topping of wild mushroom ragu. The recipe calls for a mix of wild mushrooms, so chose your favorites here, or whichever look the best at the store.

Get the Salmon with Shiitake and Red Wine Sauce recipe Wine needed: two glasses of a dry red. Did you open a new bottle of red wine that you just didn't love? Well, whatever you do, don't dump it down the drain. Get your money's worth and turn that not-so-great bottle of red into a luxurious sauce for this salmon dish.

Get the White Wine Poached Pears recipe Wine needed: one bottle of white.

Get the Chocolate Red Wine Cake recipe Wine needed: 1 1/4 glasses dry red.

Get the Wine Souffle recipe Wine needed: 1/2 glass of white.

Ever open a fresh bag of cereal and notice something a little... off about it? That is likely not just your imagination. According to the FDA's Defect Levels Handbook, a number of foods can legally contain up to "maximum levels of natural or unavoidable defects in foods for human use," including "insect filth," "rot" and "Mammalian excreta."

According to the Organic Consumers Association, the United States is the only developed country that does not require testing for safety of GE foods.

Ammonia, a main ingredient in fertilizer and household cleaners, is apparently an appropriate way to kill bacteria in meat. Sure, it may be corrosive and can cause severe injury, but according to a USDA official, "it eliminates E. coli to the same degree as if you cooked the product."

Michael R. Taylor, pictured, has had quite the colorful career path. Bouncing between the FDA and Monsanto, Taylor is the poster boy for the government's controversial "revolving door" issue. The FDA's current Deputy Commissioner of Food is responsible for the substantial equivalence policy, which is used as a weapon against the "right to know" argument for GMO labeling.

This past September, the FDA ordered a number of arsenic-based drugs to be withdrawn from farm animal feed, an ingredient that had been used since the 1940s. While it might seem like a step in the right direction, consider this: The FDA only passed down the decision after food groups threatened to sue the agency. Before the ban, about 70 percent of U.S. poultry were being fed arsenic-based drugs, and even with the new legislation, one of the 4 banned drugs can still be fed to turkeys.

Red #40, the most widely-used food dye, and Yellow #6, the third most widely-used food dye, are linked to hyperactivity, migraines and possibly cancer. Although some of these colorings have already been banned in Europe, the FDA is still refusing to take them off the U.S. market.

You might think that "whole grain" foods are exactly that -- completely untouched, full-fledged grains. However, the FDA says that as long as the naturally occurring nutrients and parts are added BACK into the food at the end, you can take them out along the way and add in a number of other additives and flavorings. So a processed breakfast cereal with tons of sugar can bear the "whole grain" mark as long as the same nutrients have (artificially) ended up back in the product.

Think those chips are free of harmful trans fats? Think again. If a food contains less than 0.5 grams of trans fats per serving, the label can claim it has "0 grams of trans fats." Although the FDA recently began a campaign to claim that partially hydrogenated oils are no longer GRAS (generally recognized as safe), legislation has yet to be made against them. If you consume a number of these foods per day, you could be racking up dangerous fats without even knowing.

In 2010, the FDA agreed to crack down on misdemeanor crimes after a governmental report found the agency to be too soft on corporations that break the rules. Congress found that the FDA's Office of Criminal Investigations fell short in comparison to similar agencies, in response to which the FDA admitted they were working on "developing meaningful performance measures."

rBGH is a hormone that has been banned in a number of countries, including Australia, New Zealand, Canada, Japan, and the European Union. Although the FDA has found that rBGH (also known as rBST) is both safe and effective, a 2009 USDA study found that less than 17 percent of cows were being injected with the hormone. Even WITHOUT an FDA ban, people know synthetic hormones are best kept out of the food system.