To End Rape Culture, We Must Re-Evaluate Notions Of Manhood
"'No' is not the beginning of a discussion, it's the end of one." This smart and important refrain was echoed by many, including Feminism Vibes on Twitter, after Men's Fitness published an article by Nick Savoy that instructs male readers how to turn a "no" from a woman into a "yes" at the bar, on a date, in bed, and in a relationship.
Men's Fitness promptly deleted the article after online outrage that it promotes rape culture -- an appropriate reaction given the ever increasing headlines, and shifting public discourse, about rape.
In this discourse, being able to say no, and having it heard and respected, are crucial. But it's also imperative that we open up discussions about rape and rape culture to include an evaluation of traditional notions of manhood with men and boys, particularly in cultures where gender-based violence, and other forms of oppressing women and girls, are persistent. After all, Savoy's advice about how to turn a woman's yes into a no stems from his definition of manliness: "What separates the men from the boys," he writes, "is how you handle rejection -- and how quickly you can turn things around."
Canada is not exempt from a construct of masculinity that gives men power over women and can manifest in tragic and inhumane ways.
Gender-based violence, and the idea that you can change a woman's "no" into a "yes," is driven by a model of masculinity where men have the power and women are subordinate to them. At Plan International Canada we know the consequences of such a power imbalance, especially for girls and women living in poverty across the developing world. As a population they are much more likely to be subjected to violence than boys in their communities. The statistics to support this are staggering, for example: according to UN Women, one in three women worldwide experience physical or sexual violence.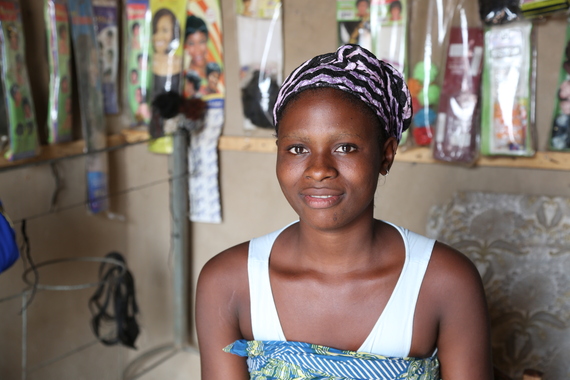 Kevinne, now 17, was forced to marry an older man when she was 14. He became violent when he learned she was pregnant, forcing her to flee. (Photo: Plan International).
Canada is not exempt from a construct of masculinity that gives men power over women and can manifest in tragic and inhumane ways. Here at home nearly a quarter of girls have experienced sexual violence before they reach the age of 16. And certain groups in Canada are at an even higher risk of gender-based violence, especially Aboriginal girls and women, who report rates of violence 3.5 times higher than non-Aboriginal women.
In order for these circumstances to change, we all must work together to craft definitions of what it means to be a man that promotes gender equality. This includes transforming unequal power relations in social, economic and political spheres, making women and girls' empowerment a priority, and partnering with men and boys as agents of change and as rights-holders themselves.
Partnering with men and boys involves helping them develop a healthy, non-violent, and respectful outlook towards themselves and their relationships, and models of manliness where they are equals amongst their peers. Engaging boys and adolescents in the process at all levels is also key to empowering a generation of young people with the capacity to claim their own rights and respect those of everyone around them.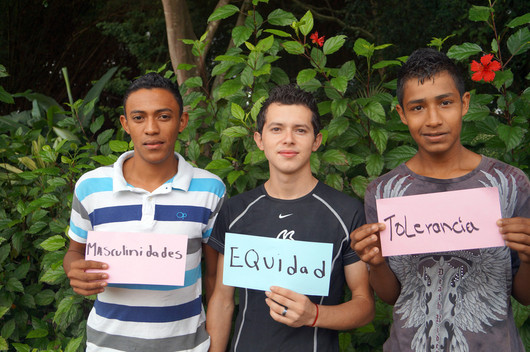 Participants of Plan International's Champions of Change program in Honduras hold cards reading 'masculinity, equality, tolerance' (Photo: Plan International).
Take, for instance, Plan International's Champions of Change program. It is a youth engagement and empowerment program for adolescent boys and girls that breaks down negative gender stereotypes, builds up personal abilities and social skills, and empowers adolescents to work together for the promotion and achievement of gender equality and girls' rights.
Champions of Change was piloted in 2014 in El Salvador, Guatemala, Honduras, Dominican Republic and achieved a number of significant and measurable successes, including changing attitudes related to gender-based violence. For example, in El Salvador, a before and after assessment found that boys' complete disagreement with the statement, "There are times that women deserve to be beaten," increased from 65 to 100 per cent. Additionally, their complete disagreement with the statement, "It's okay for a man to beat his wife or partner if she refuses to have sex with him," increased from 84 to 100 per cent.
What the results of Champions for Change show is that opening up a dialogue about gender roles is critical to tackling gender-based violence and dismantling rape culture. If we want to do this, and ultimately realize gender equality, everyone needs to discuss what it means to be a man, especially in our homes and schools, at our places of work, and in the media, every time we hear the insidious declaration that a woman's no means yes.
Follow HuffPost Canada Blogs on Facebook
ALSO ON HUFFPOST:
8 Dumb Comments About Rape Made By Powerful Men
Tory big beast Ken Clarke faced calls for his resignation following comments he made about rape sentencing policy. The then Justice Secretary was speaking to BBC 5 Live in 2011 when he appeared to suggest date rape is not always "rape". Addressing presenter Victoria Derbyshire, he said: "Assuming that you and I are taking about rape in the ordinary conversational sense, some man has forcefully…" In this full transcript provided by the BBC, Derbyshire interjected with: "Rape is rape," to which Clarke replied: "No it's not."

In 2012 GOP presidential candidate Rick Santorum explained his opposition to abortion even in cases of rape in an interview with CNN's Piers Morgan. He said that women who face such circumstances should "make the best of a bad situation". When asked what he would say if his own daughter approached him, begging for an abortion after being raped, he explained he would counsel her to "accept this horribly created" baby because it was still a gift from God, even if it was given in a "broken" way.

George Galloway ignited fierce debate in 2012 over comments he made relating to the sex crime allegations against WikiLeaks' Julian Assange. On his podcast Good Night with George Galloway, posted on YouTube, he said: "It might be really sordid and bad sexual etiquette, but whatever else it is, it is not rape or you bankrupt the term rape of all meaning." Swedish prosecutors wish to question Assange on suspicion of offences of unlawful coercion, sexual molestation and rape.

In 2011 UKIP candidate Roger Helmer blogged his opinion that there are distinctions between "date" and "stranger" rape. "Rape is always wrong, but not always equally culpable," he wrote. With reference to "stranger" rape, he said: "… the victim surely shares a part of the responsibility, if only for establishing reasonable expectations in her boyfriend's mind."

In 2009 then BBC football pundit Alan Pardew, now coach of Newcastle United, was forced to issue an apology after he compared a tackle by Chelsea's Michael Essien to a rape on Match of the Day. Essien had collided with City's striker Ched Evans when Pardew said: "He's a strong boy. He knocks him off." As Alan Hansen interjected with "he mauls him", Pardew added: "he absolutely rapes him."

In 2013 England spinner Graeme Swann said sorry after comparing the third Ashes Test loss to Australia as being "arse raped" Swann made the comments on Facebook during an exchange with his brother hours after England's loss. He took to Twitter to apologise: "Sorry to anyone who was offended by my comments in the papers today. Crass and thoughtless of me in the extreme."

In May UKIP Donor Demetri Marchessini argued there was no such as thing as marital rape, claiming: "If you make love on Friday and make love on Sunday, you can't say Saturday is rape." When asked whether UKIP should be taking cash from a donor with such repellent views, leader Nigel Farage replied: "Possibly not."

California judge Derek Johnson was publicly admonished in 2012 for suggesting a rape victim "did not put up a fight" and that if someone truly doesn't want to have sex, their body "will not permit that to happen." Judge Johnson made his comments during a case where a man threatened to mutilate the face and genitals of his former girlfriend with a heated screwdriver. In documents published on the Californian Commisson on Judicial Performance, he is recorded as saying: "I'm not a gynecologist, but I can tell you something - if someone doesn't want to have sexual intercourse, the body shuts down. The body will not permit that to happen unless a lot of damage is inflicted, and we heard nothing about that in this case."

Failed Republican Senate candidate Todd Akin suggested in 2012 that victims of "legitimate rape" don't need the option of abortion because they "rarely" become pregnant. He later apologised.
Follow Caroline Riseboro on Twitter: www.twitter.com/criseboro