Girls Can Be Superheroes And Boys Can Be Princesses
What are you going to be for Halloween? The answer for many girls will be different in 2016: after 11 years as the most popular costume, princess has been beaten out by superhero.
Halloween and the costumes we choose are mirrors of our culture, reflecting back to us our values, taboos and norms. As a young girl, I used Halloween to rebel against the impossible ideals that told me I should be nice, polite and docile while waiting passively for Prince Charming to sweep me off my feet, defend my honour and protect me from the world. I rejected being a princess and saw myself as empowered: I dressed up as an '80s punk rocker with colourful hair and ripped stockings. Even more outrageous, I once trick-or-treated as a yuppie male business executive. Challenging gender roles on Halloween made me feel super-powered.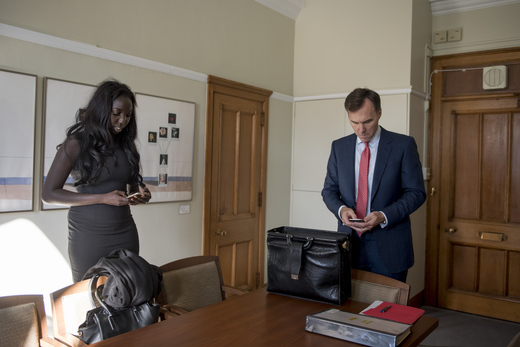 Plan International Canada Youth Ambassador taking the lead on Parliament Hill with Finance Minister Bill Morneau as part of the #GirlsBelongHere initiative. (Photo: Plan International Canada)
When young girls choose to be superheroes for Halloween, it shows us that gender norms are changing. It demonstrates that girls are demanding the space to grow into powerful leaders who celebrate their strengths, and stand up for themselves and others.
When young girls choose to be superheroes for Halloween, it shows us that gender norms are changing.
I say this with confidence because I know a number of young women who dream of themselves in decision-making seats. They realized their vision when they sat in these seats, including Canada's ambassador to the United Nations, the minister of finance, and my own role as CEO, as part of Plan International Canada's #GirlsBelongHere initiative for International Day of the Girl earlier this month.
These young women, just like five-year old Ainsley who gained Internet fame for dressing up in a hot dog costume instead of a sparkly dress during Princess Week, are bucking gender trends. They are redefining expectations of what it means to be a girl, and transforming power relationships.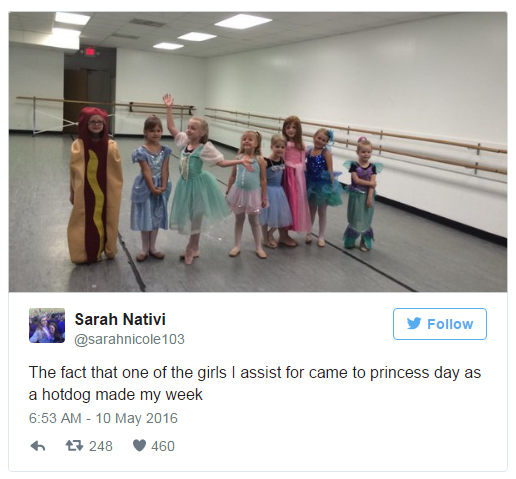 Seeing girls prefer to be superheroes rather than princesses for Halloween demonstrates a powerful shift. For centuries and across many cultures, our heroes have been represented only by men. Capitalizing on this legitimate and inspiring identity for women and girls, the United Nations (UN) appointed Wonder Woman as their honourary ambassador for the empowerment of women and girls last week. As the UN put it, "women and girls who rise up for a better world, and the men and boys who support and stand with them, are superheroes in their own right."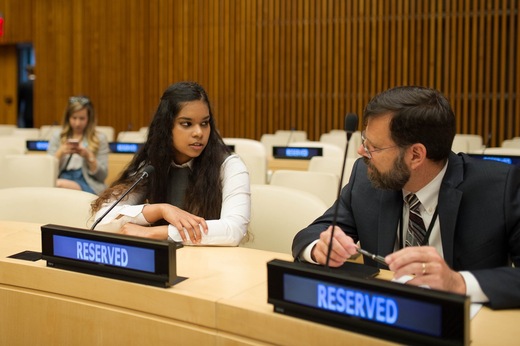 Plan International Canada Youth Ambassador at the United Nations as part of the #GirlsBelongHere initiative. (Photo: Plan International Canada)
I believe that everyone who stands up for the empowerment of women and girls is a superhero, and that everyone is responsible for creating gender equality. However, we must also be critical of the types of superheroes we've come to know and love, because they haven't always been inclusive of all people. We cannot be blind to the fact that Wonder Woman, and the other superheroes de jour, such as Harley Quinn from Suicide Squad or Rey from Star Wars, are fair-skinned and reflect western ideals of beauty and dress -- need I mention that superhero costumes for girls tend to include a short skirt?
When I hand out candy on October 31, I hope to encounter a vast array of superheroes. I also hope that princesses of old can continue to recognize their power as women and pass on new values so that their girls can continue to choose to be whoever they want, including superheroes on Halloween.
Similarly, their boys can challenge the stereotype of being a superhero or macho man, and choose to dress up as princesses. We cannot trick ourselves into thinking that such a world currently exists. But we can work together and treat others with respect so that equality in all its forms, including gender equality, is the result of transformed power relations rather than something we're just trying on for size.
Follow HuffPost Canada Blogs on Facebook
Also on HuffPost:
DIY Halloween Kids Costumes For Lazy Parents
A robe, a few stuffed animals and some hair curlers are all you need to pull off this hilarious costume. Source: Costume Works

This is one of our favourites! Transform a plastic umbrella into a jellyfish costume by gluing different pieces of ribbon on to it. Create the eyes out of construction paper and voila! Source: Acasarella

Transform an all-black outfit into a skeleton by using glow-in-the-dark duct tape. So easy! Source: Artful Parent

This is pretty hilarious! Blow up a few balloons and stick it on your wee one. Then, just add some leaves on their hoodie to complete the look. Source: Sports Mom Survival Guide

Grab a white tulle skirt and add a face using construction paper and you have yourself a DIY ghost! Source: Pinterest

This costume is so easy, the kids can make it themselves! Set them up with a round piece of cardboard and let them paint it yellow. Once dry, they can paint on the emoji face of their choosing. The kids will love this fun and silly idea. Source: Hello Wonderful

We love how creative this costume is! All you need is a lampshade, a towel and a few pom poms to create this cute look. Source: Hative

You only need three things to make this costume: a white outfit, electrical tape and a paper plate. Get creative by giving your stick figure a funny face. Source: All For The Boys

We love this cute idea! Simply paint an inflatable floating tube and glue on pieces of foam for the sprinkles. To make it wearable, attach a piece of string or twine around the valve. Source: Studio DIY

This costume is seriously simple because all you need is construction paper to transform your child into a dinosaur. Source: Cutting Tiny Bites
Follow Caroline Riseboro on Twitter: www.twitter.com/criseboro