How To Feel Good About Your Style
I have always loved clothes, beautiful fabrics, makeup and eye catching accessories. If it's pretty and catches my imagination then I'll probably want it. What becomes more challenging is actually putting all those thing together and incorporating them into my everyday outfits.
Frankly, I feel most comfortable in simple, straightforward clothing and I'm often second guessing myself when I step outside my box. I bought a pair of grey denim skinnies this spring and it took a while before I felt comfortable actually walking out the door in them. Getting comfortable in your skin and with your style is a process. It takes time and it really isn't like you wake up one day and suddenly, you have the perfect look. It is kind of a fluid endeavour that happens over time and is greatly influenced by your lifestyle.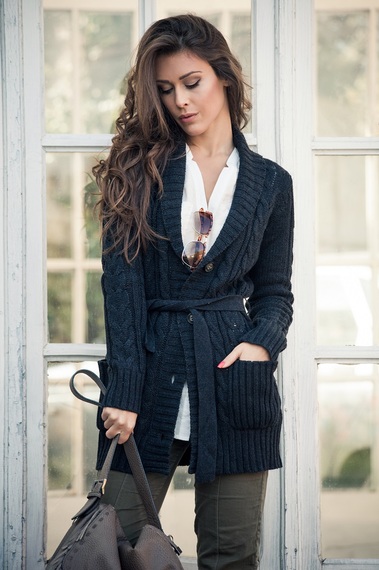 image courtesy of DollarPhotoClub


HOW TO FEEL GOOD ABOUT YOUR STYLE
Know your body type. I know this should seem obvious, but I still find myself staring wistfully at store windows, wondering if I can squeeze myself into a dress or top that clearly wasn't designed with me in mind. I hear women complain about their bodies all the time, but there's no such thing as a bad body type. There are, however, poor fashion choices that don't highlight your best assets. As long as you are healthy (and no, that doesn't mean skinny) you have features that need to be shown off.
Know your skin tone. While I do think that we can all wear pretty much any colour, that doesn't necessarily apply to every single shade. If you love a colour but it's not the most flattering one, try wearing it away from your face or incorporating it into your accessories. When your makeup and outfit colour choices warm and complement your complexion, you'll look and feel that much better.
Have a signature look. OK, hear me out on this one. Your end goal is to be able to piece together an outfit in seconds. You want to be able to pull anything off the rack and put together magazine worthy looks, but you have to start somewhere. If you are always second guessing yourself then how will you get there? The trick is to pick a base outfit that you know you feel comfortable in.
Let's start with the easiest possible ensemble: jeans and t-shirt. That's your base. Now we are just going to build up from there. For weekends, pair the base with cute sneakers, master the tee half-tuck, throw on a hat and some great sunnies. For the evening, add a pair of sparkly heels, a pair of statement earrings and a structured blazer. Simple, right? So now let's take that same tee and pair it with an a-line skirt. Even if you don't change anything else you now have another set of outfits that are similar enough and fit perfectly with your new signature look.
Consider your lifestyle. Look, if you work at home then you most likely don't need a whole lot of pencil skirts and blouses. It's okay for your wardrobe to reflect your lifestyle, although it can't be all gym clothes if you are a trainer. I speak from experience on that last one.
Take a photograph. This is not an easy tip if you don't like having your photo taken, but don't worry, no one needs to see it unless you want them to. If you are unsure about an outfit then take a selfie, preferably from the neck down, and look at yourself. You'll know fairly quickly if the outfit is a go.
Give yourself time. While you are still getting comfortable with your style, give it time to take shape. Follow your gut and instincts, but go about it in a more scientific way (have a list). Spend some time putting together outfits and building on your core wardrobe. Sure emotions count, but be meticulous at first. Plan your outfit the night before according to your day.
It has taken me a long time to get to where I am and I still haven't perfected it. Of course, I know what I like and what makes me squirm, but I hope that I keep evolving and pushing myself out of my comfort zone. Remember that great style transcends age and size. It's about find and wearing the pieces you love so that your confidence radiates from within.
Follow HuffPost Canada Blogs on Facebook
ALSO ON HUFFPOST:
Spring Trends As Social Media
Social Media Outlet: Twitter It's like this: Twitter can be amazing (like bomber jackets by Fendi, pictured, and Rag and Bone), or it can be something you need to shut down for a while because come on, seriously. (Case in point: Versace, I'm sure you meant well, but this isn't a bomber, you know?) Ultimately, Twitter's landscape is vast. It's reach is extensive. It, like Ryan Atwood in "The OC", is whatever you want it to be. And that means it can either be a unique take on a modern classic, or it can be something fundamentally upsetting and arguably incorrect. Just like a bomber jacket, bless us everyone.

Social Media Outlet: Snapchat Like sequins themselves, Snapchat is wonderful and exciting and super intimidating (sometimes). But that's the thing about both: they're totally doable and can work for everybody. (And I say this as someone who just Googled, "How do I get Snapchat trophies?" — and I still don't know.) You can wear sequins traditionally — as seen in collections Calvin Klein or Anthony Vaccarello — or you can wear pants that look like broken glass, as per Loewe (pictured). One is a filter that makes colours seem brighter, the other are the animated hearts I'm still sure how to apply despite really wanting to. And both are just fine.

Social Media Outlet: Facebook What are we super-familiar with, kind of over sometimes, but still continue to embrace? Facebook — and slip dresses, which have come back in droves, courtesy of collections by Givenchy, Rag and Bone, and even Zara. And like Zuckerberg's baby, slip dresses in 2016 have experienced a bit of an overhaul: pieces are lacy, sheer, and a little more experimental than their mid-nineties counterparts. Think of them like the revamped "like" button in that we will use them but wax poetic about the days of old statuses.

Social Media Outlet: Instagram Arguably, some of these can fall under the sequins umbrella — but when you think of how often you've seen Snapchats show up on Instagram, this makes sense. But where sequins (and Snaps) are all fun, all the time, Instagram is a little more polished, a little more curated. Which, when you see dresses by Vetements or Maison Margiela, you can see how. Can everything still be fun and a little messy and all-over-the-place? Of course: but when something's posted permanently versus for less than 24 hours, we all tend to opt for something a little crisper.

Social Media Outlet: Tinder All I am saying is that Tinder is really for one specific purpose (and okay, sure, you may be the exception to the rule, but I'm just gauging my opinion on the messages my friends have shown me). So when it comes to Netflix and Chilling, you may as well dress appropriately. Read: in two-piece, expensive pyjamas, as seen at Dolce & Gabbana. Which, admittedly, are supposed to be regular clothes — so really, how you choose to interpret this suggestion is entirely up to you.

Social Media Outlet: Linkedin Okay, I'll put it this way. LinkedIn is the Elephant's Graveyard of social media, and whenever I get a notification, years after deactivating my account, I want to scream into the night. So that being said, few trends evoke LinkedIn's connection to the past like the Victorian resurgence, as we saw on the Alexander McQueen runway. Bonus points if you add a parasol.

The obsession with replicating Kylie Jenner's lips got a little out of hand in 2015. Despite releasing her sold out Lip Kit by Kylie, we hope to see fewer Kylie Jenner lip challenges and more people embracing their natural pout.

Micro bags cropped up on several runways including Fendi and also on the list of coveted items from fashion bloggers like The Blonde Salad. So it's hard to deny a trend that was so heavily featured. However, the extreme mini-ness of the bag looks undeniably odd against an actual human. Given a bag that's hard pressed to carry a set of keys, it would seem this trend loses points based on practicality reasons as well.

The Man Repeller mused that 2015 might have been the year that killed suede and we entirely agree with these sentiments. It's true what they say, it's entirely possible to have too much of a good thing and what was once a great little trend has become commonplace. If you love your new suede skirt, by all means, wear it but in moderation.

Contouring has been a thing for some time but 2015 has to be the year you just couldn't escape the technique, and all the iterations that came with it (ie. clown contouring). For the most part, heavy contouring is highly visible in natural light and no good makeup artist would ever recommend the look for every day wear.

Music festival fashion is a hot fashion topic every year but it seems to have failed to evolve much over time. The typical festival uniform consists of a fringe tank top, denim cutoffs and a floral crown, which most festival revelers are content to stick with. We hope to see the festival look reborn in 2016 minus the overdone staples we've become accustomed to.

Dressy sweatpants were on top of the world this year. Every retailer and brand created their own iteration of the popular trend using high-end fabrics and luxe details. Its widespread appeal made it okay to don a pair in a board meeting paired with a blazer. Wearing dressy sweatpants to anything and everything is a bit of a stretch and hopefully 2016 will bring back more structured styles.

The sheer dress also known as the naked dress garnered numerous headlines in 2015. It was daring, stylish and refused to be denied. Flesh coloured dresses with strategically placed embellishments were even made available to the masses with brands like For Love and Lemons becoming popular for their naked dresses. Trends as bold as this one tend to have a time limit and it could be time to let a new dress have its 15 minutes of fame.

Due to extreme inflexibility, one of 2015's biggest shoe trends is actually quite dangerous to walk in. The flatform has been around for a few seasons, making its rounds on the runways. This is another trend that could be described as an acquired taste and won't be missed too much by the general public.

When Sienna Miller introduced her light pink locks, many were enamoured with the whimsical beauty trend. However, pastel coloured hair has been done to death over the last year and a half. Every celebrity under the sun, including Kylie Jenner, Julianne Hough and Hilary Duff gave it a go, making the trend less and less original.

At first glance, plays on designer logos are cute in a novelty sort of way. The Céline logo was one of the most popular logos to receive the fashion pun treatment. Everyone enjoys a good joke but this is one trend that should be worn sparingly in 2016.
Follow Caroline Topperman on Twitter: www.twitter.com/styleontheside