How To Make An Old Coat New Again
I recently read an article where the author mentioned that she buys a new coat every single fall/winter. Really? Doesn't that seem a little extreme? I tend to spend a little more on a great coat, which I treat as an investment piece. I opt for more classic shapes and high quality fabrics for the very reason that I don't want to have to buy a new coat every single year. The only glitch in this plan is that after a couple of years, I might get bored of pulling out the same old coat time after time. So, how do you make an old coat new again?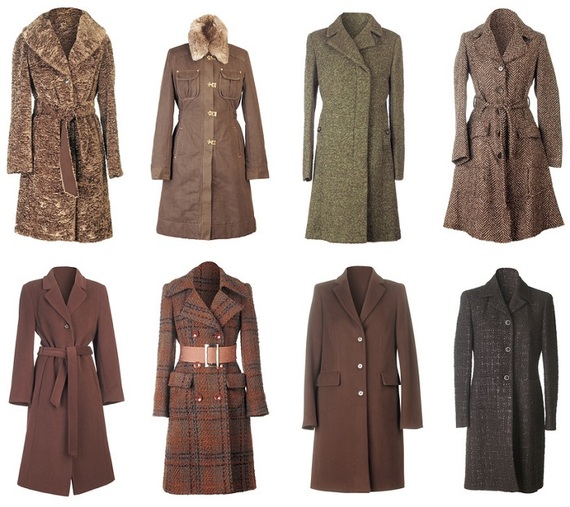 image courtesy of Photodune.net
How To Make An Old Coat New Again
Dry Clean. You'll be surprised at what a good dry cleaning can do and this should always be your first step.
De-Pill. Pilling will always make a garment look older and more worn, so before you embark on any upgrades make sure to de-pill it first.
New Buttons. This is kind of an obvious one. I recently bought a beautiful 100% wool military pea coat. The fit is ideal and the quality is fabulous, but the buttons most certainly are not. Black plastic buttons with an anchor on them just aren't me. I think this jacket would look best with vintage buttons and I've been on the hunt for them for several weeks now. Since buttons aren't very expensive and the coat is a classic, I can change them every year.
Shorten It. We never think of doing this, but why not shorten your coat? It's not a huge alteration and can completely transform your coat. What was once a three quarter or long coat can now be a jacket.
Update The Lining. I have this one coat where the lining ripped almost immediately. I continued to wear it throughout the fall and winter, but hated it every time I put it on. It finally occurred to me that I could replace the lining with a really beautiful one.
It's All In The Details (lots of options here)
a belt will change the shape of any coat. Look for a wide one that will balance out a thicker fabric. Leather will be a nice complement to any fabric or you can simply take a few inches off the bottom of your coat to make a matching belt.
a brooch is an easy upgrade. Most second hand and vintage stores have a plethora of brooches. It's a very small commitment with major impact and you can buy several styles to match all your moods.
shortening the sleeves is another great and inexpensive option. You might have to buy some amazing elbow length gloves to go with your new look, but I don't see the problem in that....
for an even more dramatic upgrade, try adding a cuff to the sleeves or even to the bottom of the coat. A luxurious velvet, or even a faux fur will make a huge impact and of course, a faux fur collar will always be a good idea.
if you are a fan of boho chic you can always add some ebroidery to the lapels or down the front. This detail will definately make an otherwise simple coat unique.
Of course you can go out and buy a new coat, but then again, a small revamp will leave more money for a new pair of shoes!
Follow HuffPost Canada Blogs on Facebook
Also on HuffPost:
20 Winter Boots To Help You Beat The Snow
This streamlined, modern take on mukluk boots is made from taupe-coloured leather and has a durable, rubberized block sole. $159. Available at Zara.com.

Canadian brand, Cougar has been making warm winter boots for more than 60 years. The company's 39068 Original is a fashion favourite. It has a temperature rating of -30 C, and is guaranteed waterproof. $230. Available at cougarboots.com and gravitypope.com.

Navigating mountain-like snow drifts will be a cinch with these knee-high boots from Aldo. $140. Available at aldo.com.

Sorel's footwear is synonymous with high-quality, warm and functional winter wear. This Canadian brand's Classic Caribou boot is a cold weather classic, perfect for heavy snow falls thanks to its waterproof construction and felt constructed inner boot. $200. Available at sorelfootwear.ca.

Sleek and sophisticated, Timberland's Woodhaven boot not only looks good, but it's guaranteed to keep your feet high and dry. The leather exterior is treated to be waterproof, and also has an internal waterproof and breathable membrane. $200. Available at timberland.com.

DAV's Plus Calgary Pebble boot features faux leather boot, which can be worn up or folded down. Its waterproof rubber exterior gives it a rain boot-like appearance, and the faux fur lining keeps your feet warm. $115. Available at thebay.com.

There's a reason UGGs have never gone away — those Aussies sure know how to make a warm boot! The Amie boot is designed to repel stains and water, and has a warm and comfortable sheepskin sock liner. $270. Available at theseptember.com.

Hiking in the snow isn't easy, but these TOMS boots will make winter trekking a breeze. Made from rawhide suede and grey wool, it's designed to be waterproof, and has a rubber, lug sole with deep treads for secure winter walking. $170. Available at toms.ca and retailers across Canada.

Lovers of the athleisure trend will want to snap up Nike's Lupinek Flyknit sneaker boot. Made with water-resistant leather, it looks like a fly sneaker but has all the features of a winter boot: outdoor traction, cushioning and warmth. $330. Available at Nike.com.

There are not many boots that can boast heat-reflecting footbeds embedded in their soles — but Keen can. Plush and waterproof, these boots will definitely keep your toes warm and toasty this winter. $200. Available at keenfootwear.com.

Comfortable and waterproof with a mid-height shaft, the Merrell Sylva boot makes a great all-around winter shoe. $260. Available at mec.ca.

Warm and waterproof with a stylish knit-like upper, North Face's Brighton boot makes for a great casual weekend wear. $229.99. Available at thenorthface.com.

La Canadienne's Ariel boot is shearling-lined, and designed in a sleek and sophisticated style. $495. Available at lacanadienneshoes.com.

Sorel's Cozy Carnival boot conjures up images of snowy nights on a winter cabin retreat, thanks to its fleece lining and waterproof composition. $159.99. Available at sportchek.ca.

Made from waterproof leather and equipped with thinsulate insulation, Kodiak's Surrey II boot has an irresistible rugged, yet refined look. $210. Available at kodiakboots.com.

The knee-high, lace-up design of Pajar's Grip Zip boot is bold and beautiful. Waterproof leather and nylon securely encases the foot and leg, while its construction guarantees a temperature rating of -30 C. $240. Available at shoeme.ca.

High-fashion lovers will instantly fall under the spell of Burberry's Windmere boot. Its luxe, water-resistant leather, coupled with the British brand's signature stripes, make for an irresistible winter boot combination. $836.47. Available at nordstrom.com.

Baffin's Iceland boot is appropriately named and designed with its waterproof exterior, thick rubber sole and temperature rating of -40 C. $189.99. Available at baffin.com.

Mukluks have a long tradition among Canada's Indigenous people, protecting them from the harshest of conditions. This pair, by Manitoba Mukluk, is handcrafted by Indigenous artists, treated to be waterproof and has a temperature rating of -32 C. $300. Available at gravitypope.com.

Stuart Weitzman's Bearwear is another beautiful high-fashion boot. Not only it is easy on the eyes, but it's designed to withstand the cold; it's water-resistant, has a warm faux fur insole and is equipped with a non-slip outer sole, making it not only fabulous looking, but also functional. $555. Available at saksfifthavenue.com.
Follow Caroline Topperman on Twitter: www.twitter.com/styleontheside