What Clothes You Should Splurge On
Here's the thing, I love beautiful clothing. It captures my imagination and can transport me into a whole new world, where I feel fabulous about myself. I admit, that's the power beautiful clothing has over me. So if I see something that I really love then it can be tough to walk away, especially when I can picture myself wearing it. It's as if it embeds itself into my brain and just won't get out.
I've had times in my life when it didn't matter so much if I splurged a little and other times where those few extra dollars really made a difference. The question is, how do you know when you should be pulling out your wallet and when you shouldn't? How do you know which piece is a real investment and which one isn't? Even if you can afford to splurge more often than not, sometimes there are better ways to spend your money.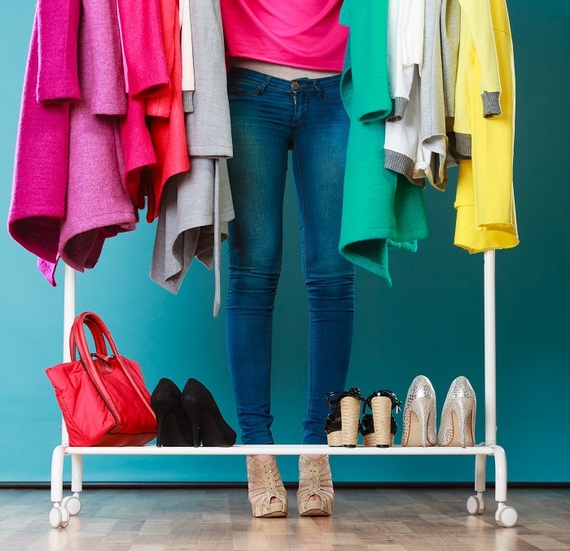 image courtesy of Dollarphotoclub
Bras. Splurge. It doesn't really matter if you have a large bust or a smaller one, a good bra is definitely worth the splurge. These are pieces that you wear every single day and that help shape your body and make your clothing (the expensive and inexpensive pieces) look great. Since you should be hand washing your delicates anyway, you can make a good bra last for a fair amount of time.
T-shirts. Save. I know, I know I've picked up that ultra-soft tee with the great graphic print that I knew I couldn't live without, but for most of us, t-shirts are items that we wear almost every day and when you are cycling through them that frequently then they just wear out quickly. Rather than spending hundreds of dollars on t-shirts every year, just be smart about shopping for them. Soft cottons and bamboo ones are readily available in most stores and unless it's one you really can't live without, let it go.
Jeans. Splurge. I'm all for spending a little extra on a great pair of jeans that you'll wear forever. When it comes to denim, the quality of the fabric really does matter and it does make a difference. Even if you wear denim frequently, you don't need to wash it after each wear (stick your jeans in the freezer to kill bacteria) so it will naturally last longer. Besides, a classic pair of pants will always elevate your style and who can put a price on that.
Hosiery. Save. Socks get holes and tights snag, so unless you are investing in an extra special pair for a special occasion, it's probably best to buy them in bulk. I once purchased a fine fishnet pair with a seam that went up the back of my leg and an elegant bow, complete with a crystal on the back of my ankles. I'm embarrassed to even write down the price, but they are stunning and yup, you guessed it, I wore them once and since then then they have sat neatly packed away in my sock drawer. Enough said.
Uniform pieces. Splurge. This category is dedicated to classic trousers and button down shirts. These are pieces that should be made from higher quality fabrics and can last you for years. To achieve the best possible fit, it's okay to spend a little extra. Just make sure that you are washing these pieces according to the directions on the labels and not sitting around in them unnecessarily.
Blazers. Splurge. Since blazers are so versatile (they'll pull together any outfit) and can be worn with pretty much anything in your wardrobe from work to play, a good blazer isn't an item of clothing that you'll have to replace frequently.
Work clothes. Save. Unless you are at the top of the corporate ladder, it's probably OK to save a little. Besides, when you are wearing the same pieces over and over again, you tire of them quickly, so mix in more affordable pieces.
Outerwear. Splurge. I'm all for investing in jackets and coats. In the winter months, a coat is an item you'll wear every single day and with things like leather jackets, if you opt for classic cuts well, those can be worn pretty much forever.
Evening wear. Save. Honestly, unless you are attending formal events a lot, just buy accessories as needed. Personally, I would love a ball gown, but if I'm only going to wear it once every few years then is it really worth it? Probably not. My navy cocktail dress, however, gets worn all the time and I can make it look completely different depending on the accessories I choose.
Everyday shoes. Splurge. It's funny, just the other day I was laughing at myself because I was annoyed at splurging on a pair of shoes that I would be wearing every single day. Ridiculous, right? So why do we persist on saving money when it comes to shoes that we wear all the time? This is the time to find shoes that will go with everything and that are super comfortable and while you have to stay in your budget, it's OK to open your wallet. Befriend your local shoe repair person and your shoes will last even longer.
Accessories. This is a fairly general category, so it really depends. I'm one of those people who will spend a little more on things like bags, sunglasses and jewelry, but I never throw them out and reuse them for years and years. I'm the type of a person who will wear the same necklace every day for a year straight, put it away and then bring it out again when I get bored of the current one. I prefer fewer items that I can wear over and over again. If, however, you like to change up your look more often then don't make unnecessary splurges. Costume jewelry is fabulous and inexpensive and you can look different every day. The same goes for bags, scarves and sunnies.
On a personal note, I prefer to have fewer items that I really love and more importantly, that I know make me look good, instead of a closet full of clothing that I don't even know I own and that I never wear. Of course, I occasionally splurge and do impulse buys, but that's because I'm human. The way I see it is, if we keep our heads on straight most of the time then we can achieve that perfect balance.
ALSO ON HUFFPOST:
Fashion And Beauty Trends To Ditch In 2016
The obsession with replicating Kylie Jenner's lips got a little out of hand in 2015. Despite releasing her sold out Lip Kit by Kylie, we hope to see fewer Kylie Jenner lip challenges and more people embracing their natural pout.

Micro bags cropped up on several runways including Fendi and also on the list of coveted items from fashion bloggers like The Blonde Salad. So it's hard to deny a trend that was so heavily featured. However, the extreme mini-ness of the bag looks undeniably odd against an actual human. Given a bag that's hard pressed to carry a set of keys, it would seem this trend loses points based on practicality reasons as well.

The Man Repeller mused that 2015 might have been the year that killed suede and we entirely agree with these sentiments. It's true what they say, it's entirely possible to have too much of a good thing and what was once a great little trend has become commonplace. If you love your new suede skirt, by all means, wear it but in moderation.

Contouring has been a thing for some time but 2015 has to be the year you just couldn't escape the technique, and all the iterations that came with it (ie. clown contouring). For the most part, heavy contouring is highly visible in natural light and no good makeup artist would ever recommend the look for every day wear.

Music festival fashion is a hot fashion topic every year but it seems to have failed to evolve much over time. The typical festival uniform consists of a fringe tank top, denim cutoffs and a floral crown, which most festival revelers are content to stick with. We hope to see the festival look reborn in 2016 minus the overdone staples we've become accustomed to.

Dressy sweatpants were on top of the world this year. Every retailer and brand created their own iteration of the popular trend using high-end fabrics and luxe details. Its widespread appeal made it okay to don a pair in a board meeting paired with a blazer. Wearing dressy sweatpants to anything and everything is a bit of a stretch and hopefully 2016 will bring back more structured styles.

The sheer dress also known as the naked dress garnered numerous headlines in 2015. It was daring, stylish and refused to be denied. Flesh coloured dresses with strategically placed embellishments were even made available to the masses with brands like For Love and Lemons becoming popular for their naked dresses. Trends as bold as this one tend to have a time limit and it could be time to let a new dress have its 15 minutes of fame.

Due to extreme inflexibility, one of 2015's biggest shoe trends is actually quite dangerous to walk in. The flatform has been around for a few seasons, making its rounds on the runways. This is another trend that could be described as an acquired taste and won't be missed too much by the general public.

When Sienna Miller introduced her light pink locks, many were enamoured with the whimsical beauty trend. However, pastel coloured hair has been done to death over the last year and a half. Every celebrity under the sun, including Kylie Jenner, Julianne Hough and Hilary Duff gave it a go, making the trend less and less original.

At first glance, plays on designer logos are cute in a novelty sort of way. The Céline logo was one of the most popular logos to receive the fashion pun treatment. Everyone enjoys a good joke but this is one trend that should be worn sparingly in 2016.
Follow HuffPost Canada Blogs on Facebook
Follow Caroline Topperman on Twitter: www.twitter.com/styleontheside