48 Hours In Prague: Czech Foodies Wake Up From Their Slumber
PRAGUE, Czech Republic. Foodie travellers -- the brand new fashionable term for gourmands who like to spend time on the road -- like to stop and eat pretty much everywhere in Western Europe. Barcelona, Paris, Rome, Copenhagen, so many great destinations for foodies. But for the countries of Central Europe -- especially the ones that were part of the Communist bloc -- don't attract the foodie kind as much. It's not surprising, since communism did serious damage to all kind of culture, including gastronomy. Prague's culinary culture is just beginning to find its wheels again.
However one thing is for certain: Prague is a first class tourism destination. Proof: eight million tourists visited the Czech capital in 2014, an all-time best.
Going through the foodie side of Prague is a trip that history buffs will love. Follow me!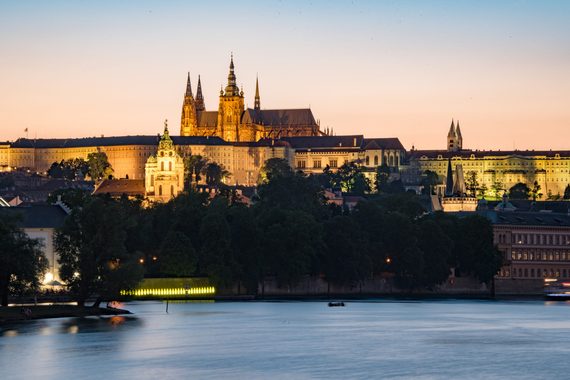 First Lunch, And An Exceptional Panorama
I almost always start my foodie guides with lunch. I have to admit: I almost never have breakfast. A strong coffee and I'm ready to go. So here's a couple of lunch addresses!
Here, you have two rather similar choices. Both offer a wonderful view of the city. Coda and Terasa U Zlate Studne both are restaurants for hotels located in the Mala Strana neighborhood, on the Western shore of Prague.
Terasa U Zlate Studne is on the rooftop of a historical hotel called the Golden Well, which traces its origins back to the 1500's. The menu is built accordingly, since it includes "the mandatories," the "crowd-pleasers," including a beef carpaccio.
Coda is in a brand new and very chic hotel, and its menu is on the modern side, including a homemade beef ravioli.
In both cases, the point of view allows you to take in the whole city at once. This is a great opportunity to get a great first impression of Prague!
Terasa U Zlaté studně - U Zlaté studně 166/4, 118 00 Prague 1, Czech Republic - +420 257 533 322
Coda - Tržiště 368/9, 118 00 Prague, Czech Republic - +420 225 334 761
A Beer?
Czech beers are among the best in the world, including the superb Pilsner Urquell. And Prague abounds with small outside bars similar to the classic German beer gardens. One of these is located in Letna park, on the same shore as the first two restaurants. One again, the views are incredible!
The Best Restaurant In The Country
The best restaurant of the whole Czech Republic is called Dégustation Bohême Bourgeoise and is right next to the historical Dlouha Street. The short walk from the Old Square (Staromestske Namesti) to the restaurant is always a pleasant one. And a meal at the Degustation can be a special experience, since they offer a meal-juice pairing! Click here to know everything about this relatively experimental restaurant.
La Dégustation Bohême Bourgeoise - Haštalská 753/18, 110 00 Prague 1, Czech Republic - +420 222 311 234
End The Evening With A Few Creative Cocktails
To end the evening with style and discover a place where the concept and the alcoholic beverages are both amusing and unique, you need to head to AnonymouS bar. It's a flair bartending bar and the dark atmosphere is truly enchanting! Click here to view my video shot on-site.
AnonymouS Bar - Michalská 432/12, 110 00 Praha, Czech Republic
48 Hours In Prague: Second Day, Second Lunch
The morning is the ideal time to visit Prague's mandatory sights. The Old Square, Charles bridge, the Prague Castle and Tancici Dum are on everyone's list! And in the same history-laden vein, our lunch stop is another place that should be on all lists : Cafe Imperial.
It's a historical café that has seen it all, from nazis to Soviets to the fall of the Communist regime. Café Imperial is now back to the look of its glory days. There are several different menus available, however the classic Czech dishes - grandmother food, if you will - hold an important place at Café Imperal. Try the kulajda, it's unique!
Café Impérial -- Na Poříčí 15, 110 00 Prague 1, Czech Republic
A Trip Off The Beaten Path
Prague's suburbs are never part of the tourist trail. And when we think about Prague, we don't really think about microbreweries, since they have such well-known brews. So I suggest we take a stop off the proverbial beaten path. Ideally, this trip would be a beautiful bike ride towards the countryside - though the trip is easily done by bus - with, as its ultimate stop, the Uneticky Pivovar microbrewery, which brews a few beers and serves them in its wonderful, rustic restaurant. Na zdraví!
Únětický Pivovar - Rýznerova 19/5, 252 62 Únětice, Czech Republic
And A Last Modern Czech Dinner: V Zatisi
V Zatisi claims to have had been the first gastronomical restaurant to have opened its doors after the end of Communism. The decor is a mix of glam and nouveau gothic and the dishes are simple but well executed. They even have an Indian menu. That'll get anyone's curiosity going!
V Zátiší - Liliová 216/1, 110 00 Prague 1, Czech Republic - +420 222 221 155
Thanks to JayWay Travel for hosting C&C in Prague! If you need help to plan your trip anywhere in Central Europe, they're the ones you need!
In this series, Cédric Lizotte visits some of Europe's best restaurants. On his blog, Continents & Condiments, he shares his inside knowledge about the best places to sample the delights of some of the best chefs on the planet. Follow his gastronomical journey on social media with the hashtag #CedricInEurope.

Follow HuffPost Canada Blogs on Facebook
ALSO ON HUFFPOST:
Best Travel Destinations For Canadians
Best time to travel: April, May, September, October Average price: $700 to $900 Why you want to go: Even if the Euro scares you more than the U.S. dollar does, Spain is still considered a budget-friendly country with low accommodation costs. "Spain has something for every traveller's needs whether it be a relaxing beach vacation in Malaga, exploring the Alhambra Palace in Granada or visiting the famed Sagrada Familia in Barcelona. Spain is also famous for their tapas and you can get tapas and drink for $5," says Rishi Modi of travel deal site Next Departure.

Best time to travel: April, May, September, October Average price: $700 to $900 Why you want to go: For Canadians, Lisbon is one of the cheaper European cities to fly into. "It's a lively city with delicious seafood and cheap drinks. Take advantage of its inexpensive public transit to visit the historic Sintra, go to a winery in Porto and enjoy the Mediterranean weather on a beach in Faro."

Best time to travel: December to March Average price: $900 to $1,200 Why you want to go: Getting to Thailand can be pricey depending on the time you go, but once you're there, everything can fit into your budget. "Food from street vendors and markets costs you $4 to $5 and accommodations can run you as low as $20 a night [depending where you stay]. Thailand has tons of attractions to offer travellers, from trekking in the jungles of Chiang Mai to relaxing on tropical islands like Ko Samui."

Best time to travel: October to May Average price: $900 to $1,200 Why you want to go: Marrakech was named Tripadvisor's number one destination in 2015, according to travellers. "Explore the ancient palaces, shop in the markets of Marrakech and stay overnight in the Sahara desert. Food is inexpensive in local restaurants and street stalls, while accommodations are reasonably priced."

Best time to travel: Depending if you go north or south, you want to avoid cold or rainy seasons. Late December is usually the best. Average price: $900 to $1,100 Why you want to go: If you're an urban explorer or nature lover, Vietnam offers both. "Vietnam is another South Asian destination that continues to be budget-friendly with beautiful sights, including cruising along Halong Bay and visiting the rice terraces. Food is remarkably cheap — a meal and beer can cost under $3."

Best time to travel: April, May, September, October Average price: $900 to $1,100 Why you want to go: If you want to go to Europe and still have spending money, Modi suggests avoiding popular destinations like France and Italy and opting for Eastern Europe instead. "From Hungary to Romania to Bulgaria, these Eastern European countries are rich in diverse culture and its modern and historical architecture."

Best time to travel: April, May, September, October Average price: $700 to $900 Why you want to go: "Peru is known for its geographic diversity, from exploring the vast Amazon jungle to hiking the Inca Trail to relaxing on the beach coast," he says. But Peru's most famous attraction is the ancient site of Machu Picchu — a must-see if you decide to go to this South American country.

Best time to travel: April, May, September, October Average price: $1,000 to $1,200 Why you want to go: Indonesia has thousands of islands and Bali is one of the most luxurious and popular ones. "Food and hotels are extremely cheap, where you can enjoy tasty meals from $1 to $2 and spend as little as $20 per night on accommodations." However, if you do plan on renting out a villa or eating on Seminyak's main tourist strip, it can feel like dining and living in a major Canadian city.

Best time to travel: January to March; September to November Average price: $600 to $1,000 Why you want to go: If you haven't been to Cuba, you probably know several Canadians who have — the Caribbean island is one of the most popular beach destinations for Canucks. "All-inclusive packages are affordable and offer a bang for your buck. If you're really flexible, you can often find last-minute cheap deals on flights and all-inclusive packages."

Best time to travel: January to April; September to December Average price: $350 to $650 Why you want to go: We're not saying you should head to pricey destinations like Hawaii or Las Vegas, but some U.S. spots have taken advantage of our falling currency. "Myrtle Beach, Kissimmee, and Scottsdale are starting to offer deep discounts — around 20 to 30 per cent off accommodations, free meal vouchers and discounts off activities. Also, expect major airline carriers alongside the low-cost carriers stateside such as Allegiant and Sprint to offer discounts and seat sales as well." And when you look at your budget as a whole, many U.S. destinations tend to be cheaper than leaving the continent.
Follow Cédric Lizotte on Twitter: www.twitter.com/CedrikLizotte