Eating And Drinking Your Way Through Foodie Brussels
BRUSSELS, Belgium. Brussels and beer will always be associated. Case in point: these wonderful Coors Light ads featuring Jean-Claude Van Damme, aka the Muscles from Brussels. In the Belgian capital, high and low, value and overpriced, famously traditional and cheap knockoff, can be found in the same street.
Brussels can be a wonderful foodie centre. You just have to venture a little bit further than just the old town.
With that in mind, here's a quick guide to eating and drinking your way through foodie Brussels, the express way.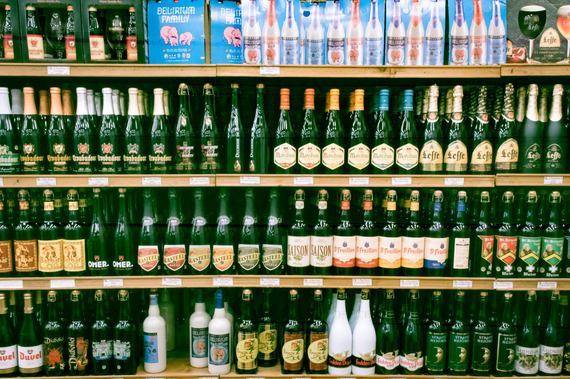 I've chosen Bia Mara because it's in the old part of town. It's not Belgian food or otherwise traditional, but the options in the old town of Brussels are rather deplorable and fall into the "tourist trap" category. Not Bia Mara. It's simple: craft beer and a proper fish & chips. It's great to know that this place exists when you're walking around and seeing the sights!
Bia Mara Brussels
Rue du Marché aux Poulets 41
1000 Brussels
Visiting the classics in Brussels is generally done in the old part of town, and clearly this is what needs to be done after having lunch at Bia Mara. Once the classics have been seen -- Manneken Pis, the Grand'Place, etc. -- it's time to head out of town.
Bistro Margaux is a restaurant just outside of the city -- situated in Bodeghem-Sint-Martins, precisely -- which holds a Michelin star. Chef Thomas Locus makes tiny plates with a serious attention to detail. Tasting menu, white tablecloth, wine pairings and service fit for a king are to be expected. My personal favourite of the whole tasting menu was a modernist twist on the classic Belgian dish, "anguille au vert", which is eel with green sauce. Superb!
Bistro Margaux
Dorpsplein 3
1700 Bodeghem-Sint-Martins
Belgium
Because beer is to Belgium what wine is to France, a trip to the Belgian capital cannot be complete without the most important beer bar in the world (my opinion, and I'll gladly share it!) In fact, the Delirium Village occupies a whole back alley of the Old Brussels and it's a serious party destination. Check it out!
Delirium Café
Impasse de la Fidélité 4
1000 Brussels
Hotels: Pick Your Borough
Of course, Brussels isn't just eating and drinking, it's also the capital of Europe, with its Parliament and different EU offices and buildings. For a hotel that's right in the middle of the European quarter, head to Thon EU. You'll mix with the official crowd and civil servants.
On the other hand, if you prefer staying in a more residential neighbourhood, the boutique hotel Le Châtelain offers a luxurious bed, beautiful backyard terrace and posh shopping on the adjacent Avenue Louise. Both great options!
Hôtel Thon EU, Rue de la Loi 75, 1040 Brussels
Le Châtelain Boutique Hôtel, Rue du Châtelain 17, 1000 Brussels
Need more?
Yes, I'm talking about food again. It's what I love!
Belgium and Brussels have their own, very specific, and delicious local specialities. One is the moules-frites, or mussels and fries. Another one is the Carbonnade flamande -- think beef Burgundy but braised in beer instead of wine. Of course, the fries and chocolate are ubiquitous. And what about the waffles? You can find all of my favourite addresses right here!
Brussels isn't a city like any other. It's a mandatory stop on the European trail. And it's definitely bigger than its city centre! Walk a bit, try different things... And drink beer with moderation!
In this series, Cédric Lizotte visits some of Europe's best restaurants. On his blog, Continents & Condiments, he shares his inside knowledge about the best places to sample the delights of some of the best chefs on the planet. Follow his gastronomical journey on social media with the hashtag #CedricInEurope.

Follow HuffPost Canada Blogs on Facebook
Also on HuffPost:
Travel Lessons From Our Favorite Movies
"It's dangerous business going out your front door," Bilbo Baggins famously advises his nephew Frodo before he sets off on his heroic adventure. As much as we try to avoid the headaches of travel, there's no denying that to a certain extent, travel is about discomfort. However, our hardest moments are where we find our best stories and if you decide to venture out of your comfort zone, you'll find the adventure you've been dreaming of. RELATED: Lord of the Rings and Hobbit Filming Locations in New Zealand (Photo: Hobbit Village via Shutterstock)

Before Sunrise is the story of two strangers who meet on a train and decide to get off together and spend a night roaming around the streets of Vienna. The whole movie is a conversation between Celine, a French woman, and Jessie, an American, getting to know each other and falling in love. They take a chance on each other and it pays off. Traveling is an excellent opportunity to meet new people, but sometimes you have to be the one to work up the courage to start a conversation. You never know what could happen. RELATED: Romantic Europe: Places in the Heart (Photo: Eye Ubiquitous/Getty Images)

No story in recent history has inspired as many travelers as Elizabeth Gilbert's quest to find herself after her divorce. As she travels through Italy, India, and Bali in the course of a year, the audience stays with her for every revelation along the way. Eat, Pray, Love is a story about using experiences gained from travel to heal old wounds and find new meaning in life that will help you along on your journey. (Photo: Meditation in Bali, Indonesia via Shutterstock)

Whether you're planning to steal an ancient artifact from an army of Nazis or just trying to visit as many museums as you can by the end of the day, you can't expect everything to go perfectly. Between delayed flights, bad weather, and straight-up bad luck, travel is full of variables and as hard as you might try, you can't be prepared for all of them. In cases like these, it's time to channel your inner Indiana Jones and start thinking on your feet. (Photo: Machu Picchu via Shutterstock)

As we learned from Titanic, even "unsinkable" ships can sink. Your dream vacation might be planned out down to the last restaurant reservation, but that doesn't mean much when Mother Nature decides to crash the party. Always be prepared for the worst. RELATED: Travel Insurance 101: Everything You Need to Know Before You Buy (Photo: Thinkstock/iStock)

On her mission to hike the Pacific Crest Trail, Cheryl Strayed suffers throughout and is never truly safe. But despite her overweight pack and blackened toes, she pushes on and braves the elements. She finds support in a friendly community of fellow thru-hikers, but for the most part she is on her own. Her story of solo travel and willpower teaches us that all it takes is a little bit of bravery to go out on your own and accomplish your goals. RELATED: Seven Epic Walking Trails Around the World (Photo: Thinkstock/iStock)

Sometimes we get so caught up in taking in the sights and sounds of a new city, we find ourselves suddenly and totally lost. It's easy to feel scared, especially if you don't have Google Maps, but it's important to remember that little girl from Kansas who also once found herself in a strange new place. Dorothy was unafraid to ask for help and directions and she did it in the kindest, sweetest, most Judy Garland way possible, which is probably why she was able to befriend so many locals and find her way back home. What movies have inspired you to travel? (Photo: Andy Kropa/Getty Images) Read the original story: Travel Lessons From Our Favorite Movies by Jamie Ditaranto, who is a contributor to SmarterTravel.
Follow Cédric Lizotte on Twitter: www.twitter.com/CedrikLizotte