How to Practice Yoga Safely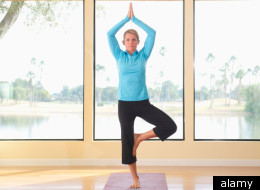 There has been a lot of debate in the media lately about the possible risks of practicing yoga. It is my opinion that yoga is safe for just about everyone, as long as you follow a few simple guidelines.
It's important to recognize that yoga is different from a lot of other forms of exercise. Yoga steers away from the "No pain no gain" mentality. Yoga shouldn't hurt. This doesn't mean your muscles aren't going to feel the effects of a challenging practice, but pain should never be the objective. If something doesn't feel right, you should stop. In yoga we learn to listen to our bodies, to be aware as we practice.
There are many ways to safely modify your yoga practice to avoid injury or simply overdoing it. If you are coming into any type of forward fold, whether seated or standing, you need to be aware of how your back is feeling. If you're holding onto tension in your back, then you'll want to modify your pose by bending the knees. This modification relieves pressure from the lower back and allows you to move safely into the pose. If you are sitting down and folding over while your legs are extended, not only can you bend your legs, but you can also raise yourself up by sitting on a folded blanket or a sturdy pillow. Either or both of these adjustments will help to protect your back. Of course, if your back pain is intense, then you'll most likely want to avoid forward and backbends altogether until you start to feel better. In my opinion, when practicing yoga it is always better to err on the side of caution. There is nothing to be gained by pushing yourself to the point of injury. There are no prizes in yoga, no finish lines... so take your time and enjoy your journey!
In order to practice yoga safely, it is important to come to your mat well hydrated. This is especially relevant for any type of hot yoga and also for pre-natal yoga. Prepare your body by drinking plenty of water before you practice. During your session, sip water when needed and make sure to drink water once you are done. Drinking water after you practice encourages the detoxification process.
Pregnant women practicing yoga are encouraged to drink whenever they need to, even to eat in class if necessary! Otherwise, it is preferable to avoid eating a couple of hours prior to practicing yoga.
Something light and easily digestible is the most suitable pre-yoga meal, as a full stomach is going to make twisting and front lying poses particularly uncomfortable. I suggest people have a protein shake or a similarly light meal a couple hours before class and then eat healthfully once they are done.
Although yoga is incredibly healing and helps to strengthen the immune system, there are times when rest is preferable to coming to class. If you are already sick with a flu, it is important to strengthen your body before returning to class, not to mention to avoid infecting your classmates!
If I have a bad cold, I tend to avoid a more strenuous yoga practice so I can focus my energy on recovering. I might, however, practice some gentle restorative yoga. Restorative yoga uses props such as blocks, blankets and bolsters to support the body in various poses, encouraging deep, healing relaxation. Meditation and some breath work techniques are also a gentle way to encourage the body to heal. Only once I feel strong enough do I return back to my regular physical practice. Again there is no rush in yoga; it is so important to take your time. Rushing, being distracted, and moving without awareness can all lead to injury both on and off the yoga mat.
A healthy and safe yoga practice is not about perfecting the physical poses. It is instead about breathing, moving with awareness and proper alignment, and listening to your body's cues and signals. Of course, there is nothing wrong with challenging yourself; it's fun to try new things and to see how far we can move into a new or maybe a more familiar pose. At the same time we need to acknowledge and accept our bodies' limitations. It is important to recognize that these limitations are always changing and as such our practice might vary from day to day, or week to week. We might wake up one day a little tighter than the day before and instead of forcing ourselves into the same deep backbend we practiced yesterday, it may be necessary to modify our practice to suit our body's needs today. Practicing responsibly can mean taking a gentle variation when the need arises. Sometimes the hardest part of yoga is being OK with taking things a little slower and letting go of the ego, the voice in our heads that tells us we always need to be better, to go further.
Yoga teaches us to be OK with wherever we are today, to be present in the moment and to practice with awareness. If we respect our bodies and nurture our minds, there is no reason why we can't safely enjoy a lifetime of yoga!
ALSO ON HUFFPOST: Yoga Journal's 21-Day Challenge
"Gently waken and energize the body by linking breath to movement." That's the directive from Kate Holcombe, a well-known San Francisco-based yoga instructor, chosen by Yoga Journal to lead their very first day of the 21-Day Yoga Challenge.

This sequence is all about "connecting with your inner joy" as part of a 30-minute series that emphasizes strength in standing poses, with steady, rooted legs and lifted arms and chest.

Jason Crandell takes us through a series of sun salutations and other poses that help elongate through the arms, sides and core.

This series is all about lifting and lengthening. These standing poses express the full reach of our bodies, from toes to finger tips. That brings a nice stretch, but it also helps strengthen the lower body, which must serve as a steady base for the lifted torso and limbs.

This video champions the core -- the muscles around your abdomen, back and rib cage that help support and improve posture and alignment. It might be spot training, but it's highly integrative: your whole body will benefit from strength at its center.

Release your stress with this Saturday morning seated series that focuses on the neck and shoulders.

Hip opening asanas help make you feel limber and strong. This series works to get muscles pliant and blood flow moving at the center of the body.

The second week of the yoga challenge begins with a sequence meant to further loosen the neck and shoulders, releasing tension. It introduces utkatasana (chair pose), a strengthening, deep squat with raised arms and a side body stretch.

This practice deepens the strength and stability found in a series of standing poses, first introduced on Day Four.
Follow Charlotte Singmin on Twitter: www.twitter.com/charsingmin