How My Documentary Film Took Me From a Glacier in Alberta to Sundance
It was an incredible night in Park City, Utah.
Rae Spoon, the transgender Canadian musician and subject of my documentary-musical My Prairie Home, had just performed a killer set at a Sundance Film Festival-sponsored concert celebrating music in film, sandwiched between Glenn Close performing spoken word over Flea canoodling with a jazz trio and the mind-blowingly energetic Fela Kuti Band who drove Rae, myself, and the whole crew from the film to dance with total abandon (Rae and I are both seldom prone to dancing, especially with abandon).
Rae and I looked at each other, one of these moments that confirm we've spent far too much time together because we both know we're sharing the exact same thought: This is so surreal. Rae leaned over and whispered, "I bet you didn't picture this when we were scaling that glacier." One of the final shoots of the film realized an insane idea of mine for the film's final scene atop the Athabasca Glacier -- an even more difficult feat than I even anticipated, as the site was closed to the public. We had to lug all the equipment a mile uphill through snow drifts. The air was thin and we were all feeling it.
Raw and cold from a long shoot now culminating in this grueling trek, Rae and I argued about whether or not they (Rae uses the gender-neutral, third-person pronoun) would keep their toque on in the shot. We compromised on one take with and one without. Now at Sundance, Rae was right. On that frigid peak I couldn't possibly imagine us sweaty and dancing on a different mountain. The landscape of Utah is eerily similar to Alberta though they are worlds apart. There is a strange sense of familiarity felt screening here.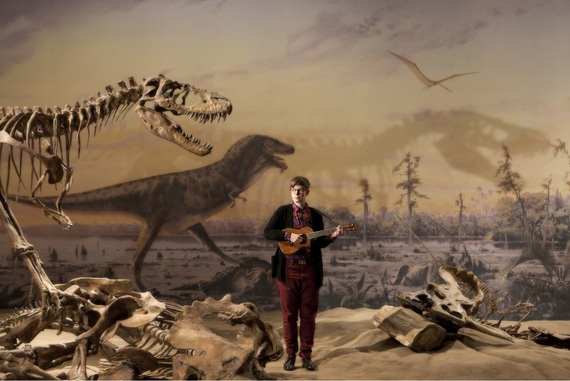 Four years ago I first attempted peering over Rae's shoulder while they toured through the Prairies. I had pitched my idea to a producer at the National Film Board of Canada named Lea Marin. My odd description went something like "I want to make a documentary about a transgender musician from the Prairies named Rae Spoon, I want it to be a musical. Oh, and there are also dinosaurs." Totally non-plussed, Lea looked me in the eye and said, "Tell me more."
With development funding in hand, I went on tour with Rae, they rode the Greyhound bus for days on end, performing at night while we shot the whole time. It was a gruelling schedule. I came to deeply respect the life of the touring musician as I battled reoccurring ear infections and worriedly Googled the symptoms for scurvy after eating at McDonald's three times in one day, and enlisted our coats and bags to construct makeshift bunks on the overnight bus rides. To Rae, this was all old hat. Rae's been a touring musician for the past fifteen years; big cities, small towns, Canada and Europe, they've done it all. Their secret to health is that they don't drink and keep fed.
At times Rae would be on tour as many as 250 days a year, so they have it down to a science. I was scrambling to keep pace. Not to mention we were shooting impromptu musical numbers all along the way as I felt inspired, usually involving Rae inserted in uncomfortable situations singing or lip syncing on the spot -- in the Tyrrell dinosaur museum, in a diner full of truckers, and of course on the glacier. It was a brutal shoot, but we survived on the incredible moments. That's when I could feel we were onto something unique. These came as we recreated the prom Rae and their high school girlfriend Sandhiya never had, or witnessed Rae bringing an audience of Saskatchewan farmers to tears, or when an unprompted Rae sang directly into the protective ice blue light of the glacier.
So now we are at Sundance and it's been wonderful. The programmers and audiences are incredible, embracing the film with open arms. It was a struggle to get people to believe in this film, and it's great that they have, but it's very important to remember this conversation is far from over. The more the film gets out for people to see, the more the daily misunderstanding and compromises become blaringly obvious. For Rae, the attention and praise seems to be a double-edged sword. They are quite often misgendered (I wince when this happens but also don't do enough to stop it) in interviews, reviews, articles, Q&A's. Their identity is consistently put into question. The whole experience has reaffirmed to me that it's an issue that needs to be provoked specifically because we are only at the very beginning of it.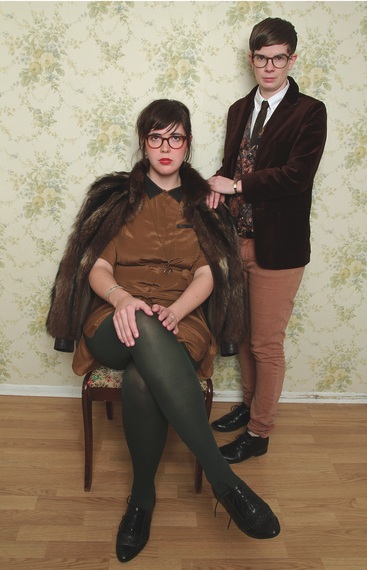 There have been a lot of highlights to my frenzied first experience at Sundance -- photo shoots, great reviews, packed screenings, and Rae's fantastic performances for brand-new audiences. But nothing has beat seeing a teenage queer couple overjoyed to make the trek from Salt Lake City specifically to see the film, shyly asking for a photo with Rae after the screening. On the shuttle bus leaving the screening I saw them confidently holding hands, and wondered how often they felt at ease enough to do so. I'm excited to take this film to big film festivals (especially in Europe -- I wonder how they are going to respond?) but I'm equally proud of the NFB's boundless commitment to getting this film into schools and small towns. That's the real reason we climbed that glacier.
My Prairie Home streams for free to Canadians January 26 and 27 at NFB.ca, and available for rent or purchase at NFB.ca and iTunes Canada starting January 28.
ALSO ON HUFFPOST:
The Brazilian supermodel was discovered by Givenchy designer Riccardo Tisci when he hired her as his personal assistant. Soon after she became his muse and her modeling career began. She has been featured in high-profile fashion magazines like "Vogue Paris," "Hercules," "Interview," "Love," and "Cover."

Silveira is the lead singer of the band The Cliks. The Cliks made history as the first band with an openly trans male leader signed by a major record label, Tommy Boy Entertainment's imprint Silver Label. In 2009 he made history again as the first transman to be voted Canada's Sexiest Man by readers of Canadian music magazine Chart Attack.

The son of Cher and Sonny Bono, Chaz publicly revealed he was transitioning in 2009 and since then has been one of the most visible members of the trans community. In May he published his memoir, "Transition: The Story Of How I Became A Man," and this fall he was a contestant on "Dancing With The Stars" and was named one of Out magazine's 100 LGBT people of the year.

Richards is an ophthalmologist, author, and former professional tennis player. After transitioning in 1975, she was banned from playing in the U.S. Open by the United States Tennis Association (USTA) because only biological women were allowed to participate in the tournament. Richards fought the ban and a 1977 New York Supreme Court decision ruled in her favor. She continued to play until 1981. This fall a documentary about Richards's life, "Renée," was released.

King was the first (and, thus far, only) trans model to be featured on the reality fashion competition "America's Next Top Model." She was seen on both the 11th and 17th "cycles" of the show.

In 2008 Thomas Beatie became famous when he revealed that he was pregnant with his first child. Soon after Beatie and his wife, Nancy, made headlines and he became known as "the pregnant man." The couple now has three children, all carried by Thomas, and he recently revealed that he is considering undergoing a hysterectomy.

Dr. Marci Bowers is a pioneer in the field of transgender transitional surgery and is the first known trans woman to perform these types of procedures.. After practicing in Trinidad, Colo., which is known as the "sex change capital of the world" due to the high number of surgeries performed there, she moved her practice to San Mateo, California, in December 2010.

Cayne made history when she accepted a role on "Dirty Sexy Money" and became the first transgender actress to play a recurring transgender character in prime time. She's also appeared on "Nip/Tuck," "RuPaul's Drag Race," and "Necessary Roughness."

In 2006 Iwamoto was elected to a position on Hawaii's state Board of Education and became (at the time) the highest-elected transgender official in the United States. She ran for re-election in 2010 and won.

Kye Allums is the first openly transgender athlete to play NCAA Division I college basketball. He was a shooting guard on the George Washington University women's basketball team until this year when he decided to no longer play. Allums is now busy speaking about his life around the country.

A veteran of the 1969 Stonewall uprising (some claim she threw the first heel), Rivera fought for the rights of all queer people, not just those who fit into more homonormative molds. Described by Riki Wilchins as "the Rosa Parks of the modern transgender movement," Rivera founded Street Transvestite Action Revolutionaries, or STAR, "a radical group that did everything from marching to setting up crash pads as an alternative to the streets," among other activist roles. Today The Sylvia Rivera Law Project, which works to guarantee that all people are free to self-determine gender identity and expression regardless of income or race, and Sylvia's Place, a NYC emergency homeless shelter for LGBT youth, both exist to honor Rivera's life and work.

Dillon was the first person known to have transitioned both hormonally and surgically from female to male. A British writer, physician, philosopher, and Buddhist, Dillon penned several books including, "Self: A Study in Ethics and Endocrinology" (1946), "Growing Up into Buddhism" (1960), "The Life of Milarepa" (1962), "Imji Getsul" (1962), and numerous articles. He was in love with another famous transgender person, Roberta Cowell, but she did not share his feelings. He died in India -- where he had moved to study, meditate, and wrote under the name Lobzang Jivaka -- just days after sending his memoir, "Out Of The Ordinary," to his literary agent.

Cowell is the first British trans woman to undergo sex-reassignment surgery. She transitioned in 1951. Prior to that, she was a Spitfire pilot during World War II and a race car driver. Cowell, who was friends with transgender man Michael Dillon, transitioned a year before celebrated American trans woman Christine Jorgenson underwent surgery in Denmark. You can read Cowell's autobiography here.

Sanchez worked tirelessly in the LGBT community before he became the first trans person to hold a senior congressional staff position on Capitol Hill. In December 2008 he began working for Rep. Barney Frank (D-Mass.) tracking LGBT, healthcare, veterans, and labor issues.

The writer, playwright, and performance artist is the author of several seminal tomes on gender theory including 1994's "Gender Outlaw: On Men, Women, and the Rest of Us" and in 2006 she wrote "Hello Cruel World: 101 Alternatives to Suicide for Teens, Freaks and Other Outlaws." She is currently at work on a memoir.

The world's first female-to-male porn star, Angel also works as an advocate, educator, lecturer and writer. In 2007 Angel won the Adult Video News Transsexual Performer of the Year award and was written into Armistead Maupin's "Michael Tolliver Lives," one of the novels in the "Tales Of The City" series. He has spoken around country, including an appearance at Yale University in 2010.

In 2011 Grodzka became Poland's first openly transgender parliamentarian. She is the third transgender MP in world history after the transsexual New Zealand MP Georgina Beyer, and the transgender Italian MP, Vladimir Luxuria, who has not had a legal sex change. Grodzka, who transitioned last year, secured a place in the Sejm, the nation's lower house of parliament. "Today, Poland is changing. I am the proof..." Grodzka said.

Tipton was a saxophone and piano player and bandleader popular during the 1940's and '50s. He eventually settled down in Spokane, Washington, got married, and adopted three sons. It wasn't until after his death from a hemorrhaging ulcer that Tipton's birth gender was revealed to his sons and the rest of the world.

Rasmussen became the first transgender mayor in the United States when he was elected to the office in Silverton, Oregon, in November 2008. He writes on his website: "I just happen to be transgendered -- something I didn't even know the word for until I discovered it on the Internet. I've been a crossdresser or transvestite my whole life, only 'coming out' recently and thereby discovering that life goes on very nicely."

In 1976 Lou G. Sullivan began applying for sex-reassignment surgery, but was rejected because he identified as gay. At the time, "female-to-gay male transsexuality was not recognized by the medical/psychotherapeutic establishment as a legitimate form of gender dysphoria at that time." After mounting a successful campaign to get homosexuality removed from a list of objections which served to keep interested candidates from undergoing surgery, Sullivan finally obtained genital reconstruction surgery in 1986. That same year he organized FTM, "the first peer-support group devoted entirely to female-to-male [transsexual and transvestite] individuals."
Follow Chelsea McMullan on Twitter: www.twitter.com/ChelseaMcMullan