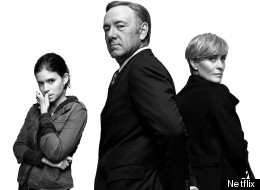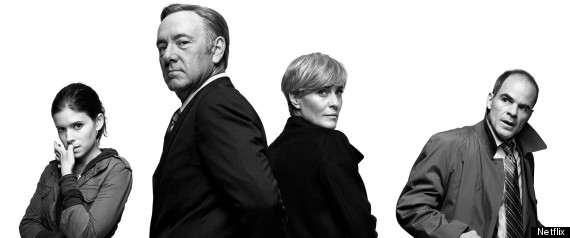 This episode is all about big decisions; nearly every character is told to "think about it" at some point or another. The irony is, in making most of these choices, there is no "right" or "wrong" outcome -- and in some cases, like Peter's, there is no good option at all. I suppose this is representative of politics at large: for every bill passed, for every law enacted, there is a winning party and a losing party. No victory comes without its victim.
Frank: Frank's decisions bear the most serious outcomes, and he's involved in every single other character's dilemmas (or he causes them, directly or indirectly) -- and in this episode he's out to make sure the collective bargaining agreement is added to the education bill. He wants to undermine the President at any cost, so we travel with him from manipulation to manipulation in the back rooms of Washington. As a result of his deception and to ensure his plan follows through, he has to enlist the help of everyone in his inner circle (including his wife). All others have to suffer in order for Frank to win.
Before our eyes, we can see Frank devolving into someone we can't possibly root for. House Of Cards almost blatantly sets him up for the fall. In Episode 3, he was despicable (lying in church, deceiving grieving parents, etc.), but his deception was fun to watch. In Episode 4, it's getting harder to understand his motivations, and the bitter taste in my mouth escalated as the plot progressed.
In response to Frank's puppetry, here's how everyone else decides.
Claire: Frank's wife has a couple decisions to make. One directly affects her business, and the other involves her marriage. It seems that Claire already knows Remy (the lawyer that "ran into" Frank in Episode 2), and is instantly suspicious when he shows up at CWI with the offer of $1.5 million in donations. If she accepts Remy's donation offer (which obviously has strings attached, and would have repercussions for Frank), she'd be able to hire back her fired staff and push forward with her big plans for her company. Frank is horrified at the idea that she's even considering taking the funds, and tells her flat-out to reject it. He even makes a semi-romantic overture to her, sending her a photo of the two of them, with writing on the back: "You don't need Sancorp, you have me! -- F."
Knowing Frank as well as we do, the gesture is pretty empty. Their relationship seems to function solely on a business/political level, and Claire is fully aware, because right after reading the text on the photo, she picks up the phone and calls Adam Galloway, the photographer we saw her make doe eyes about in previous episodes. There is literally no emotional response when Claire reads the photo, and she sets up a "meeting" with Adam. In a classic scene, obviously meant to indicate the lack of emotional connection between Frank and Claire, he helps her pick out a seductive dress, almost as if he knows she's going out to meet another man. She meets up with Adam in a hotel room, with the biggest phallic symbol on Earth in plain view (the Washington Monument) through the window. They share a kiss, but then Claire abruptly tells him to stop and leaves the room. There's history here, and true chemistry. This isn' t the last we'll see of Adam.
In one fell swoop, because of Frank, she rejects Adam and then rejects Remy's donation offer. Claire is left to her own defenses with a selfish, emotionless husband, and she's beginning to wear the resentment on her sleeve. Also, the early signs of menopause kick in ... not good.
Peter: The show's biggest loser thus far has been Peter. He never wins, he's always screwing up, and he owes Frank big-time for the drunk driving/drugs incident. Frank uses this leverage to corner Peter, forcing him to close down a shipyard in his district, even though he got into office by campaigning to keep it open. Many of his backers and close personal friends voted for him because of his support for the shipyard. So Peter has to choose: do I close the shipyard and keep my job (and move up the ladder), or do I keep it open and ensure these close friends of mine don't all lose their jobs? Of course, under Frank's relentless pressure, he opts to let the shipyard close. The fallout is intense: he receives vitriolic emails and even a painful visit to his office from a former friend. Despite his deepest intentions to be a "good guy," he fails, and once again falls victim to his vices.
And even though he and his ex-wife's kids are in his care (at his apartment), he decides to go out and get drunk, leaving them to fend for themselves. Luckily, Christina comes home from work and finds them there, and she feeds them and puts them to bed. Peter stumbles home in the wee morning hours, doesn't even say "thank you," and falls flat on the bed. Upon waking, he realizes that Christina has sent his kids to a relative's house. She quits her job, and then breaks up with him unceremoniously, slamming the door in his face. All I can say is: finally.
Zoe: Our up-and-coming reporter Zoe is promoted to White House correspondent in the blink of an eye -- totally unbelievable, but OK. She spends the bulk of the episode hemming and hawing about it: should she take it? Should she not? I'm not really sure what the debate is here, but we have to agonizingly sit back while she thinks about it. Finally she calls Frank to get his opinion, and he, of course, doesn't like it. Having her as his lackey on the outside is one thing, but having Zoe in his sandbox is a potentially dangerous interference.
Still unsure, Zoe heads to her editor-in-chief's office and gets in a heated argument because she can't make up her mind. She says it's "f--king unbelievable," and he calls her a "c--t," then fires her. Ridiculous but entertaining, the back-and-forth is the most scintillating dialogue we've heard thus far. In what seems to be a common theme among the characters, she heads out to a bar and gets drunk to drown her sorrows.
From the most interesting to most revolting discussion, all of a sudden a drunken Zoe is flirting with Frank on the phone, and she invites him over to her apartment. Where did this come from? While there have been mild sexual undertones to their text-message conversations, I never thought this would proceed to full-blown sex between these two. (To be clear, it's not that I don't think this stuff happens in Washington -- quite the opposite, actually, I think it happens all the time -- but with these two it just materializes out of thin air.) Plus, gross. Really, truly gross.
And holy foreshadowing: "You've been with older men before."
"Yes."
"Then you know they hurt you. And after they hurt you, they discard you."
"You can't hurt me."
Oh, yes he can, Zoe. And he will.
Best Frank quote: "I revised the parameters of my promise."
As I mentioned in the comments of my last post, this is a really easy show to spoil for everyone. So please, if you do comment, try not to reveal any information from upcoming episodes. Thank you!
You can stream House Of Cards at any time on Netflix.
House Of Cards Episode 3 Recap
House Of Cards Episode 2 Recap
House Of Cards Episode 1 Recap
UK TV Remakes The US Got Right
Original UK Series: "Till Death Us Do Part" The show that introduced the world to "lovable bigot" Archie Bunker, "All in the Family" was the first series to spend five consecutive years on top of the Nielsen ratings. Produced by Norman Lear and Bud Yorkin (who also adapted "Sanford and Son" from its UK predecessor) the sitcom was notable for its decision to tackle social issues that other network comedies of the time had never touched, such as homosexuality, racism, rape, abortion, breast cancer and the Vietnam war.

Original UK Series: "Steptoe and Son" This iconic NBC sitcom, which aired from 1972 until 1977, was one of the highest rated shows of its time, peaking at number 2 in the ratings behind only "All in the Family." It is considered groundbreaking for its portrayal of race, and is thought to have paved the way for "The Cosby Show" and other sitcoms centered around African American families. (Although the British original was groundbreaking in different ways, notably for its elements of social realism, it featured Caucasian leads.)

Original UK Series: "Dragon's Den" A hit in both the UK and Canada, "Dragon's Den" embodies all the elements of a hit reality show: Judges with attitude, random wackiness, and average Joes who either make money or fools of themselves. "Shark Tank" works because it didn't meddle with the winning formula -- it's harsh, cruel and blunt; it even uses two of the same "Sharks" that appear on the Canadian version.

Original UK Series: "Hell's Kitchen" The thread that ties these two together is Gordon Ramsay. Without his acerbic, curse-laden diatribes, this show would not work on either continent. There's something almost cathartic about watching "Hell's Kitchen," which might be why it works so well -- you instantly feel better about your own cooking, and you can release a bit of anger every time Ramsay yells at one of the contestants.

Original UK Series: "Shameless" Showtime's American adaptation of "Shameless" has worked for a few reasons. Most importantly, its central story of a dysfunctional family struggling to make ends meet resonated with audiences during the recession. The show also hit home runs with its casting: William H. Macy plays a great drunk, and Emmy Rossum has emerged as the show's tough, sexy breakout star.

Original UK Series: "Who Wants To Be A Millionaire?" There are a two very simple reasons "Who Wants To Be A Millionaire?" took off in the US. Number one: Every single American TV viewer would like to be a millionaire. Number two: Regis Philbin and his monochromatic shirt/tie combinations were awesome.

Original UK Series: "The Office" Ricky Gervais' British sitcom "The Office" premiered in 2001 and followed the employees of the fictional Wernham Hogg Paper Company. Though it only lasted two seasons in the UK, it lives on in the US. The American version starred Steve Carell and made him a highly-coveted film actor, and did the same for John Krasinski, Jenna Fischer and more of its stars. Now going into its ninth season, the dry humor and mockumentary-style series about the Dunder Mifflin Paper Company employees set the tone for many more comedies to come (i.e. "Modern Family").

Original UK Series: "What Not to Wear" The BAFTA-nominated original UK series "What Not To Wear" had Trinny Woodall and Susannah Constantine makeover some of the UK's most awfully dressed Brits for five seasons (before they left and Lisa Butcher and Mica Paris took over for the show's sixth and seventh seasons). Though the US installment of "What Not to Wear" premiered shortly thereafter with a bit of a rough start with Wayne Scot Lukas, the American version found its footing in Season 2. The dynamic between Stacy London and Clinton Kelly has helped the show last for nine seasons and counting.

Original UK Series: "Queer as Folk" The UK's original "Queer as Folk" made its debut in 1999 and broke gay stereotypes throughout its two seasons, as did the US remake. "Queer as Folk" premiered on Showtime stateside in 2000 and made a splash as the first hour-long drama on American television to portray the lives of gay men and women. The series covered homophobia, late-in-life gay characters, coming out, gay adoption, HIV and many more taboo subjects. "Queer as Folk" broke down cultural barriers, paving the way for series like "The L Word" to make their debut and for acceptance of the gay community at large.

Original UK Series: "Man About The House" The UK original lasted six seasons in the early-to-mid-'70s, but the US version produced more than four times as many episodes (172 in total) over its eight seasons on the air, mainly due to a hilarious cast led by the late John Ritter.

Original UK Series: "Strictly Come Dancing" Before there was Pam Anderson, Drew Lachey and Bristol Palin (just three of the U.S. version's "All Stars" for Season 15), there was the UK's "Strictly Come Dancing," which premiered in 2004 and immediately spawned international spin-offs in 32 other countries and counting.

Original UK Series: "Pop Idol" "American Idol" is a ratings juggernaut, and it's not showing many signs of slowing down. With a revolving panel of music icons as celebrity judges and a fanbase that not only votes each week for their favorite singers, but buys their music and follows the contestants on tour, this is the reality competition to beat in the ratings.

Original UK Series: "Changing Rooms" It's not easy to find designers who are personable, talented and able to deal with the demands of a microbudget, time-crunched renovation, but both of these shows managed to do that, which is why they were both long-running hits in their respective countries. On both shows, viewers got crash courses in how to remake a room for very little dough, and even if we ultimately preferred the mildly acerbic British designers, both shows were the best kind of how-to program: They made you actually think you might be able to accomplish something similar (if you got off your couch, that is).

Original UK series: "Prime Suspect" We know, we know, the Helen Mirren original is a classic character-driven cop drama and the NBC show never quite rose to the heights that the UK series did. Having said that, NBC's version of the cop show evolved into an enjoyably meaty, well-acted ensemble drama that made great use of its versatile, talented cast and a committed performance from star Maria Bello. We were all ready to doubt the US version of the show, but her Jane Timoney made believers of us during "Prime Suspect's" brief run on the Peacock network.

Original UK Series: "The Inbetweeners" Though time will tell if the MTV adaptation will be able to rival the cult appeal of the original, the first three episodes of the new comedy prove just as charming as the British show, albeit in distinctly American ways. British humor may be dry and acerbic, but the new cast has undeniable chemistry and comic timing, and it will be interesting to see where the show goes when it starts utilizing its original material, rather than the six episodes it based on the UK series.
Follow Chris Jancelewicz on Twitter: www.twitter.com/CJancelewicz