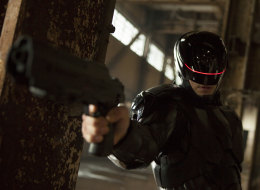 I write this as a die-hard "RoboCop" fan.
At the age of 10 I was quoting "I'd buy that for a dollar!" as my smart-mouth quip, before I'd really discovered the magic of swearing. The year was 1989, and "RoboCop" had come out two years prior; I was exposed to it at a friend's house, and was hooked by its senseless violence (blatantly over-the-top and satirical), outright sexism (Miguel Ferrer doing the now-tame cocaine cleavage snort), and completely grotesque special effects (the image of the bad guy driving into the nuclear waste and emerging a deformed pile of goo still haunts me to this day). Sure, it's cheesy when you watch it now, but it was the '80s. Whatever that decade suffered in terms of bad hair and clothing, it certainly made up for it in movies.
Do you remember the enjoyment you felt watching action films from the '80s? "Commando," "The Terminator" (OK, Arnie's whole roster), "Rambo," "Die Hard" and the like? At the beginning of the movie, lines were clearly drawn: here is the good guy, and here is the bad guy, doing something absolutely unforgivable so it's OK to kill him later. Oh, and here's his army of cronies -- all those guys can be killed too. The rest of the film is spent watching said good guy kill the bad guys, perhaps saving a kidnapped child or hostage at the end. That's it. Simplicity at its best. No ambiguity to muddy the waters.
So seeing the 2014 version, all scrubbed and polished, sanitized and given a "message," was disheartening. I'm not saying the latest version of "RoboCop" is terrible, because it's not, but it is the same movie in name only, save for a few lines of dialogue inserted for audience reference. It's almost as if the studio wants to say, "We remember you!" to the original '80s fans, before fully taking the legacy of "RoboCop" and making it into some moral lesson.
One thing I will concede is the cast is stupendous. I have no quibble about that. It's probably to this group's credit that the new "RoboCop" works at all. Gary Oldman, Samuel L. Jackson, Joel Kinnaman, Michael K. Williams, Jay Baruchel, Michael Keaton (in another goofball-y God Complex role), and Abbie Cornish all ably carry their roles, sometimes bringing much-needed laughs -- even if those laughs are at the expense of the film itself.
The humour of the original "RoboCop" is there, in spurts, in the reboot. Similar tricks used in the 1987 version are present, like the ridiculous newspaper articles a character is reading, or the funny commercials showing on TV; I caught a newspaper headline from the 2014 version: "RoboPup Wins Best In Show." It's no coincidence that what's successful in the modern take originated in the first film.
Everything else feels empty. It's like taking something inflatable, blowing it up, letting all the air out and then blowing it up again. The second time the shape just won't be the same. I've felt this before with multiple recent reboots ("Total Recall," "Carrie" among them): don't mess with an already-perfect formula. What's the point of an action hero who broods and weighs the pros and cons? The key word is action. (But I suppose the emergence of the Christian Bale-type action hero, complete with angst and introspection, might be the new norm for this decade.) So when I see yet another movie with its sanitized villains (the endless meatbags, a.k.a. Orcs, of "Lord Of The Rings," the synth armies of "Total Recall" and any other non-human enemy sect -- there are a lot nowadays) it makes me yearn for the days of yore, when Arnie would run into the jungle wrapped in ammunition and armed with gargantuan weaponry, shooting at anything in his way -- human, non-human, or anything at all.
To its credit, the new "RoboCop" does have a few gunfighting scenes, but the longest one is when Kinnaman (as RoboCop) is being tested. He spends ten minutes shooting and fighting against what look like the titular enemies from "Star Wars: Attack Of The Clones." Boring. Only later in the movie does he fight actual humans, but ... of course ... a lot of the time he's using a Taser. If there's any symbol for action-hero impotence, it's a Taser. Can you imagine James Bond using one? Seriously, just think about it.
The "RoboCop" of my youth deserves better. Or maybe it's best that I leave the nostalgic feelings back with those movies, where they belong. After all, they'll never be able to make them like that anymore.
"RoboCop" is now playing in theatres.
'RoboCop' Cast: Where Are They Now?
Before "RoboCop," Weller was best known as the deadpan star of the 1984 sci-fi cult comedy classic "The Adventures of Buckaroo Banzai Across the 8th Dimension." He won the role of bionically resurrected cop Alex Murphy over such better-known actors as Arnold Schwarzenegger and Rutger Hauer (Verhoeven's usual leading man) because of his lithe physique (the better to fit in the bulky RoboCop armor) and his expressive jaw (for much of the movie, the only part of his body that's visible). The role of RoboCop (which he reprised in the first of two sequels) made him a genre star, one who lent his low-key intensity to such movies as "Leviathan," "Screamers," and "The Order." He also did acclaimed work in satirical dramas "Naked Lunch" and "The New Age." In the last decade, he's divided his time between TV guest appearances on such shows as "24" and "Dexter" with his academic pursuit of a Ph.D. in Renaissance art history. These days, the 65-year-old can often be heard lecturing on ancient history at Syracuse University, but he's also returning to movies with a role in next year's "Star Trek" sequel and as the voice of Batman in the animated adaptation of Frank Miller's classic "Dark Knight" comic series, due in two parts in late 2012 and 2013.

For most of the decade before "RoboCop," Nancy Allen was director Brian De Palma's leading lady, both off-screen and on ("Dressed to Kill," "Blow Out"). With "RoboCop," she got a more take-charge role, as the stalwart, loyal, independent-minded police officer Anne Lewis. After "RoboCop," she starred in "Poltergeist III" as well as playing Lewis again in the two Robo-sequels. Despite a cameo in 1998's "Out of Sight" and the occasional TV guest spot, Allen hasn't done much acting in recent years. Rather, the 62-year-old has become a breast cancer activist who runs weSPARK, a cancer support center founded by Wendie Jo Sperber (Allen's friend and co-star in 1978's "I Wanna Hold Your Hand"), who died of breast cancer at 47 in 2005.

Before "RoboCop," Cox was known for decent-guy roles in such films as "Deliverance" and "Beverly Hills Cop." So he shocked everyone with his potrayal of villainous executive Dick Jones in "RoboCop." The film marked a turning point for Cox, who played another villain for Verhoeven in "Total Recall." He continued to play character parts in such genre movies as "Murder at 1600" and "Deep Blue Sea." His most recent big-screen role was in 2009's "Imagine That," which reunited him with "Beverly Hills Cop" co-star Eddie Murphy. These days, the 73-year-old focuses largely on his career as a country and folk musician. This month sees him leading a tour group on a nine-day musical journey across Ireland.

"RoboCop" gave Smith his breakthrough role as evil druglord Clarence Boddicker. He followed that up with a similarly scary role as Robert Sean Leonard's authoritarian father in "Dead Poets Society." Character roles in films followed, but Smith made his biggest impact spoofing his cruel, disciplinarian demeanor on the sitcom "That '70s Show," where he spent eight seasons earning laughs as domineering dad Red Forman. The 69-year-old's most recent feature film was the 2011 comedy "Cedar Rapids." Like "RoboCop" antagonist Peter Weller, Smith has guest-starred on "House" and "24" and is lending his voice to an upcoming animated "Batman" project. He'll be voicing Commissioner Gordon in the upcoming cartoon series "Beware the Batman," due in 2013.

Born into a showbiz family (dad was Oscar-winning actor Jose Ferrer, mom was singer Rosemary Clooney), Ferrer first tried to break into the family business as a drummer, but his acerbic wit lent itself well to movies, as he proved in his breakthrough role as hedonistic executive Bob Morton in "RoboCop." Follow-up feature films included "Revenge," "Twin Peaks: Fire Walk With Me" (in which he reprised his TV role as sharp-tongued FBI agent Albert Rosenfield), "Hot Shots Part Deux" (in which he spoofed his hard-boiled persona), "Mulan" (voicing the villain), "Traffic," and "The Manchurian Candidate." He's done a lot of TV in the last decade, including a starring role for six seasons on "Crossing Jordan" and two recurring guest roles this year, on "NCIS: Los Angeles" and "Desperate Housewives." The 57-year-old's most recent film is the 2012 Hong Kong crime thriller "Four Assassins," which has yet to find a U.S. release date.

McCrane first found fame in the movie "Fame" (1980). As Montgomery McNeil, the flame-haired 19-year-old sang four songs in the musical, including "Is It Okay If I Call You Mine?", for which he also composed the music and lyrics. Seven years later, his red curls lost to baldness, McCrane remade himself as a shiny-pated villain in "RoboCop," He played Emil Antonowsky, a vicious thug in the Boddicker gang who has a gruesome encounter with a container of toxic waste. After that, he specialized in playing heavies (Guard Trout in "The Shawshank Redemption") and monsters (mutant Leonard Betts on "The X-Files"). He's best known these days for his six-season stint as imperious Dr. Romano on "ER," in which his character had not one but two horrific encounters with out-of-control helicopters. Like Weller and Smith, he had a recurring role on "24," where he played Kiefer Sutherland's renegade brother. The 51-year-old won an Emmy last year for his guest spot on "Harry's Law."

Before he played The Old Man, the CEO in "RoboCop" who's not as powerless as he seems, the 68-year-old O'Herlihy had already enjoyed a long career in movies, one that had seen the Irish star nominated for a Best Actor Oscar back in 1954 for his starring role in Luis Bunuel's "Adventures of Robinson Crusoe." He had remained busy throughout the 1980s, including such films as "Halloween III: Season of the Witch" (a non-Michael Myers sequel, in which O'Herlihy played an evil CEO) and John Huston's "The Dead." After "RoboCop," O'Herlihy reprised the Old Man role in "RoboCop 2" and was a series regular on TV's "Twin Peaks" (in which "RoboCop" co-star Miguel Ferrer occasionally guested). Like Weller and Smith, he lent his voice to an animated Batman project, guest-starring on the "Batman" TV series in 1994. His last project was the made-for-TV film "The Rat Pack" (1998), in which he played political patriarch Joseph Kennedy (opposite Ray Liotta as Frank Sinatra). O'Herlihy died of natural causes at age 85 in 2005. (Image from "RoboCop 2")

When he landed the job of helming "RoboCop," Verhoeven was a celebrated director in his native Holland ("Soldier of Orange," "Spetters") who had just one English-language feature to his credit (the Dutch-made medieval adventure "Flesh + Blood," starring Rutger Hauer and Jennifer Jason Leigh). He had left Holland for Hollywood to avoid censorship, only to find it in spades in America. He had to trim scenes of extreme violence from "RoboCop" and re-submit it to the MPAA ratings board several times before the board relented from its initial X rating and gave the film an R. With the film's success, Verhoeven cemented his reputation as one of Hollywood's top directors of the 1990s with the hit "Total Recall." He continued to court controversy and censorship, however, with such films as "Basic Instinct" and "Showgirls," both of which pushed the envelope in screen sexuality. After "Showgirls" flopped, he returned to satirical sci-fi with "Starship Troopers" and "Hollow Man." Having spent two decades in America, he returned to the Netherlands and made another sexually adventurous film, the acclaimed World War II spy thriller "Black Book." His next movie, "Tricked," is a thriller due later this year and stems from a Dutch reality TV competition among amateur scriptwriters. Verhoeven turns 74 on July 18.
Follow Chris Jancelewicz on Twitter: www.twitter.com/CJancelewicz