Holiday Guests With Dietary Restrictions? Bring it On!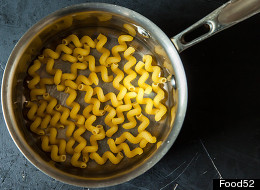 At the holidays more than any other time, we gather together family and friends from different backgrounds and with diverse tastes and dietary needs. Allergies and food sensitivities are nothing to fool with, and preparing a tasty meal that respects your guests' health risks will make for a memorable and happy occasion for all. Following are some tips to help you make it through the social season without feeling like a short order cook!
Giving the gift of a gluten-free holiday
Stuffing sans the bread? But of course! Simply make stuffing with a rice or quinoa base instead of bread cubes or crumbs. First, I sauté a few links of spicy Italian sausage, sliced at an angle for a little design flare. Next I add a little garlic, sage, diced red and green bell pepper, onion, carrots and celery. Sauté everything in a little olive oil until the vegetables are slightly translucent, then throw in a splash of wine (my personal choice is Skinny Vine's Slim Chardonnay at only 86 calories per 5 oz. glass -- I sip on it as I cook; after all the holiday cook deserves a little guiltless indulgence every now and then!)
While my veggies are marrying themselves to the amazing flavour of my fave wine, I start cooking my rice. You can use white rice, brown rice, or quinoa, whatever you have in your pantry. Once the rice is cooked simply toss into the veggie mixture. For fun, you can toss in sliced almonds, dried cranberries or diced apple (honeycrisp is my recommendation because they taste insanely wonderful).
Lactose-free mashed potatoes made with love.
How could a holiday meal be a holiday meal without those delectable mashed spuds? It can't! What is a holiday host or hostess to do if entertaining folks with a lactose allergy or intolerance? Swap out the cream, butter and all dairy for mayo. Yes, you heard me right...hail, hail to marvellous mayo. I love it, I love it, I love it. So smooth, so creamy, yet no milk or lactose involved in its creation. And believe you me, it's amazing folded into mashed potatoes. Here is how I pull off my "dairy-free holiday mashed spuds." Mash or use a ricer to deconstruct those cute little Yukons. Next, throw in one half cup chicken broth, one cup mayonnaise, fresh minced thyme, sage or rosemary, salt and pepper. Using a rubber spatula gently fold in all the additions until they are well combined into your potatoes. Serve warm.
Vegetarian/vegan holiday meal
There is really no way around making two main dishes unless all of your guests are vegetarian. I propose a simple Italian solution....just as my grandfather Luigi would say, "make some lasagna and fuhgetaboutit!" Over the years I've noticed that most of my friends and clients who are vegetarian also like to eat gluten-free, thus the inception of my yumm-o-licious roasted vegetable lasagna. It's made with layers of extra-thinly sliced potato, eggplant, zucchini, onion, my homemade pesto and goat cheese. (By the way, most people who are lactose-intolerant can eat goat cheese without any issues. Cha-ching!)
Although this recipe might sound painstakingly difficult given the "extra thin" sliced vegetables, it's really über simple if you invest in a mandoline -- no, not the musical instrument, it's a kitchen gadget, people! I have a super mega-cool mandoline that I bought from Williams Sonoma for a zillion dollars (well...$150 really, but it was expensive). Given that I'm always cooking, teaching cooking classes or developing recipes, it was an investment. The good news is you can find a decent mandolin in the kitchen gadget section of your local supermaket for around $10. This tool will slice the potatoes, zucchini, eggplant, and onion in a snap. If you want to try my Roasted Vegetable Lasagna recipe, see below. By the way, it pairs well with my beloved Skinny Vine Slim Chardonnay!
Buon Appetito! ;)
Christine's Roasted Vegetable Lasagna
(Serves 10)

Olive oil for greasing the dish
6 medium red potatoes, very thinly sliced
Christine's Pesto (see below)
Sea Salt
¾ pound eggplant (about 1 large), unpeeled and thinly sliced
2 medium golden zucchini, thinly sliced
1 large red or yellow onion, thinly sliced
1 jar (24 ounces) marinara sauce
12 ounces soft goat cheese

Preheat the oven to 375 degrees Fahrenheit. Grease a 2-quart baking dish with olive oil. Arrange half the potato slices in the dish. Season each potato with a small drop of the pesto. Top each potato with a slice of eggplant, zucchini, and onion. Using half of the goat cheese, place a bit of cheese onto the top of each vegetable stack. Pour half of the marinara over everything. Make a second layer of potatoes, pesto, vegetables, and sauce. Lastly, drop mini dollops of the remaining 6 ounces of goat cheese over the top of the lasagna.

Cover the dish with foil and bake for 45 minutes. Remove the foil and bake until the lasagna is bubbling and the top has browned, about 10 minutes.

Nutrition facts per serving: 297 calories, 12 grams protein, 35 grams carbohydrates, 13 grams fat

Christine's Pesto
(makes about ½ cup)

2 cups tightly packed fresh basil leaves
½ cup grated Parmeson cheese
¼ cup pine nuts
¼ teaspoon cayenne pepper
1 garlic clove, crushed with the side of a knife
¼ cup extra-virgin olive oil
Sea salt and ground black pepper

Combine the basil, cheese, pine nuts, cayenne and garlic in a food processor or blender. With the machine running, slowly pour in the oil. Blend until mixture looks bright green and thick, about 45 seconds. Season with salt and pepper to taste.

Nutrition facts per tablespoon: 71 calories, 1 gram protein, 1 gram carbohydrates, 7 grams fat (mostly good fats!)
Joy Bauer's Holiday Health Tips
At holiday parties, stick with just ONE of each deliciously tempting hors duerves, one plate of food (anything you want, just keep the portions reasonable), one alcoholic drink, and one dessert. You'll be able to enjoy every part of the meal, and you'll end the evening feeling light and content, not stuffed, heavy and bloated. Visit Joy Bauer on Facebook and Twitter for more.

Alcohol is double trouble for your waistline: it's high in calories and it lowers your inhibitions, which means you might end up eating more than you planned. Stick with the most slimming cocktails -- a glass of wine or champagne at 120 calories or a light beer at around 100 calories. You can also enjoy a shot of liquor with club soda and a splash of fruit juice for 100 calories. It's also a good idea to drink water through the evening, it helps in not drinking too much alcohol! Visit Joy Bauer on Facebook and Twitter for more.

Eating is contagious. Research out of Georgia State University shows that people eat 75% more calories when dining in a large group, as at holiday parties - that's almost DOUBLE the number of calories you'd eat alone. Stay on track by hanging out with the talkers in the group rather than the eaters huddled around the buffet table. Visit Joy Bauer on Facebook and Twitter for more.

There are so many dips that are festive, delicious and definitely don't seem like diet food -- bean dips, spinach-artichoke dip, and even hummus. And, don't forget: www.joybauer.com has a ton of healthy dip recipes. Visit Joy Bauer on Facebook and Twitter for more.

When trying to lose weight, women should aim to take in between 1,200 and 1,600 calories per day. For men, the count should be between 1,600 and 2,200 calories. If you're within that range, the weight will come off. Visit Joy Bauer on Facebook and Twitter for more.

To lighten up baked goods like cookies and cupcakes, reduce the sugar by a quarter. You can also slash calories by making your treats smaller -- scoop out smaller cookies or use a mini muffin pan instead of a standard one. In dips, substitute nonfat Greek yogurt for some or all of the full-fat mayo or sour cream. For mashed potatoes, try 1% milk in place of whole milk or cream and use just one tablespoon of butter to add a hint of richness. Visit Joy Bauer on Facebook and Twitter for more.

Spices are not only great, low-calorie flavorings, but they also have medicinal powers. For example, ginger and turmeric are anti-inflammatory, so they help to ease aches and pains. Cajun seasoning and anything spicy can rev the metabolism and help to suppress appetite. Visit Joy Bauer on Facebook and Twitter for more.

If you had to choose any three foods to add to a diet, they would be: Salmon, loaded with heart-healthy omega-3 fats Nuts, a low carbohydrate snack which contains fiber, protein, and those heart-healthy fats Lentils, which are healthy and great for your mood Visit Joy Bauer on Facebook and Twitter for more.

Hit the gym or the pavement first thing in the morning after a day of holiday feasting. Jumping into a vigorous cardio workout will help you burn off the extra calories and sweat away bloat. Plus, it puts you in a positive mindset so you can get back on track with your healthy eating plan. Visit Joy Bauer on Facebook and Twitter for more.

Try munching on pistachio nuts to lower your cholesterol. Pistachios contain a compound called plant sterols, which help absorb the bad cholesterol in the gut. And, 30 pistachios are only 100 calories. Nature Made also has a cholesterol-lowering pill called CholestOff that contains plant sterols and can be bought over-the-counter. Visit Joy Bauer on Facebook and Twitter for more.
Follow Christine Avanti on Twitter: www.twitter.com/christineavanti