Is Social Media Destroying Your Body Image?
So, you're following some supermodels, celebrities, fitness models, personal trainers and other women with slammin' bodies on Twitter, Facebook, Instagram and Pinterest. Do you find the images motivate you to eat better and work out harder, or do they make you less happy with your body and want to go on a crash diet?
Is social media good for our body image or is it harmful?
The answer: it's just like the awkward Facebook status... "It's complicated." Social media can be healthy or harmful to your body image depending on how you use it.
Here's an e-card that sums up the conflicting messages we see on social media: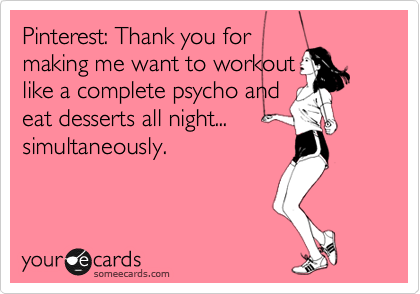 (Card created by aylab1 via someecards.com).

No wonder we're all confused about what a healthy lifestyle looks like!
Social media is a place where the best and the worst in people is on display. People with distorted versions of health have latched on to disturbing trends such as #ThighGap, #CollarboneChallenge and #thinspo.
Instagram, Pinterest and other social media sites have banned the use of #thinspiration, #thinspo and other potentially harmful tags for promoting or glorifying self-harm. But can we completely avoid the negative effect social media can have on our body image?
Teen role model Demi Lovato has opened up about her struggles with anorexia and bulimia and how social media played a role.
"Social media started impacting my life when I was about 14 years old. I would check it obsessively, reading comments and wondering if people noticed that I'd gained or lost weight. I allowed social media to define what I thought of my body. And now I realize that no matter how thin you are, someone will call you fat.
No matter how beautiful you are, someone will call you ugly. But you can't spend your time worrying about that. You're just not going to please the world."
Even if you are looking for legitimate fitness and health-based information, what you see can make you feel like you're not doing well enough.
As an experiment, I searched Instagram for "motivation," "healthy" and "fit," and most of the images that appeared were about losing weight. Many showed celebrities who had slimmed down and glorified their new thinner physiques.
How often do you see articles along the lines of Celebrity Weight Loss: Before and After or slideshows shaming stars who have gained weight? How often do you see ones talking about health and fitness separate from thinness?

Are there other, more important reasons than being thin to work out and eat well?
Of course! Beyond better energy levels and mood and lowering the risk of a whole host of chronic diseases, research shows that we're more likely to stick to exercise programs if we're motivated by something inside us versus outside appearances.
For example, finding an activity you enjoy that makes you feel good means you're more likely to stick to it compared to taking up a type of exercise to lose weight. The same is true for trying to eat healthier. Most people stick with it because eating better makes them feel better.
I'll be sharing the positive aspects of social media for inspiring healthy eating and exercise as well as health at every size. Plus, I'll provide tips on how to use social media in positive ways and avoid negative messages that can distract you from your health goals.
Does social media inspire you to take better care of your health or does it discourage you? Have your say below and on my Facebook page, 80 Twenty Nutrition.
MORE ON HUFFPOST:
Serena Willliams was told she is "built like a man" by Twitter trolls, but that didn't stop her being super body confident. "I love that I am a full woman and I'm strong and I'm powerful and I'm beautiful at the same time," she said. "And there's nothing wrong with that."

Lines like this are why we love Tess Holliday: "It's okay to be yourself, even if you happen to exist in a fat body. I'm sexy, confident and give no fucks. Also, fuck anyone for saying otherwise. "

Having previously opened up about her struggles with an eating disorder, Demi Lovato posed for an un-touched nude photo featured on the cover of Vanity Fair. "I basically went from hating every single inch of my body to working on myself and trying to figure out ways to love myself and love the skin that I'm in," she said in an accompanying interview. "I learned after working very hard on my spirituality and my soul and my body, I learned that you can get to a place where you love the skin that you're in and I'm excited to share that with the world."

Jameela Jamil has launched an inclusive clothing range to end the plus-size divide once and for all. "I find it infuriating that in this industry, size 10 and above is defined as 'plus size' especially when the average dress size in the UK is a 16," she said. "We really shouldn't be putting a label on size, fashion is for all and I think confidence and happiness is more important than dress labels."

Chrissy Teigen proved even models aren't perfect when she posted a picture of her stretch marks on Instagram. Her post promoted comments like: "I've had stretch marks since I was 12 years old at 5'9". So important for young girls and now 29 year olds to see."

Actress Kate Winslet is determined to help her daughter develop a healthy body image. "When I grew up, I never heard positive reinforcement about body image from any female in my life," she said. "I only ever heard negatives. That's very damaging because then you're programmed as a young woman to immediately scrutinise yourself and how you look." "And so I stand in front of the mirror and say to Mia, 'We are so lucky that we've got a shape. We're so lucky we're curvy. We're so lucky that we've got good bums.' And she'll say, 'Mummy, I know, thank God.' It's working, that thing that I've been doing. It's paying off."

Lupita Nyong'o has spoken out against the lack of diversity in the media saying: "European standards of beauty are something that plague the entire world—the idea that darker skin is not beautiful, that light skin is the key to success and love." She also loves her skin, as proven by her appearance in a brilliant Sesame Street sketch.

Model Ashley Graham refuses to be defined by her size. "It's fantastic when I'm not labeled as a plus size model in any interview or editorial I do," she told HuffPost UK Style. "It makes a statement for women out there, 'look she's not being described by her size, she's being honoured by the things that she's doing in the world'."

When a film critic called actress and comedian Amy Schumer "chubby", she responded by saying: "I am a US size 6 and have no plans of changing. This is it. Stay on or get off." Brilliant.

Alexa Chung has been skinny-shamed and called "gross" by online trolls, but instead of letting the haters get her down, she's become a spokesperson for body diversity in the media. "I would love to look like Daisy Lowe, but I don't... but I'm happy with how I look. Equally, I don't want to use this as an example of how young girls should look," she said.
Follow Christy Brissette, MSc, RD on Twitter: www.twitter.com/80twentyrule