Equality Starts With Giving Women The Confidence To Compete - And Win
I'm often asked what we can do to reach true equality -- a world where women and men were equally represented in everything from government to business.
If I had to pick one single thing we could address, I'd say confidence. Simply put -- men have it. Too often, women don't.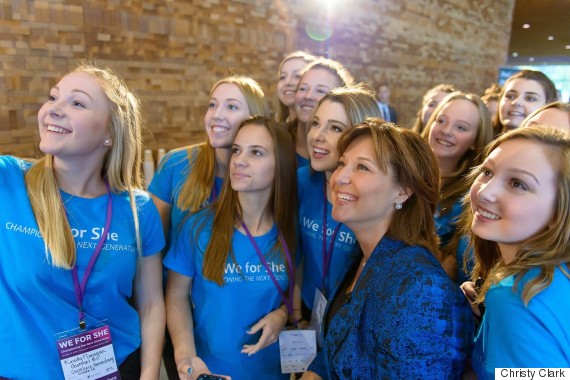 Premier Christy Clark with students at the 2016 We for She event in Vancouver.
It starts very early. When I was growing up, we didn't have a lot of mentors or even positive role models, showing us that women could compete and win in any field they chose.
For me, the role model I did find was on TV -- Mary Tyler Moore, who played a woman in a male-dominated industry who succeeded on her terms. She gave me confidence that I could do the same. But then as now, she was the exception, not the rule. And that's a shame, because it undermines confidence.
I see this when we're talking to bright, accomplished women about running for office. Women who could make a real difference in government.
We've had some success moving towards equality in government. Forty per cent of my cabinet is made up of women, as are 50 per cent of the civil service, including a woman at the head. The speaker of the legislature, chair of our government caucus and the head of BC Hydro - all women. And every single one of them is in that position because they deserve to be.
In business, government, or anything else, it starts with giving young women the confidence that they can compete - and win.
But when I approach women and ask them to consider running for office, they say, "I don't know."
They worry they don't know all the answers to every question, about their other responsibilities to their family and job, and they worry that someone else would be better suited or more qualified. They don't have confidence in themselves.
When I ask a man, they say "it's about time." They can't believe it took us so long to ask.
Confidence matters. And if you don't think a premier can struggle with confidence... try standing next to Kate Middleton and not having second thoughts about your appearance.
That's the culture we grow up in. We're bombarded with messages, both implied and overt, that what really matters is how we look.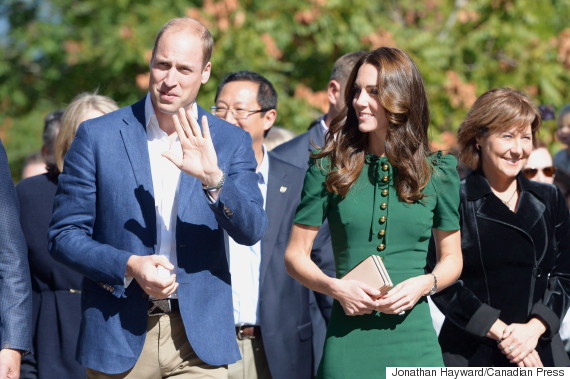 The Duke and Duchess of Cambridge and Premier Christy Clark (right) arrive for an event at the University of British Columbia's Okanagan campus in Kelowna, B.C., Sept. 27, 2016. (Photo: Jonathan Hayward/Canadian Press)
On this International Women's Day it's important to celebrate and recognize successful women. Young women, girls need to see others succeeding in fields that traditionally have been dominated by men.
It's important for young women to see other women in politics and government. It's important for young female athletes to see women cheered in packed stadiums and arenas. And it's important to connect bright, budding young entrepreneurs with mentors who can show them the path to success.
If you don't think there's a barrier, consider this: in the United States, there are more CEOs of Fortune 500 companies named John, than there are CEOs who are women.
Take a moment, and let that sink in.
We can connect young businesswomen with the support, experience, and knowledge to help reach the next level. Or, we can encourage more young moms to name their daughters "John."
In business, government, or anything else, it starts with giving young women the confidence that they can compete -- and win.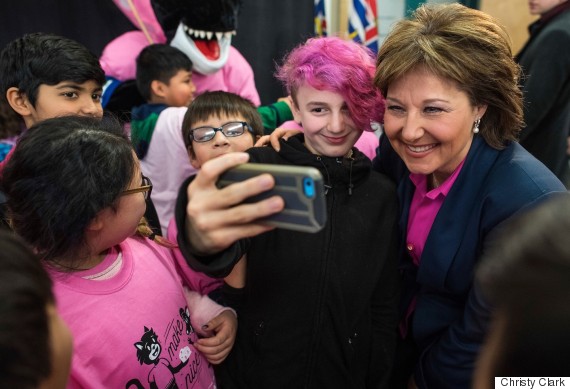 Premier Christy Clark at Pink Shirt Day in Burnaby, B.C.
This is important, because we're all better off when women succeed. Not because women are better at making decisions than men, or that women care about different things than men.
It's important because women bring different experiences to the table. Whether that's the cabinet table, or the boardroom of a company responsible for thousands of jobs -- I think you'd want the benefit of the biggest range of experience you can possibly get.
We need to work together to make sure the next generation of young women have the confidence to know they have the same opportunity -- and the same right -- to find a seat at that table.
Maybe even at the head.
Follow HuffPost Canada Blogs on Facebook
Also on HuffPost:
Visionary Women: Life Lessons from 20 Female Luminaries
Maya Angelou was an author, poet, dancer, actress, singer, producer and activist. One of the lessons that we can learn from her life is the importance of saying "Yes". She discovered who she was and along the way by saying yes to various opportunities. "If I'm asked, 'Can you do this?' I think, if I don't do it, it'll be ten years before another black woman is asked to do it. And I say, 'yes, yes, when do you want it?"

Marina Abramovic's art allowed her to push past physical boundaries. In her 2010 groundbreaking performance The Artist is Present at New York's MoMA, she broke attendance records attracting more than 500,000 visitors. One of the lessons we can learn from her life is that when dealing with yourself and pushing past your own limitations you can be a catalyst for others to do the same.

Publisher of The Washington Post, Katharine Graham was the first woman to head a Fortune 500 company. When she took over the Post in 1963 after her husband's death, she had no formal training in business and only modest experience in journalism, yet she found her way to success. Life lesson: People can lead very rich and fulfilling careers in the second half of life. "Most people go through life without ever discovering the existence of that whole field of endeavor which we describe as second wind."

Marie Curie was a Polish-born French physicist famous for her work on radioactivity and twice a winner of the Nobel Prize. She is the most famous female scientist of all time, and has received numerous posthumous honors. One of the lessons one can learn from her life is to follow your intuition and passion. Curie once said, "I am among those who think science has a great beauty. A scientist in his laboratory is not only a technician: He is also a child placed before natural phenomena which impress him like a fairy tale."

Rosario Perez is the former CEO and President of Pro Mujer (For Women), a non-profit organization dedicated to the economic development of women in Latin America. After a long successful career at JPMorgan Chase, she repositioned herself to help some of the most disadvantaged women in South America. Her work has reached more than 1.6 million women and their 6.4 million children and family members in Latin America. Lesson from her life: If you give others the opportunities and the right tools, people can lift themselves up.

Muccia Prada is a fashion powerhouse that continues to unveil her vision of what a woman can be. Her farsighted creativity extends to other cultural forums, including architecture, art, cinema and design. Her collaboration with acclaimed architects led to creating a revolutionary store concept, combining retail, an art space, and gallery. Life lesson: you can merge all your passions into the business that you have.

Carmen Amaya "The Queen of the Gypsies" is known as one of the greatest dancers of all time, and the mother of modern Flamenco dance. Rising from poverty to becoming an international star and performing on the silver screen, her story is truly remarkable. She was described as: a volcano, a tornado, a cyclone, a young tiger, a serpent, and "furiously animal". One of lessons from her life is one of loyalty to family and a passion for her art. It is well known that she took great care of her family and brought them along on her many tours.

Victoria Ocampo was a writer, an editor, a publisher, a feminist and described as "La Mujer mas Argentina" (the Quintessential Argentinian Woman). She pushed beyond on the stereotypes of her wealthy upbringing and made a name for herself in the literary world. Her admiration for her contemporary luminaries motivated her to carve out a series of mentoring relationships that had a huge effect in her path to success. Life lesson: surround yourself with like-minded successful people you admire so that you can draw from their guidance and experience.

Shirin Neshat is a visual artist who has gained global recognition for her work in photography, film, and video. Born in Iran and living in the United States for much of her life due to the political climate of her native homeland, her work reflects the experience of being caught between two worlds. Life lesson: Imagination is one of our greatest resources. "My imagination is the place that I feel at home. As long as I can go back to my imagination, I am content."

Diana Nyad is a world champion swimmer, an author, journalist and motivational speaker. She is best known for her recent feat in becoming first person to swim from Cuba to Florida without a shark cage. Her motto: "Find a way." Life lesson: Never give up.

Amelia Earhart was the first woman to fly solo from the coast to coast, across the Atlantic, and the first pilot to fly solo across the Pacific. She tragically was lost at sea on her attempt to circumnavigate the globe at the equator. One of the great lessons of her life was that she wasn't afraid to step into the unknown. She had a way of confronting her fears and transforming them into excitement and adventure.

The daughter of former slaves, she went on to become the first female millionaire in U.S. history. Breaking the cycle of poverty in her own family, she created a thriving national hair care business. Life lesson: It doesn't matter where you come from. You can take a idea and build a future for yourself.

Although left deaf and blind through a childhood illness, Helen Keller rose above her circumstances to become a US Goodwill Ambassador, an author, and lecturer, and spoke several languages. She would later become the recipient of the US Presidential Medical of Freedom. Life lesson: A rich interior life far outweighs physical limitations. Her life continues to inspire millions worldwide.
Follow Christy Clark on Twitter: www.twitter.com/christyclarkbc