Financial Stress Is Taking A Toll On Canadians' Health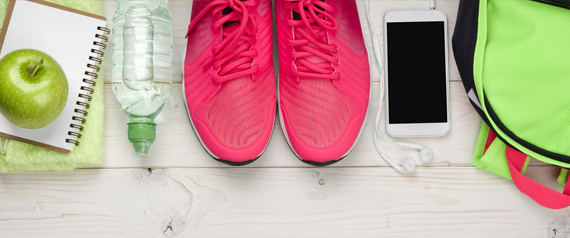 Canadians carry a lot of consumer debt. For every $100 in disposable income, Canadian households have $168 in consumer debt according to Statistics Canada data from June 2016. It's no surprise that according to the 2015 Sun Life Canadian Health Index that respondents told us their top three drivers of stress are related to finances and 42 per cent of Canadians rank "money" as their number one stressor.
Financial stress can stem from a number of causes -- insufficient income, precarious work, the challenges of everyday budgeting or debt. A major life event such as an illness or divorce can throw off any financial plan.
"Research points to a material link between financial stress and symptoms of depression and anxiety -- we saw that in the 2008 financial crisis as housing prices crashed, the use of anti-depressants spiked ," says Dr. Marie-Hélène Pelletier, Assistant Vice-President, Workplace Mental Health at Sun Life Financial. "Financial stress has also been linked in some studies to physical health conditions like higher blood pressure and back pain."
Taking a proactive, calm and collected approach to your finances has many benefits. But sometimes it's easier said than done. What are some strategies to reduce the impact of financial stress?
Keep the lines of communication open.
There's no better time than the start of a new year to reflect on where you're at and where you'd like to be. Set goals on your own or together if you have a partner and keep them visible. If you'd like to reduce debt or save more for retirement, look at your budget and see where you might be able to trim expenses.
Think of creative ways to spend less. If you get a raise, consider putting it right into savings so you don't even see it. Make it a goal to create an emergency fund to cover unexpected financial surprises. Life happens -- and having an emergency fund can make it easier to handle a furnace break down, new roof, busted cell phone or a broken laptop. This way you are in control.
Develop an investment plan and stick to it.
When it comes to your money, remember the importance of having a portfolio that's diversified broadly across sectors and asset classes. Take a holistic view of all of your investments including any workplace plans.
Consider a managed solution.
There are investment solutions that can help reduce financial stress. Managed solutions provide broad diversification and access to professional investment management. They come in a variety of types to suit your risk tolerance and allow you to get the kind of diversification that a pension fund or high net worth investor does. You can also access a managed portfolio at low asset levels, similar to other mutual funds.
Speak to a financial adviser.
It's important to acknowledge the tendency to avoid things that make us stressed and look for ways to counter that tendency. You don't have to go through financial stress alone. Talking to an adviser to help review your finances, make decisions and create a long-term plan has many benefits. It's worth investing in creating healthy financial habits that will work for you. You can be more in the driver's seat than you think when it comes to your financial, physical and mental well-being.
This article is provided for general informational purposes only and should not be considered specific financial advice. For advice specific to your circumstances, please speak to the appropriate tax, investment or insurance adviser. Commissions, trailing commissions, management fees and expenses all may be associated with mutual fund investments. Please read the prospectus before investing. Mutual funds are not guaranteed, their values change frequently and past performance may not be repeated.
Follow HuffPost Canada Blogs on Facebook
Also on HuffPost:
It's the best medicine, right? A real belly laugh can quickly help you forget more minor stressors and give you a bit of respite from the bigger ones. Subscribe to a funny podcast like WTF with Marc Maron or Friends Like Us, or make a YouTube playlist full of clips of your favourite stand-up comedians. If you have a bit more time, watch a favourite episode of a sitcom or even your favourite funny movie. Before long you'll be feeling looser and lighter.

"It's been proven time and time again that getting your body moving releases endorphins and can instantly lift your mood," said Nitika Chopra, a certified life coach and wellness entrepreneur. Exercise helps you relieve stress because it causes a release of mood-boosting endorphins, the Mayo Clinic says, and the effects only increase over the long term. Getting more exercise doesn't mean that you have to hit a gym. Buddy up with a friend for regular walks or runs together, or join a local rec-league sports team. Even a night out dancing counts!

Stretch: It's hard to remember to get a good stretch into your day, whether it's around a workout or simply because it feels good. But taking a break to get in a few stretches can be a great stress buster, especially for desk workers — stretching those shoulders out helps to relieve some of the tension we can carry there. This guide by Walking Spree outlines easy stretches you can do in a few minutes at your office, and this one from Beauty High has a great yoga routine you can do at home.

Chopra admits she wasn't always sold on the relaxing powers of essential oils, but since incorporating them into her routine over the past year, she's been wowed by the effects. For example, she uses a bit of lavender oil on her wrists to help her unwind before bed, a time that she said can be the most stressful of the day for her. "I now use that to calm my mind and relax my body to allow me to sleep," she said. If a boost is what you're looking for, try citrus or peppermint. But ultimately, the most relaxing scent will be one you enjoy — get a candle with a scent that reminds you of a place you love, for example.

It would be nice to have a personal masseuse, but that's just a dream for most of us. But that doesn't mean you can't enjoy the relaxing benefits of massage every day. Self massage can help you loosen your muscles and release tension. Try yoga poses with massaging benefits like these ideas from Shape, gentle shiatsu-based techniques, or a massage ball.

"This technique is often used on people who are experiencing trauma or have deep-seeded emotional blocks" Chopra explained. "When we get stressed out, it's often because something at our very core is being triggered." It's not necessarily about the specific event as much as it's about the emotions tied to it. "With EFT you actually tap on the meridian points on your body while saying an affirmation," she said. "This helps you release emotional energy and release stress at the same time." If that sounds intriguing you can learn more here.

We all have overloaded lives these days, and that can really amp up our stress levels. But what if we started to simply decline some of the invitations that come our way? You don't have to attend every event, especially if going actually adds stress to your life instead of enjoyment. And you don't have to sign up for every committee. In her new book Better Than Before, author Gretchen Rubin suggests considering how you would feel if asked to do a particular task next week; it's easier to know if we really want to do something if we imagine it happening sometime very soon as opposed to in the distant-seeming future.

Chopra referred to your "Love Entourage" — "the people in life you love you, lift you up and have your back for real." When stress is really getting to you, these are the people you want to talk to. "Some times we need to release stress verbally, so when you speak to them, let them know that you need to vent and would love a listening ear," she suggested. If you can't meet in person, even a call or a chat session by text can help you unwind and let go.

: A great song can really transport you in powerful ways. Take advantage of that and load up your phone with your favourite albums, or put together a playlist of songs that make you feel happy — whether it's because they remind you of a great time in your life or just because you really love them. A string of songs that put a smile on your face can turn your mood around more quickly than you'd suspect.

Have you heard of the idea of writing a letter to someone you're upset with, then getting rid of it without sending it? There's something to that. "Writing out what is stressing you out is just another way to get that stress out of your body and on to paper," Chopra said. Writing your feelings out can help you make sense of them because you're forced to articulate them. And just putting it down can help you on your way to letting it go.

Sweden has a concept called fika: it's like a coffee break, but it's a real break. When it's time for fika, you leave behind whatever it is you were doing and take a few minutes to truly enjoy your coffee or tea and a snack — sometimes alone, sometimes as a short social break in the day. Doesn't that sound more relaxing than getting your coffee to go or eating lunch at your desk?
Follow Cindy Crean on Twitter: www.twitter.com/cindy_crean