How to Restyle Your Cabin Bedroom On a Budget
With bigger spends planned for other zones in their lakeside cottage (kitchen and bathrooms, for example) Colin and Justin release their inner miser to pull together this tiny bedroom...

If you've been watching Colin and Justin's Cabin Pressure (Tuesdays, 10 p.m., Cottage Life) you'll be familiar with our plan -- that being, to transform the worst cottage on a tiny lake (not expensive waterways like Rosseau or Muskoka -- have you seen their taxes?) into holiday home perfection. For fear of spoiling your viewership (and leaking the outcome) we'll stem our written flow, save only to whisper that the series is fraught with drama...

So Cabin Pressure wasn't the walk in the park we expected it to be? Erm no. Let's just say our, ahem, "postcard perfect" log house was a wolf in sheep's clothing. A pig in lipstick, if you will. Indeed the term "buyer beware" was seldom more relevant. Aye, in hindsight, we should have spent loads more time putting our cottage under the microscope... before submitting our offer. But hey ho. Fortune favours the brave...

As filming endured we discovered, for example, that our massive wrap around deck (the very asset that had drawn us like moths to a flame) was actually a potential death trap. Long suffering Dan The Man, our contractor, banned anyone from walking on certain areas, lest they collapse into the bowels of hell, sorry make that the sunroom, below (which, for the record, was also rotten to the core. Jeesh.).
And how about our log home's electrics? Hell mend us, we should have known there'd be issues. But we could never have factored for the problems we actually encountered. Let's just say Old Sparky was lurking behind our dry wall. A simple nail into plaster, explained our erstwhile builder, could have easily resulted in instant dispatch from this mortal coil.

But anyway, we digress. It wasn't all hell and pestilence as our reality show endured. We actually had a whole load of fun along the way and, crucially, created an armoury of magnificent designer triumph. Only last week, in these virtual pages, we showed how to transform two average bedrooms into one commodious space. And, while self praise isn't a virtue, we're particularly proud of our master stroke in the master suite.

This week, to provide editorial balance, we're turning our attentions to maxing up, visually, when proportions are tight. Yup, we're showing how to make a cramped, and formerly crappy, space look infinitely bigger -- and eminently more stylish -- without sending your bank manager into cardiac free fall. Here's how we achieved our decorative miracle...

Wall colour

Oh dear. That spriggy, floral wallpaper. Laura Ashley, God rest her soul, would spin in her grave if she knew we'd painted over it. As much as it might have been, ahem, 'nice' in the 1980s, we disguised it with several coats of Revere Pewter by Benjamin Moore. It's worth noting, however, had the paper become in any way unstuck over the last few decades, we'd have removed it, smoothed the drywall below and then repainted. But this stuff appeared to have been attached with power glue and was therefore a perfect candidate to be over painted. Et voila. Project time? Two hours. As opposed to an entire day if we'd wielded our steamers.

Wood love

Redolent of so many '80s built chalets, the pallor of our Swedish sauna-esque pine guest room had to change. Using sandpaper for the walls, and an orbital hire shop machine for the floor, we got back to basics before applying two even coats of Pewter Semi Transparent Wood Stain (ST131) by Behr. Softening the previously orange pallor had an admittedly subtle effect but, let's face it, when so much of this room's 'décor' was -- and still is -- composed of inherent timber, it was a nonetheless important aspect to tackle.

Barn of opportunity

Holy McBargain -- we love a good deal. Sourced, second hand, from a roadside barn in Muskoka, we paid just $25 for a headboard that was, as we found it, stained darkest mahogany. To suffuse it with new life, we undercoated carefully, then lavished it with Iron Mountain by Benjamin Moore. This, to be honest, is just our type of upcycle project -- affordable and stylish with a liberal dash of "easy to achieve" slung in for good measure.

Linen lovelies

The burgundy-toned bed shams were sourced in Ikea, the cushions were custom made using Robert Allen Fabrics while Homesense was our go to source for accent throws and pillows. You getting our message yet? Hmm? That's right; good design doesn't have to be an expensive science. It's not, as we oft' opine, how much you spend, rather where you spend it that makes the biggest difference. And in this day and age, with so many wonderful retail destinations from which to choose, there's no excuse to miss the decorative mark.

Bedside heroes
Plowing a little cash into the local economy was satisfying: the ebony toned tables came from Hilltop Interiors in Rosseau and, while not the least expensive items in our bedroom armoury, they're wonderfully stylish, hand built (with beautiful dovetailing) and a lovely distressed finish. Click here to learn a little of what we call 'hero' pieces. A hero piece, in a nutshell, is something that is strong enough to flavour the rest of your project. An indulgent element which suggests other schematic aspects have been similarly indulged. Trickery? Yes. And why not?

Mirrors and lighting

None of these wee mirrors cost any more than 25 bucks. All came from Homesense, as did the bedside lamps, and their collective appeal seems time worn and not remotely "off the shelf." Guess that's just one of the good things about Homesense. Their fashion forward buyers know precisely how to capture current trends -- in this case "lived in and loved." Another way to curate this type of look would be to trawl antique stores, consignment outlets or even kijiji or eBay. Destinations such as these often throw up great deals but the associated time to assemble your collection may work against you.

We hope you'll tune into Cabin Pressure on a regular basis to catch all the action as our story unfolds. If you do, you'll observe, however, that it's not all stress, drama and near death experience. To conclude every action packed episode (as a companion to a whole load of contracting, building and reno' advice) there's also a beautiful reveal -- namely bedrooms, bathrooms, living rooms, docks, decks and a show stopping bunkie.

We've made more TV series -- on both sides of the pond -- than we care to remember, but this particular small screen juggernaut is a particular favourite. Let's just say we fall in love with lakeside living as our budgetary control takes on the elastic prowess of Russian gymnasts.

But will we make it to the series conclusion smiling... or will our wolf in sheep's clothing log house finally get the better of us and send us, kicking and screaming, back to the city? Will our cabin pressure lids finally pop? All will be revealed. Expect a hypnotizing mix of designer tricks and tips as we get to know the great outdoors. It's fair to say we enjoyed ourselves. And yes, even as confirmed urbanites, we learned to LOVE nature. In spite of what it did to us...

Meet Colin and Justin, live at The Cottage Life Show Saturday March 29. The designers will be hosting a decorating master class at 1.30 p.m.

For further info, visit Cabin Pressure.
The Dated Floral Bedroom Before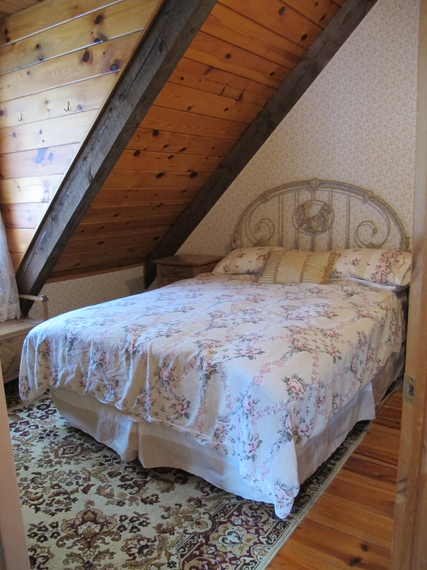 The Simplified After Look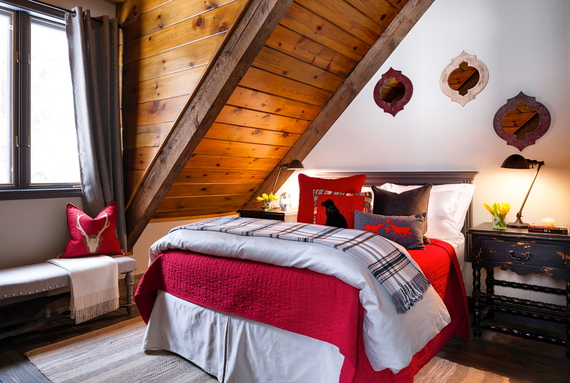 ALSO ON HUFFPOST:
Wildest, Most Expensive 'Cottages' For Sale In Canada
This house in Rockyview County, Alberta, comes with five bedrooms and nine bathrooms on 13,000 square feet of living space. That includes a two-story library, a six-car garage and an 18-seat movie theatre.

Seven bedrooms in this 9,000-square-foot house in Pincher Creek, Alberta. The realtor describes the property as "perched nearly 900 feet above Highway 3 as you enter [the] captivating Crowsnest Pass." There are no fewer than four fireplaces on the property, and the sellers promise "world-class fly-fishing, skiing, and hiking."

Located just outside of Canmore, Alberta, this property features six bedrooms and 10 full or partial bathrooms on 7,500 square feet. "Features include the great hall with towering totem poles ... a hidden staircase leading to the stone wine grotto, massive wood-burning stone fireplaces, a two-storey library, an opulent kitchen, a lavish formal dining room, designer furnishings and fabrics, a passenger elevator, a 'Chauffeur's' quarters, a lower level theatre room and a large games room," the seller boasts.

This "fortress-like preserve" is located on one island in a chain of five about 20 minutes' boat ride from the Nova Scotia coast. The tide rises some 45 feet in that part of the world, and when the tide's out the island is surrounded by a red sand beach. The central residence has six bedroom and three bathrooms, and is linked by a network of walkways to "satellite bedroom cottages" spread across 10 acres of land.

This hybrid of an Ontario cottage and a James Bond supervillain's lair is embedded onto a rocky island in Georgian Bay. The open-concept octagonal cottage features six bedrooms, five bathrooms, a games room and three separate cabins.

Hudson might just qualify as a suburb of Montreal these days, but this palatial property's pool (complete with pool bar) and ice rink make it a great option for outdoorsy types. Ten bedrooms and six bathroooms in the main building.

Inspired by a Rockefeller country home, this log "cabin" north of Montreal was built from hand-picked trees to feature seven bedrooms and seven bathrooms on 10,000 square feet. The property features five fireplaces, a gym, a wine room and an entertainment centre.

Three bedrooms, four bathrooms and a five-car garage in this house in Montreal's cottage country that sits on 83 acres of land. The property features an inground pool and a cedar guest cottage.

Located on a 5-acre spur of land on Lac Tremblant, this cottage features four bedrooms and five baths in a 6,500-square-foot house. The property features a beach, a private dock and a tennis court.

St. Helen's Island in the cottage country north of Toronto features a five-bedroom, four-bath house with 6,400 square feet of living space. The property also features a two-bedroom guest cottage, a three-slip boathouse, a dockside gazebo, a wet bar, a water''s-edge stone patio and a fire pit.

This property called Idylwood features five bedrooms and four bathrooms on more than 6,000 square feet of living space.

This "spectacular gentleman's lakeshore estate," as the realtor confusingly calls it, features eight bedrooms and eight bathrooms on 8,600 square feet of living space. There is also a separate five-bedroom coach house. The property covers more than two acres and features 500 feet of beachfront.

The realtor boasts of this cottage's isolation -- there's a 2,200-foot long driveway that winds its way to the house, which sits on 124 acres and features 1,400 feet of lakefront. Four bedrooms and two bathrooms in this house. There's also a guest house, a boat house and a waterfall on the property.

The realtor describes this as "probably the finest lake shore home in the Okanagan," and with its own basketball court, boat house and boat house bar, it's certainly a contender. Six bedrooms and six bathrooms in this 7,500-square-foot "cottage."

Four bedrooms in this 5,000-square-foot house that promises "breathtaking mountain and lake views from every room." The property features a state-of-the-art media room and a custom landscaped waterfall.

This modernist "cottage" with a view of Whistler Mountain boasts five bedrooms and four bathrooms. The main floor terrace features a gas rock fireplace, BBQ and built-in benches. The house also has a hot tub gazebo and a gym.
Follow Colin & Justin on Twitter: www.twitter.com/colinjustin