How To Save Money At Home Without Sacrificing Style
Who better than two frugal Scottish designers to share money saving tips whilst marrying style advice into the bargain?
In B.C. last week at The Vancouver Home And Design Show, we offered style guidance to an army of hungry homemakers with an appetite for chic, affordable home counsel. Preaching from our lecterns at the bustling event, we heard the same question over and over again: "How do I save money decorating without sacrificing style?"

Spooling visuals (where client budgets maxed), we noticed that, as much as our glossy armory tempted oohs and ahs, it was the rooms conspired on tighter budgets that attracted the bigger response.

Ever sensitive to finance, we thought we'd touch, today, upon ways in which to conserve dollars around the home. Call us "frugalistas," tight wads or simply canny Scottish gents, but be assured: wherever possible, we won't overspend.

This done, we'll swoop back into familiar territory with some furniture mini miracles which we hope will inspire you to raid your local junk shop for treasures to transform...

Get ready to save

- Replace incandescent bulbs with fluorescent alternatives. Okay, they're pricier, but they use around 80-per-cent less electricity than standard bulbs.
- Turn off lights. We know how easy it is to roam room-to-room leaving lamps blazing. If we're doing it, you're doing it, too. And it's costing.
- Turn off that TV before bed (instead of leaving it on standby) and do the same with your computer. Every little helps, right?
- It's also good to turn down your thermostat; even one degree will affect savings of up to 10 per cent. And your water heater? Regulate to between 49 and 51C and watch savings mount.
- Be mindful of your kettle. We only boil what we need: that way we don't waste cash or send unnecessary carbon dioxide into the atmosphere. Fancy a solitary cuppa? Put a third of a litre in your boiler and prepare for a faster, cheaper brew.
- In our Glasgow home, built in 1835, we have an original overhead airer, which dries clothes quickly (working on the principal heat rises) so we rarely turn on our tumble drier. Coining it in? Aye, all the way to our tartan painted piggy bank.
- As cottagers, we've just instructed a course of draft proofing (sponge and brush seals around doors and windows) and anticipate considerable savings as Mother Nature's icy breath blows relentlessly against our cabin. We're not playing Scrooge: just being sensible. And mindful of the environment, to boot.
- If you respect water, bills will reduce. Invest in a programmable timer to take advantage of off-peak tariffs, and run dishwashers and washers (full, of course) during these periods.
- Shower, where possible, instead of bathing (to conserve around 60 per cent of the water) but remember that a power shower can dispatch the same as a bath if you stay under for more than five minutes.
- Turn off faucets as you clean your teeth. A running tap as you brush costs much more than a little on-and-off action.
- Clean surfaces with vinegar or baking soda instead of hot water and expensive products. We'd caution, though, that you dilute vinegar 50/50, as the smell can be overpowering.
- Launder clothes in cold water to save up to 40 per cent of energy versus washing in hot. If you use good quality, low-temperature detergent, results will be more than satisfactory.
- The foregoing is merely a snapshot of what you can do to cut domestic bills. For more inpsiration, go to http://nrcan.gc.ca or http://www.actionplan.gc.ca and prepare to start saving...

Upcycling - how to have style for less

In the meantime, enjoy a few C&J transformations: a discarded baby change station reversion, an 'edited' and recoloured display cabinet and a faux mahogany credenza .

Grown up, baby
First, we sanded the diaper changing station's gloopy varnish to smooth out imperfections. Good preparation, as always is key to a successful job.

Build up colour
Several light coats endure better than one heavy coat, so take time and build colour slowly using a foam roller to create a perfect finish and a small brush to catch intricate areas.

Heavy metal
Upholstery tacks, carefully applied, add light-catching detail and frame out sections of self-adhesive vinyl which we used to cover each door.

Glass act
Glass adds a modern feel, which protects the top surface while reflecting bottles in the same way a gantry would in a bar. A 5-mm brass rod from Home Depot, secured in place by drilling small side holes, stabilises bottles. For custom mirrors try Access Glass.

Context
A great talking point at parties, our client's new bar now resides next to the fireplace. With the addition of botanical prints above and a harp back chair to the side, the vignette comes alive.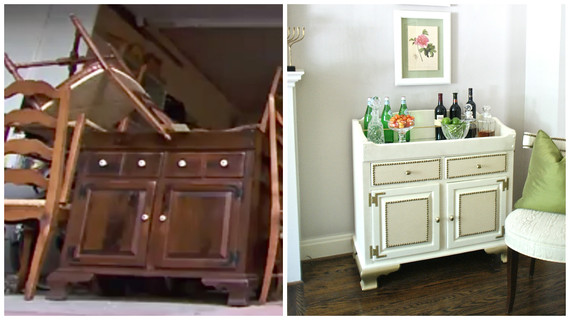 Shelving unit edit

Gloomy, over crowded and stuffy, the piece needed simple -- but serious -- attention.

Sanding
Decades of gloopy brown varnish had overwhelmed the unit. So, reworking in the same way as before, we brandished our sandpaper and smoothed away years of abuse.

Colour
Benjamin Moore paint is of such quality it's often possible to rework without the need for specific undercoat products. As such, and using the same techniques as we did for the first project, we carefully layered on this soft mid tone grey.

Off the rails
We measured and cut nickel plated decorative rails to size and attached them on simple brackets. Easy, huh?

Edit!
Look again at that crockery. Our bowl-loving client saw sense when suggested her wares could be better enjoyed in moderation. Hello -- less is more? So we grouped (less items) in simple colour stories and stashed the overflow in the basement. Now she can 'rotate' her collection on a seasonal basis to better enjoy each piece.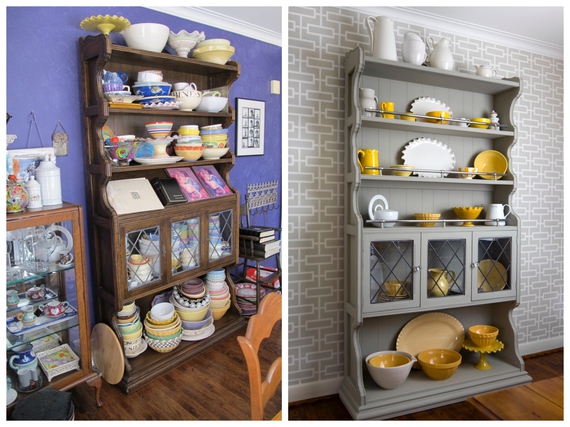 Clunky brown credenza
This was one of our simplest reversions ever. Cue more sandpaper, more carefully applied paint and a set of handles from Lee Valley Hardware. Jump online and prepare to be inspired: their inventory is like hardware "jewelry" and will enliven even the dustiest piece.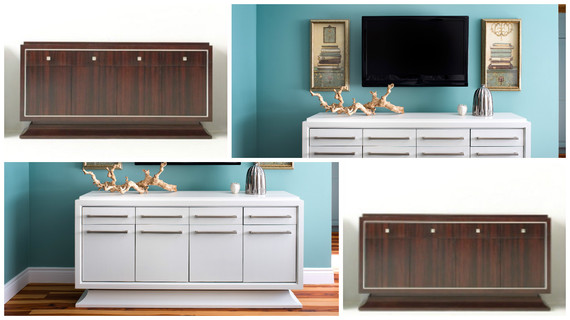 However you plan saving, whether cost-cutting as described at the top of our column, or upscaling as witnessed by our projects, one thing's certain: with the holidays approaching, you'll have more money to spend on festive decorations. And we'll be coming to those soon...
Follow HuffPost Canada Blogs on Facebook
Also on HuffPost:
Your Guide To Canada's Home Decor Stores
What it is known for: Not just a hardware store, Lowe's carries appliances, building materials and fixtures for the home. Our pick: A sleek wall-mounted electric fireplace, $289.99. Find a store near you.

What it is known for: This Winnipeg-based company is known for their simple, clean, mostly made-in-Canada modern designs. Our pick: We love this hand-woven bamboo rug, $499.99. Find a store near you.

What it is known for: This discount retailer is the go-to for brand name goods at affordable prices. Just be warned, stock moves quickly so if you see something you like you might have to grab it. Our pick: This metallic birdcage trinket, $16.99. Find a store near you.

What it is known for: This Canadian company carries fun and functional pieces for the home. Whether you're looking for frames or furniture you can get it here. Our pick: This fun throw pillow, $29. Find a store near you.

What it is known for:You might think of Costco as the place where you buy everything in bulk, but the big box retailer also carries furniture and home decor. Our pick: This decorative mirror makes a splash in an empty entryway, $159.99. Find a store near you.

What it is known for: This Quebec-based company carries high-quality linens (and various kitchen and decorative items) at low prices. Our pick: Bedding of course! We love the simple elegance of these crisp white and grey sheets, from $59. Find a store near you.

What it is known for: Canada's favourite department store, Hudson's Bay, carries a wide range of items for the home. So whether you are shopping for yourself or finding something from a registry, you can probably get it at The Bay. Our pick: This

What it is known for:The Quebec-based department store has wide range of products for the home at affordable prices. Our pick:Fun kitchen linens priced as low as $18.Find a store near you.

What it is known for: This grocery stores sell the President's Choice home line, which offers a wide range of dinnerware and patio fare. Our pick: This '50s-style bistro set is perfect for breakfast on the balcony. Find a store near you.

What it is known for: One of the most affordable furniture options, Ikea shelving units simply can't be beat. Our pick: We love this glass and metal unit for displaying everything from knick-knacks to books to bowls or bottles, $90. Find a store near you.

What it is known for: On the pricer side, West Elm carries gorgeous handcrafted designs for every room in your house. Our pick: Monogrammed sheets on a cute print, from $59.99. Find a store near you.

What it is known for: The iconic American furniture store carries classic decor that will last you for years to come. Our pick: This beautiful bedside lamp which will add a touch of texture to your nightstand, $199. Find a store near you.

What it is known for: Clean designs and simple sets, Crate & Barrel is one of the best when it comes to keeping your kitchen in check. Our pick: This hand-hammered beverage tub makes summer entertaining a breeze, $109.95. Find a store near.

What it is known for: Bouclair focuses on accessories over furniture, but they have some of that too. Our pick: This double-roll wallpaper adds a punch of personality to the home, $29.99. Find a store near you.

What it is known for: Anthropologie is much more than a clothing store — they have a complete home collection, filled with items for the kitchen, bath and bedroom. Our pick: We simply can't get enough of this gorgeous (and pricey) canopy bed, from $5298. Find a store near you.

What it is known for:The little sister of Crate & Barrel, CB2 is perfect for young adults looking to fill their first homes. Our pick: Fun artwork at affordable prices, $299. Find a store near you.

What it is known for: Modern furniture, plain and simple. Our pick: We love this blind-tufted Spencer chair (contact the store for pricing). Find a store (or where it's sold) near you.

What it is known for:The Bay's sister store, Home Outfitters is an affordable option for linens, table ware and appliances. Our pick:This acrylic dinnerware set will look great on a patio or balcony, from $4.99. Find a store near you.

What it is known for:The "beyond" covers everything from kitchen to storage, outdoors and baby, but Bed Bath and Beyond really is our bathroom go-to. Our pick: This shower caddy is great for keeping items off your tub's edges, $99.99. Find a store near you.

What it is known for: Structube makes condo living a little bit easier with perfectly sized pieces for even the smallest spaces. Our pick: This console table will look great push up against the wall or against the back of the couch, $299. Find a store near you.

What it is known for:The home and garden experts, Rona carries plants that look great indoors and outdoors. Our pick: Try adding a little greenery to your home with this Majesty Palm, from $15.99. Find a store near you.

What it is known for: Leon's has a reputation for selling full-sized couches and entertainment centres, but you can fully furnish your home with items from this retailer. Our pick: This basic entertainment unit is a good alternative to the full-sized versions that tend to dominate your living room, $699. Find a store near you.

What it is known for: Homeowners know Home Depot has it all, from building materials to paint colours to furniture and fixtures. Our pick: Don't limit your decor to things that sit on the floor — these ceiling tiles are a fun way to decorate all over, $18.95.

What it is known for: Canada's original hardware store, Canadian Tire has the solution to all your home storage issues. Our pick: This basic peg board kit makes storing your tools so simple, $22.74. Find a store near you.

What it is known for: This Montreal-based designer also carries tables and chairs, but we just can't get enough of their gorgeous sofas. Our pick: The Hugo sectional looks like it's been pulled out of a posh gallery (contact the store for pricing). Find a store near you.

What it is known for: The perfect place to pick up fabric to make your own drapes and curtains, Fabricville also carries hardware to help you display your DIY projects. Our pick: This double curtain rod is great for living and dining rooms where a sheer curtain can help bring in more light, $49.99. Find a store near you.

What it is known for:Keeping costs low? Lastman's Bad Boy is the place to go for full-sized furniture, electronics, appliances and mattresses. Our pick:This traditional dining table comfortably seats six making it a must-have for big families. Find a store near you.

What it is known for: Whether you're buying for your bedroom, living room, dining room or kitchen, The Brick has furniture and appliances to fill a large space. Our pick: This rustic truck can serve as a coffee table, bench and storage, $399.97. Find a store near you.

What it is known for: Like all other department stores, Sears carries items to furnish all the rooms in your house, but we particularly like their wall decor. Our pick: These triangle cubbies not only serve as decor, they double as sleek-looking shelves, $29.99. Find a store near you.

What it is known for: The ultimate source for organized living, Solutions carries bins and totes to rid your home of clutter. Our pick: We love the look and functionality of custom closets (pricing varies). Find a store near you.
Follow Colin & Justin on Twitter: www.twitter.com/colinjustin