I'm Glad Amazing Race Canada Is Staying Close to Home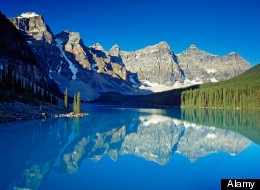 While in line to see David at the Accademia di Belle Arti in Florence, Italy, I struck up a conversation with my neighbour. She was an Australian woman in her 50s, and upon learning that I was Canadian immediately proclaimed her love for Canada and listed off the many places in our fair nation she had visited on a road trip through the Maritimes, across Québec, and how she ended up in my hometown of Toronto.
She gushed about a dream trip she hoped to take in the next few years: the Rocky Mountaineer train from Vancouver to Calgary that retraces the steps of 19th century explorers. As a well-travelled 20-something, I joked that I had seen more of the world than my own country. But that conversation stuck with me, and I vowed to stop joking and actually travel to more of my home and native land.
The media seems to embrace the notion of The Amazing Race Canada being solely set in Canada as the "love letter" CTV exec Phil King claims it will be, but comments on online articles suggest a large amount of viewers are less than impressed. Too bad they are not all as polite as the old Red Rose tea commercials. "Only in Canada, you say? Pity."
What's funny is the accusation that keeping the show in Canada is "cheap cheap cheap." The 20-something me had seen much less of my own country then anywhere else because it was much more expensive to do so. Still is. Through work I was able to eventually explore the East and the West, and a little bit of the middle, but the cost of flying within Canada can be off-putting and our sheer size makes road trips daunting. With limited travel budgets and limited vacation time, it's really not surprising many choose the Caribbean instead of Kelowna, or Europe instead of Québec City.
The criticism that stings the most is that the show will be boring. I wonder if this is the famous Canadian humility going into overdrive? Or maybe these are Canadians ignorant, as I was, of the spectacular natural beauty and wonderful cultural diversity that Canada has to offer. In all of my travels there are only a handful of experiences that actually made me gasp, and two of them were in Canada. The first was seeing the sapphire waves of the Atlantic Ocean crash against the bluffs at Cape Spear in Newfoundland. The second was the awe-inspiring drive on the Icefields Parkway through the Rocky Mountains from Banff to Jasper. The scenery on that journey was almost a religious experience.
But it was a result of that drive and the rest of our recent road trip across Alberta that I realized there's still a part of me that struggles with that innate Canadian-ness of downplaying everything. The other visitors that we saw -- Asian, South Asian, European, and Middle Eastern couples, families, and extended families - that were enjoying the penguins at the Calgary Zoo, visiting the dinosaur museum in Drumheller, taking in Banff and the Columbia Icefields, were not fellow Canadians as I initially thought. They were actually from Japan, and India, and Russia, and from places halfway around the world. I had a hard time wrapping my head around the fact that someone would spend a fortune and travel for days to see what's right here in our backyard.
So if only for the notion that we might finally see ourselves as the rest of the world (and Tom Brokaw) sees us, I can't wait to see just how gushy the "love letter" known as The Amazing Race Canada will be.
Corinne McDermott is the founder of the family travel website Have Baby Will Travel and a travel agent specializing in family vacations. Connect with her on Twitter or on Facebook.
Who Should Host "Amazing Race Canada"?
He's our #1 pick. He has the chops, the experience, and he's known from coast-to-coast. Strap on your skates, Benny, you're going in.

Strombo might be a bit too serious for this gig, but we can't forget his MuchMusic hosting background and his ability to communicate with any sort of person, whether it's a famous musician or a wingnut on "The Amazing Race Canada."

Jon just recently co-hosted the Canadian iteration of "Wipeout." Even though it's not returning for a second season, we feel that he definitely brought the funny for the short period of time he was on-air.

Canada's pre-eminent pop culture hostess could definitely do the job, as proven by her stint as host of "So You Think You Can Dance Canada." Less crying for this job, though.

C'mon, this guy can lead a CFL team both on the field and off. Surely he can host a reality show.

If Howie wasn't hosting his own new TV show, we think he'd have a chance on this one. A slim chance, but it would be possible. He has just the right blend of seriousness and humour.

Lovable Colin Mochrie would be a welcome face on the mat at the Pit Stops, wouldn't he?

This wrestling starlet-turned-fitness-maven certainly has the physicality factor checked off. On second thought, maybe she should run the race herself!

We can just envision the winners of the race hoisting a big beer stein with Montgomery, toasting to victory.

Warm, bubbly and fun, Rick would be an appealing option for all age groups. He has a ton of experience hosting as well -- from MuchMusic to "ET Canada."

He's sort of perfect for the role: worldly, respected and an over-comer of obstacles. Plus the whole winning personality thing.

This Toronto TV personality has the street cred and affability to help "The Amazing Race Canada" shine.

Iconic Canadian host? Check. Knowledge of Canada and Canadian locations? Check. Witty and sarcastic? Oh yes.

All we're saying is that it would be funny. Poking fun at the contestants would add a whole new dimension to the show.

Former MTV host and current CBC host Jones is funny and charismatic, and he has that whole "host" look going on. We just aren't sure if he'll be able to tone down the schticky comedy for an hour-long gig.

'Memba Nam? She was a host on MuchMusic for a while, and then left to pursue her dreams as a journalist -- born in Uganda and quite the traveller, her worldliness would come in handy as host.

Toronto's beloved weatherman on Citytv, Frankie Flowers has that everyman quality that makes him right for the job.

A former host on OMNI TV and Breakfast TV host in Winnipeg, Chen is funny, insightful and definitely into reality TV -- she even wrote recaps of "The Bachelor Canada"!

This dude is hilarious, experienced and pretty well-known to Canadians. If "The Amazing Race Canada" is looking for humour, the producers don't really need to look any further.

Formerly of Toronto, Kuss moved to BC to join CTV News as the weatherman. This guy dressed up as "partly cloudy" once for Halloween -- he has our vote for host.

Famous for his Olympics marijuana dust-up (and that little gold medal thing), Rebagliati is a warm personality who Canadians can cozy up to. Just don't take this show to Amsterdam. Or BC.

The first female gold medal winner of ski cross at the 2010 Vancouver Olympics, McIvor has the looks, charm and respect of the entire nation. Might as well give her a host job, no?

Hockey players (even former ones) don't really do that much nowadays, aside from various alumni events ... right? Let's give Linden some work! Plus he's some eye candy for the ladies.
Follow Corinne McDermott on Twitter: www.twitter.com/hvbabywilltrvl