Five Tasty Hot Chocolate Upgrades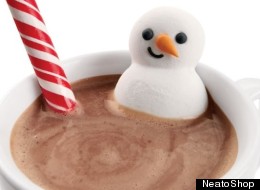 No need to drop $4 every time you want a cup of fancy hot chocolate. Use your favourite mix (or recipe) and these simple add-ins; you'll ward off the winter chill with gourmet cocoa from the comfort of your own cottage. Top with whipped cream -- all that's missing is the cardboard cup.
Make it creamy: Stir in 1 to 2 tbsp peanut butter or 1 tbsp chocolate or butterscotch chips, or add a scoop of vanilla ice cream.
Liqueur is your friend: Try Baileys, Kahlúa, Grand Marnier, crème de menthe, Frangelico, or amaretto.
Spice it up: Mix in 1/4 tsp cinnamon, nutmeg, or cardamom.
Enhance the taste: Add 3 tbsp maraschino cherry juice, 1 tsp grated orange zest, 1/2 tsp almond extract, 1 to 2 tbsp seedless raspberry jam, or 1 to 2 tbsp pumpkin pie filling.
Let it melt: Add a caramel hard candy, a peppermint or two, or a miniature candy cane (they'll soften and add flavour as you drink).
Get the recipe for Mexican hot chocolate here.
Get the Double Chocolate Hot Chocolate recipe

Get the Lavender Hot Chocolate recipe from à La Mode

Get the Vanilla Hot Chocolate Recipe from This Week For Dinner

Get the Classic Hot Chocolate recipe from Simply Recipes

Get the Mexican Hot Chocolate recipe

Get the Orange Hot Chocolate recipe from Knitted Bliss

Get Gail's Spiced Hot Chocolate recipe

Get the Mulled Wine Hot Chocolate recipe from Citrus & Candy

Get the Spiced Hot Chocolate recipe

Get the Triple Hot Chocolate recipe from Souvlaki For The Soul

Get the Spiked Hot Chocolate recipe

Get the Hot Chocolate Affogato recipe from Stone Soup

Get the Thick & Rich Drinking Chocolate recipe

Get the Vegan Coconut Almond Hot Chocolate with Vegan Whipped Cream recipe from Apron Strings We are not vegans. We still want to drink this.

Get the White Chocolate Chai recipe

Get the Nutella Hot Chocolate recipe from The Hungry Housewife

Get the Baked Hot Chocolate recipe from Framed Cooks Okay, okay. It's more of a brownie than hot chocolate... but we couldn't resist.
Follow Cottage Life on Twitter: www.twitter.com/CottageLifeMag