Black History Month Can Make Us All Better Canadians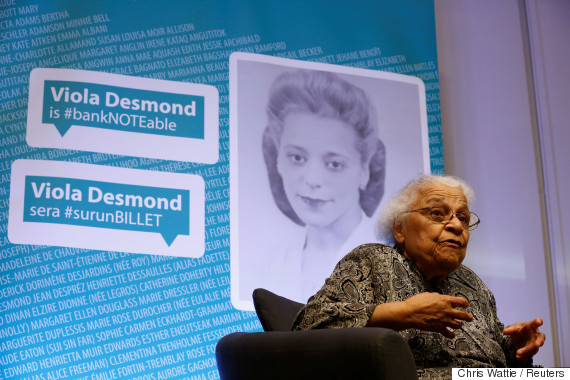 Wanda Robson takes part in an interview after her sister Viola Desmond was chosen to be featured on a new $10 bank note following a ceremony at the Museum of History in Gatineau, Quebec, Canada, Dec. 8, 2016. (Chris Wattie/Reuters)
Standing in front of an auditorium of mostly white faces, the president of the Ontario Black History Society asked a group of elementary students what they knew of Black History Month. A precocious girl in the first grade raised her hand.
"She said to me, 'That's the month we have to feel bad about black people because they were slaves,'" recalled Nikki Clarke, with the patience befitting a former teacher.
"If that's the way we're teaching black history, we're doing something wrong."
Ask most Canadians about black history and they'll tell you about slavery in America, victories of the Civil Rights Movement and the giants who led it.
But what about Canada?
Mathieu Da Costa, a renowned translator hired by Samuel de Champlain, was the first recorded black person in the country. Delos Davis was the first black lawyer in Canada and one of the most respected legal minds of his time.
Viola Desmond, the civil rights icon who took a legal stand against segregated movie theatres in Nova Scotia, will be the new face of Canada's ten dollar bill. But she made it onto our currency before she made it into our official curriculum.

"We're giving students a touristic view of black history," said Clarke.
A Eurocentric education model has resulted in underperforming racialized communities whose histories and contributions are ignored, Clarke continued.
The high school dropout rate for black students has remained around 40 per cent since the 1990s, more than two and a half times Canada's national average.
Canadian prisons are disproportionately filled with visible minorities and the number of incarcerated black people has gone up 70 per cent since 2005.
Racial profiling. Criminalization. Poverty. Black Lives Matter activists have taken to the streets to force Canadians to reckon with the black experience in this country.
Our schools can take the first step in addressing the issues raised.
In fact, learning about the black Canadian experience builds empathy; it doesn't divide it.
"Black history is not 'us' and 'them.' This history is who we are as Canadians," said Clarke, who is working towards a federally-mandated black history curriculum in Canada's schools.
With black Canadians at just three per cent of the population, we've heard the argument that Black History Month is less relevant than commemorating the larger indigenous or South Asian community's respective histories. But Black History Month doesn't come at the expense of others.
In fact, learning about the black Canadian experience builds empathy; it doesn't divide it. Social theorist and author Jeremy Rifkin argues there is a strong link between education, critical thinking and empathy for others' experiences. Research going back to the 1980s shows students with increased empathy also perform better academically.
At a launch event for Black History Month in Toronto, writer and activist Desmond Cole spoke about Viola Desmond's story. She did not win her court case, he reminded the audience, and segregation didn't end with her. "She is celebrated not for overcoming racism but for fighting it."
The power of her story is that she fought for something she believed in. That is a lesson for all Canadians. But a ten dollar bill will not teach that -- schools will.
Craig and Marc Kielburger are the co-founders of the WE movement, which includes WE Charity, ME to WE Social Enterprise and WE Day.  
Follow HuffPost Canada Blogs on Facebook
Also on HuffPost:
Read Books By Black Canadian Authors
Half-Blood Blues, Esi Edugyan" width="52" height="52"/>

Edugyan's Giller Prize-winning novel is set against the smoky backdrop of the 1940s Paris jazz scene, when a popular musician, Hiero, is arrested by Nazis, only to disappear without a trace. Half a century later, his friend and fellow musician revisits old haunts and traces back through the events and dramas that led his friend to his fate. This is a complex, tragic and beautiful tale.

The Illegal, Lawrence Hill" width="52" height="52"/>

Perhaps best known for his Canada Reads-winning novel, "The Book of Negroes," Hill's latest novel, "The Illegal," is a tale of a boy on the run — literally and figuratively. Protagonist Keita, of the fictional Zantoroland, is a marathon runner who hopes to use his athletic prowess to help his family, until he fails to come out on top and must escape to another country as a refugee. Living illegally, he has to evade arrest by officials and also find a way to help his family. This is an important satirical depiction of the plight of the illegal, the refugee and those who would ignore them.

The Polished Hoe, Austin Clarke" width="52" height="52"/>

This Giller and Commonwealth Writers' Prize winning novel by Austin Clarke is set in the post-WWII West Indies. A pillar of the island community, Mary-Mathilda, turns herself in to police and confesses to the murder of the village plantation owner, who had been her employer for decades. This novel tells not only of murder, but of history, the legacy of past slavery, of love and of longing. A challenging, but certainly a worthwhile read.

Soucouyant, David Chariandy" width="52" height="52"/>

Themes of memory and family are at the forefront of this tale by David Chariandy. A young man returns home to care for his mother, Adele, as her memories slip slowly away due to early onset dementia. Through their journey, the tragedies and heartaches and hidden beauties of her life are revealed. It is a haunting coming-of-age story, to be sure.

Kameleon Man, Kim Brunhuber" width="52" height="52"/>

Set in modern day Toronto, Brunhuber's narrative shares an inside look at the high stakes and glamour of the Toronto fashion scene from the perspective of an up-and-coming biracial male model. Even as success and glamour seem within his grasp, challenges abound — uncertainty, struggle, corruption and the question of racial identity. A fast-paced and relatable read.

The Hanging Of Angélique, Afua Cooper" width="52" height="52"/>

The history of slaves in Canada is not as widely known as it should be, and in this book by historian and poet Afua Cooper, the true story of a slave woman convicted of setting a fire that destroyed much of old Montreal. Despite her commitment to uphold her innocence, after her trial she was tortured into confession. This is the story of a brutal moment in Canadian history, as well as a revelation of the dark and oft-ignored truth of slavery in Canada.

Fifteen Dogs, André Alexis" width="52" height="52"/>

In this strange but compelling novel by André Alexis, winner of the 2015 Giller Prize, the gods grant human consciousness and language to a group of dogs spending the night in a Toronto veterinary clinic. Odd as this premise may seem, this is a charming and captivating examination of the struggles, as well as the beauties of the human condition.

Love Enough, Dionne Brand" width="52" height="52"/>

This novel from acclaimed poet and novelist Dionne Brand depicts intersecting stories of relationships, and love in all its forms — between lovers, between friends, and love of home. The beauty and the hardship, the sublime and the tragic, all facets of relationship and emotion are woven into this dream-like narrative.

The Return, Dany Laferrière* " width="52" height="52"/>

This Prix Medicis winning novel, by Haitian Canadian novelist and journalist Dany Laferrière, tells the tale of a young Haitian man who flees his home for Montreal following the death of a fellow journalist. Following the death of his father, he journeys back from whence they came, in order to return his father to their village home, if not in body but in spirit. This is an enigmatic and compelling tale of Haitian culture, of contrasts, of family, of exile and coming home. *Translated by David Homel

Independence, Cecil Foster" width="52" height="52"/>

This is a coming-of-age tale set during the period of Barbados' independence from Great Britain in the late 1960s. Two teenage friends, Christopher and Stephanie have been close since birth, sharing in the experience of having their mothers leave the island to find work in the U.S. and Canada, and are not heard from again. A rift occurs between the two friends when a strange man arrives from Canada and begins bestowing an array of gifts on Stephanie. Themes of family, friendship, sexuality and taking charge of one's fate are set against the vibrancy of Bajan culture in Foster's engaging narrative.
Follow Craig and Marc Kielburger on Twitter: www.twitter.com/craigkielburger