How a 10-Year-Old Blogger Is Changing the World
Craig and Marc Kielburger, founders of Free The Children and Me to We, check in with some of their favourite actors, authors, singers and activists to find out how they are changing the world.
Hannah Alper is a 10-year-old blogger with a resume that would make recent journalism grads jealous.
She earned a press pass for the 2013 Juno Awards, where she worked backstage as their official eco-blogger. She's interviewed CBC Radio host Jian Ghomeshi, and eco-icon Severn Cullis-Suzuki, among others. The reach of her environmental blog, callmehannah.ca has landed her in the hot seat as interviewee with the likes of CBC Television's George Stroumboulopoulos.
But Hannah would rather be the one asking questions.
"I prefer interviewing other people because I can learn from them," she told us recently.
Funny, Larry King said much the same thing when we interviewed him: "I never learn anything while I am talking," he explained. King came to that conclusion after 50,000 interviews; Hannah is wise beyond her years.
It's amazing what you can do with a basic understanding of WordPress. At a Digital Family Summit, where Hannah "discovered her passion" for writing, she launched her blog, in July of 2012.
We first met Hannah for an interview backstage at We Day (she asked the questions), and again later after she led two Toronto-area schools in their coin drive to collect 97,500 pennies for Free The Children's We Create Change campaign to support clean water programming overseas.
When Hannah is out of the spotlight, she's at home, brewing organic cleaners or building a system of recycling bins with her family in their garage. We caught up with Hannah (and mom Candace) to talk about her heroes, the world's biggest problems, and the "amazing" cleaning properties of vinegar.
Hannah Alper is a Changemaker.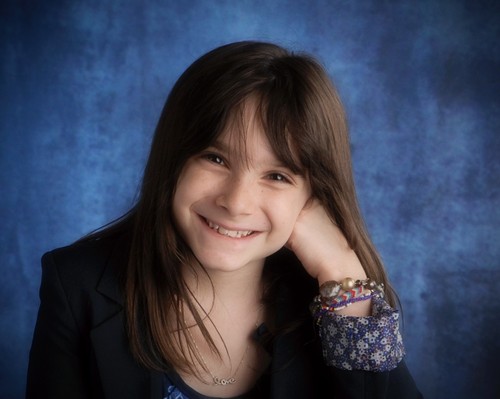 What advice would you give kids your age who want to make a difference?
Follow your passion. If you love nature or the environment, maybe write about the environment. If you want poverty to stop, write a blog about that. You have to go out and do something. You have to put your mind to it and do it. Don't wait for somebody else to do it: You do it.
You don't have to be a scientist like David Suzuki to change the world.

Why do you think people respond so well to your blog?
I think because I'm a kid it makes a bigger impact. Usually it's adults that do this kind of stuff. Kids with blogs [usually write] about entertainment. I think people are thinking: "I wonder what this kid has to share?"
What are the most important lessons you've learned in your year of blogging?
Your voice is powerful if you use it.
When you start something, you have to finish it.
There's no such thing as too young, or too...anything to do something.
I think my slogan is: Little things add up to make a big difference in the world.
Which is your favourite blog post so far?
Eco-friendly cleaning supplies. I have many reasons for that. They are awesome. The ingredients are pretty much water, vinegar, baking soda and that's it. And it's so cheap. You can make it simple and you can make it in no time. It's easy. They work amazing.
It's also my favourite because I was inspired to do these by Marc because when he was in Grade 7, he was doing a science project for school and he noticed that his cleaning supplies when he was doing chores, they were toxic. He thought: 'Why would people do this if it's bad for your health?' So he made eco-cleaning supplies.

What do you think is the biggest issue facing the world today?
That's definitely hard but I think that I would say poverty. It's connected to the five pillars [of Free The Children's Adopt a Village development model]: education, health, food security, clean water and sanitation, and alternative income.
With poverty -- just to connect with clean water -- girls have to walk miles and miles to get water and that would stop girls from going to school. So it's a cycle.
If you could have a socially conscious superpower and change one thing about the world, what would it be?
Clean water. Whenever I snap my fingers, my clothes would turn blue and anything could turn to clean water. It's good because, like I said, the girls have to walk miles and miles, but there would be clean water right in front of them.
[My cape] would say "Clean water girls."

Who is the most inspiring person you've met so far?
Good question, I've met so many. But if I had to pick my most inspiring, I'd pick Spencer West. He taught me to redefine your possible, that there's no can't, no won't, only how. And if there's an obstacle just make your way around it. You can find a solution to anything.
With his best friends, Alex Meers and David Johnson, he's worked on so many projects. They climbed [Mount] Kilimanjaro [to raise money for Free The Children's clean water programming] and they really supported each other.
When I met Spencer at We Day, he was so nice. I told him that he was so inspiring. He said: "It's mutual."
Craig and Marc Kielburger are co-founders of international charity and educational partner, Free The Children. Its youth empowerment event, We Day, is in 11 cities across North America this year, inspiring more than 160,000 attendees from over 4,000 schools. For more information, visit www.weday.com.
List and captions courtesy of the EPA" width="52" height="52"/>

1. Energy Savings For Your Home The average home spends almost 20 percent of its utility bill on cooling. These cooling bills can be lowered by simply changing out incandescent light bulbs with EPA's Energy Star qualified lighting, which use less energy and produce approximately 75 percent less heat. Raising your thermostat by only two degrees and using your ceiling fan can lower cooling costs by up to 14 percent too.

Increase Your Gas Mileage" width="52" height="52"/>

Obey the speed limit; go easy on the brakes and avoid hard accelerations; reduce your time idling; and unload unnecessary items in your trunk to reduce weight. If you're not using your removable roof rack take it off to improve your fuel economy.

Prevent Skin Cancer And Be SunWise" width="52" height="52"/>

Skin cancer is the most common form of cancer in the U.S. and is the most common cancer among 20 to 30-year-olds. Remember to practice safe sun habits.

Heading To The Beach? Check The Water." width="52" height="52"/>

Americans take almost two billion trips to the beach every year. Beaches are a place to play, watch wildlife, fish, and swim. Learn more on how to plan a safe trip to the beach and check out state specific beach advisory and closing notifications.

Take EPA's Apps With You On Your Smartphone" width="52" height="52"/>

The AirNow app gives location-specific current air quality information to use to protect your health when planning daily activities and the Ultraviolet (UV) Index app provides daily and hourly forecast of the UV radiation levels from the sun so you can better prevent overexposure to the sun.

Enjoy The Outdoors And Capture The State Of The Environment" width="52" height="52"/>

Almost 40 years ago, EPA's Documerica project captured thousands of images across the nation as EPA's work was just beginning. Now it's your chance to mark the progress and submit environmental photos to EPA's State of the Environment photo project.

Protect Yourself With Insect Repellents" width="52" height="52"/>

Mosquitoes and ticks can carry diseases but you can protect yourself by choosing the right repellent and using it correctly. Read the product label before using; apply just enough to cover exposed skin and clothing; and look for the protection time that meets your needs. Children can use the same repellents as adults unless there is a restriction on the label.

Water Wisely" width="52" height="52"/>

A large percentage of water we use at home is used outdoors. As much as 30 percent of that outdoor water use can be wasted due to evaporation by watering in the middle of the day. Water in the morning when winds are calm and temperatures are cool. Look for the new WaterSense labeled weather-based irrigation controller that uses local weather data to determine whether your sprinkler system should turn on.

Clean Greener" width="52" height="52"/>

If you're going to wash the car, deck, boat, or RV- be sure to look for the Design for the Environment (DfE) label to quickly identify and choose cleaning products that are safer for families and also help protect the environment. Look for the DfE label on grill cleaners as well.

Improve Your Indoor Air" width="52" height="52"/>

About 90 percent of people's time is spent indoors. While inside this summer, make sure to free your house of mold, test your home for radon, check your carbon monoxide detector and ask those who smoke to go outdoors.

Check Into An Energy Star Hotel" width="52" height="52"/>

On average, America's 47,000 hotels spend more than $2,000 per available room each year on energy. Look for an Energy Star certified hotel--they perform in the top 25 percent of hotels nationwide, use an average of 35 percent less energy and emit an average of 35 percent less greenhouse gas emissions than peers.

Waste Less And Remember To Recycle" width="52" height="52"/>

Each year, Americans generate millions of tons of waste in homes and communities but it's easy to reduce, reuse, and recycle. Recycled items such as glass can be used in roadway asphalt (glassphalt) and recovered plastic can be used in carpeting and park benches. Learn what you can do to waste less.

Season Firewood" width="52" height="52"/>

Summer is a great time to season firewood in preparation for fall and winter. Remember to split firewood to the proper size for your wood stove or fireplace, but no larger than 6 inches in diameter; stack firewood to allow air to circulate around it; cover the top of the stack to protect it from the rain; and store your firewood for at least 6 months before using it.

Looking For A Summer Project And Tired Of The Heat? Try Composting" width="52" height="52"/>

Composting can be a fun and educational summer project that saves landfill space, helps feed the soil and prevents methane, a potent greenhouse gas.

Let Summer Inspire You And Submit Six Words For The Planet" width="52" height="52"/>

Keep the creativity flowing beyond the school year and into the summer by submitting a meaningful story or idea in just six words.

In this episode we teach you how to make your own high spf, water proof sunblock from organic and natural ingredients for pennies on the dollar compared to buying it off the shelf. Ingredients include- zinc oxide (sunblocking agent), coconut oil (soothes and conditions skin), bee's wax (waterproofing agent), and tea tree oil (soothes and repairs skin and smells good too). Rub on and paddle out.
Follow Craig and Marc Kielburger on Twitter: www.twitter.com/craigkielburger