Reconciliation Is Canada Embracing Its Many Indigenous Languages
By Craig and Marc Kielburger
"I was angry at my grandparents for a long time."
Onowa McIvor grew up in northern Saskatchewan, where her grandparents feared prejudice against indigenous peoples and did everything they could to bury their Cree roots. They refused to teach the language to their children and grandchildren. McIvor felt robbed of her heritage.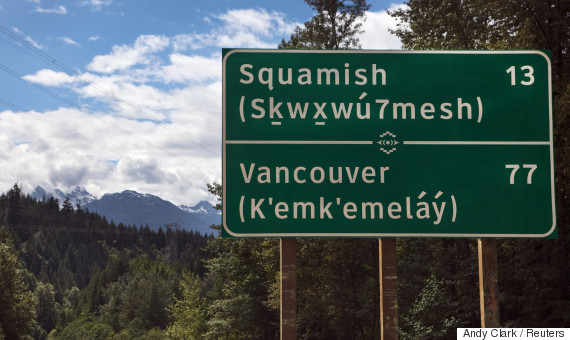 A bilingual roadside mileage sign is shown along the Sea to Sky Highway in Squamish, British Columbia. (Photo: Andy Clark/Reuters)
As McIvor learned more about the history of residential schools and the discrimination indigenous peoples faced, she understood the fear that drove them. Now, as director of indigenous education at the University of Victoria, she works to revitalize Canada's indigenous tongues. As Canadians mark 150 years since Confederation and reflect on our complicated history, it's a goal all Canadians should share.
"If you are Canadian, indigenous languages are part of your heritage, and it should matter to you if they survive," says McIvor.
Language trees like Algonquian, Athapaskan and Inuktitut drove their roots into this country millennia before a word of English or French was spoken here. Today, there are more than 60 distinct indigenous languages in Canada. Tens of thousands still speak Cree, Ojibwe and Inuktitut. Other languages are on the brink of extinction. The 2011 census (the most recent data available) recorded just 45 Mohawk speakers in all of Canada.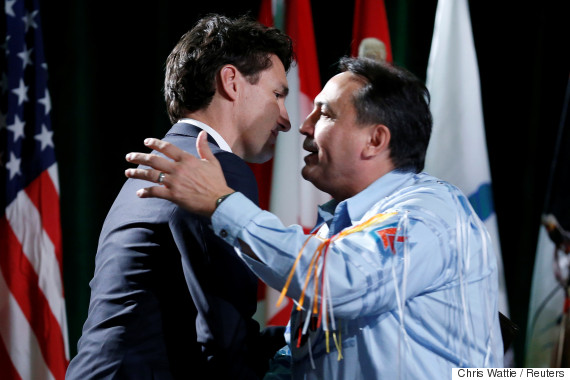 Canada's Prime Minister Justin Trudeau embraces Assembly of First Nations National Chief Perry Bellegarde at the Assembly of First Nations Special Chiefs Assembly in Gatineau, Quebec, Dec. 6, 2016. (Photo: Chris Wattie/Reuters)
"Some of our languages are sleeping and we have to wake them up," says Perry Bellegarde, national chief of the Assembly of First Nations.
Bellegarde tells us that working with Canadian governments to deliver that wake-up call is one of his top priorities. Supporting indigenous language was one of the recommendations of the Truth and Reconciliation Commission. In December, Prime Minister Justin Trudeau promised to introduce an Indigenous Languages Act. Bellegarde hopes Trudeau keeps this promise, and that the bill includes measures like creating a national indigenous languages commissioner, and more financial resources for language education.
"[Learning our languages] is the greatest act and form of reconciliation."
-- Perry Bellegarde, Assembly of First Nations
But it's not just indigenous peoples who would benefit from learning these languages. Teaching non-indigenous Canadians would build bridges. Bellegarde recently visited a Grade 4 class in North Bay, Ontario, where all 15 students -- Indigenous and non-Indigenous -- were able to greet him in perfect Ojibwe. They're part of an indigenous second-language program offered by the Nipissing-Parry Sound Catholic School Board at four of its schools. For students at the University of Winnipeg, who must have at least one credit in indigenous studies to graduate, options include learning Cree or Ojibwe.
"[Learning our languages] is the greatest act and form of reconciliation," says Bellegarde.
Cities can do their part through small acts like making street signs bilingual, pairing English or French with the language of the nation in whose territory the community resides.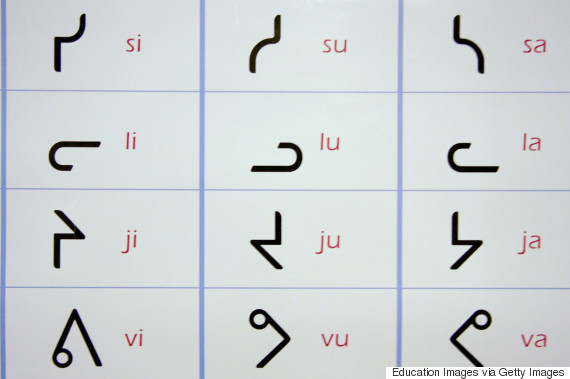 Inuit Inuktitut Alphabet, Nunavut, Arctic Canada. (Photo: Education Images/UIG via Getty Images)
McIvor has another, more radical, proposal: making indigenous tongues official languages of Canada.
It would be near impossible, economically and logistically, to offer all government services in 60-plus indigenous languages across Canada. But McIvor believes it would be feasible if approached regionally -- providing relevant services in the language that is predominant in particular areas. Translating web sites and documents, and staffing Service Canada locations and call centres could also create jobs for indigenous communities.
We must remember the foundation of our country was laid much earlier than 150 years ago by people speaking many different tongues.
Craig and Marc Kielburger are the co-founders of the WE movement, which includes WE Charity, ME to WE Social Enterprise and WE Day.  
Follow HuffPost Canada Blogs on Facebook
Also on HuffPost:
10 Indigenous Voices That Inspire Us
Once blacklisted by the U.S. government for producing work that could "encourage widespread citizen protest," Saskatchewan-born artist Buffy Sainte-Marie has built a career around songs of love and dissent. Her "Universal Soldier" became a popular anti-war anthem in the '60s, while her love song "Up Where We Belong" won an Academy Award for best song after it was featured on the soundtrack for "An Officer and a Gentleman." But she has also been a strong spokesperson for indigenous rights, standing against the Kinzua Dam that had displaced part of New York's Seneca Reservation.

Ta'Kaiya Blaney emerged in 2010 with "Shallow Waters," a heartfelt song that expressed the young artist's concerns about the threats that oil spills pose to oceans. She has since become a prominent voice opposing the Northern Gateway pipeline, which would transport oil from Alberta to B.C.'s coast for shipping to Asian markets.

After the Oka Crisis brought the relationship between Canada and First Nations to national attention, Phil Fontaine became one of the first people to speak out about sexual abuse in the residential school system. He has since become one of the most visible voices advocating on behalf of indigenous people. As national chief of the Assembly of First Nations, he helped negotiate the Indian Residential Schools Settlement, an agreement that established payouts to survivors and a Truth and Reconciliation Commission.

Haida activist Guujaaw played a key role in the establishment of Gwaii Haanas National Park Reserve after protesting logging in the area. He later served as president of the Council of the Haida Nation for 13 years, a role in which he undertook a successful effort to rename B.C.'s Queen Charlotte Islands as "Haida Gwaii," which means "islands of the people."

The host of CBC's "8th Fire" documentary series has emerged as one of the most prominent voices articulating indigenous issues in Canada. He was a regular fixture on television as Idle No More protests swept across the country in 2012 and he has since raised his intellectual profile with a successful defense of Joseph Boyden's "The Orenda" in the Canada Reads literary battle. More recently, he was floated as a possible candidate to succeed Shawn Atleo as national chief of the Assembly of First Nations.

Chief Clarence Louie sees economic development as the way forward for B.C.'s Osoyoos Indian Band. It owns vineyards, a golf course and a desert cultural centre. Though Louie is a controversial figure among some indigenous people, prominent politicians such as Prime Minister Stephen Harper look to him as an "example of entrepreneurial spirit," according to CBC.

Murray Sinclair has spent decades seeking justice for indigenous people. He became his province's first indigenous justice when he was named associate chief judge of the Provincial Court of Manitoba. He was handed an enormous responsibility when he was named chair of the Truth and Reconciliation Commission in 2009, a role in which he oversaw testimony from residential school survivors in an effort to educate Canadians about the system's destructive effects on First Nations, Inuit and Metis people.

Not unlike Buffy Sainte-Marie, Inuk throat singer Tanya Tagaq is out to defeat stereotypes. In 2012, the Toronto International Film Festival commissioned her to do a soundscape for the silent documentary "Nanook of the North," effectively reclaiming a film which she said had a "bunch of bullshit happy Eskimo stereotypes." And that's just one work that makes her an inspiring artist. More recently, she was harassed online by anti-seal hunt activists after posting a "Sealfie" with her baby next to a dead seal. She fought back against her tormentors and ended up shutting down one of their Twitter accounts with the help of police. We can't wait to see what she does next.

This Inuit activist has dedicated her life to ensuring the health and cultural survival of her people. She partook in negotiations toward the Stockholm Convention, which banned persistent organic pollutants that were contaminating the Arctic. She also made climate change a human rights issue when she filed a petition against the U.S. to the Inter-American Commission, alleging that its refusal to reduce emissions was threatening the Inuit.

In 1990, with an eagle feather in his hand, Manitoba MLA Elijah Harper helped scuttle the Meech Lake Accord, saying that First Nations were not consulted in discussions toward constitutional amendments that would have recognized Quebec as a "distinct society." Then-Newfoundland Premier Clyde Wells later refused to hold a vote on the accord, and it fell apart. Harper would later be elected as an NDP MP. He died in 2013.
Follow Craig and Marc Kielburger on Twitter: www.twitter.com/craigkielburger