40 Canadian Species Are At Risk Of Global Extinction
Earlier this month, a conservation success story resonated around the world. The giant panda, perhaps the preeminent poster species of nature conservation, was down-listed from a global status of endangered to vulnerable on the International Union for the Conservation of Nature (IUCN) Red List of Threatened Species.
Decades of conservation work, including establishing new nature reserves, creating wildlife corridors and working with local communities have shown results and population numbers of wild giant pandas are on the rise. A testament to how focussed conservation efforts can recovery rare species.
Glimpses of panda recovery should give us hope, but there is still much work to be done. The number of Red List species continues to climb around the world, and today sits at almost 24,000. So far in 2016, more than 1,400 species have been assessed as vulnerable, endangered or critically endangered by the IUCN. Our planet's most threatened inhabitants that we are at risk of losing for future generations.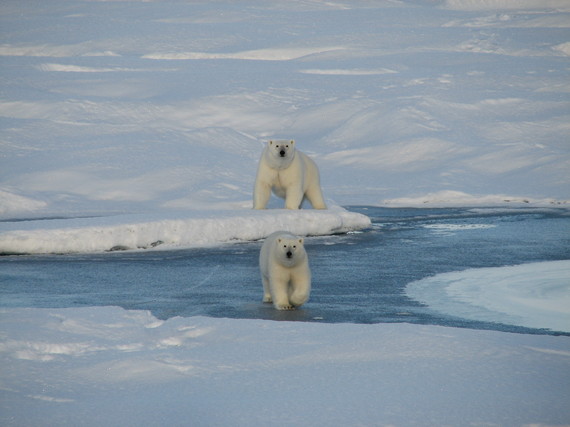 Polar bear mother and cub, Jones Sound, Nunavut. Photo by NCC.
Canada has not been immune to global trends of species loss and endangerment. The number of Canadian species on the IUCN Red List of Threatened Species has more than doubled since 2010. While some of these species such as the polar bear, sea otter or whooping crane are in the public eye, the fate and future of many is guarded by a just handful of committed Canadians.
As the number of Canada's IUCN Red List species continues to grow, we find ourselves with 40 species that are now more endangered than the giant panda. These are Canadian species that have been assessed as critically endangered or endangered. They are facing a very high risk of extinction in the wild in the immediate or near future on a global scale.
Some of these species are marine mammals and fishes (such as fin whale or Atlantic bluefin tuna) that have large ranges, and recovery will require multi-national cooperation. But many of these species have all or large portions of their global range in Canada. Their endangerment is the result of our actions. Their recovery our responsibility.
Species protection is a cornerstone of conservation.
The Nature Conservancy of Canada (NCC) has an important role to play in protecting Canada's IUCN Red List species, particularly those in southern Canada that are most threatened by habitat loss. IUCN Red List species that have been assessed as critically endangered or endangered and that are found on NCC properties include:
American eel
rusty patched bumble bee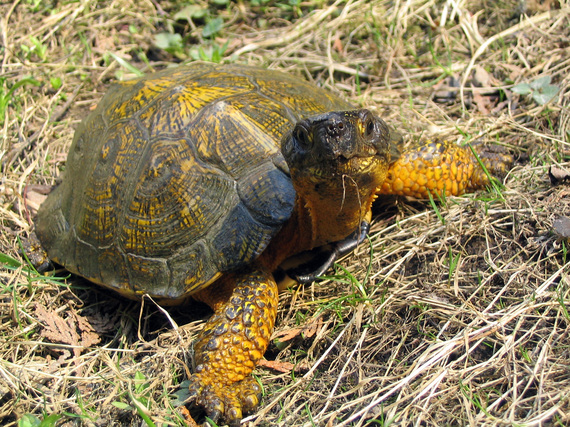 Wood turtle. Photo by Ryan M. Bolton.
NCC also protects and manages habitat for many vulnerable species, such as sprague's pipit, semipalmated sandpiper, Bicknell's thrush, white lady's slipper and caribou.
In addition to 40 critically endangered or endangered species, Canada has 78 species that have been assessed by the IUCN as vulnerable (the same status as the giant panda).
We should expect the list to grow as additional species are assessed, and the population and range of some species continues to decline. These assessments are critical for tracking both our successes and failures in conservation. This information also helps NCC to identify important areas for conservation, and globally IUCN Red List species are being used to identify key biodiversity areas.
Species protection is a cornerstone of conservation. Slowing, and ultimately reversing, the current trend of species loss is one of the greatest conservation challenges we face in Canada. While the copper redhorse may never receive the same level of public attention as the giant panda, and there is unlikely to be a popular plush-toy made of the boreal felt lichen, our Canadian Red List species are critical for conservation. They also point to how our work at NCC not only protects rare Canadian biodiversity, but helps safeguard biodiversity on Earth.
This post originally appeared on Land Lines, NCC's blog.
Follow HuffPost Canada Blogs on Facebook
ALSO ON HUFFPOST:
Top 10 Endangered Species That Need Our Help
Asian elephants (Elephas maximus) are currently listed as endangered on the IUCN Red List of Threatened Species, meaning they are "facing a high risk of extinction in the wild." World Wildlife Fund estimates that there are between 41,410 and 52,345 Asian elephants in the wild. HuffPost blogger Wendy Diamond writes that besides deforestation and industrialization, landmines also threaten Asian elephants in the wild. The founder of an elephant park in Thailand claims he "has known about 20 elephants who stepped on land mines and died" since 1989. Efforts to raise awareness for elephants' fragile status include Elephant Appreciation Day.

The Javan Rhinoceros (Rhinoceros sondaicus) is very close to extinction. There are believed to be as few as 40 left in the wild in Ujung Kulon National Park, Indonesia and none are currently in captivity. The IUCN Red List currently lists Javan rhinos as critically endangered. In October, poachers killed the last remaining Javan rhino in Vietnam. Several were alive in the wild in Vietnam as recently as 2004. A survey of surviving Javan rhinos in Indonesia found that there are very few females in the population.

Snow leopards (Panthera uncia) are listed as endangered on the IUCN Red List. IUCN estimates that there are 4,080 to 6,590 snow leopards in the wild. A subspecies, the Amur leopard is critically endangered. Native to the Russian Far East and northern China, there are fewer than 50 left in the wild. In July, cameras recorded snow leopards in 16 different locations in northeastern Afghanistan.

Tigers (Panthera tigris) are listed as endangered on the IUCN Red List. According to WWF, there are as few as 3,200 tigers left in the wild. In November, Interpol launched a campaign to save tigers in the 13 Asian countries where they still exist, reported the Associated Press. There were around 100,000 tigers in Asia in 1900.

The Irrawaddy dolpin (Orcaella brevirostris), which is native to Southeast Asia, is listed as vulnerable on the IUCN Red List. The Mekong River subpopulation, however, is listed as critically endangered. According to WWF, there are only 85 of these dolphins left in Southeast Asia. The limited range of this animal along with killing by fisherman has left Irrawaddy dolphin populations in danger.

The Vaquita (Phocoena sinus) is a small porpoise native to the Gulf of California. It is listed as critically endangered on the IUCN Red List. WWF estimates that there are around 245 vaquita left in the wild. They are most immediately threatened by "entanglement in fishing gear." Fortunately, WWF helped authorities in Mexico to reduce bycatch of vaquita to a "level that does not threaten the population" by 2009.

Atlantic Bluefin Tuna (Thunnus thynnus) are listed as endangered on the IUCN Red List. According to WWF, they are threatened by overfishing. A report from October found that eastern Atlantic bluefin is traded at twice the amount catch quotas actually allow. In August, it was reported that Mitsubishi executives planned to buy up tons of bluefin and freeze it to profit from impending population collapses.

The mountain gorilla (Gorilla beringei beringei), a subspecies of the eastern gorilla, is listed as critically endangered on the IUCN Red List. WWF explains that there are estimated to be about 786 individuals left in the two mountain gorilla populations near the Uganda-Rwanda-DRC and in a national park in Uganda. However, the two populations have grown by 14 and 12 percent, respectively, in the past decade. Armed conflicts and natural resource exploitation have been blamed for endangering the gorilla populations.

The Sumatran Orangutan (Pongo abelii) is listed as critically endangered on the IUCN Red List. According to WWF, they are the most endangered of the two orangutan species and there are about 7,500 Sumatran Orangutans left in the wild. Native only to parts of Sumatra, Indonesia, the orangutans are threatened by human agricultural and residential development. A recent study found that residents of Borneo killed at least 750 endangered orangutans in a one-year period. "Born To Be Wild," a recent IMAX film, tells the story of caretakers who are raising orphaned orangutans.

Leatherback turtles (Dermochelys coriacea) are listed as critically endangered on the IUCN Red List. According to WWF, there are about 34,000 nesting females left in the world and populations in the Atlantic are relatively stable. In the Pacific, however, there may be as few as 2,300 adult females. Their wide geographical distribution and shallow dive depth means they are threatened by longline fishing operations, explains WWF. A study from September found that although the number of sea turtles killed in U.S. fisheries has declined by 90 percent since 1990, it may not be enough to sustain sea turtle populations. In August, a 700-pound leatherback washed up on the shore at Montauk, New York.
Follow Dan Kraus on Twitter: www.twitter.com/NCC_scientist