Mulcair's NDP: Radical, Socialist and Disorganized as Ever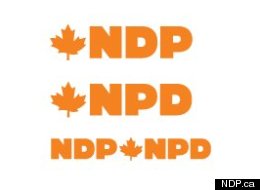 Published originally in the Prince Arthur Herald
Members of the left wing have, for some time now, been calling on Prime Minister Stephen Harper to get his party under control whenever someone steps out of line or proposes something too offensive to them.
I suggest they take a long, hard look in the mirror following their convention this past weekend, and perhaps take some of their own advice.
Friday evening, New Democrats heard from Democrats from the United States. Apparently, President Obama's Democrats are about as popular in Canada as they are in the United States, as even their fellow Statists protested against the Democrats' policies.
On Saturday, delegates chose to pursue an affordable housing strategy. That's great news, since Harper's Conservative government has pursued the largest-ever project to house people who need it.
Also on the agenda were discussions on adding more staff to Service Canada, changing employment insurance, and changing the "net benefit test" under the Investment Canada Act.
Forgive me for stating the obvious, but are these resolutions really the "substance and experience" the NDP promised to Canadians?
Did the NDP really gather 2,000 of its staunchest party supporters, charging anywhere from $99 to $1200 for admission, to discuss how many staff Service Canada should have?
Quite obviously missing from the table: the economy, Mulcair's ridiculous references to "Dutch disease" and how their party plans to compete with Prime Minister Stephen Harper's 900,000 net new jobs created since July of 2009.
They would also repeal Budget 2012 and affirm Idle No More's legitimacy and usefulness. Right -- because these sorts of actions are how the NDP sees itself as distancing itself from radical, unrealistic policies.
Oh, and they also support changing the way Canada holds elections, favouring a mixed-member proportional rather than first-past-the-post system.
The problem is these policies have already been implemented or proposed, and they failed. In the case of changing to an MMP system, Ontarians voted on that very question in 2007, and rejected it by 63 per cent. Similar questions have been raised in British Columbia, New Brunswick and Prince Edward Island -- and the result is the same.
Pursuing the same failed policies -- specifically those already rejected by voters -- is hardly logical behaviour from a party attempting to showcase its "substance and experience."
On Sunday afternoon, the inevitable came: New Democrats voted on whether they should hide their socialist ideology by removing references to their belief in socialism. The vote was overwhelming in favour of removing references to socialism, but Canadians need not be confused -- Mulcair's NDP remain the same radical, socialist, left-wing party they were before this weekend's convention. They continue to demand gun control and the same ill-advised policies with which Canadians have so famously associated the NDP.
Unfortunately, what was supposed to be an exercise in showing how good the NDP could be at managing the public purse and proposing sensible, balanced policies turned into the usual radical, job-killing, tax-raising, disorganized chaos for which the left wing has always been known.
10 Little-Known Mulcair Facts
Here are some facts you may not have known about NDP Leader Thomas Mulcair. (CP)

Mulcair was Minister of Sustainable Development, Environment and Parks in Jean Charest's Liberal government in Quebec. He served in the role from 2003-2006. (CP)

Mulcair married Catherine Pinhas in 1976. She was born in France to a Turkish family of Sephardic Jewish descent. Mulcair has French citizenship through his marriage, as do the couple's two sons. (KENZO TRIBOUILLARD/AFP/Getty Images)

Mulcair left Charest's Liberal government in Quebec after he was offered the position of Minister of Government Services in 2006, an apparent demotion from Minister of the Environment. Mulcair has said his ouster was related to his opposition to a government plan to transfer land in the Mont Orford provincial park to condo developers. (CP)

Mulcair's great-great-grandfather on his mother's side was Honoré Mercier, the ninth premier of Quebec. (Public Domain/Bibliothèque et Archives nationales du Québec)

Mulcair was the first New Democrat to win a riding in Quebec during a federal election. He held the riding of Outremont during the 2008 election after first winning the seat in a 2007 by-election. Phil Edmonston was the first New Democrat to win a seat in Quebec, but his win came in a 1990 by-election. Robert Toupin was the very first to bring a Quebec seat to the NDP, but he did it in 1986 by crossing the floor. (Alamy)

Mulcair's father Harry Donnelly Mulcair was Irish-Canadian and his mother Jeanne French-Canadian. His father spoke to him in English and his mother in French -- explaining his fluency in both official languages. (Photo by Spencer Platt/Getty Images)

Muclair has voted in past French elections, but after becoming leader of the Official Opposition he said he would not cast a ballot in the French presidential vote. (Thinkstock)

Mulcair met his future wife at a wedding when they were both teenagers. Catherine was visiting from France. They married two years later when they were both 21. (CP)

Mulcair was given the moniker in a Maclean's headline, but the new leader of the NDP has long been known for his short fuse. In 2005, he was fined $95,000 for defamatory comments he made about former PQ minister Yves Duhaime on TV. The comments included French vulgarity and an accusation that alleged influence peddling would land Duhaime in prison.

Toronto Mayor Rob Ford says he has had his fair share of marijuana. "Oh, yeah. I've smoked a lot of it."

The federal Liberal leader opened up to HuffPost about his experience with marijuana in August. "Sometimes, I guess, I have gotten a buzz, but other times no. I'm not really crazy about it."

The Opposition leader's office told HuffPost this summer that Mulcair has smoked in the past but not since he was elected to office. Mulcair was elected to the National Assembly of Quebec in 1994.

Said the Tory finance minister: "Yeah, in my teenage years... a couple of times, I have to admit: I didn't like it."

The Liberal MP and Canada's first astronaut said he tried marijuana as a student in the 1970s in England. "It's not my thing. I stopped because it wasn't doing anything for me."

The premier of Ontario said she smoked pot decades ago. "I have smoked marijuana but not for the last 35 years."

Said the premier of Nova Scotia: "Like every other person I knew back in the '70s when I went to university, some of whom are actually in this room, I would have tried it, the same as other people at that time."

Said the premier of British Columbia: "I graduated from Burnaby South Senior Secondary in 1983 and there was a lot of that going on when I was in high school and I didn't avoid it all together."

The leader of the Progressive Conservative Party of Ontario admitted he's puffed in the past. "I was a normal kid, I had a normal upbringing, a normal life in university. I experimented from time to time with marijuana. It's a long time ago in the past and in the grand scheme of things."

The former prime minister of Canada told CTV News: "The answer is: I never smoked. I never smoked anything, but there was an earlier time, years ago, when (my wife) made some brownies and they did have a strange taste."

The former prime minister admitted while running for the leadership of the Progressive Conservatives that she tried weed. "And I inhaled the smoke."

Said the former NDP leader: "Yes, and some might say I never exhaled."

The former premier of Ontario said he experimented in his teens, but only twice.

The premier of Saskatchewan said he was an "infrequent" user back in university. "It didn't really do anything for me, luckily, because for some, it does lead to other things."
Follow Daniel Dickin on Twitter: www.twitter.com/DanielDickin