Reducing Gap Between Research And Practice A National Priority
Not many patients would be happy to hear that there's a lag of about 17 years between when health scientists learn something of significance through rigorous research and when health practitioners change their patient care as a result, but that's what a now-famous study from the Institute of Medicine uncovered in 2001.
The study reflects a major problem that has plagued health care for decades -- namely, the timely integration of high-quality scientific evidence into daily patient care practices.
If you knew there was research available to guide the health care you required, wouldn't you want your health-care provider and the health-care system to use that research to inform decisions pertaining to your care? Wouldn't you want to receive care that is scientifically proven to be of benefit and not receive care that is scientifically proven to be of no benefit?
Although it has been clear for centuries that science contributes to advancing the practice of medicine and improving disease-specific survival rates (for example, the discovery of penicillin and its effect on infection-related mortality rates), this concept only became popularized within the medical community toward the last quarter of the 20th century through the "evidence-based medicine" movement.
New is not always better, and too much health care can sometimes be bad for your health.
More recently, those who work in the field of knowledge translation have been working hard to close the gap between research and practice. For the most part, they've done this successfully by making the abundant research findings more accessible to policy makers, professional societies and practitioners, "nudging" them to adopt more timely, evidence-based practices.
Their methods have largely focused on the adoption of new beneficial practices -- new drugs, tests or interventions with substantial evidence behind them. But a pattern has lately emerged from the scientific literature: new is not always better, and too much health care can sometimes be bad for your health.
Owing to the recognition that unnecessary practices may negatively affect patient outcomes -- and contribute to burgeoning costs within health-care systems -- there is now a movement afoot to promote the de-adoption (discontinuation) of practices currently used in daily patient care that research finds to be of no benefit or potentially harmful, collectively referred to as unnecessary practices.
Initiatives such as the Choosing Wisely campaign, the Less is More and Reducing Research Waste initiatives have sprung from medical professional societies and high-ranking medical journals to help reduce the practice of "too much" health care
For example, it turns out that cervical cancer screening in women under age 30 years is not beneficial and may cause unnecessary follow up testing; the use of bone cement to treat painful spine fractures among patients with osteoporosis does not improve pain any more than usual care, and placement of stents in the coronary arteries of patients with narrowed arteries but minimal symptoms is no better than treatment with medications alone.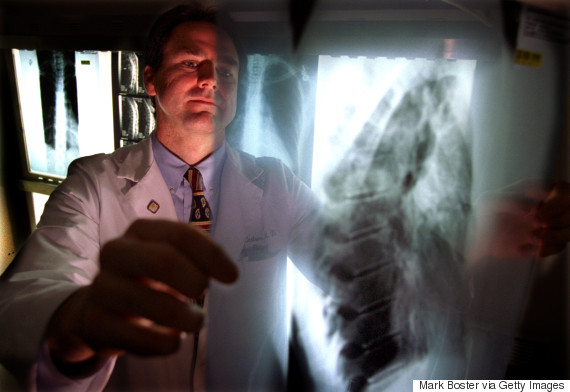 Spinal x-rays of a patient whose vertebrae have been infused with bone cement. (Photo: Mark Boster/Los Angeles Times via Getty Images)
Other examples include reducing the use of a sophisticated monitoring device (pulmonary artery catheter) to obtain frequent measures of heart function in patients with heart failure and tightly controlling blood sugar using intravenous insulin in patients admitted to intensive care units.
For each of these examples, new research demonstrates that they do not improve patient outcomes, yet each persists to some degree in current clinical practice.
The 17-year gap between research and practice traditionally refers to the time required to adopt new practices. Unfortunately, new research shows that it may take even longer to de-adopt unnecessary practices. Regardless of the direction of practice change, shortening the gap between research and practice has been a long time coming and can only help improve outcomes for patients and control health-care spending.
Moving from research to improved practice more rapidly will also take an engaged group of stakeholders.
How do we get there?
Shortening the time gap between research and practice will require an increased understanding of what it takes to implement new research and a reduction in the time new research is reflected in professional guidelines.
Guidelines also need to be less cumbersome and directed more toward use at the point-of-care rather than simply a reference document. Health-care systems also need to be engineered so that frontline providers have a greater likelihood of providing care that is congruent with current science. This is likely best facilitated through use of comprehensive electronic medical records. Given that many health-care systems still employ the traditional paper-based charting and order system, this will require considerable financial commitment.
Moving from research to improved practice more rapidly will also take an engaged group of stakeholders -- professional societies, health-care providers, patients and their family members, medical administrators and governments -- who appreciate the long-term benefit that may be derived from such considerable initial investment of time and money.
A health-care system that enables providers to consistently deliver care that aligns with recommended best practice should arguably be one of our national priorities.
Follow HuffPost Canada Blogs on Facebook
Also on HuffPost:
These Medical Marvels Are Proof Science Is Amazing
The patients had a condition called Mayer-Rokitansky-Küster-Hauser syndrome -- which means they had either no, or underdeveloped, vaginas. But researchers from Wake Forest Baptist Medical Center's Institute for Regenerative Medicine found a way to use these girls' own muscle and epithelial cells to create "scaffolds" in the shape of a vagina that were then implanted into each patient. Over time, the body absorbed the scaffolds and new tissue formed. Now, up to eight years after the surgeries to implant these lab-engineered vaginas, all of the patients have normal organ functioning, including no negative impacts on sexual functioning or desire.

Roger Pontz was one of four people in the U.S. to receive a "bionic eye" -- essentially, a surgical implantation of an artificial retina that works in tandem with special glasses that contain a tiny video camera and transmitter. The Associated Press explains how the process works: Images from the camera are converted into a series of electrical pulses that are transmitted wirelessly to an array of electrodes on the surface of the retina. The pulses stimulate the retina's remaining healthy cells, causing them to relay the signal to the optic nerve. The visual information then moves to the brain, where it is translated into patterns of light that can be recognized and interpreted, allowing the patient to regain some visual function.

A botched circumcision left Mike Moore, now 30, with an infection that caused him to have nearly his entire penis amputated. But in 2007, he was able to connect with a Stanford plastic surgeon named Dr. Gordon Lee, who provided him with a reconstructed penis. Now, Moore is a dad -- he and his wife have naturally fathered a child, named Memphis.

The patients, who all had nose defects after undergoing skin cancer surgery, are able to breathe well and are satisfied with their appearances a year after receiving the lab-engineered cartilage. The cartilage was grown by researchers in the Department of Biomedicine at the University of Basel, who used the patients' own cells that were extracted from the nasal septum.

Dennis Aabo Sørensen, a man from Denmark who had to have his left hand amputated nine years ago, became the first man to actually feel, in real-time, touch sensations from a prototype prosthetic hand. With the hand, he could detect shape and consistency differences, and was also able to gauge grasping items with different strengths. "The sensory feedback was incredible," Sørensen said in a statement. "I could feel things that I hadn't been able to feel in over nine years." The way the technology works is explained in a statement on the findings, which were published in the journal Science Translational Medicine earlier this year: Micera and his team enhanced the artificial hand with sensors that detect information about touch. This was done by measuring the tension in artificial tendons that control finger movement and turning this measurement into an electrical current. But this electrical signal is too coarse to be understood by the nervous system. Using computer algorithms, the scientists transformed the electrical signal into an impulse that sensory nerves can interpret. The sense of touch was achieved by sending the digitally refined signal through wires into four electrodes that were surgically implanted into what remains of Sørensen's upper arm nerves.