Canada Faces Clash Of 2 Core Values: Environment And Immigration
David Suzuki, the eminence grise of Canadian environmentalism, got in some political hot water back in the fall of 2013, when he declared that Canada is "full" and needs to cut back on immigration.
"Our immigration policy is disgusting," he told France's L'Express newspaper. "We plunder southern countries by depriving them of future leaders, and we want to increase our population to support economic growth. It's crazy!"
That got a quick and vitriolic response from Canada's then-immigration minister, Jason Kenney, who reflected many people's opinion when he called Suzuki's views "toxic and irresponsible."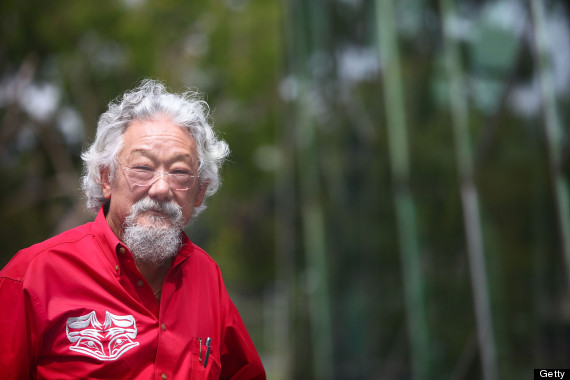 Scientist and environmentalist David Suzuki seen in 2011 in Melbourne, Australia, sparked controversy in 2013 with anti-immigration comments. (Photo: Marianna Massey/Sustainable Living Festival via Getty Images)
Three years later, several advisers to Finance Minister Bill Morneau provoked outrage and worry (and some support) when they called for Canada to increase its immigration rate so that the country -- currently at 35 million people -- will have a population of 100 million people by 2100.
Though their argument that Canada will need to grow its population to remain "relevant" in the 21st century struck many as sensible, the idea of a Canada that large made people recoil in fear.
If the immigration patterns that have existed in recent decades continue through the 21st century (and there's no reason to believe they won't), a Canada of 100 million people will mean a Toronto area of 33 million people -- slightly smaller than all of Canada today. It would also mean a Vancouver of some 9.8 million people, just slightly smaller than London is today.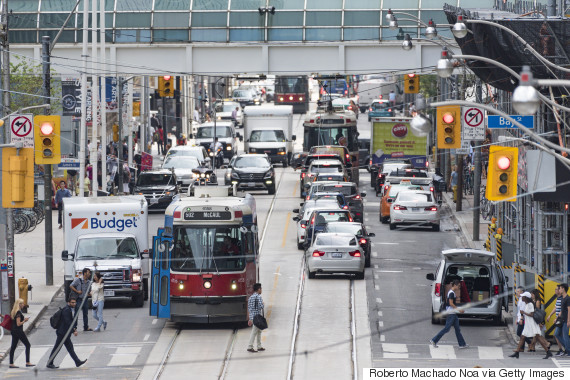 Toronto is caught between government policy to grow the population and government policy to reduce sprawl. (Photo: Roberto Machado Noa/LightRocket via Getty Images)
Yet Suzuki's vision of shutting down immigration and Morneau's advisers' call for a massive spike in population are two extreme ends of an argument that Canada is having, seemingly without knowing that it's having it.
Two core Canadian values are coming into conflict: on the one side is the preservation of our rich ecological heritage, and on the other the country's long-running policy of economic growth through immigration.
The time is quickly coming when we as a nation won't be able to ignore this conflict. From carbon taxes to oil pipelines to soaring house prices, this insidious trend is now beginning to affect daily life in Canada, in small ways and large.
In Quebec, the provincial government recently objected when federal Environment Minister Catherine McKenna made an unprecedented move to reduce the size of a housing development in Montreal's South Shore suburbs, in order to protect an endangered species of frog.
Naheed Nenshi, the mayor of rapidly growing Calgary, has been working to move the city away from unbridled suburban sprawl. But, like in many cities, sustainable development initiatives like mass transit are facing grassroots opposition from NIMBY groups.
In one instance, Nenshi cancelled public meetings on the construction of a bus transitway after what he called "misinformation" from a grassroots group prompted angry outbursts at a town hall. It even included "incidents of physical assault on City of Calgary staff."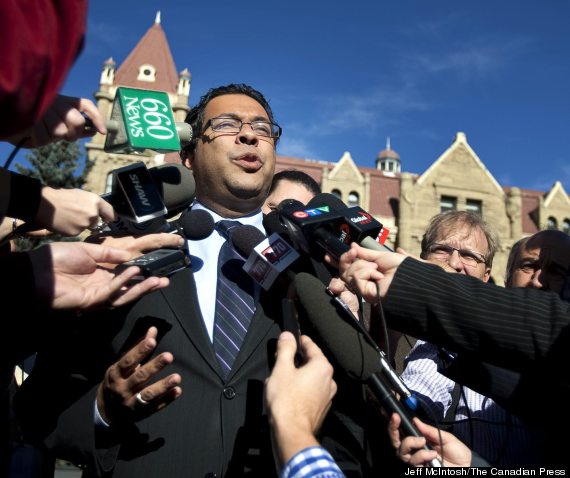 Calgary Mayor Naheed Nenshi has faced resistance to some of his plans to reduce urban sprawl, (Photo: Canadian Press/Jeff McIntosh)
But those issues pale in comparison to the Greater Toronto Area, where residents' lives are being very visibly driven by this clash. The Ontario government has been working for a decade to slow urban sprawl in order to protect farmland and wilderness areas. The province has put a Greenbelt around the metro area, instituting a hard limit on the amount of developable land around Canada's largest city.
According to Frank Clayton, a senior researcher at Ryerson University's Centre for Urban Research and Land Development, anti-sprawl policies are responsible for a quarter to a third of the rapid rise in Greater Toronto's house prices in recent years. With fewer and fewer detached homes being built, the average single-family home now sells for more than $1.5 million.
Politicians and planners have "forgotten about the economics," Clayton told the Globe and Mail. "It's all about the environment."
But Canada's federal government has not forgotten the economics. The Liberals are planning to admit 300,000 immigrants in 2017, the same as 2016, and higher than the roughly 250,000 permitted annually during the previous Conservative government.
Today, Canada has more reason than ever to take in newcomers: as the population grows older, the working-age cohort in Canada has begun to shrink as a share of the population.
Working Canadians are forecast to fall from around 69 per cent of Canada's population today to 60 per cent by 2030. Meanwhile, seniors will go from being around 27 per cent of the population today to nearly 40 per cent by 2045.
That will put a great deal of pressure on Canada's social safety net.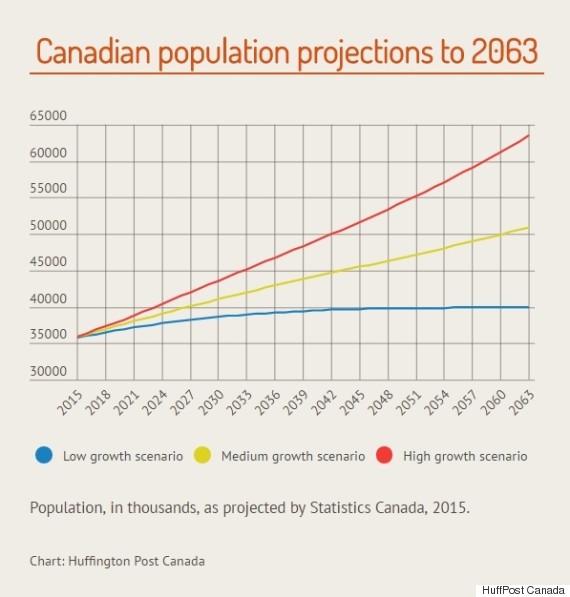 But then, what about the urban sprawl governments are trying to stop? Toronto's population is projected to rise to 9.1 million people by 2040, an increase of more than three million over today. That's the equivalent of a city the size of Seattle that has to be accommodated, somehow, within Toronto.
Immigration targets and anti-sprawl policies clearly work against one another. But so does immigration and the carbon emissions reduction targets to which Canada has committed itself.
When an immigrant moves from a poorer, low-emissions country to Canada, their carbon footprint rises dramatically, often as much as tenfold, due to more intensive use of energy in Canada. That increases the total carbon emissions worldwide and, as many climate activists have pointed out, makes it harder for Canada to meet its carbon targets.
While moving to Canada may help many people build an affluent life for themselves, there is little doubt it's bad for the environment.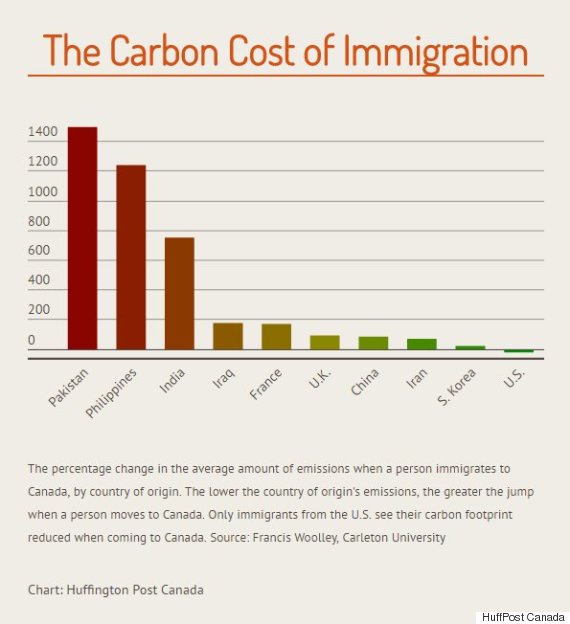 Canada's population is projected to grow to 41 million by 2030, from 35 million today -- an increase of 17 per cent in 13 years. This means that, to meet the 2030 carbon targets the country has committed to, each Canadian will have to reduce their own emissions 17 per cent more than if the population was stable.
So does this mean we have to choose one or the other? A healthy economy or a healthy environment?
Not necessarily. As others have argued before, the negative environmental impact of immigration can be mitigated somewhat: switching to electric cars, improving home and office energy efficiency, and increasing recycling can all soften the environmental blow. In fact, a concerted effort to meet the 2030 climate targets could reduce that huge jump in immigrants' carbon footprints when they arrive.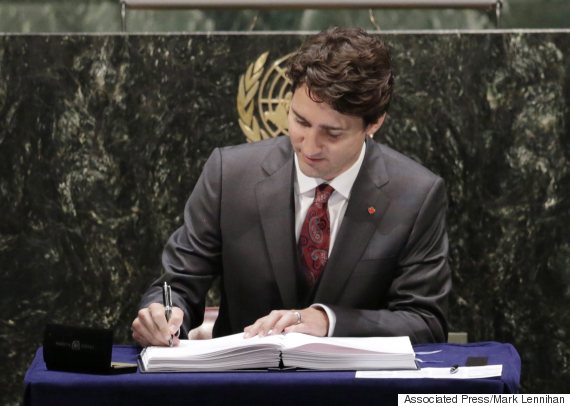 Prime Minister Justin Trudeau signs the Paris Agreement on climate change, Friday, April 22, 2016 at U.N. headquarters in New York City. The governing Liberals adopted the previous Conservative government's target of cutting emissions by 30 per cent from 2005 levels, no later than 2030. (Photo: Associated Press/Mark Lennihan)
So clearly these conflicting prerogatives can be brought together to work towards a common cause. But today, that's not happening. These issues are being treated as separate matters.
Part of it may be fear of touching the immigration issue; there is a legitimate concern that anti-immigrant forces could use the environmental argument as a rhetorical bludgeon against migrants.
And there is also a palpable fear -- especially in Alberta and Saskatchewan -- that meeting climate targets could cost Canada's energy-heavy economy plenty of jobs.
But ignoring this conflict means allowing it to grow larger, and become more problematic. This country is growing, economically and demographically, and the clock towards 2030 is ticking.
If we have any hope of finding compromises that work, we as a nation have to take that first step they always tell you about in Alcoholics Anonymous, and admit we have a problem.
Follow HuffPost Canada Blogs on Facebook
Also on HuffPost:
Countries With The Most Immigrants: 24/7 Wall St.
> Immigrants: 7.3 million > Pct of population: 20.7% > GDP (PPP) per capita 2012: $42,734 > Gov't immigration goals: Maintain Currently, 7.3 million immigrants live in Canada, equivalent to more than 20% of the nation's total population. As 2011, the Canadian government was one of the few to propose policies that would increase the level of immigration for the purpose of family unification. The level of immigration, more generally, was considered satisfactory in the same year, according to the U.N. In spite of Canada's exceptionally liberal immigration policies, there has been concern recently over whether Canada's immigrants are successfully integrating into society. To avoid the potential social tension that could arise from a growing economic difference between immigrants and locals, the Canadian government has restructured its screening process to emphasize factors such as job skills and language fluency. Read more at 24/7 Wall St.

> Immigrants: 7.4 million > Pct of population: 11.6% > GDP (PPP) per capita 2012: $35,548 > Gov't immigration goals: Decrease Just 11.6% or France's roughly 65 million residents are international migrants. According to the U.N. Population division, while the French government promoted some policies aimed at attracting skilled immigrants as of 2011, the governments overall attitude toward immigration was generally negative. As a member of the European Union, France is obligated to support the free movement of EU nationals between the EU nations. In recent years, however, the European Commission has criticized the French government for expelling Roma, popularly called Gypsies, from the country. France's existing immigrant population is older, with nearly 20% at least 65 years of age, compared to just 11.1% globally. Read more at 24/7 Wall St.

> Immigrants: 7.8 million > Pct of population: 12.4% > GDP (PPP) per capita 2012: $36,941 > Gov't immigration goals: Decrease About 7.8 million million immigrants live in the U.K., up from just under 6.5 million as of 2010. This is despite the U.K. government's view, as of 2011, that the large influx of foreigners to the country was somewhat of a problem. The government's policies intended to lower the level of immigration to the country, including high-skilled workers immigration. Only one of the world's eight largest destinations for immigrants, the United Arab Emirates, had a higher average annual increase in immigration that exceeded the U.K.'s 4.0%. Although the country's aging population may actually signal a necessity for more immigrants, British Prime Minister David Cameron has stated that immigration has strained the nation's public services. Read more at 24/7 Wall St.

> Immigrants: 7.8 million > Pct of population: 83.7% > GDP (PPP) per capita 2012: $49,012 > Gov't immigration goals: Decrease A stunning 83.7% of UAE residents are international migrants the most of any country in the world, excluding only Vatican City. Between 2010 and 2013, the emirates let in more than 4.5 million migrant workers, more than any other nation in the world. The UAE is able to attract workers to come there because the country is extremely wealthy, with an economy driven by oil and finance. As of 2012, the nation's per capita GDP exceeded $49,000, on-par with that of the U.S. But despite the nation's appeal for immigrants, the UAE's government as of 2011 considered immigration to be too high. Additionally, the country has been criticized for the poor living and working conditions faced by many migrant workers. Read more at 24/7 Wall St.

> Immigrants: 9.1 million > Pct of population: 31.4% > GDP (PPP) per capita 2012: $31,275 > Gov't immigration goals: Decrease Nearly one-third of Saudi Arabia's population consists of immigrants, while between 2000 and 2013 the number of immigrants rose by an annual average of 4.2% per year, higher than most other nations. Between 2010 and 2013 alone, the number of immigrants to Saudi Arabia rose 24.3% As of 2011, the Saudi Arabian government regarded the overall level of legal immigration as too high and implemented policies to reduce immigration, according to the UN had. Similarly, the government's policies on the naturalization of immigrants were also considered restrictive. Recent news reports suggest immigration policy in Saudi Arabia has only become more restrictive with new measures implemented to prevent undocumented workers from finding employment. Read more at 24/7 Wall St.

> Immigrants: 9.8 million > Pct of population: 11.9% > GDP (PPP) per capita 2012: $39,028 > Gov't immigration goals: Maintain Germany, one of the world's largest economies, is a popular destination for immigrants. Its well-developed infrastructure and top-rate higher education only add to its attraction. Just under 10 milllion of the country's 82 million residents are immigrants. As of 2011, Germany's policies reflected approval of the country's rate of immigration. In 2012, with the eurozone crisis still unabated, a growing number of young workers immigrated from southern Europe to Germany. But Germany has openly recruited high skilled-workers to live and work in the country permanently, especially as the country's population ages and shrinks, according to Der Spiegel. Unfortunately, many such workers fail to stay for even as little as a year, and since 2010 the number of immigrants to Germany has actually dropped. Read more at 24/7 Wall St.

> Immigrants: 11.0 million > Pct of population: 7.7% > GDP (PPP) per capita 2012: $17,709 > Gov't immigration goals: Increase More than 12 million immigrants lived in Russia in 2010 and the Russian government was among the few seeking to increase the number of foreigners entering the country. In 2011, the country's government viewed immigration as too low and oriented its policies towards increasing immigration. However, these policies have failed to attract more net immigrants: as of this year, there are just over 11 million immigrants living in Russia, a decrease of roughly 10% from 2010. Local authorities have not embraced the prospect of single-ethnicity communities for Chinese, Uzbeks, Tajiks and other ethnic groups in Russia ,and have even sought to ban them in some cases, hoping instead to promote integration into Russian society. Read more at 24/7 Wall St.

> Immigrants: 45.8 million > Pct of population: 14.3% > GDP (PPP) per capita 2012: $49,922 > Gov't immigration goals: Maintain The U.S. is by far the largest destination for immigrants, with more than 45.7 million living in the country, according to the UN. As of 2011, the U.S. government's policies toward both immigration and emigration remained effectively neutral. However, immigration reform has been especially prominent in Congress this year. This reform is expected to address issues related to illegal immigration, while determining how, and whether, undocumented immigrants should be able to attain citizenship. Considering the U.S. has one the highest per capita GDPs in the world, at nearly $50,000, its appeal to immigrants is fairly straightforward. It is the world's largest economy, as measured by output, and has the second largest total exports. Also, the U.S. offers well-developed infrastructure and financial markets, as well as quality education. Read more at 24/7 Wall St.