Most Canadians Have No Plan For Their End of Life Treatment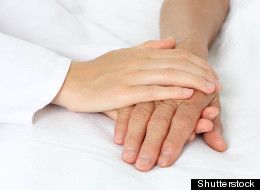 Imagine, one day, without any warning, you find yourself in a hospital in a life-threatening situation, unable to communicate. Who would speak for you and make health care decisions on your behalf? That's a question that all Canadians need to contemplate -- but recent studies indicate that most of us have not.
Advance Care Planning is a process of reflection and communication about personal care preferences in the event that you become incapable of consenting to or refusing treatment or other care. The most important aspects of advance care planning are choosing one or more Substitute Decision Makers -- someone who will speak on your behalf and make decisions for you if you are not able to do so yourself -- and having a conversation with them about your wishes.
A March 2012 Ipsos-Reid national poll found that 86 per cent of Canadians have not heard of advance care planning, and that less than half have had a discussion with a family member or friend about healthcare treatments if they were ill and unable to communicate. Only 9 per cent had ever spoken to a healthcare provider about their wishes for care.
"People somehow have this superstition that if you talk about it, it might happen," says Dian Cohen, an economist, author and journalist who counsels Canadians on personal money management. "But if we don't speak up, how will others know how to help us? That's an awful burden to leave behind."
Health care professionals also seem reluctant to begin the conversation. The ACCEPT study, an ongoing project managed by the Canadian Researchers at the End of Life Network (CARENET) that examines care for ill, elderly patients in acute care hospitals across Canada has revealed a number of barriers to end of life discussions between doctors and patients -- with the result being that many patients are receiving treatments that they don't necessarily want or need.
Results from the 2012 study, published in the April 2013 issue of the Journal of the American Medical Association (JAMA) Internal Medicine, found that the correct patients' preferences for end of life care showed up in their medical records only 30 per cent of the time. Even though 28 per cent of the studied patients stated a preference for "comfort care" (no life-sustaining treatments), this was documented in only 4 per cent of their charts.
Many of the patients interviewed in the study felt that information to help them determine their preferences for end of life treatments was either lacking or not clear.
"I didn't know what he (the MD) was saying when asking me in the ER.... Do I want CPR," recounted one ACCEPT study participant. "He asked with no explanation. I said, 'sure if it works.' He put down YES on the form but then told me it probably wouldn't work and I would have brain function problems. Good God! I don't want that! Give me the information first, then ask the questions."
Without a plan, patients can receive treatments that they don't want, and families may find themselves having to make difficult decisions during a stressful time, or fighting with each other over those decisions. And for a strained health system and an aging population, a lack of planning can have a significant impact on health costs and resources.
Advance care planning doesn't need to be difficult or depressing. The Advance Care Planning in Canada Project suggests five steps for creating your advance care plan:
THINK about what's right for you. What's important to you about your care?
LEARN about different medical procedures. Some may improve your quality of life, while others may not.
CHOOSE a Substitute Decision Maker, someone who is willing and able to speak for you if you can't speak for yourself.
TALK about your wishes with your Substitute Decision Maker, loved ones and health care team.
RECORD your wishes -- write them down, record them or make a video.
As health care technologies and life saving interventions continue to improve and people live longer -- many with complex medical conditions -- advance care planning becomes increasingly important. We need to communicate our values and wishes around the use of certain procedures at the end of life, and what we believe gives our life meaning. Make sure your voice is heard.
Sharon Baxter is the Executive Director of the Canadian Hospice Palliative Care Association (CHPCA). Sharon also sits on the Board of Trustees of the Worldwide Palliative Care and the International Children's Palliative Care Alliance.
Daren Heyland is an advisor with EvidenceNetwork.ca, a critical care doctor at Kingston General Hospital and a Professor of Medicine and Epidemiology at Queen's University, Kingston. For over a decade, he chaired the Canadian Researchers at the End of Life Network, and currently, he is the principal investigator on 2 CIHR-funded studies looking at patient and family perspectives in advance care planning (the ACCEPT Study) and health care provider perspectives on the same topic in acute care settings (The DECIDE Study).
For more information about the ACCEPT study, visit the CARENET website.
For more information about advance care planning, visit here.
ALSO ON HUFFPOST:
13 Resources For Caregivers
Talking with other people who face the same daily challenges can help caregivers manage stress. Specific types of support groups can vary on a community-by-community basis; check out this Caregiver.com guide to find the right program for you.

Caregivers have their hands full and may not have the time to meet with an in-person support group. In that case, an online support group can be a great alternative.

Support groups not your thing? You can see what other people are saying about caregiving by just checking out a simple message board, such as this one sponsored by AARP..

You may need to attend an event or simply seek a few hours for some much-needed rest. Eldercare.net offers a Search For Respite Tool or Eldercare Locator where you can find professional help. Also check out this guide from caring.com for more respite-care ideas.

Does your loved one need transportation to go buy food or go shopping? There are numerous van and shuttle services specifically for seniors. Contact your local Area Agency On Aging for one near you.

Don't have time to shop and cook? Consider a service that will deliver gourmet meals to your home, no matter where you live. For low-income seniors in need, AssistGuide Information Services offers a directory of food services available.

During the 2009 economic downturn, 1 in 5 family caregivers said their finances were so strained that they were forced to move into the same home with their aging loved ones to reduce expenses, according to a survey by caregiving.org. Some 47 percent of working caregivers indicate that an increase in caregiving expenses caused them to use up all or most of their savings. The Many Strong Support Network has a fundraising tool which allows other people to anonymously donate funds to people who are under financial strain.

If ever you have a question about resources, or need support at a moment's notice, AARP's caregiving support line is available at 1-877-333-5885, Monday through Friday, 9 a.m. to 5 p.m. Senior care advisors for Care.com, also provide free counseling for caregivers, and help them map out the best course of care for their loved ones.

Organized caregiver co-ops can provide an affordable way to coordinate care for your loved ones. Check with local community centers or this Adult Day Care Directory to see if someone in your area has already started one.

Care.com's Senior Care Directory can set you up with a housekeeper, errand runner, pet sitter, or whatever you need to make the caregiving experience a little more manageable.

According to author of "The Medical Day Planner", Tory Zellick, hospital social workers are a great resource for all caregivers. "[Hospital social workers] are always armed with information for your community," said Zellick.

Websites like Lotsahelpinghands have caregiving communities that connect volunteers with caregivers in need of support or help.

Family gatherings offer a great opportunity to discuss the future of loved one you care for, says Dr. Bruce Chernof, president and CEO of The SCAN Foundation. The group offers a guide -- "10 Conversations To Plan For Aging With Dignity And Independence" -- to lay the groundwork for these critical discussions.