One of the most startling discoveries I made upon becoming a mom is that parenting is a competitive sport in which there are no winners. Something as simple and necessary as feeding your child is cause for judgement and snobbery from parents who do it differently.
When my twins were infants, we fed them using bottles. In public, this garnered a lot of attention. Were we feeding them formula? It was scandalous.
The answer, for the first three months, was no. I was pumping my heart and my breasts out daily to give nourishment to my incredibly tiny children. Born at 34 weeks, they had little to no ability to latch. In fact, for the first month, we had to feed them via tube.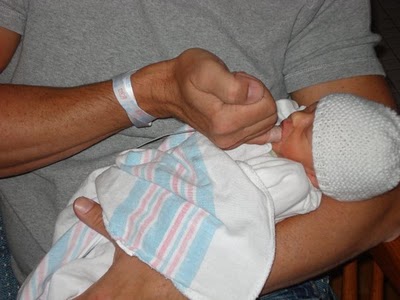 Taking a bottle out in public, however, never failed to bring on the stares of other well-meaning parents who were certain our children weren't getting the best nutrition possible. On top of everything else a parent has to worry about, we now need to worry about other people judging how and what we feed our children.
After the three-month mark, I went back to work. I could not continue pumping enough food for them, and so slowly we weaned them to formula. Am I a formula feeding advocate? No, not really. I am a feeding advocate. As long as mothers are feeding their babies, I am content.
There are many reasons that people might formula feed; necessary medication that doesn't mix with breastfeeding being one of the biggest. To me, though, it doesn't matter if one woman is feeding her infant formula because she couldn't produce enough breast milk, and another is doing it because she's on medication that could be harmful to the baby, and a third is doing it because she doesn't like the feel of the baby at her breast. It's simply not my business.
This isn't to say we should silence our beliefs. There is most definitely a role for the lactation consultants and activists out there. Many mothers are confused about breastfeeding. Many are coming up against resistance from their families who formula fed. Many desperately want to breastfeed, but their baby won't latch, or they're having trouble with technique. Infancy is a time of great stress, and many infants face weight issues that would push any mother to follow her doctor's -- her mother's, her sister's, anyone's -- advice to start giving formula, lest she hear the dreaded "failure to thrive." Those mothers, though, will seek out help. They will ask you -- or their doctor, or their sister, or their mother -- to help them learn about breastfeeding, to help them feed their child. A woman in a restaurant or sitting at a bench in the mall is not asking for our help, and we do not know her story. Therefore, shouldn't we reserve our judgement?
I wanted to breastfeed. I wanted to breastfeed for more than three months. Once I determined it would be unfeasible for me to do so, I did not want other's opinions on why I should continue to try. I certainly did not invite the stranger on the street to start waxing poetic about the benefits of breastfeeding to me, as I sat outside at a Starbucks and wrestled with two babies to get bottles into their mouths -- especially because in that particular instance, I was feeding them breast milk. Yes, it comes in a bottle, too.
And bottle feeders are not the only women who come up against judgement from complete strangers. Nursing in public has long been an issue for mothers as well as mall-goers. But isn't it every mother's right to feed her child when it is hungry? Someone's five-year-old may need a mall pretzel to keep him on his feet, and nobody will look at him twice, but another woman's infant needs a snack, and whether she is using bottle or breast, she will get stared at, if not spoken to.
If you feel the urge to judge someone for their choices, I beg you, next time, before you say something to that harried mother, judge me instead. Think back to this picture:
Yes, that's an almost-two-year-old with a bottle, and, yes, we worked on it and weened her off within a few months of that photo. But that's another blog for another day, and I'd rather you judge me than the poor woman in the corner over there nursing her child, or the mother bottle feeding behind you at the post office when all the fenugreek in the world couldn't boost her supply.
Places Moms Have Been Shamed For Breastfeeding
When Andrea Scannell took her children to eat at a summer lunch program at Mount Logan Middle School in Utah, she decided to nurse her infant while there. Before leaving, a school employee handed her a complaint letter from the principal, which went viral after her husband uploaded a photo of it to Reddit. The letter asked Scannell to "discretely feed the baby, whether with a small blanket or in a more private area while the lunch program is taking place." After garnering a lot of online support, Scannell organized a nurse-in at the school.

Renee Villatoro was nursing her baby at the Kentucky Kingdom amusement park when an employee told her to move to the bathroom. After the incident, she and her fellow mothers' support group members flooded the park's Facebook page with comments and questions about its breastfeeding policy.

Employees at a Walmart in Greenville, SC verbally harassed and mocked Shawnee Colabella when she nursed her child in the store. When the mother told her breastfeeding support group about her experience, the members of the Facebook group "Upstate SC Breastfeeders" organized a nurse-in.

When Karen Penley tried to nurse her son in the Oahu homeless shelter Institute For Human Services, a worker reportedly told her to either cover herself or relocate. Penley described the exchange to HawaiiNewsNow: "He's like, 'You must cover to nurse your baby.' And I was like, 'I have the right not to cover.' And he goes, 'I have the right to refuse services.' In other words…kick me out, make me leave."

When Karlesha Thurman posted a photo of herself breastfeeding during her graduation from The California State University, Long Beach on social media, she received a lot of negative comments on Twitter.

Kristina Gray was breastfeeding her son while waiting to be seated at a Bob Evans in Tampa, Florida. A female employee approached her and asked her to cover up. After the incident, Gray posted her complain on the restaurant chain's Facebook page and organized a nurse-in.

While at a Victoria's Secret in Texas, Ashley Clawson asked an employee if she could nurse her child in a dressing room. She was not only denied, but directed to go to the nearest alleyway.

Brittany Warfield, a mother of three from Texas, was nursing her 7-month-old outside of a Hollister store in a Houston mall, she says a manager forced her to move. "He said, 'You can't do this here. This is not where you do that. You can't do that on Hollister property. We don't allow that.' I said, 'It's Texas. I can breastfeed anywhere I like.' He said, 'Not at Hollister. Your stroller is blocking the way. You have to go,'" she recalls.

Mom and breastfeeding advocate Emma Kwasnicahad posted over 200 photos on Facebook of herself nursing her own three children and told the Huffington Post that her account has been suspended at least five times as a result. She organized a nurse-in in front of Facebook headquarters to challenge the company's policy that says photos depicting breastfeeding are "inappropriate."

Houston mother Michelle Hickman says she was harassed and humiliated by Target staff when she found a quiet space in the store to breastfeed her infant. She organized an international "nurse-in" at several Target locations on Tuesday December 28th. Pictured above is mom who participated, Brittany Hinson and her 4-month-old son, Kennedy, in front of the Super Target store, in Webster, Texas.

Claire Jones-Hughes wrote: "After being verbally attacked for not covering up while feeding my four-month-old, I decided it was time to make a statement to show that mothers will no longer tolerate being harassed for feeding our babies in public." She then staged a breastfeeding flash mob at the Clock Tower in Brighton, UK.

Simone dos Santos was breastfeeding her four-month-old in the hallway of a D.C. government building when two female security guards told her to stop because it was indecent. "I was shocked, upset and angry that by providing food for my son, I was being treated like a criminal," she wrote in a blog post for the Washington Post.

In November, Natalie Hegedus, a Michigan resident, was asked to leave a courtroom by a district judge. Her post on the community forum, BabyCenter, caused a national uproar.

In August 2010, Nicole House was asked to leave the courtroom because a bailiff noticed her breastfeeding.

This past June, a mom was harassed by a bus driver for breastfeeding on a Detroit-area bus.

Back in 2006, 27-year-old mom, Emily Gillette, was removed from a Delta flight for breastfeeding. Watch a news clip about this story here.

Ohio mom Rhonda claimed that she was kicked out of her local mall for breastfeeding, back in February. Mall security even called for back-up.

We've heard about these incidents from coast to coast. In 2001, a mother nursing her 9-month-old was told to move away from the edge of the pool so as to avoid contaminating the water with her breast milk.

One mom posted a frustrated essay in November 2006, detailing her pastor telling her that photos of her breastfeeding were equivalent to pornography. She and her husband decided to leave the church after this incident.

Clarissa Bradford was kicked out of a McDonald's by an assistant manager for breastfeeding her 6-month-old child in August 2010.
Follow Darlena Cunha on Twitter: www.twitter.com/@parentwin