The Day My Father Met The Royal Family Changed His Life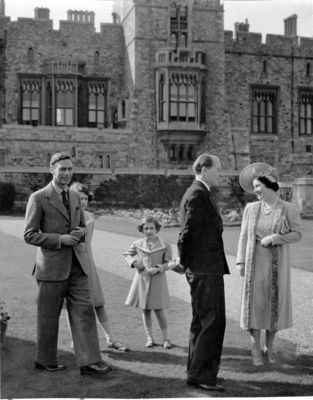 Matt Halton with British Royality
It was one of the more surprising discoveries of my research for Dispatches from the Front. Sifting through piles of letters and memorabilia, I came across a crumpled photo of my father with the Royal Family on the grounds of Windsor Castle.
There was my dad apparently enjoying an amiable chat with King George VI and the Queen as the young princesses, Elizabeth and Margaret, stood politely in the background.
My first reaction was how did he get there? And what was he doing with the Royals? The answers proved to be as interesting as the picture itself.
The photo was taken in April 1939 on the eve of a royal tour of Canada that marked the first visit here of a reigning monarch -- a huge event for English Canadians.
My father, Matthew ("Matt") Halton, was then the London correspondent of the Toronto Daily Star. For weeks he had pestered Buckingham Palace for a photo opportunity with the royal couple, getting a condescending "such-things-aren't-done-here, old boy" kind of response.
But later, to his great surprise, a sealed letter embossed with the royal coat of arms was delivered to the Star's London office. It invited Matt and two photographers to come to the palace, and then attend a second "sitting" at Windsor Castle later in the week.
The session at the palace went well, apart from the royal corgi jumping into the picture at inappropriate times. Matt suggested that he pick up the dog and remove him to an adjoining room. "I am afraid he would bite you," the Queen replied. Fortunately at this moment Dookie realized he wasn't welcome and wandered away.
The second photo shoot at Windsor Castle allowed Matt more time to chat with the King and Queen. He would laughingly recall that they were standing in a semicircle putting him in the awkward position of having his back to one of the royals for long moments.
They discussed the almost daily speculation that the visit to Canada might have to be postponed because of the looming war with Nazi Germany. "Three-to-one you go," Matt predicted, and the Queen nodded and said, "I think so, too."
They also discussed the royal itinerary in Canada, a chance for Matt to venture how much they would enjoy the Rockies and "the flawless jewel of Lake Louise." Thirteen-year-old Princess Elizabeth said she would like to canoe on Canadian rivers one day, and the King talked about his passion for photography.
Matt had not expected to write about his conversations, respecting the strictly observed protocol that the monarch never gives interviews to the press. But shortly after the photo sessions, the King's assistant press secretary told him the royal family was pleased with the "sittings" and gave him permission to write about them.
The concession was unprecedented, giving Matt and the Star an enormous scoop.
My dad was to become the most prominent Canadian journalist of his era despite coming from an impoverished immigrant family.
His father was known at one point as "Shithouse Halton" because he was given the job of cleaning out the privies in the small Alberta town of Pincher Creek. Looking at that photo, I couldn't help thinking that Shithouse Halton's son had come a long way.
David Halton was interviewed for the Huffington Post. In this video he talks about his book Dispatches from the Front: Matthew Halton, Canada's Voice at War, which has been nominated for the RBC Taylor Prize. See that six-minute video HERE.
Follow HuffPost Canada Blogs on Facebook
MORE ON HUFFPOST:
Royal Visits To Canada Through The Years
Diana, Princess of Wales, waves to the crowd that greeted her and Prince Charles in Saint John at Chipman Hill on June 17, 1983. Following the royal couple at left is the Premier of New Brunswick.

The newly married royal couple -- Prince William and Kate Middleton -- on the ninth day of their first joint overseas tour to Canada in 2011.

Queen Elizabeth II is greeted by Ottawa Mayor Donald Bartlett Reid as she arrives at City Hall in Ottawa on July 3, 1967.

In 1939, Queen Mother Elizabeth (then Queen Elizabeth) visited Canada with King George VI. The royal couple is shown entering the Parliament Buildings with the late Prime Minister Mackenzie King.

Queen Elizabeth II stops to talk to members of a Royal Canadian Mounted Police band as she is accompanied by Prime Minister Stephen Harper as they attend a garden party at Rideau Hall in Ottawa on June 30, 2010.

Prince William, Duke of Cambridge, and his wife Catherine, Duchess of Cambridge, arrive on Parliament Hill for Canada Day celebrations in Ottawa on July 1, 2011.

Prince Charles and Camilla, Duchess of Cornwall, are photographed with the Toronto Scottish Regiment in Toronto on November 5, 2009.

The Duke and Duchess of Cambridge are greeted by a shy six-year-old, Diamond Marshall, as they arrive in Calgary on July 7, 2011.

A western welcome for Princess Elizabeth and the Duke of Buckingham in Winnipeg in 1951. Snow and cold did not, evidently, intimidate the royal couple or a ballerina from the Winnipeg Ballet during the evening's performance.

Princess Elizabeth and the Duke of Edinburgh received a rainy but nonetheless enthusiastic welcome in Vancouver and Victoria in 1951.

Prince Charles, right, wears a Canadian Olympic mitten after he was presented a pair by British Columbia Premier Gordon Campbell as he and Camilla, Duchess of Cornwall, left, tour the athletes' village for the Vancouver 2010 Winter Olympic Games in Vancouver.

An aide holds an umbrella for Queen Elizabeth II during a welcoming ceremony at the Saskatchewan legislature in Regina on May 18, 2005.

Princess Elizabeth and the Duke of Edinburgh rode in an ancient stage coach during their visit to Calgary on October 18, 1951.

Camilla, Duchess of Cornwall, pauses to read the plaque on the historic stone gate that commemorates the 1901 visit of Their Royal Highnesses the Duke and Duchess of Cornwall to Canada in Toronto.

Queen Elizabeth II and Ontario Premier Dalton McGuinty, centre, greet native Canadians as they take part in her closing departure ceremony at Queen's Park in Toronto on July 6, 2010.