Why Austerity Matters to Canada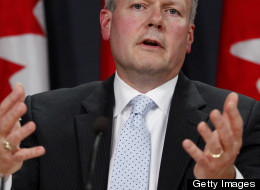 Hard times, it seems, has fallen on hard times.
Austerity is increasingly under attack worldwide as correct economic policy in the face of a stagnant recovery and ominous job pictures in a number of countries.
The Great American Sequester was the most visible of world-view clashes between cutting and spending, investing and pruning. Cut too much and economic recovery halts; cut too little and burden future generations. It took the incipient anger of air travelers complaining about air traffic control furloughs to temporarily bridge that divide, forcing the U.S. Congress and the White House to cough up more money for the Federal Aviation Authority. Fly now, pay later.
The high water mark on the international consensus on austerity occurred, not coincidentally, right here in Canada in 2010. At the back-to-back G-8 and G-20 summits more famous for gazebos and "kettling", balancing budgets and fiscal consolidation were crusaded as the main ingredients for economic recovery. "Those countries with serious fiscal challenges need to accelerate the pace of consolidation," intoned the final Summit Declaration from Toronto.
I say "not coincidentally" because Prime Minister Stephen Harper had made a sharper effort on fiscal prudence his personal goal for the Summit and fellow leaders typically seek to accommodate host governments. A year away from gaining his elusive majority government, Mr. Harper was burnishing his conservative credentials in the wake of massive stimulus spending and looming budget deficits here at home. Since then, deficit elimination before the next election has become an overriding economic and political goal for this Conservative federal government.
Stubbornly, the economy isn't fully cooperating; not so much in Canada, but abroad. And that has implications here. The United States, Britain, and the Euro Zone are exhibiting persistent economic underperformance. Spain and Greece are in the midst of social upheaval due to strict financial diets enforced upon them in exchange for international Monetary Fund loans. All are cutting back and that's giving state-sanctioned austerity a bad name.
Our government has made a Canada's relative island of economic stability status a talking point of pride. "Better than the other guy" is, relatively speaking, just that, although Canada has ranked best among the G-8 countries for recovery. All good thus far.
But both the Bank of Canada and the IMF have recently cut Canadian growth forecasts for this year. While still positive, less economic growth means less government revenue in tax receipts, fees, and so forth. Inexorably, it leads to a demand for compensatory government spending, some of which (Employment Insurance, for example) ratchets up in response anyways.
Of all the budget documents that matter, there is one that matters most in Finance Canada. It is called (or was, when I was there) the Sources and Uses table. This legal-sized sheet top-lines the state of the budget -- money in, money out -- at any one time for the minister and officials. After each round of departmental consultations and economic data, it is updated to account for the latest commitments, tax elasticity, and growth projections. Spending ambition and financial restraint inevitably collide; a running score card of political broken dreams you might say.
In the flush days, Sources and Uses could show a swing of hundreds upon hundreds of millions of dollars. It even gave rise to the Tax Back Guarantee in Budget 2007 with any interest savings resulting from reductions of federal debt dedicated to personal income tax relief.
These days, the swings are more the other way. And that's a problem for dedicated fiscal consolidators in Ottawa. The slow path to recovery is matched by a slow path to deficit elimination. The Conservative government needs the two paths to align by 2015, prior to an election. New middle class tax cut promises (income splitting in particular), hinge on it.
Prime Minister Harper is proving a political populist by practice and fiscal hawk by necessity; his finance minister, Jim Flaherty, is actually more the reverse. That tandem is holding, for now.
A new Bank of Canada governor means renewed focus on the country's economic direction. Having imposed his fiscal credentials on other leaders three years ago when recovery seemed more assured as just a matter of time, the austerity group led by Mr. Harper is less assured these days. At home and abroad.
Revenues for 2013-14 forecast at $263.9 billion, spending at $282.6 billion, deficit at $18.7 billion. Deficit projected to drop to $6.6 billion in 2014-15 and become an $800-million surplus in 2015-16. With files from Althia Raj and The Canadian Press.

The Tories plan to create a Canada Job Grant that will provide $15,000 or more per person -- up to $5,000 provided by the federal government, the rest matched by the province/territory and the employer. Nearly 130,000 Canadians are expected to benefit when the new grant is fully implemented in 2017-2018. Essentially, this is the government saying it is taking training out of the hands of provincial governments because it hasn't worked and placing it in the hands of individuals. The Canada Job Grant will replace the Labour Market Agreements the feds signed with the provinces, which expire in 2014.

Manufacturing and small business get tax-credits introduced in past budgets extended to help spur investment and growth. There will be $1.4 billion in tax relief for manufacturers by extending the temporary accelerated capital cost allowance for new investment in machinery and equipment. And hundreds of millions for small business owners.

The government has pledged more than $53 billion in infrastructure spending, including $47 billion in new funding over 10 years. This includes $32.2 billion over 10 years for a "Community Improvement Fund" to build roads and public transit as well as recreational facilities and other community infrastructure projects. The Fund will consist of an index Gas Tax Fund and the incremental GST Rebate for Municipalities.

Military spending will be re-jigged that it is modeled on the ship building strategy and aimed at creating more jobs in Canada and key domestic capabilities with an eye towards exports.

The budget has cancelled the Canadian International Development Agency, the primary agency responsible for foreign aid. Its duties will be merged into the Department of Foreign Affairs.

The government says it is aggressively going after tax avoiders/and closing tax loopholes. They are launching a "Stop International Tax Evasion Program" where the Canada Revenue Agency will pay individuals with knowledge of "major international tax non-compliance" a percentage of the tax collected as a result of information provided. The CRA will only pay a reward if the information results in total additional assessments exceeding $100,000 in federal tax.

Two departments -- Canada Revenue Agency and the Department of Fisheries and Oceans -- will see big cuts. Departments will see a 5 per cent cut in their travel budgets. The government also says in the budget it intends to work with the public sector unions to "further align overall compensation with other public and private sector employers."

The federal budget says new projects related to Canada's perimeter security deal with the United States will go ahead as planned, despite budget woes south of the border. The federal budget has given the green light to almost a dozen information-sharing and infrastructure projects related to the Beyond the Border initiative between the two countries. The vaunted deal was announced with fanfare by Prime Minister Stephen Harper and U.S. President Barack Obama in December 2011 at the White House. The plan aims to speed the flow of goods and people across the 49th parallel while protecting the continent from a terrorist attack.

The government wants to reduce import tariffs on a number of goods including baby clothing, skis, snowboards and gold clubs. But it plans to offset the $76-million revenue loss from that by hiking excise taxes on chewing tobacco and other manufactured tobaccos, to bring them in line with cigarette taxes.

Finance Minister Jim Flaherty's spring budget commits Ottawa to five more years of funding through the Investment in Affordable Housing program. The level of commitment is the same as in the past: $253 million a year over five years, which needs to be matched by the provinces and territories and can be spent on new construction, renovation, home ownership assistance, rent supplements, shelters and homes for battered spouses. But there's a new twist to the funding. Home construction in the program will support the use of apprentices so that newcomers to the construction trades can build up crucial experience. The budget also commits $100 million over two years to build 250 more units of affordable housing in Nunavut, where homes are so crowded that illness spreads easily and poverty abounds.
Follow David McLaughlin on Twitter: www.twitter.com/@DavidMcLA