New Protections Skim Surface Of Canada's Complex Water Issues
The federal government recently created two marine protected areas in the Pacific region and has committed to increase ocean protection from one per cent to 10 by 2020. But will this be enough?
Canada has the longest coastline of any nation, but our country doesn't end at its ocean shores. With a 200-nautical-mile economic zone and international obligations, Canada is responsible for almost three million square kilometres of ocean, an area roughly the size of British Columbia, Alberta, Saskatchewan and Manitoba combined.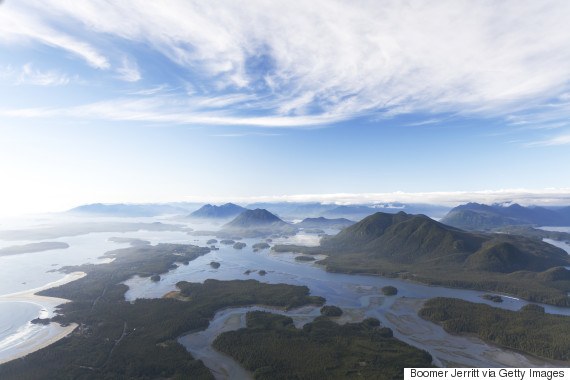 An aerial view of Browning Pass, Meares Island. Tofino, Vancouver Island, British Columbia. (Photo: Boomer Jerritt via Getty Images)
Although that's a big area, thinking of the ocean in square kilometres is just skimming the surface. The ocean isn't just a cold, wet seascape blanketed by howling winds. Below the surface, life thrives throughout the water column, top to bottom, warm or cold, winter or summer.
Northern aquatic food webs are rich with creatures of all shapes and sizes, from tiny plankton, urchins and sea stars to fish, orcas and sea lions. That the world's largest living creature ever, the blue whale, feeds on some of the smallest, plankton, is astonishing in itself. Yet the plankton thread in the food web doesn't end in the whale's stomach; whale poop is also a critical part of the marine food web, cycling nutrients from the surface to creatures at the bottom.
The way otters keep kelp forests healthy by eating sea urchins is one of myriad interconnected relationships in Canadian coastal waters. Although barnacles and clams live in a single location, some whales and fish travel thousands of kilometres within a single season. Salmon don't even have the ocean as a boundary, swimming far inland to spawn.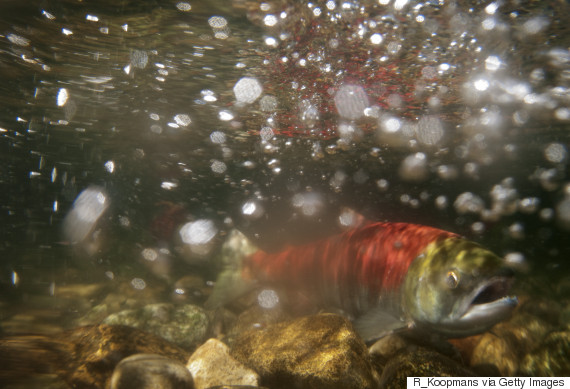 Salmon in the Adams River, B.C. (Photo: R_Koopmans via Getty Images)
How can we understand and manage such complex systems? Natural cycles in Canada's coastal waters include currents, tides, upwellings, migrations and seasons. Trying to predict how multiple factors like pollution, industrial fishing, climate change, ocean acidification, glass sponge reefs, ships, rights and title claims, kayakers, recreational fishing lodges and renewable energy sites will interact with these cycles is becoming increasingly more complicated, and important, than ever. With all these uncertainties and complexities, how can we know if marine protected areas are effective?
The federal government deserves credit for beginning to develop a network of marine protected areas.
To understand how creating a refuge works, let's go back to a simple 1936 study of an "ecosystem." It was a test tube with two microscopic single-cell species, prey and predator. In that oversimplified ecosystem, the predatory species ate the prey, and then died because, without prey, they could not survive.
Putting material in the test tube so the prey could hide and multiply changed everything, creating a variety of unpredictable outcomes. However, one pattern emerged: It was far more likely that both prey and predator would survive.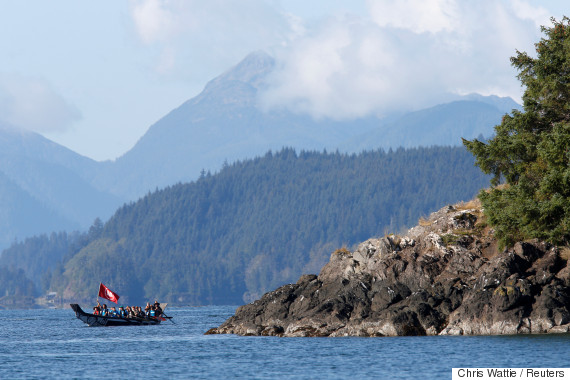 Haida Gwaii in Skidegate, British Columbia. (Photo: Chris Wattie/Reuters)
Expanding the concept to marine protected areas, this simple experiment bodes well for one top predator (humans) and prey (fish). Even though science can't predict whether protected areas will help specific stocks increase, evidence suggests they show promise as "nurseries" for fish and other ocean wildlife and can provide a buffer against our lack of understanding.
Canada's two new Pacific marine protected areas shield magnificent, fragile glass sponge reefs near Haida Gwaii and important seabird nesting sites on the Scott Islands. Safeguards are in place to protect the glass sponge reefs and the countless species that use them for refuge. However, current protections for the area surrounding the Scott Islands are too vague to reduce threats to the millions of seabirds that depend on the forage area to breed and feed.
Protected areas are just one aspect of keeping coastal ecosystems healthy.
The federal government deserves credit for beginning to develop a network of marine protected areas. They're an essential part of keeping ocean ecosystems healthy, but they must have meaningful safeguards. Protected areas are just one aspect of keeping coastal ecosystems healthy. Responsible stewardship also requires effective fisheries management, strong penalties for polluters and a global carbon emissions reduction.
With pollution, climate change and increased shipping and development along Canada's coast, it's more important than ever to reduce the risks to ecosystems that provide us with the fish we eat, the air we breathe and the bounty of nature we love. Marine protected areas on their own won't be enough to do all that, but with strong regulations and safeguards, they're one piece of the intricate, multidimensional puzzle.
Written with contributions from David Suzuki Foundation Communications Specialist Panos Grames.
Learn more at www.davidsuzuki.org.

Follow HuffPost Canada Blogs on Facebook
Also on HuffPost:
Many marine scientists consider overfishing to be the worst impact humans are having on the oceans. The Food and Agriculture Organization estimates that over 70% of the world's fish species have been entirely exploited or depleted. By capturing fish faster than they can reproduce, we are harming entire ecosystems that interact with those species, from the food they eat to the predators that eat them. These losses make the ecosystems more vulnerable to other disturbances, such as pollution. A complete overhaul of fishing policies, requiring global cooperation, is needed to achieve a sustainable system.

Fish farming, or aquaculture, is the growing response to wild fish stocks rapidly depleting. While it sounds like a good idea in theory, it unfortunately has many negative consequences due to poorly managed operations. Nutrient and chemical pollution can occur easily in open-ocean operations when fish feed, excrement, and medication is released into the environment. Farmed fish accidentally released into wild populations can also have destructive effects, such as loss of native stocks, disease transmission, and damaging changes in habitat. Unfortunately, the biggest hindrance to overcoming the challenges of an industry that supplies nearly 50% of the world's fish food supply is that it currently remains relatively unregulated.

Ghost fishing is an environmentally harmful issue caused when lost or discarded fishing gear continues to catch fish and other marine life. Often times, the traps trigger a chain-reaction problem when larger predators come to eat the smaller ones that have been ensnared, only to get tangled in the mess themselves. The issue of ghost fishing is most common with passive gear that has been abandoned, and also poses a serious threat to other ocean vessels. Stray gear can be caught in the propeller of a boat, damaging or even disabling it. Many solutions have been offered, such as fishing gear made from biodegradable materials or incentives like the Republic of Korea's buy-back program, which rewards fisherman for turning in old gear.

This one is the most obvious. It's astounding how much of our trash finds its way into the ocean. Animals become easily entangled and trapped in our garbage, and it can destroy delicate sea life like coral and sponges. In addition, sea turtles and dolphins often mistake plastic bags for their favorite foods, jellyfish and squids, choking them or clogging their digestive system. If that's not bad enough, hopefully the bigger-than-Texas trash vortex in the Pacific Ocean and its smaller cousin in the Atlantic will help serve as a wakeup call.

The ocean absorbs as much as one third of the CO2 emitted worldwide, which keeps us cooler but makes the ocean surface much more acidic. This has the effect of limiting calcium carbonate needed by coral, plankton, and other marine life that use it to build the skeletal frames and shells that protect them. Oceanic acidity has increased by 25% since the industrial revolution, and will eventually destroy much marine life if it increases at this rate.

Dead zones are areas where the sea floor has little to no dissolved oxygen. These areas are often found at the mouths of large rivers, and are caused primarily by fertilizers that are being carried in the runoff. Unfortunately, the lack of oxygen kills many creatures and destroys entire habitats. At our current rate, dead zones will increase by 50% before the end of the century.

Scientists report that our ocean's mercury levels have risen over 30% the last 20 years, and will increase another 50% in the next few decades. Emissions from coal power plants are the primary culprit, dispensing poisonous mercury that works its way up the food chain, eventually coming to us through the fish we eat. This neurotoxin can alter brain development of fetuses and has been linked with learning problems.

Offshore drilling continues to be a debate, but it's clear that proceeding with oil production will only exacerbate the dilemmas of our oceans. The use of fossil fuels is the reason our oceans have been heating up and becoming more acidic, but offshore drilling takes the risks even further. When oil is extracted from the ocean floor, other chemicals like mercury, arsenic, and lead come up with it. Also, the seismic waves used to find oil harm aquatic mammals and disorient whales. In 2008, 100 whales had beached themselves as a result of ExxonMobil exploring for oil with these techniques. Furthermore, the infrastructure projects to transport the oil often create worse problems, eroding the coastline. These realities are another reason

The destruction of the ocean's most important predators has significant consequences that ripple down the food chain. 50 to 100 million sharks are killed each year, either as bycatch from fishing vessels or directly hunted for their dorsal fins, used in an expensive soup popular across Asia. When finned, the sharks are thrown back into the water, often still alive and left to bleed to death. Unfortunately, sharks reproduce fairly slowly and don't have a large amount of offspring, so these actions have long-lasting effects on the delicate ecosystems they help regulate. Despite the 1986 moratorium on many types of whaling, it still continues to be a problem, with some nations like Japan looking for loopholes and lobbying for lax regulations.
Follow David Suzuki on Twitter: www.twitter.com/DavidSuzukiFDN